Slovenia during Coronavirus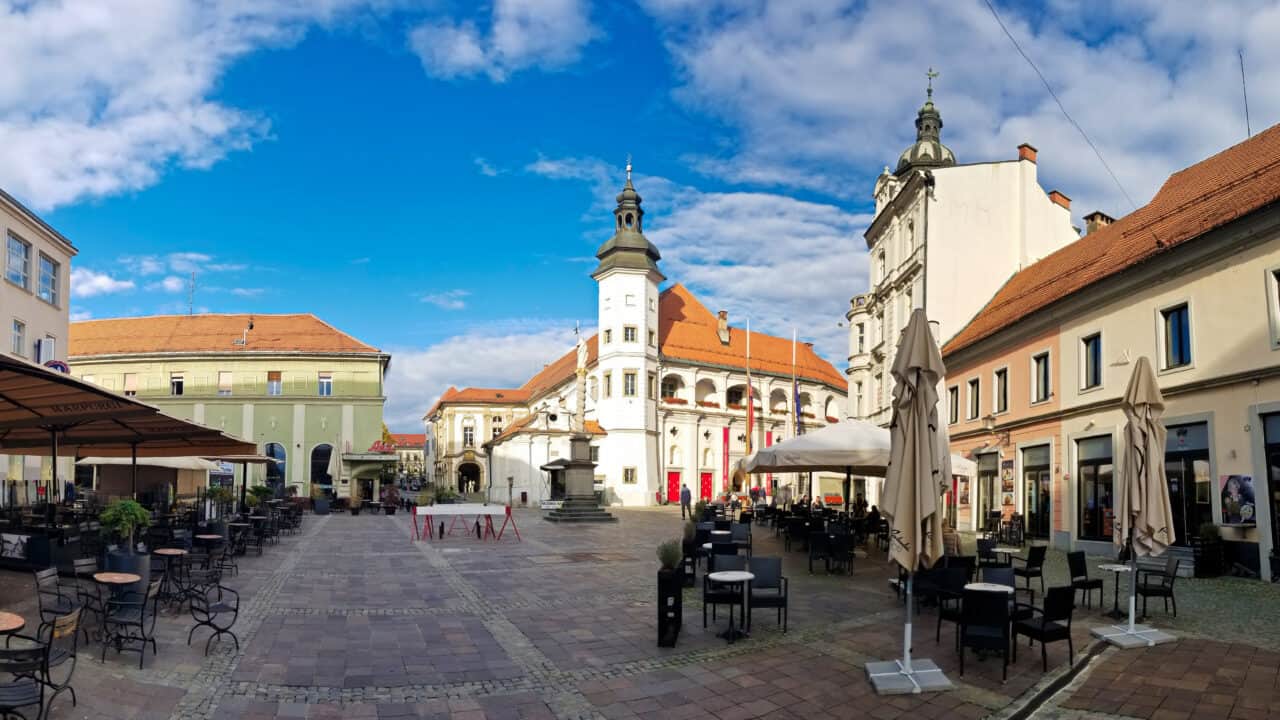 As many of you know the coronavirus has been constantly changing our route and countries visited this year. In the first week of October our plan was to head to the Czech Republic but Prague had become quite a hot (red) zone so we decided to return to Austria and cycle through Lower Austria which we had missed earlier this year. Just before we were due to leave we discovered that if we went into Vienna we couldn't enter Slovenia without quarantining. Lower Austria looked to be on its way to the same restrictions. Rather than risk not getting back to Slovenia, where we wanted to winter our RV, we drove straight through the eastern portion of Austria to a casino just inside the Slovenian border. Although it had no proper facilities, the casino promoted campers stopping there. Our new plan was to bike from the border through the centre of Slovenia and eventually ending up at the coast where we needed to be by late November. This route would take us through Maribor and Ljubljana, the two largest cities in Slovenia, before getting to the Adriatic. We took the train from the casino to Maribor intending to then bike back to the casino. Waiting for the train, another passenger who did not speak English, managed to convey to us that Maribor, Ljubljana and all of central Slovenia was now considered a red zone. In Slovenia some of the rules for red zones include a 9 pm curfew and masks needing to be worn even outdoors, except for cyclists on their own. Mike and I assume that means that we don't have to wear masks when we are cycling as we are always socially distanced.
If you look at the picture above you will see what it looks like to have a large city under lockdown. It was deserted. Everything looked closed up. We did see a few people having a coffee outside one of the cafés in the main square. We stopped and sat at a table and no-one ever came to serve us. Eventually Mike tried the door to the café and was surprised to find it locked. We managed to ask the people drinking coffee where they had bought it. They sent Mike to a restaurant quite a ways a way. When he got there it was closed up except for one window which opened to the sidewalk, where you could get takeout. He ordered the coffees and brought them back to me where I was still sitting with our bikes in the square. After our coffee we rode straight back to the casino, about 40 km or 24 miles. Again we decided that our plans had to change. We could no longer plan on spending three or four weeks cycling through, what was now the red zone of central Slovenia. Once again, we bypassed the entire area we had planned on visiting and drove straight to Koper, a town on the Adriatic in Slovenia. We had visited Koper last year and liked the area very much.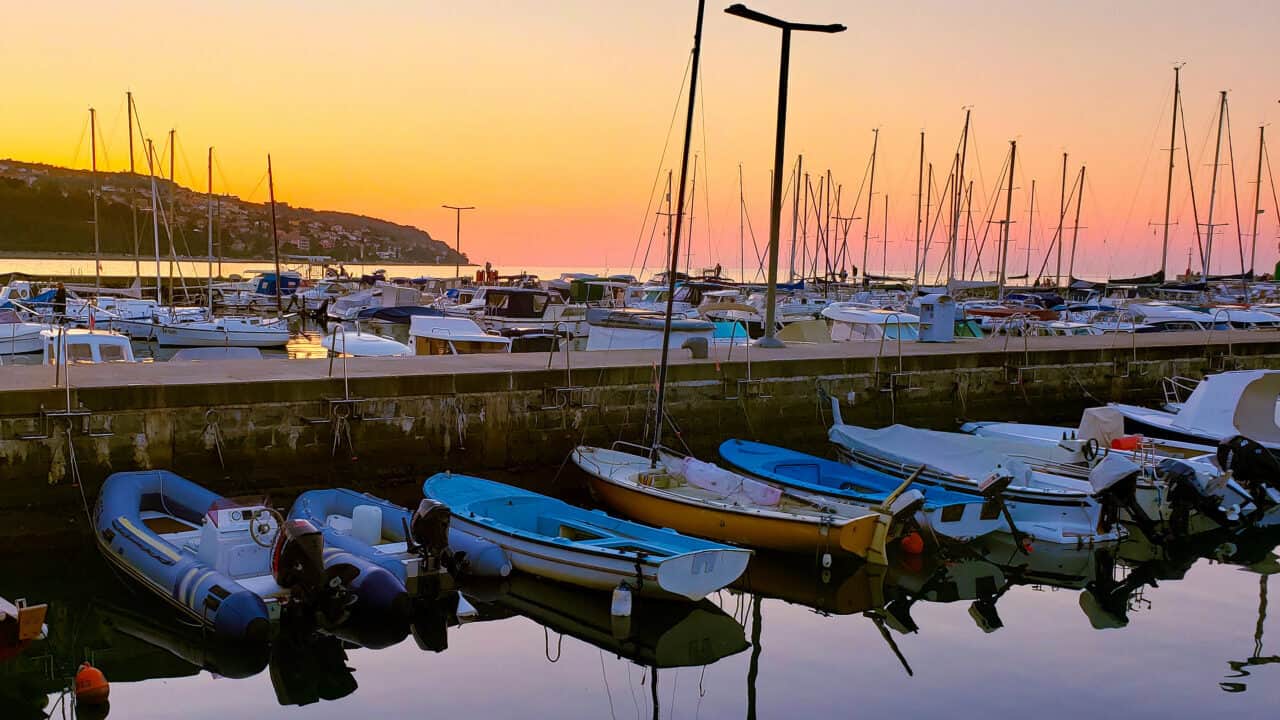 Our first full day in Koper, we drove to the campground that stored our RV last winter, to confirm our storage for this year.  The bad news is, they don't know if they will keep the campground and storage area open this year.  We are to check back with them closer to when we need the storage.   The other bad news was that, as of that morning, ALL of Slovenia EXCEPT the small strip of coast where we were was now a covid hot (red) zone.  Our options were shrinking daily.  It is nice to know that if we are restricted to an area, Koper is a lovely spot to be.  The picture above was taken on the evening we arrived and cycled into the town for dinner during sunset.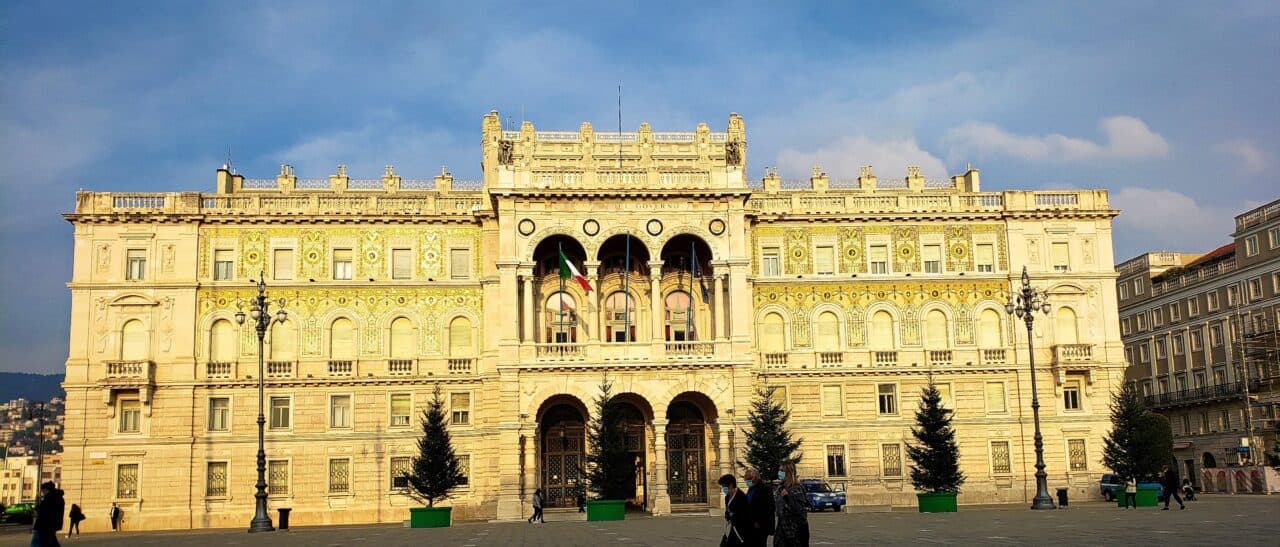 I mentioned in a post earlier this year, that the Slovenian government had allocated every adult $300 Cdn and every child $75 Cdn to be spent on tourist accommodation within Slovenia. The campground we visited told us that, thanks to this government program, they were actually very busy this year. Slovenians often travel to Croatia, with its much longer coastline, when they want to go to the seaside. This year they stayed in Slovenia. The campground said that their busy season typically ended August 18 and this year it was still busy a full month later.
We managed to cycle in and out of Italy to continue our cycle path that we started last year. We stopped on Trieste's main square for a drink which was nice. At the moment it appears that we can also travel into the Istria region of Croatia, which is where we wanted to go anyway, without quarantine concerns. Moments ago, as I write this, we crossed the border from Slovenia into Croatia. I asked the Slovenian policeman at the border crossing, if we would be able to return to Slovenia in three or four weeks without quarantine concerns. He said that we could enter right now, but he obviously couldn't comment on what the rules would be in a month. As a backup we believe that we would always be able to find somewhere to store our camper in Croatia's Istria but it might not be with the same nice rules and price as our Slovenian choice.
A few other good things happened in the last few days. On our way out of Austria we had picked up the window to replace the one that got broken in our RV two months ago. Mike finally had a nice day when we could be without a window for a while and easy access to OBI, a Home Depot equivalent, where he could buy weatherstripping material. Removing the old window and all the glue from the packing tape that was holding it on to the RV and then installing the new one was a full day job but it looks good. Here is a picture taken shortly after it was broken and the new window fully installed.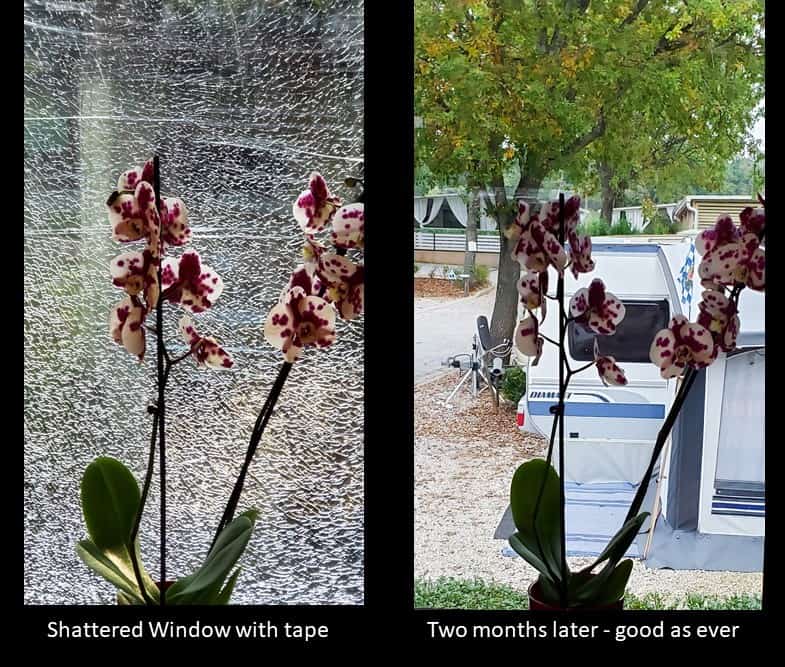 Here is an interesting story. The battery on our Lincoln (the car that we tow) has died a few times recently. In addition the tires on the Lincoln are quite bald and have been concerning Mike for a while. He thinks that towing the car must be really hard on the tires. He went to a service centre to buy a new battery and to try and buy four new tires. The service attendant told Mike that he recognized our car and that he knew all about the large camper that we had with us. Since this was our first day in Koper this year, this really surprised Mike. The attendant went on to say that he had seen the picture of our car and camper in a Slovenian magazine. When Mike got back, I gave him heck for not getting a lot more details. Mike said he would try when he returned to have the tires installed that he had ordered. When he went back he didn't see the person that he had originally been talking to. How disappointing. I have no idea how to look up an unknown Slovenian magazine that has pictures of our home in Europe without more information.
Fuel in Slovenia is just under 1 € or $1.50 Cdn per litre. When we cycled just across the border into Italy we saw fuel prices ranging from 1.40 € in the towns to 1.60 € (2.40 Cdn) per litre on the highway. We think that people in Canada sometime cross the border for cheaper gas. Italians must flock to Slovenia with that price difference.
I am going to finish this now.  We have just left the highway and are about to navigate some smaller Croatian roads and villages (not the really small ones hopefully).  We are about 15 minutes from the area we expect to camp.  We will find somewhere to park the RV and go in the car to look at a few campgrounds.   We are looking forward to spending time in Istria and cycling around the Adriatic coastline.  The interior in this part of the world is fascinating with ridges on tops of mountains (hills?) where you can see down both sides, many very, very old villages that people still live in and Mike is looking forward to more truffles.  Bye for now.