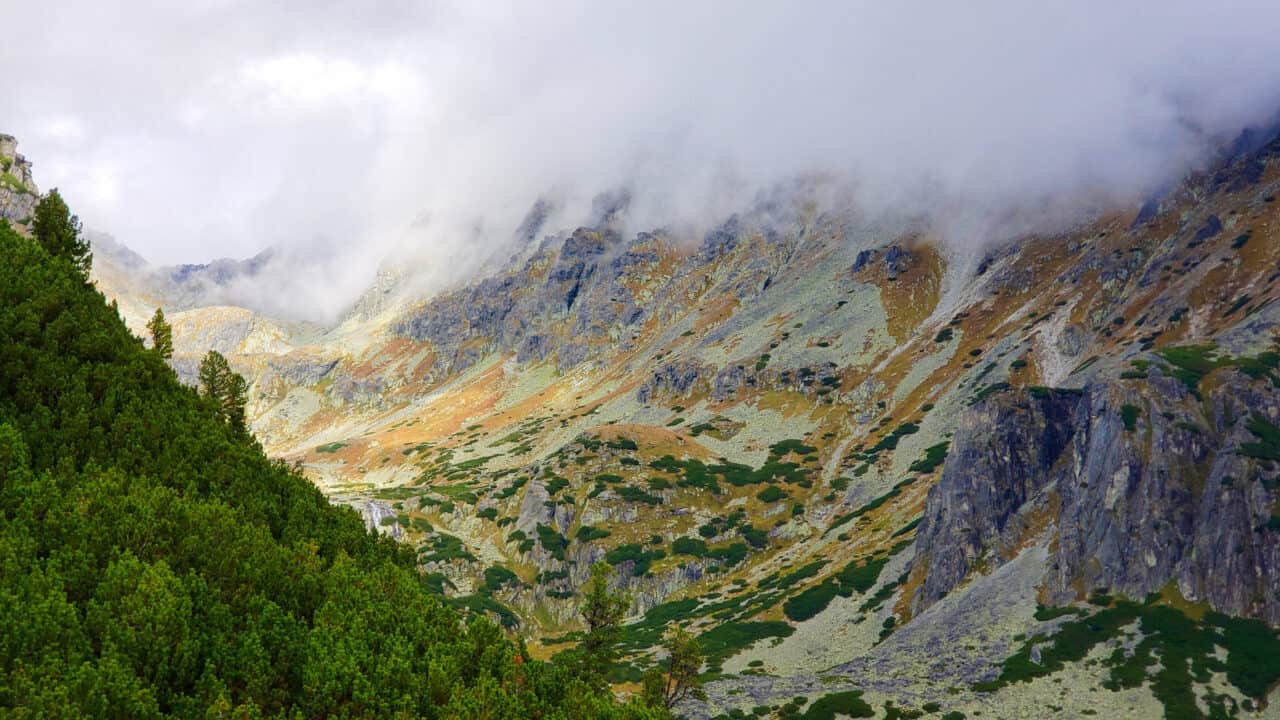 The one area of Slovakia that we were told over and over to go and see, was the High Tatras. The High Tatras are part of the Carpathian mountain range in the north of Slovakia, shared partly with Poland. They are the only Alpine type mountains in this range and are often called "the smallest alpine mountains in Europe" topping out at 2655 m or 8700 feet. Even checking on the internet, I am not sure what defines a mountain as "alpine" but they are lovely.
We spent 9 days in the High Tatras camping at 900 m (3000 ft). As we sit in our RV we are looking out over the mountains. We spent part of our time higher up in the mountains and a few days visiting different towns within an hour of our campsite. What we never did was take our bicycles out of the car the entire time we were here. The roads are quite steep in sections. Many are two lanes wide, but you can't tell from the internet which roads are busy and which are deserted. Mike and I decided that these roads were too narrow for two lanes of busy traffic and cyclists so we hiked a bit and toured instead.
Mike and I have done almost no hiking this year.  We haven't actually done much distance walking either.  This week was the first time my hiking boots had been out of the trunk of the car in 2020.  We took a cable car into the mountains one day and went for a short hike.  We then decided that we could do a "proper" hike in the mountains the next day.  On Wednesday, our day consisted of two cable car rides, a little tourist electric train, a funicular ride and hiking six or seven kilometres (4 miles) along a mountain trail perched on the south side of the Tatra mountains.  You have to admit, that sounds really interesting and different.  There is a long route across the High Tatras called the "Tatranská Magistrála" or the "Tatra Highway".  We walked one section of it starting at an altitude of about 1750 m or just under 6,000 feet.  We rode two cable cars to get to this starting height.  At the end of the hike, we rode a funicular down to the bottom of the mountain to reenter civilization.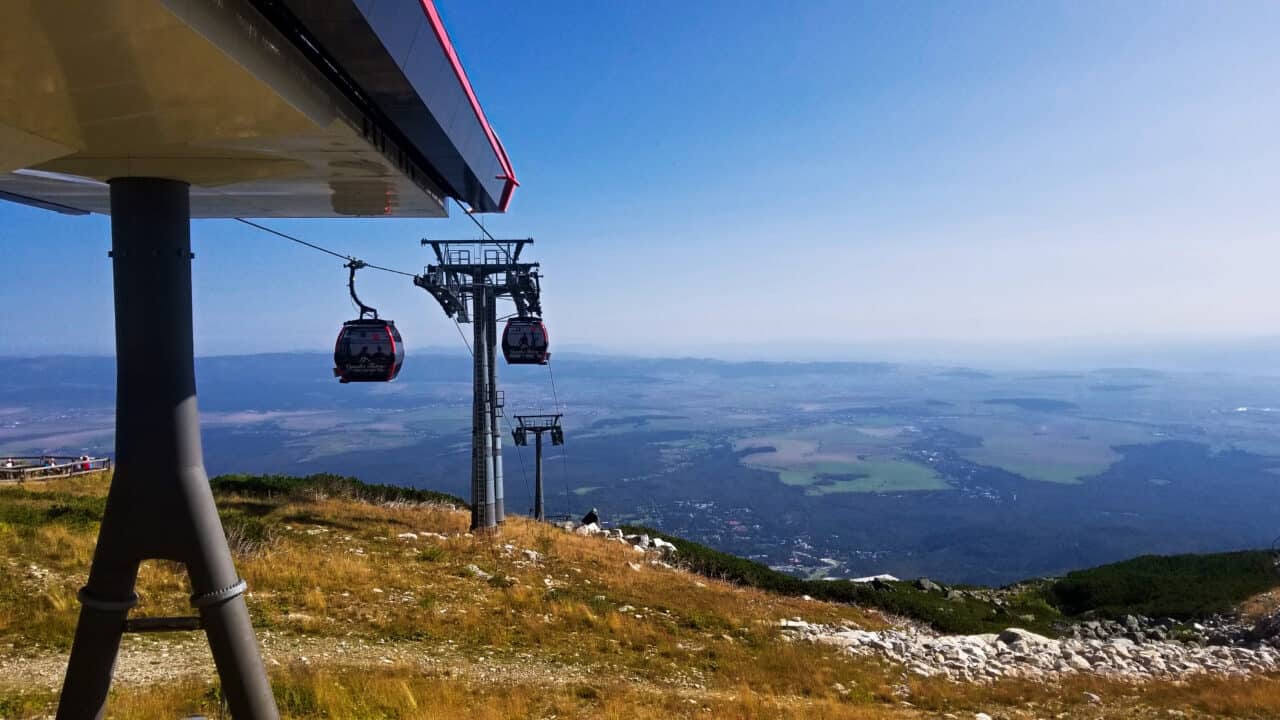 It is rather depressing that many mountain hikes of 15 km or 4 hours are considered family or children friendly. There was nothing friendly about my sore calves over the next few days. There wasn't any really steep climbing up or down on the trail. Rocks had been strategically placed to form a path for much of the route. Mike thought that they were ankle twisters and that he didn't like them very much. The views stretching over the countryside were phenomenal. All in all it was a very interesting and worthwhile day, even if I paid for it later.
We had hoped to do some more hiking at the end of the week but the rain came in and we decided going to towns with stores and restaurants was a better idea in the rain. I actually discovered that if I looked up mountain walks, instead of mountain hikes on the internet, I had a better chance of discovering routes shorter than 12 km, which is further than I am comfortable with in the mountains on very uneven terrain.
This morning Mike and I headed to another small town with a cable car ride and multiple "walks" in town around local lakes etc. We started late due to the rain. When we got to the cable cars, which I can't resist, we found out that the pass Mike had purchased wouldn't work here. For some unknown reason mine would. We could have paid extra for Mike but he wasn't very thrilled with paying money to ride on a chair lift, given that he doesn't love heights. We decided that since I had already purchased my ticket I would ride the cable car up and down and meet Mike back in town. The clouds were coming in to the point that they obscured the mountain peaks, but the where the cable car ended was still below the clouds. So, although the mountain peaks were hidden, the views over the town and countryside below were great. Every so often you could see a break in the clouds and the sun highlighting a patch of earth or rocks in a valley, it was lovely. Even looking up at the mountains with dark clouds covering their peaks was interesting. It started to rain again as I was coming down on the cable car so we decided to have lunch and just forgo our walks that day.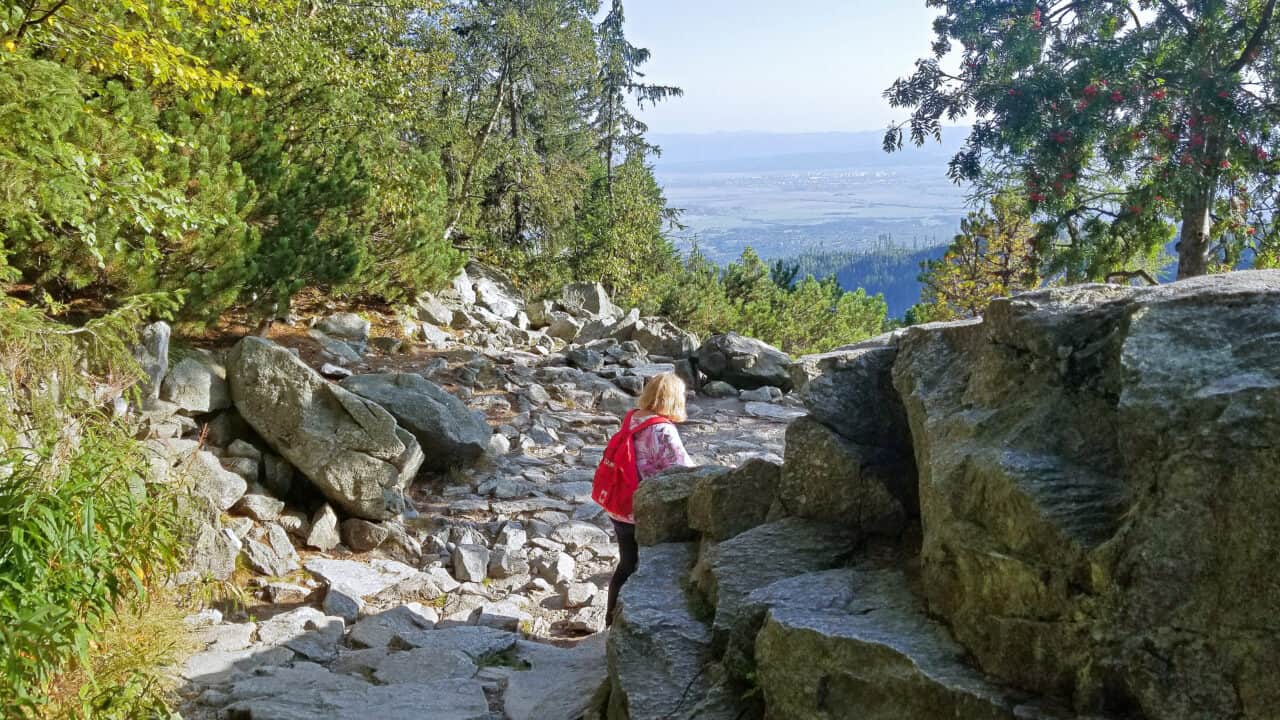 We did have one rather unpleasant surprise. On the way to the cable car we got stopped by two policemen for speeding. We had been doing 62 km/hr in a 50 km zone. They weren't giving you any leeway. The policeman, who spoke almost no English, starting telling us that it would cost us 15 € and saying something that sounded like "city". He managed to ask us if this was our first time in Slovakia and we said yes. We ended up paying him 10 € for which we got a proper receipt. We aren't sure if the price reduction was because we were first time visitors or because we weren't going into a city to contest the ticket. While we were getting our ticket, the second policeman had already pulled over another car. It was nonstop business at that location. The speed limit increased to 90 km/hr just after the speed trap. Within 4 kilometers the speed limit reduced to 70 km/hr then 50, then 30 then back up to 90 at least 3 times. This was largely because of construction. I forgot to mention that Mike had to blow into a breathalyzer as well. What made that interesting during covid was that he never actually touched the breathalyzer. The policeman held it about one or two inches from his face and said blow, Mike did and that was that. Easy and safe.
We got very lucky with the internet here. As soon as we arrived in Slovakia we went to a mall next to our campground in Brataslava to try and purchase SIM cards and lots of internet data for our phones. We talked to Orange, which is the equivalent of Bell Canada over here, and they said that we couldn't possibly get large amounts of data. The most they sold on a prepaid SIM card was 10 GB. Mike and I use that much data in two to three days. Our high usage is due to watching all our news and much of our TV via the internet. I have taped TV series that we watch at night time but the rest of the time, the TV is usually turned on playing news and youtube videos from around the world.
There were two stores in the mall selling SIM cards from a phone company that we hadn't heard of. It turns out that they were resellers and actually used Orange's infrastructure a lot of the time. They sold us unlimited data for $21 Cdn for a month. They said that we would get 4G speeds in the cities, 3G speeds in the smaller towns and possibly nothing in some of the rural areas. We have had fast internet the vast majority of the time so it has been a great deal. Unexpectedly, none of our campgrounds have had internet available for us, but we have had unlimited 4G reception in all of them.
I had meant to tell you earlier about a family that we met in Bratislava. They were camped near us. There was a father, mother and three sons. All the boys wore t-shirts that said UTAH in big letters. The father wore a shirt from the GAP. None of them spoke English. I indicated to the mother that I wanted her sons to come to the side of our RV. I wanted to show them the UTAH sticker with its state flag that was on the side of our camper. I don't think the the family knew or understood, that UTAH was actually a place in the United States. I have often wondered if all the clothing with English words on them hold any meaning to the people wearing them.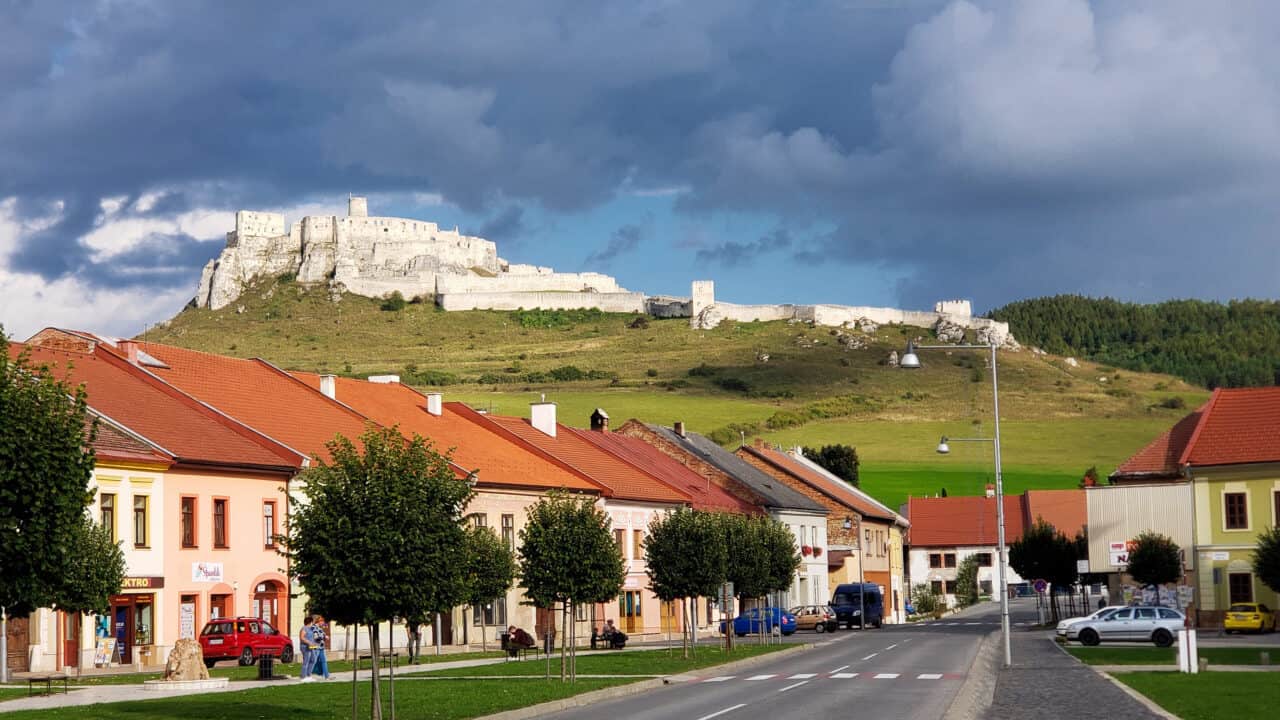 Many of the towns we visit have a castle overlooking the town. One that looked very impressive from town was the Spiš Castle on a hill overlooking Spišské Podhradie. The ruins of Spiš Castle form one of the largest castle sites in Central Europe. It was too late in the day for me to want to wander around a site that large. I suggested that if we really wanted to visit it we should come back in a few days. We just watched a short video on TV about the ruins and realized that they may be a little larger than we really want to walk around. We did get some good photos of the castle from town.
NOTE:  We did get back to Spiš Castle on our last day and quite enjoyed wandering around in the cool weather.  It was the first day that the long johns had come out of hibernation.  We paid a little extra to climb a tower which I don't usually do.  I was even more discouraged when the sign at the bottom of the tower said "Danger, Flying ants".
When we left the actual town we discovered another settlement with a large church nearby. Spišská Kapitula is an exceptionally well-preserved ecclesiastical town. It consists of St. Martin's Cathedral from the 13th – 15th centuries, a former monastery, and a single street, all of mediaeval construction and enclosed by a wall. I read that the Cathedral had recently restored a painting from 1317. We couldn't get into the cathedral without being part of a tour and Mike and I didn't want to wait for another 45 minutes to see inside the church.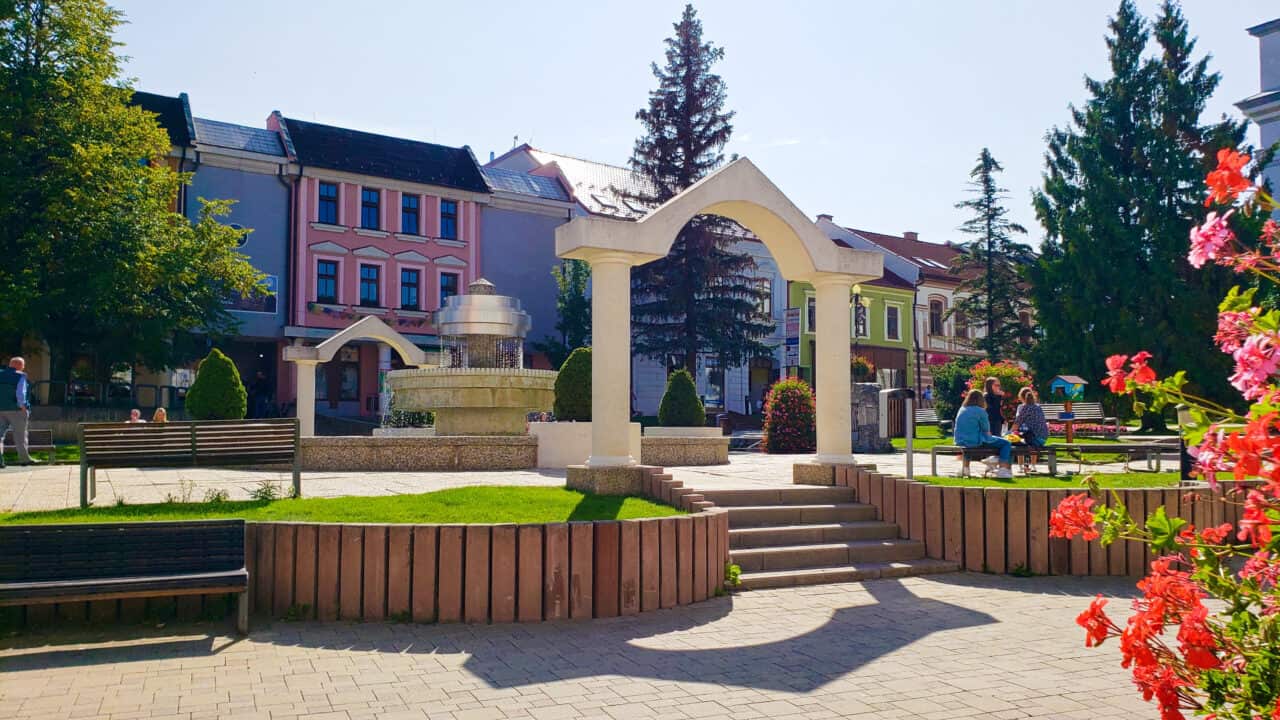 Mike really likes the pedestrian areas in many of the European towns that are often centred around a lovely town square. We have visited a few of these in this area. We often only go in for a meal and wander around for maybe an hour or so taking pictures, before we leave. That is enough to get an impression of the town. We aren't shoppers and there isn't much else to do in these small towns other than to drink and eat and admire the lovely buildings. One restaurant we were in yesterday had USA license plates tacked to the walls and various North American road signs in English (including Route 66). It also had two lanes for 10 pin bowling within the restaurant. That was unusual.
All of these towns have large churches which is surprising given the population of the towns themselves.  Entering some of them is like visiting a small art gallery.  The visit is short so you don't get overwhelmed and you can just enjoy the experience.  The frescoes shown here haven't been restored and were created 700 years ago.  We find that quite fascinating.  It amuses me that when I was a teenager, my worst and most hated subjects were history and geography.
One problem with visiting all these towns is often parking. Most of the parking lots in Europe use SMS for payment. They may do that at home but Mike and I haven't seen much of it. Trying to find somewhere to pay if you don't have text messaging and local bank accounts, is more difficult than you would think. Often one small store somewhere in town, will look after selling you the parking tag, but you have to find the store. Today's very small store was one that sold sewing items. You can see our problem.

We are leaving the High Tatras tomorrow. Our plan was to head into Czechia (Czech Republic) and slowly make our way towards Prague. Years ago when we travelled in this area Prague and Vienna were Mike's and my two favourite cities. I was hoping to be able to spend quite a bit of time in Prague this year. I am afraid that might not happen. Prague is a hot zone for the coronavirus at this moment and the entire country is having an upswing. It is probably still much safer than at home but Mike and I are hesitant to visit a country with warnings, for a long period right before we end up coming home. We also don't want to take any chance on getting stuck in Czechia with our RV and having to leave it there over the winter. We may just decide to see more of Slovakia and Austria before heading back south to Slovenia or Croatia to store our RV over the winter. We have to leave Austria before the end of October because, after that, you need snow tires on your car and chains for your RV tires. This means that even if we go back to Austria we still won't get to the Innsbruck area.
I will update the map and the website as soon as we know for sure what country we will be travelling to. I really wanted to see Czechia again. Oh well, that's just life during the coronavirus.