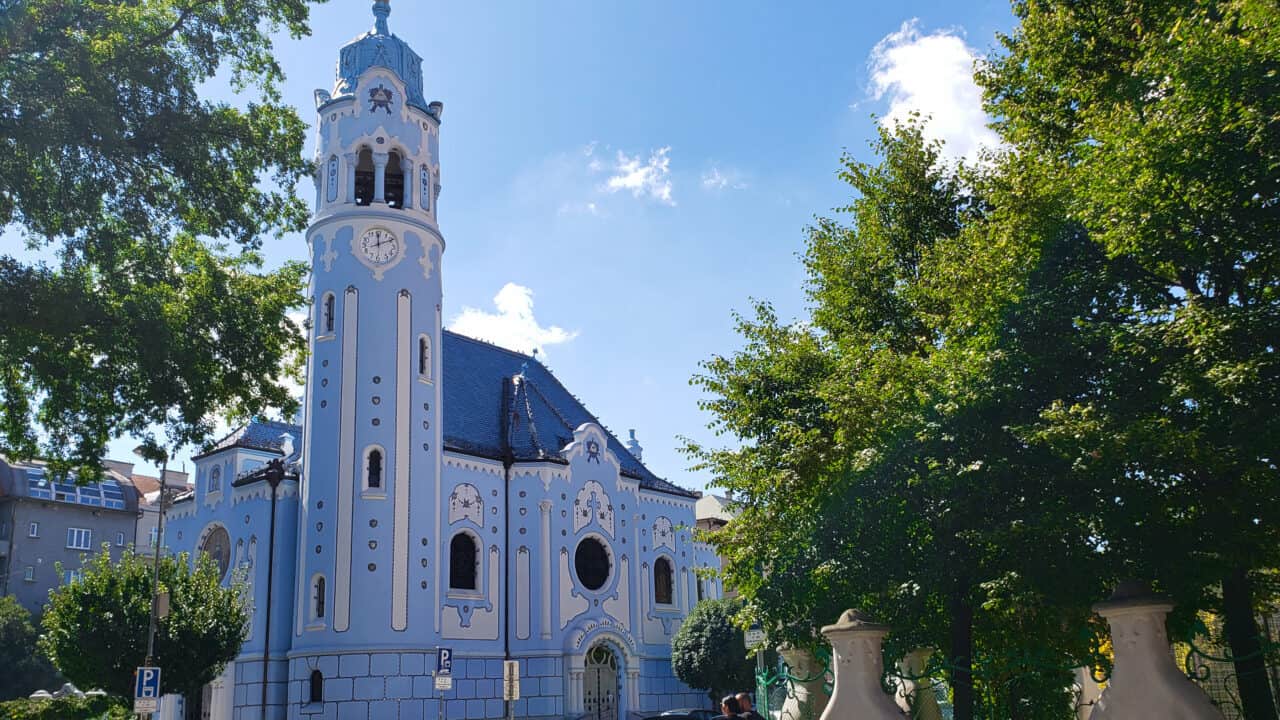 Mike and I have now been in Slovakia for over a week. We had been in Bratislava previously but only for a couple of short visits. We are in a campground 10 km from the city and have biked in a few times. We have also continued and maybe finished, our biking along the Danube. We biked along the Danube from Salzburg to the capital of Austria, Vienna last year. This year we extended that route along the Danube to well past the Bratislava, the capital of Slovakia. I thought it would be fun to add in the Budapest, the capital of Hungary. We were planning on leaving Bratislava and heading east so that we would stay along the Danube and get our bike rides in. We ran into a rather major problem just before we left. It turns out that although we can bicycle from Hungary back into Slovakia, we couldn't actually get into Hungary. Thanks to the corona virus, as of Sept. 1, Hungary is now locked down to foreign travellers entering the country. It is better that we can't get in as opposed to not being able to get out and back to our RV. We have now given up on the Danube and are heading somewhat north, still in Slovakia, instead. We were enjoying doing loops along the Danube and using ferries to cross from one side to the other. We will still get bike rides in, but it won't be along our nice long, continuous, well-maintained path across Europe. We have been having problems finding all the appropriate information about which borders are wide open and which ones are closed. Last night we had our first real visitors of the year. They were a couple from the UK who have been married two years and are living and travelling and working from their camper. They spent three months of their lockdown in Denmark, plugged in on some people's farm who they contacted via Facebook. They introduced us to a great website that tells you the border status for all the countries in the EU. It is super and I wish that I had found it much earlier. Thank-you Sam and Claire (nextstopeverywhere.co.uk).
Bratislava is the only capital city bordering on three countries, assuming that you count Slovakia. It also borders Hungary and Austria. Actually, the capital of Austria and the capital of Slovakia are the two closest capitals cities that you will find. They are about 65 km apart. There are a lot of boat tours between the two cities. For people visiting Vienna, it is very common to take a day bus trip into the historic centre of Bratislava and is certainly worthwhile. A friend of mine in Canada, said that she took the bus tour from Vienna to see Bratislava for the day and had a great time.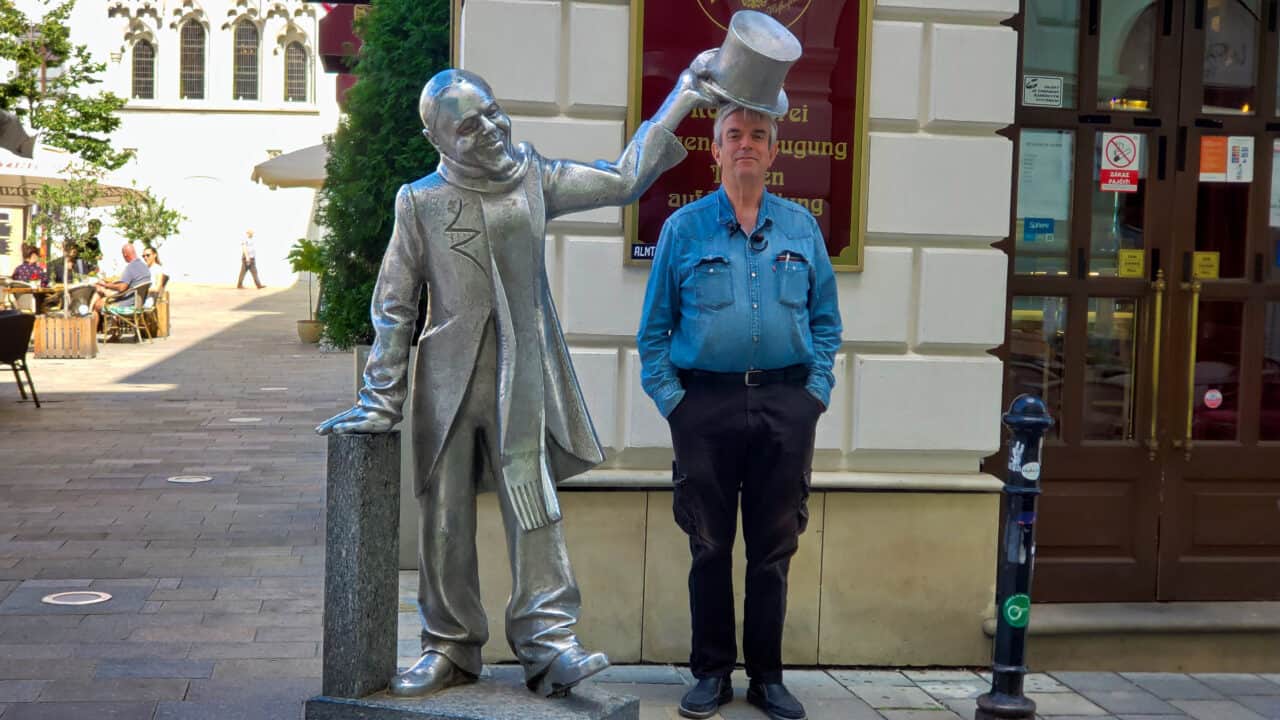 I have had quite a few people telling me that our pictures remind them of their own trips to this area and that they have basically the same pictures that Mike and I have taken. The one big difference is that our photos aren't crowded with people which most other pictures would be. This is probably the silver lining for Mike and I since it looks like we may have to quarantine again when we get back to Canada. I am not sure if we can be picked up at the airport and taken home or not. I will have to check that out. Obviously quite a few of our friends have photos of the palaces Vienna. One of our friends sent us a copy of the photo above that she took of Schöne Náci an elegant, kind-hearted local eccentric. In her photo it was her husband under the hat. Fun times for all.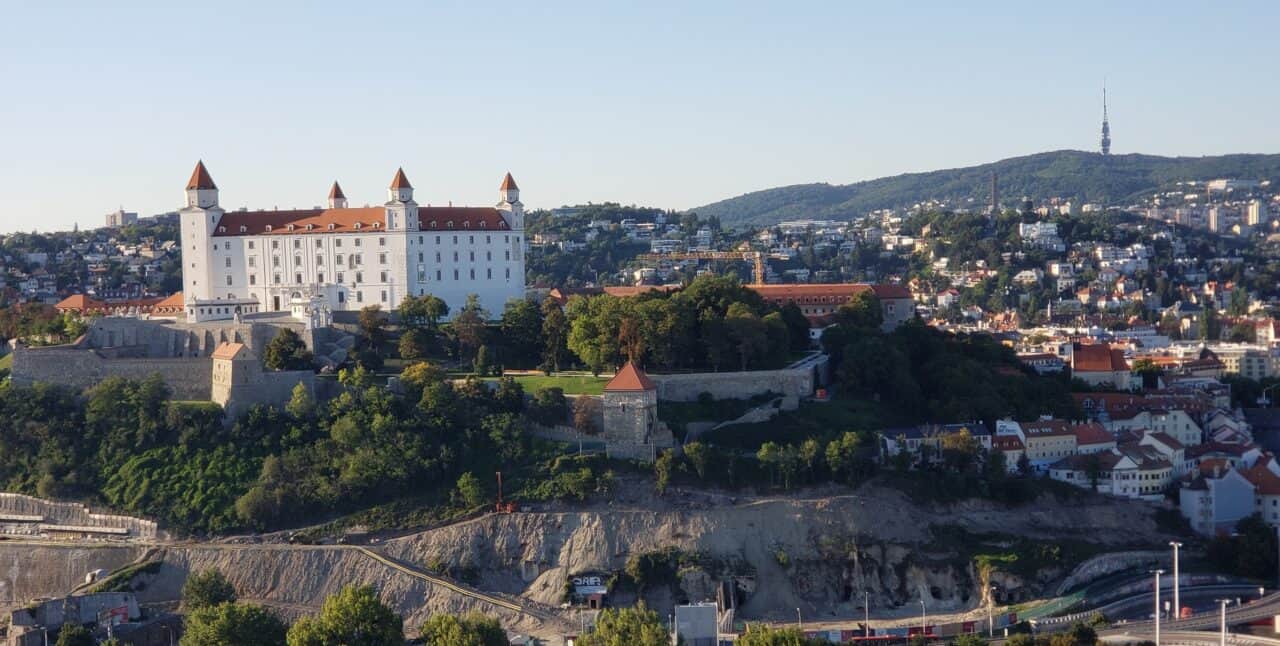 Historic Bratislava and its castle are quite small and easy to visit in a day. The centre is very interesting, but when you get a little outside the old city you start to see more graffiti and more buildings that need plastering and painting. It was surprising to read that in 2017, Bratislava was ranked as the third richest region of the European Union. We were told that it has the fastest growing economy in Europe. I haven't been able to validate that anywhere but we hate to think what the outskirts of Bratslava must have looked like before it became prosperous.
When Bratislava became a free royal city, it received many privileges, one of which was the right to build city walls. The city walls protected the city until the 18th century when Queen Marie Theresa had most of the walls destroyed in order to develop the city. This was great until 1809 when Napoleon besieged the city for a month and where he eventually suffered his first defeat. On leaving the city, French troops turned Devin Castle, 12 km away, into a ruin which it basically remains to this day. It was too bad because by the time of Napoleon, the castle was not being used for any military purpose. Devin Castle stands at the confluence of the Danube and the Morava rivers. In the picture you can see the two different colours of water as the rivers merge. The Nun is the tower on the far left. Mike and I toured both Bratislava Castle and Devin Castle. Bratislava Castle has been mostly reconstructed. Devin Castle has made a few rooms tourist worthy with exhibits but is essentially still in ruins. The guides at Devin Castle thought that their ruins were much more interesting than Bratislava Castle's reconstruction.
Devin Castle has a slender tower that stands on its own over the Danube. It is called the Maiden Tower or the Nun. One of the many stories about it tell about how the lord of Devin fell in love with a woman whose father refused his consent, forcing the two lovers to elope to Devin Castle. They had just made their vows when the girls family arrived. The lord and his lady took refuge in the tower but were overwhelmed and Lord Nicholas was killed. In her grief his new wife threw herself from the tower into the Danube. Tragic love stories are the same the world over.
Now that summer is over most of the events and displays at the castles and other tourist places have stopped other than on the occasional weekend. While at Devin Castle we met our first American tourists this year. It turns out that they entered Europe and skipped quarantine by lying to officials about where they had been and where they were coming from. It isn't right. I might not agree with all the rules, but countries do have the right to set them and as a visitor we should abide by them.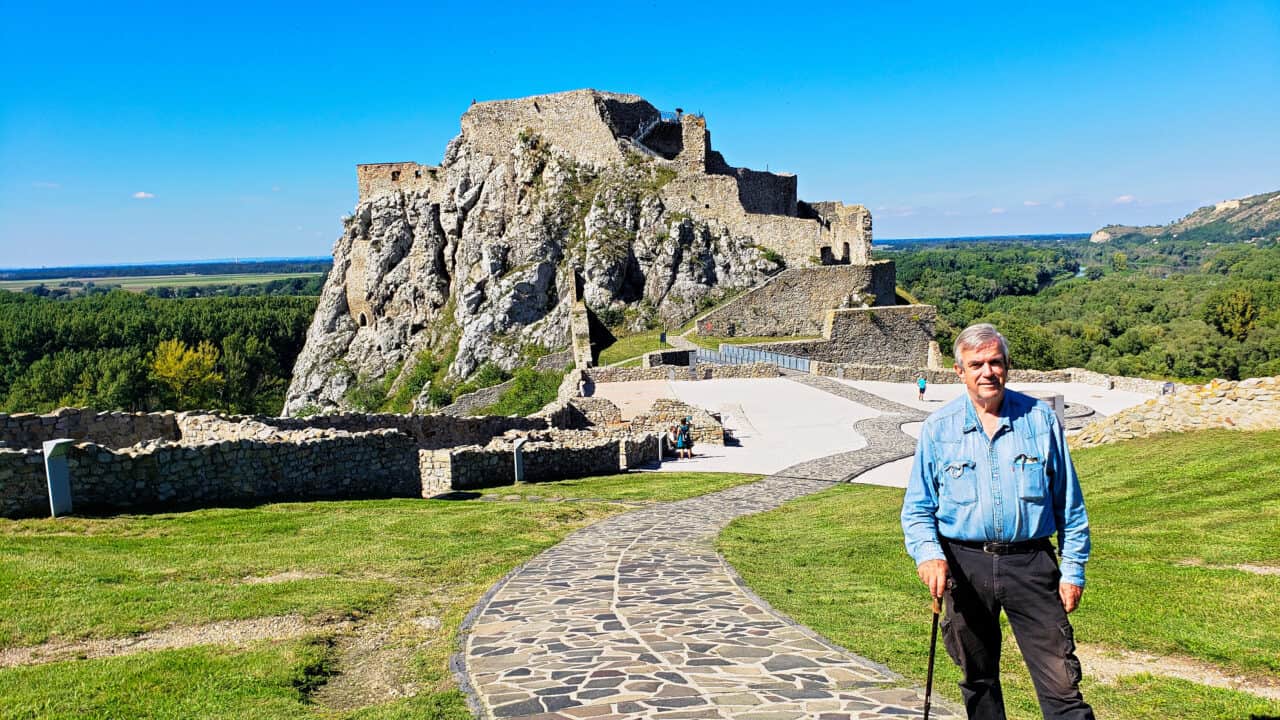 In Austria masks weren't required in malls but they were required in many of the stores. In Slovakia, it appears that masks are required everywhere indoors. It is amusing to see that in lots of the museums and places where there are statues and models, the statues are also wearing masks. In Austria and Slovenia, if you wanted to cross the road and you were at a crosswalk you knew that traffic was going to stop for you. Slovak drivers aren't quite so nice. Drivers here seem similar to drivers in Canada. They are more agressive and don't always pay proper attention to pedestrians at crosswalks.
They seem to love concrete in Slovakia or at least around Bratislava. Concrete bike paths aren't great because they have expansion joints (bumps) every few meters. The secondary roads in this area are often quite bumpy. There aren't as many bike trails as there were in Austria which, combined with the bumpy roads, makes cycling uncomfortable at times. We normally don't like bumpy roads in our RV but bumpy roads are something we really hate at the moment with our shattered, taped-up side window which we fear might crumble at any time.
In the suburbs most of the houses are gated and our campground had signs up about securing your bicycles. This makes it look like there are some concerns.
I think that our campground is on short final for Bratislava airport. This means that the big jets are coming in very low and very loud. On the plus side, thanks to the corona virus, there aren't many jets coming in to land. The campground is on a small lake which is just a very short walk from our camper. The lake is set up with ropes to pull water skiers around with a variety of jumps for their pleasure. It is interesting to watch. Every so often, someone falls down. When this happens, they have to get themselves and their board back to shore and it can be quite the swim.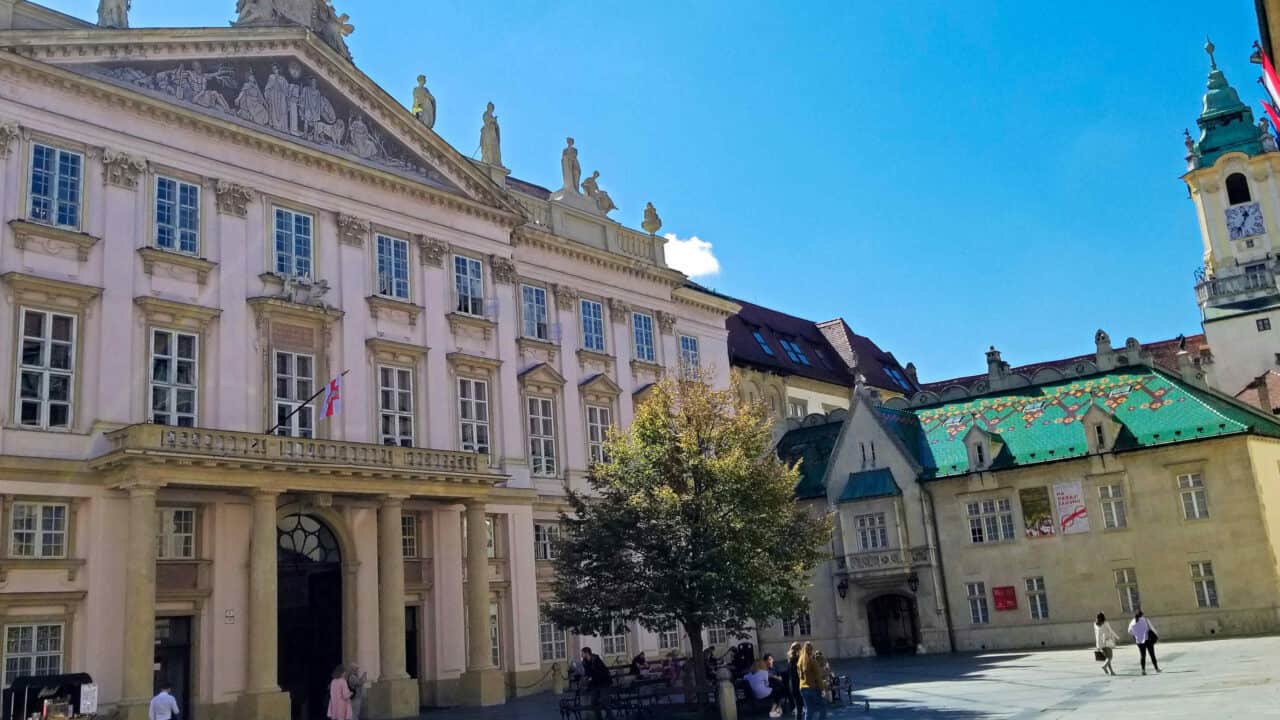 You might remember that Mike and I enjoyed two extremely elegant cafés in Vienna. Just outside Bratislava we had coffee and dessert in a rotating restaurant with gorgeous views over the city and surrounding countryside. We also went up a tower right in Bratislava. The tower was a little pricey for a quick view, but we did enjoy the views of the city and the countryside including Hungary and Austria in the distance.
While walking around Bratislava, Mike and I saw a crane with a platform suspended about 50 metres or 165 ft in the air.  People were dining on this platform!  We had never seen this before. It is called "Dinner in the Sky" and accommodates 22 people around the table with three staff in the middle (chef, waiter, entertainer).  When we checked into this, we found out that it really wasn't all that unique.  There had been one in Vienna that we hadn't seen and there is supposed to be at least one restaurant in Canada that provides a similar experience.
I am writing this as Mike is driving and we are leaving Bratislava, although not in the direction we had originally planned. We are looking forward to seeing the High Tatras, a mountain range in the east in a week or two. The British couple told us where they had camped in the Tatras and we will look into their campsite for our following move. For now, we are just going to see some of the countryside. We are staying close enough to the Austrian border that we can run back to Vienna in about five days to pick up my computer which I will actually be able to turn on and off with a power switch! Keep your fingers crossed that there aren't any problems with the delivery. We are still waiting to hear about our window that is being shipped from the US. Because it is tempered glass, it is specially built and there is a backlog. Mike is getting worried that we haven't heard anything and bought a sheet of plexiglass just in case the window does disintegrate in to a pile of glass slivers. We are hoping that we won't need it. The joys of travelling – actually we do love it. Bye for now.