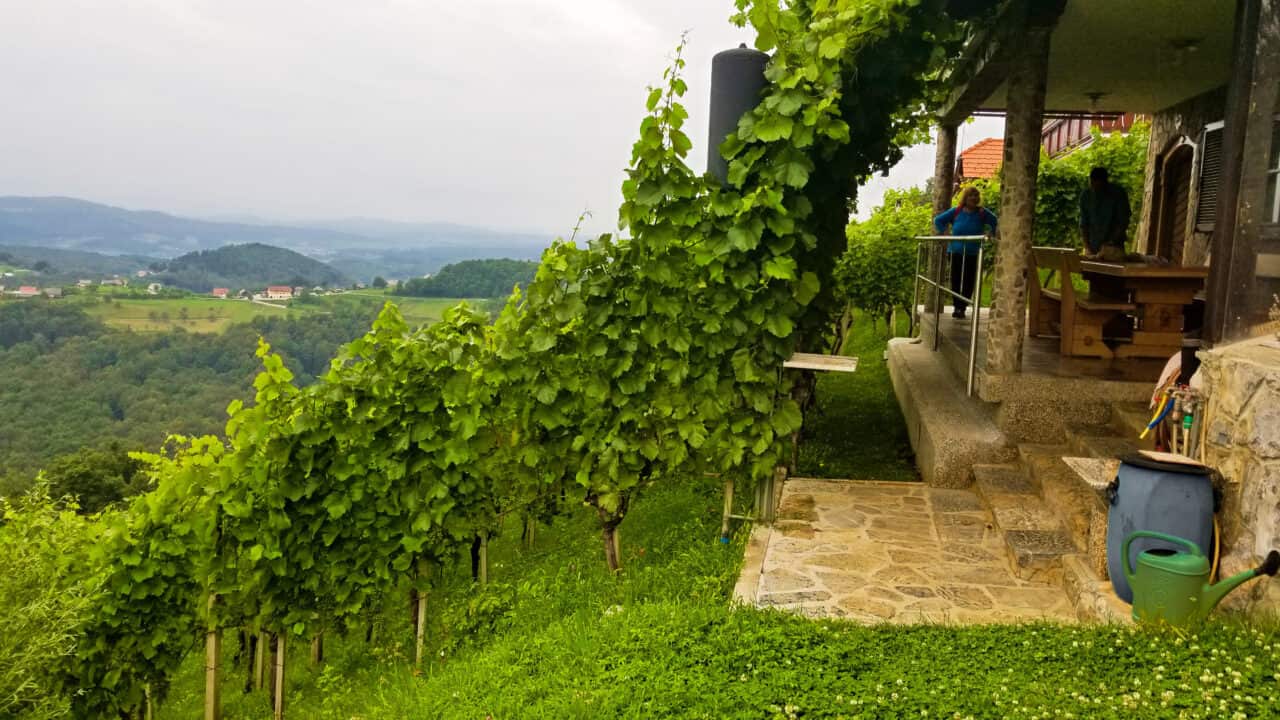 After one week here, Mike and I are leaving the village of Mirna, that welcomed us so nicely. The last few days had just as many friendly encounters as the first few days. Visits to local homes cut into our e-bike riding somewhat but was a lovely change. One afternoon we visited Tanja's home which is way up on top of a hill. While sitting outside and having a drink your view is of a very large valley and two more mountain ranges beyond that, just gorgeous. Tanja's daughter Klara, trains horses and riders and was in the middle of a lesson when we arrived. Both the family and the local village are very much into healing and healthy activities which we saw many signs of during our walk with Tanja. We had a great time.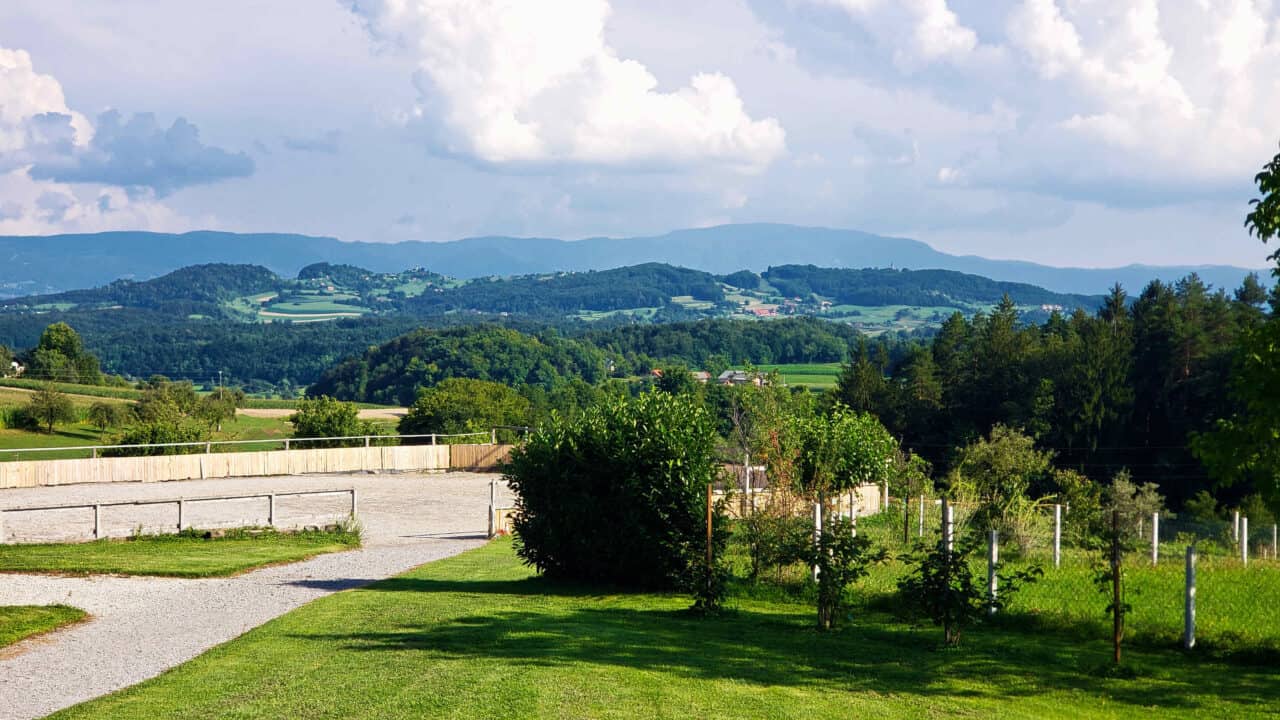 On another afternoon we visited Marko's family's small, private vineyard. Marko was the person who originally suggested that we visit Mirna. The switchbacks on the road up to the house and vineyard were so tight that a car had to back up and go forward multiple times to get some of the bends. At the top was another unbelievable view out to various mountain ranges in the distance. The vines were grown on a slope of about 45⁰. Marko had hoped to take us around on our bikes to see the area and visit his friend whose property had a small, old chapel on it. The weather prevented this as it started raining quite heavily. We sat outside, under roof, in the rain watching the mountains disappear while sampling the various wines that Marko's father had bottled. Marko had brought us just baked, fresh bread to go with the wine, cheese and a local favourite – salami. Maka played shy at the beginning but soon warmed up and was a very loving little girl. She didn't speak English, but she spoke Slovenian, Lithuanian and watched some cartoons in Russian. How I envy this type of education.
Mirna Castle on the hill above our RV is known as the Sleeping Beauty. It is considered an iconic monument dating back to the 11th century. The castle was completely destroyed in 1942. The previous owner of the castle spent the last 50 years of his life restoring it. Kailash Kokopelli told us that he only picked up the keys to the castle the week that we arrived in Slovenia. Here is a short ReMax video when they were selling the castle. https://www.youtube.com/watch?v=GUqVVISPcXU On our last day in Mirna, Kailash stopped by our RV and said that if we wanted a tour of the closed castle, we could come up now. He was about to show another gentleman around and we were welcome to join in. Kailash has some volunteers helping clean the rubble from some of the rooms. The intent is that the castle will be a nonprofit centre for healing arts with an emphasis on sound therapy. It will consist of an educational, research and therapeutic centre. All this is dependent on the coronavirus travel restrictions and actually getting students and the patients to attend.
According to Kailash's Instagram page he is a "Sound Medicine Man, ceremonial performer & producer of Sacred World Music, wedding celebrant, poet, artist, teacher of Chi Movements & Songdances". This background sounds a little unusual to be responsible for restoring the castle.
Kailash once played in a church in Toronto and was supposed to come back this year but Covid got in the way. Kailash's original estimate for finishing the castle was under $5 million Cdn. The latest estimates by visiting "experts" were more than double that number. He is now looking for sponsors and donors that can use a charity tax write-off. In one of the smaller rooms with great acoustics, Kailash played an instrument in our honour. He chose a flute from the Native North American culture. His actual flute was built in New Zealand. According to Kailash the main body of the flute was built from wood about 30,000 years old (how is this possible?) whereas the wood in the mouthpiece area was about 2,000 years old. I would love to see the castle next year and see what Kailash has achieved. We tried to get an evening visit in just to talk about the castle and Kailash's interesting life, but that didn't work which was too bad.
On our last day in Mirna we had many visitors. Not only did Kailash stop by but Marko and his daughter came over. While he was there his father joined us and later his brother stopped by just for a moment. Shortly after Marko left Tanja and her son Aleks stopped by with a framed photo and some home-made jam as a good-bye gift. Maybe we will meet up with them again, in the camper one day.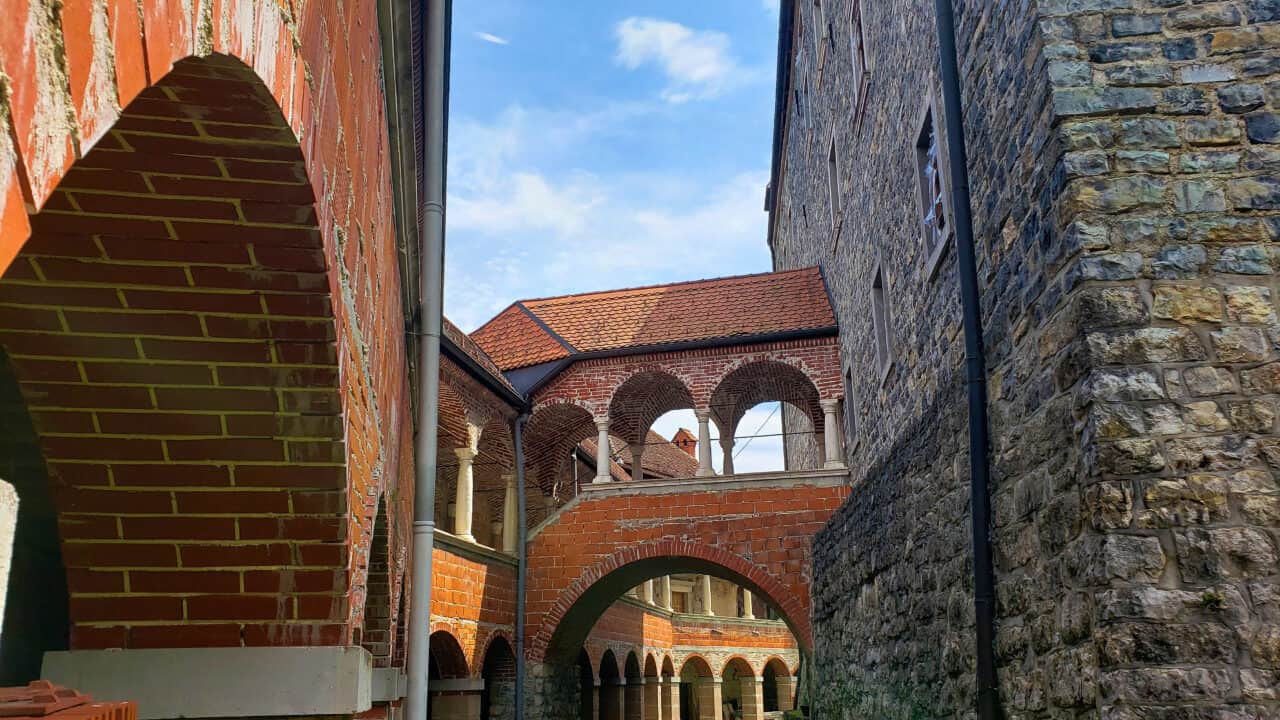 The village of Mirna was very surprising. It might be small, but it had more sports facilities for the children than you see in much larger cities. Everything was on the small side, but it fit the village. There was a sports field with stadium seating for 240. There were also multiple other fields for football/soccer and other sports. There was a boules court for seniors and a single tennis court. There was a small, but proper, ski jump! That one surprised us. Next to the school were all the track and field areas. There were two areas for freestyle cycling. In one, the ramps were made of wood and steel, while the other was comprised of an integrate series of steep mounds that had been paved over. I saw kids on bikes on both of them going up and down the slopes. There were boxing bags and a single, very small zip line for kids, which of course Mike and I had to try. There was a river that the children played in and a path through the woods surrounding the sports area. In the woods was a café/bar where people met. On our walk through the woods, we again met the mayor and his children, Marko and his daughter, and Marko's friend from Bosnia and his son. We all ended up in the café together. It was a lot of fun.
In addition to pizza and pasta restaurants, that are quite common, Slovenia has a type of restaurant called "gostilna". Gostilnas have the government stamp of approval and are "authentic local restaurants that serve top-quality regional dishes". I originally thought that there would only be a few approved gostilnas but that isn't the case. Nearly all restaurants serving local dishes have got the designation "gostilna". This really means that they have a lot of meat dishes such as baked veal, turkey schnitzel, chicken and more. Not all gostilnas are open, presumably because of Covid. There are enough open to keep Mike and I in meals. The vast majority of the patrons eat outside. If you go inside for anything, you have to wear a mask. It is interesting how good everyone is about masks in restaurants and shopping malls, but they still insist on enthusiastically shaking hands. Mike and I use a lot of soap and water these days.
Open-air museums depicting how people used to live, are quite common in Europe, much like our Pioneer Village in Toronto. Near Mirna, instead of homes, they had an Open-air Hayrack museum, known as the Land of Hayracks. Mike and I biked through that area, but I wasn't particularly interested in walking around Hayracks in extremely hot weather.
In addition to the short TV interview, we have been featured on regional and village websites, in a regional newspaper and who knows where else. Mike and I tried to use Google Translate to understand what was being said in the TV interview. The highlights of our translation where that we are attracting a lot of attention to the Mirna motorhome stop. The interior of our mobile home is reminiscent of a five-star hotel. I liked that one. The mayor and his assistant are interviewed at the end of the clip. They talk about the 86 municipalities that are involved in this project of building a network of motorhome stops in Slovenia which I think is a great idea. Here is a link to the TV interview. If you don't speak Slovenian it won't be of much use. Slovenian TV Interview
We are leaving for the town of Celje next on our way to Austria. Given that Celje is predicted to be in the mid-30s or over 90⁰ F I am not sure how much I will see. This route will bring us into Austria further east than we had "originally planned" so we will skip some of southern Austria. This all assumes that we can cross the border without quarantine. Slovenia is becoming too comfortable and "normal" which means it is time to leave and continue our explorations.
If you are from the Mirna area, thanks for a wonderful week.