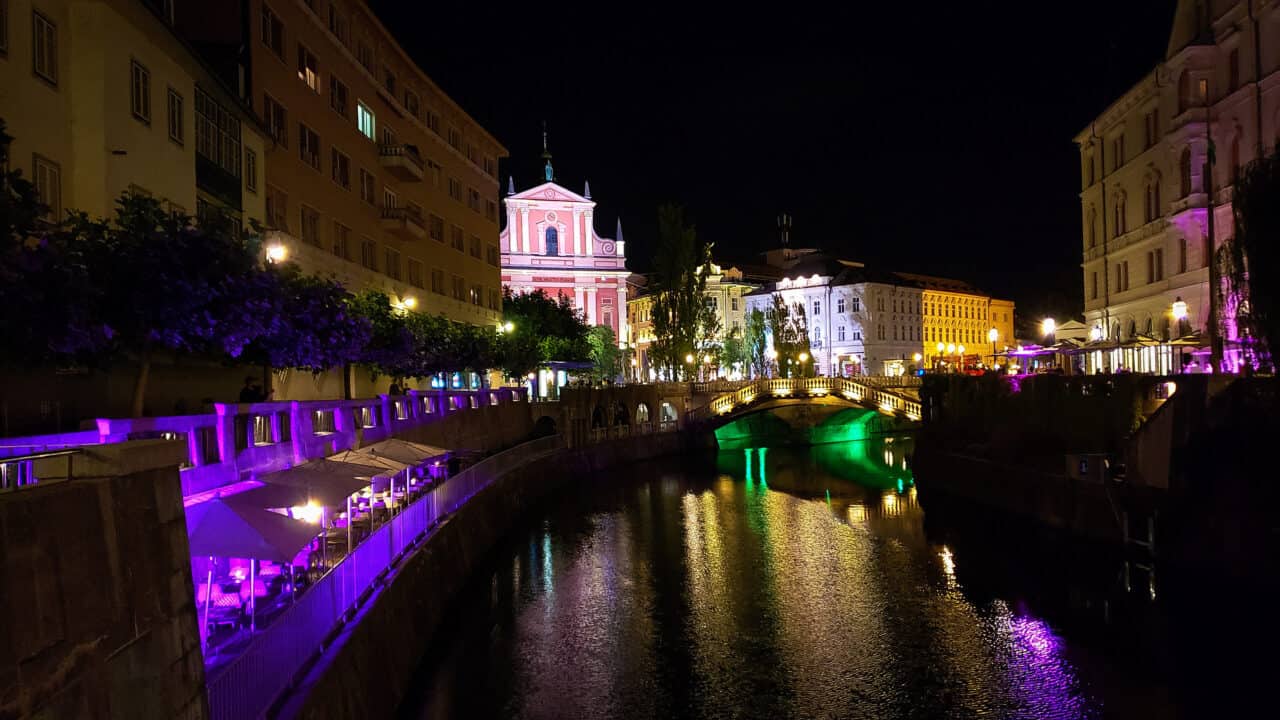 We have now been out of quarantine for one week and what a week it has been. Near the end of quarantine, I reminded Mike that we had been almost six months with zero exercise and needed to take things easy at first. He agreed. Our first day of freedom started easy. We did some shopping and I had my first haircut in six months, bliss. We had dinner out and something mildly disagreed with me. On our walk we went past a church yard where they were setting up chairs and a large projection screen. They were showing the movie "The Great Lebowski" outdoors that evening. They seemed surprised that we had never heard of it. The movie was in English with Slovenian subtitles. I decided to pass on the movie since I didn't feel great and Mike returned to the outdoor venue to see the movie on his own. When he returned after seeing the movie, he told me I would not have enjoyed the movie. It was essentially a vulgar comedy. Nevertheless, he said he enjoyed the experience.
Mike told me that the next day he would like to go on a 40 km (25 mi) bike ride, stop in the middle and visit a cave with 3 km of a steep up and down path and 800 steps. I was smart enough to say no to doing both in one day. I mistakenly agreed to the cave tour and that was a huge error. I HATED it! We didn't know to ask for a senior's price, and they wouldn't refund the difference after we had paid. My knees aren't great, and their elevator was unavailable due to the COVID-19 crisis. Our tour group walked in a long, social distanced line so we never saw our tour guide, at the front of the line, once we were inside the caves. The lighting was poor, walking 3 km up and down and up and down on steep, damp surfaces was not fun. Even worse were the stairs. Four days later and my knees and calves are still uncomfortable to put it mildly. Of course, the next day Mike still wanted the 40km bike ride. It really was too long for our first ride, but I will admit that the scenery and the area we biked through was just lovely. We got our new bikes near the end of 2019. This was one of the first times that we had a chance to actually test them out on hills that we would have avoided on our previous bikes. We stopped near the Lipizzan stallion stud farm that we visited last year and watched all the white mothers with their dark foals.
Even with the Slovenian government giving each adult $300 Cdn to spend on tourist accommodation in Slovenia, Hotel Malovec were we quarantined, was down to about 10 visitors a day instead of the 100 per day that they normally had. The good news is that if their visitors don't dramatically increase, we will be able to park there for free next winter.
While we were in quarantine, I downloaded John Bolton's new book from the library. It is a good job that it was a best seller before it was publicly available. I made it through chapter one and gave up. Mike is persevering and updating me on any pertinent information of which there isn't much.
We had to drive past Ljubljana to get to the small village that we have been invited to. Ljubljana is a lovely small city and Mike wanted to spend some time there again. It turns out that this will be the third time in three years, that we have visited this city. To get to our various winter parking spots on the Adriatic over the last few years, we have had to drive right past Ljubljana and we visited it every time. Ljubljana is a lot less busy this year due to the corona virus pandemic. This downturn is really awful for the businesses but might have some lovely benefits for Mike and I as neither of us like crowds. While walking in the pedestrian area we saw some garbage cans that looked a little different. If you look at the larger version of the picture here, you will see that each garbage can is located on a ringed square. The actual storage area for the garbage is a large bin beneath the road under each garbage can. The garbage truck comes along and lifts up the garbage can, and the surrounding square of pavement and the bin underneath it all come up together and get emptied into the truck. We thought this was a great idea. These bins will hold more than 10 times the garbage, all completely out of view. This should also eliminate the messes that occur when the garbage cans are full. It is a great all-around solution.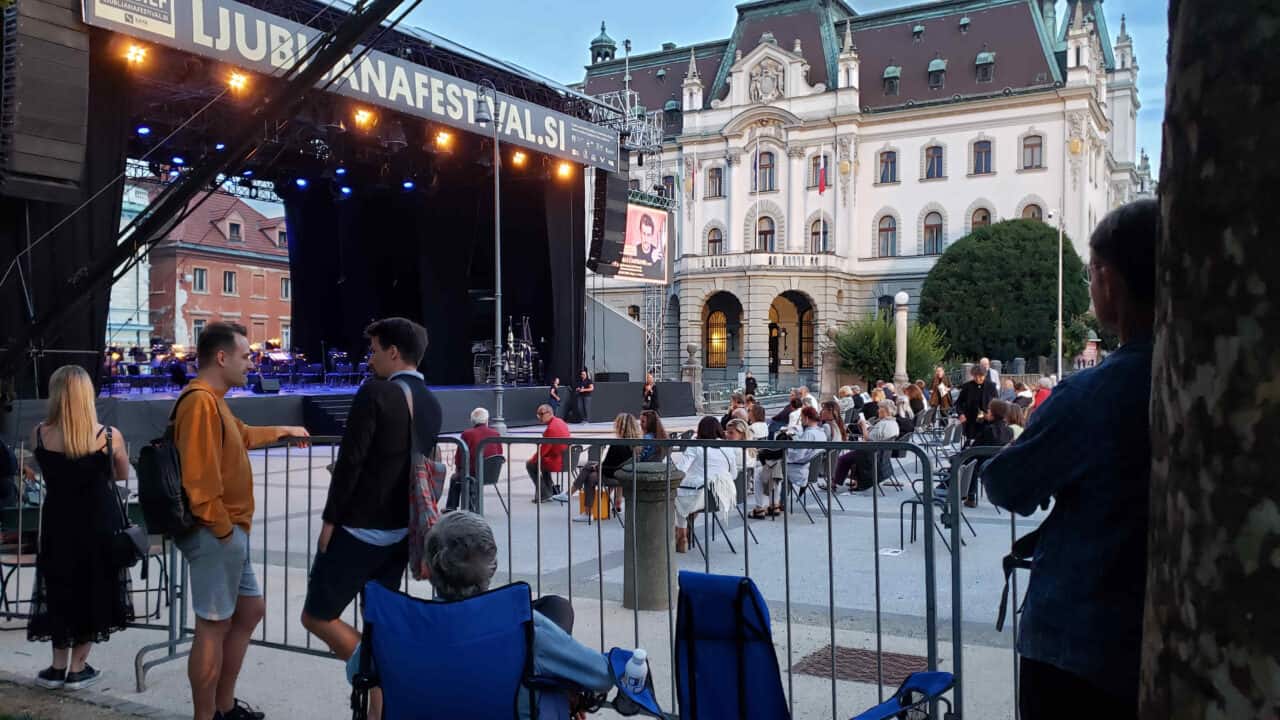 While we were walking around Ljubljana, we saw a fenced in area with "socially distanced" chairs being setup in front of a large stage. It turns out that July is Ljubljana Festival month which is largely classical music events. That night the Slovenia Symphony Orchestra was performing a Mozart concert. Seat prices ranged from $30 Cdn at the back to over $50 Cdn each near to the front. Mike and I headed for the box office, went the wrong way and ended up at the Tourist Information Centre. They told us that the concert was almost all sold out, but that you could hear the entire performance from the park where anyone could go for free. That night we packed our two outdoor chairs into the car and drove back to the park in the centre of Ljubljana. As you can see from the picture, we set up our chairs right next to the fence. The couples on the other side of the fence would have paid over $100 Cdn for the evening. Not only were our "tickets" free but we also had a much nicer arrangement. The fence was our footrest, no-one blocked our view and our chairs were much more comfortable. I even read my e-book a little during the concert and loved it. I couldn't have done this sitting in the paying seats, but sitting in the park in our lounging chairs, it felt just fine. The setting was lovely with the old buildings surrounding the park. It reminded me of some of Andre Rieu's concert settings. We stayed and listened to just over an hour and a half of the concert and then left the park. That was long enough for us and another benefit to being on our side of the fence. The biggest surprise was that there was no-one else in the entire park with chairs. People were sitting on blankets or standing up leaning on trees and leaning on the fence but no chairs. After the concert we wandered around Ljubljana at night. That was a really nice bonus. Mike and I rarely go back into town at night and seeing it all lit up was lovely.
I have a booklet on a lot of family bike rides to the east of Ljubljana. Yesterday we went on a 38km (24 mi) ride. We stopped a few times. The muscles in my bum aren't back up to these long rides yet and Mike wants to do another one, the same length, this afternoon. He believes in jumping right back into all this. I will say that these rides are a nice way to see the small villages off the main roads. We stopped in one yesterday and had a great inexpensive lunch and took some home for dinner. The waitress spoke quite English very well and helped us with our pronunciation of common Slovenian greetings and we talked for quite a while. It was good fun.
Mike is sitting here telling me that it is time to leave for our bike ride. So I will sign off now. We will probably spend one or two more days in Ljubljana and then had towards the village of Mirna.
P.S. Mike and I just returned from our bike ride. The first ten km (6 mi) was the steepest and longest sustained mountain climb that we have ever done on bikes. We couldn't have even attempted it on our previous e-bikes. We climbed about 600 m or 2000 feet in 10 km. The views were spectacular, but they really don't show up well in photos. We were quite surprised when we were passed by a guy, in really great shape, pedalling uphill much faster than our motors could take us. At the 30 km point of our ride we were next to our car and had just felt a few droplets of rain. Mike wanted to continue on to a secondary 10 km loop that went around a lake. My sore butt wasn't going to allow me to ride past the car for any reason, certainly not for another, possibly damp, 10km. I was done.