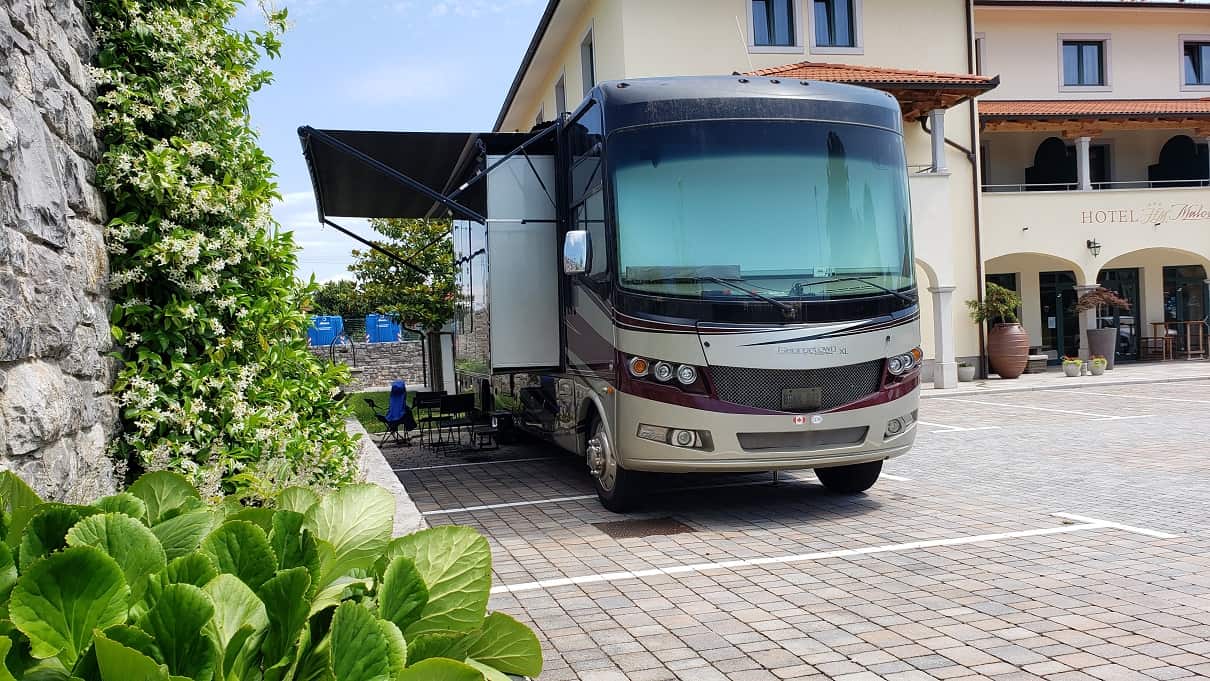 Mike and I are no longer in Canada. We have made it to Slovenia. I posted my first article about the last few days at home and our fun with Air Canada at the airport. This is Part 2 in our entry saga.
Mike and I are now in quarantine. Even though we had an email from Slovenia saying that we wouldn't be and the Slovenian website saying that EU citizens do not need to quarantine and we both have NEGATIVE covid tests, we are still in quarantine. None of that mattered to the police at the airport. Issue number two. Once you enter quarantine, even a negative covid test from Slovenia wouldn't shorten the 14 day period. I am writing this after having spent almost one week in quarantine. Yesterday Slovenia opened up their borders to many other countries including Canada. If a Canadian landed today there would be no quarantine. Because we landed a week ago, even with a negative covid test and having been in quarantine since then, we are still required to spend the next week in quarantine. Croatia told us days ago, that we could happily enter their country which is only half an hour from where we are. The problem has been that we can't legally, leave the place we are currently parked, even to go directly to the border.
Camping Adria, where our RV spent the last six months, wouldn't let us quarantine there even though they had originally told us that they were set up for us to quarantine with them and then they sent us a follow-on email that said we didn't need to quarantine anymore. It was only after the second email that we actually booked our plane tickets. In all honesty, there turned out to be nowhere to quarantine at Camping Adria since it was packed. My vision of a deserted campground on the Adriatic was about as wrong it as they could be. In exchange for having to kick us out, Camping Adria spent hours trying to figure out where we could go. They had to do this as they were our quarantine guards as per the police and needed to be able to transfer the responsibility legally. They also cancelled all our storage charges due to the current problems and expressed the hope that we would return once our quarantine was finished. They found us a hotel with facilities for us to hook-up and live in our RV. They did not want us in their campground even for the first night although our RV couldn't yet be moved (dead battery etc.). Their campsite was considerably busier than even they expected, busier than it has ever been this time of year. I guess everyone wanted out after being shut down and this was the start of their national holiday celebration. Actually, the campground was just what I dislike – way too crowded and too many people. It turns out that, like most countries, the Slovenian government is giving their people money to help overcome covid issues. The government is giving every adult $300 Cdn and every child $75 Cdn, to be spent on tourism in 2020 within Slovenia. The woman who brought us dinner last night said that she and her husband might go and stay at an inn in their wine country as she loves wine. Mike and I thought that it was a great idea although it could have helped with causing the over crowding at Camping Adria.
We left the RV in the campground for one more night and spent the night at our quarantine hotel. Before we arrived at the hotel, the quarantine officials had called them and told them that we couldn't stay in our RV, that we had to stay in the hotel room. The room was awful. It was tiny with two narrower than normal single beds, one straight back kitchen chair, one TV without sound, a shower with no hot water etc. I told Mike that I would leave the room and go to the RV and that if we were reported I would pay the fine (large). I wasn't staying in that tiny room for 2 weeks with our home, our RV, plugged in in the parking lot. All of this was Friday evening (Saturday morning in Canada). We had left Toronto on Thursday and I hadn't had any sleep at all since then. As you can imagine I was pretty tired and upset that night and the next morning.
On Saturday we picked up RV and returned to our quarantine site that we wouldn't be leaving for 14 days. Mike had one major project that could be done in quarantine – getting the Pine tree pitch and sap off of our car. It was terrible! He spent hours trying to clear a little bit of the window with a razor blade so that the car could be driven. Once we were in quarantine, he spent many more hours continuing to clear the sap off the car. Parking under pine trees was not the best thing we could have done. If we had returned in March we might have been OK, but not in June. The tree was still dripping as Mike was trying to clean the window. The car looked so bad another camper had apparently posted photos and comments about it on Instagram. Mike said that he was pretty sure that if it had been a canoe it would have floated. He did a great job cleaning up the car.
We are now in the RV in the hotel parking lot. The manager told us that he is getting lots of comments about our RV from his guests and restaurant patrons. They haven't said anything again about us having to stay inside. They started out bringing us three meals a day. It turns out that our RV was very well stocked with non-perishable items including UHT milk and cream, which they use a lot in Europe. We asked the hotel to cut it down from three meals a day to just dinner. Without exercise we don't need to eat three restaurant meals a day. I will say that the meals have been excellent and varied. The first night we had pork that was delicious, even if I was too tired to enjoy it. Night 2 we had calamari that was cooked really nicely, and it often isn't. Mike even enjoyed the calamari once he added his bar-b-que sauce. Last night we had spaetzle and veal. It was all very tasty and well cooked. I don't know if we can request a meal or not but we are quite enjoying this surprise of different, very good local meals each night. We have set up our table and chairs outside the RV in a little, somewhat private, area that you can see in the picture. We both have a variety of small projects that can be done in the RV.
One of the last things that I did in Canada was to have more than 2,000 photographs from all our old photo albums and some of the mother's albums scanned and digitized. Mike and I are spending time trying to put names and dates and places to all the photos. Being in quarantine should help us make a dent in this endeavour. I have many family pictures over 100 years old. I have two photographs of my maternal and paternal grandmothers, in different countries on different continents. Both photographs were taken about the same year in the late 1800s. Both girls are around three years of age, posed with their family. The pictures are remarkably similar. I am sure that the local Europeans wouldn't find having something from the 1800s quite as unique as it felt to me.
Mike and I have been playing cards with friends over the internet during the shutdown in Canada. It has worked our really well. You can see and talk with one another while you play cards. Games go quite a bit quicker since the computer deals faster than we do. We are trying our first card evening from Slovenia on Saturday night. We will find out how good the wifi network we are on is.
When our quarantine ends, Mike and I currently have no idea what we are going to do. We don't know if we are going to stay in the area we are in and explore some of their bike trails or if we will go elsewhere in Slovenia or possibly move right out of the country. This will all get figured out at some point. Mike is still trying to talk the health officials into letting us out of quarantine but that isn't working so well. As long as we aren't in that awful hotel room, life isn't too bad.