2019 Highs, Lows & Surprises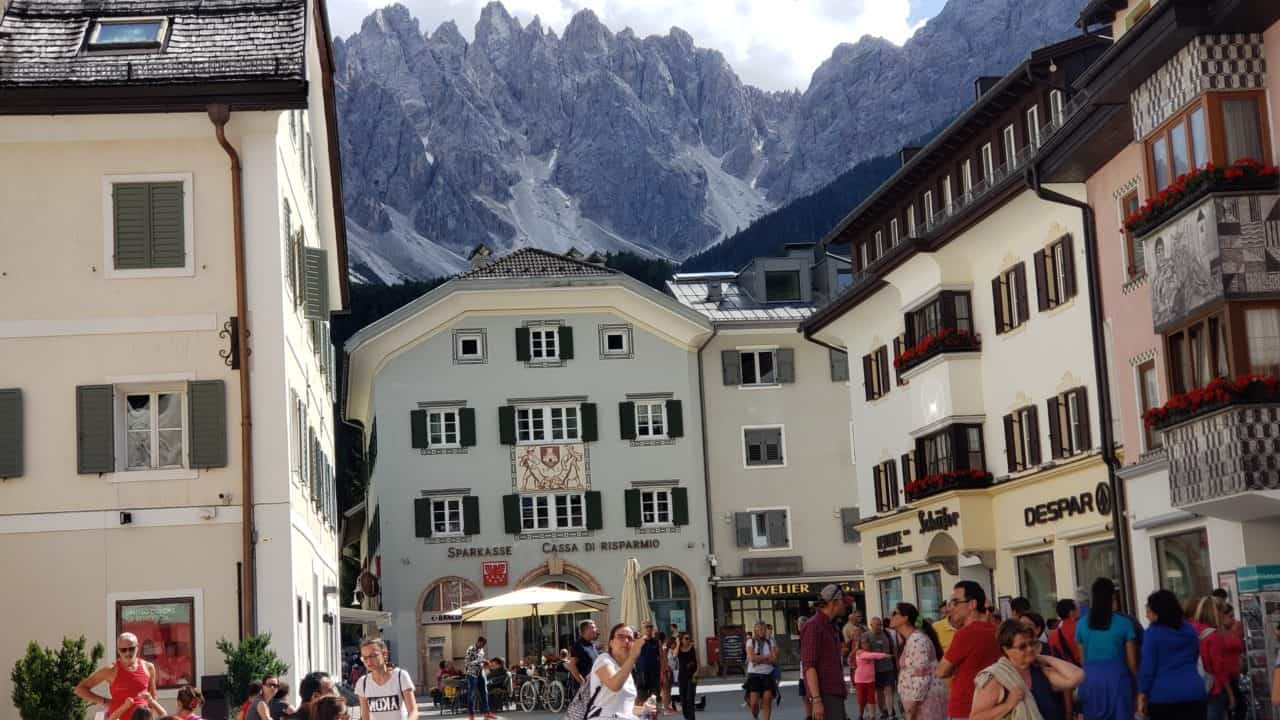 Major surprise: Mike and I are back in Canada and our RV is still in Europe! Our original plan was for a three-year excursion in Europe and then to return to Canada to continue travelling here with our RV. We are enjoying the lifestyle in Europe so much that we aren't ready to call it quits after just three years. For those that follow us, you might have noticed that our camping stops get longer and longer every year. We are now averaging almost two-weeks at each campsite. This is a little surprising given that we typically only move about 90 minutes between camping locations. At this speed it takes us two months to move 6 hours or about 400 km (250 miles). This might explain why we haven't got to any of the countries that most people think of when they think of Europe. We haven't been to France or Spain and we only saw the north of Germany briefly. We are not sure if we will ever get there in our RV, but we plan to keep trying for a while ?.
In Canada, we typically hear and read and see pictures of the major cities in Europe. This trip has allowed us to see and enjoy the rural countryside with the small towns and villages scattered throughout much of Europe. Architecturally, these small towns appear to have changed little over many hundreds of years. From what we have seen, the interiors of many of the buildings have been thoroughly modernized. Where there is new development, the old town is preserved, and the new development surrounds the old town. A pleasant surprise for Mike and I has been the fact that the centre core of many of the towns is reserved for pedestrians only. In most instances, there are barriers/poles that can be lowered below the level of the pavement so that deliveries and emergency vehicles can traverse into the pedestrian only portion of town. Mike says that we are living the "simple life". It is true and we love it. Our only concerns are family problems and potential health insurance while we keep doing this.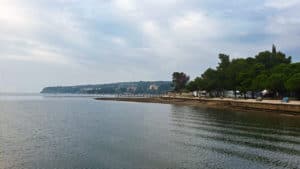 Our RV is spending the winter in Slovenia on the Adriatic Sea. We will join it there again next year. One "low" for the year was missing Venice when we flew back to Europe last February. We had booked a hotel just outside Venice with the plan to visit the city for a few days. We have been to Venice twice before and were looking forward to wandering through the city, outside of tourist season. However, I was ill when we arrived in Europe and we ended up cancelling the hotel and missed seeing Venice this trip.
One major highlight of the year had to be our unexpected visit, without the RV, to Norway. We were there for Trine's confirmation which involved the entire family getting together, many in traditional attire. Mike and I felt welcomed by everyone. Helge and Elin again took time off work to tour Mike and I around their beautiful country. We really hope to see them again next year. Peter and Pearl, friends from Canada, came and joined us for a week in their Canadian camper that they had just shipped over. That was very nice as well.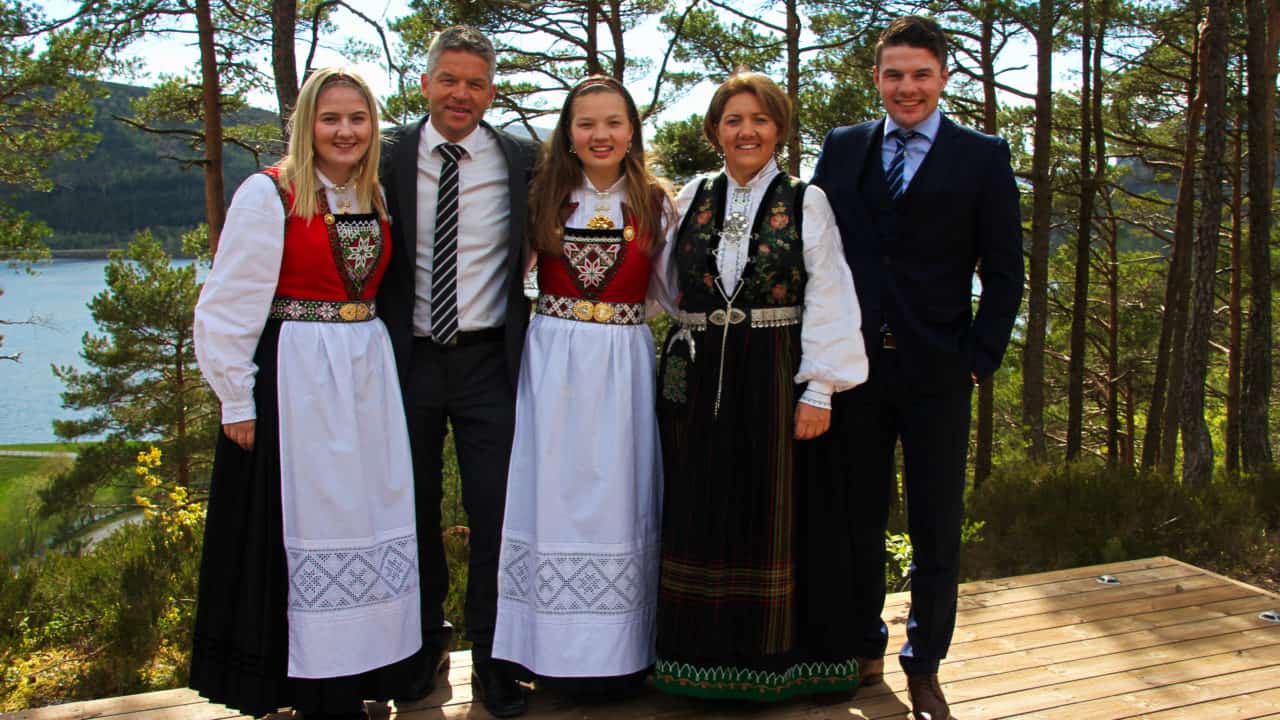 Last year we decided at the last moment to visit Transylvania and just loved it. This year we had planned on going both south and north through Croatia. We changed this at the last minute to continue on to Montenegro and then to come north through Bosnia & Herzegovina. We loved the Bay of Kotor in Montenegro. It is like a less expensive Norway. We really enjoyed the panoramic mountain drives in Montenegro and the government provided audio tours to go allow with the drives. Italy, Slovenia and Austria had absolutely gorgeous "official" panoramic routes as well. Without the car we could never explore Europe in our RV the way we are doing.
The drives and hikes in the mountains might have been lovely but the terrain contributed to our never putting our boat in the water the entire year.  The rivers were typically too shallow and rocky for a motorboat.  The few places where the water was great, where in national parks and you were only allowed electric motors due to environmental concerns.  An electric motor is not cost justifiable for us.  So, we did miss being out on a boat.  I will say that discovering the great bike paths helped make up for the lack of boating.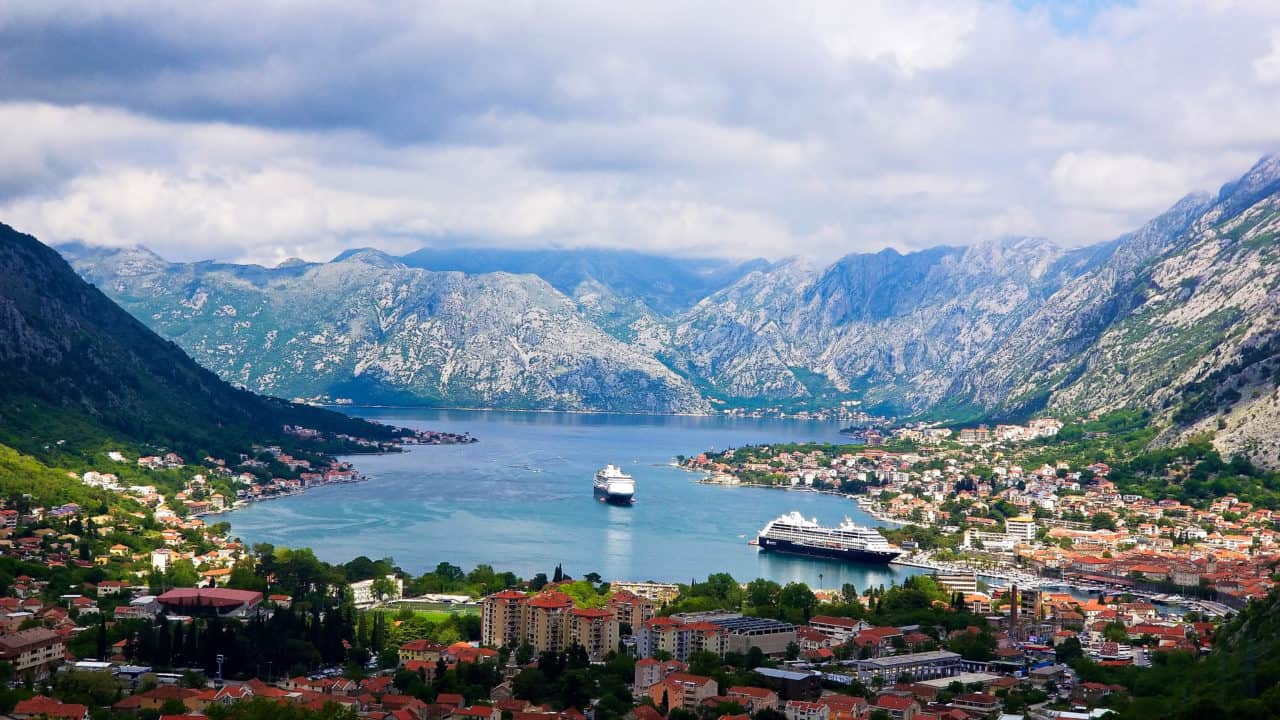 Mike and I really enjoyed our time on the Istrian Peninsula with its Adriatic touristy seashore. We actually enjoyed the rural parts of the peninsula with the medieval towns and villages on top of the hills and ridges even more than the tourist coast. Although we love seeing the sights and museums in the big cities occasionally, I think that our preferences have swayed towards the more rural areas and their small towns and villages and friendly people. Actually, one disappointment this year was that we didn't spend as many evenings with visitors as we have in the past. We certainly had lots of people who wanted to see inside our RV, but most didn't speak English. I would say that the majority of people that we saw this year spoke German or Italian. Both languages have a big enough audience that the people didn't need to learn English like they do in the smaller countries.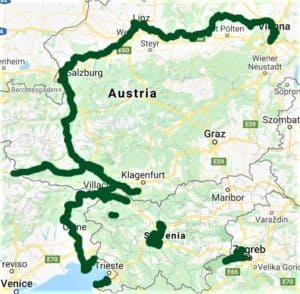 Our biggest and most life changing surprise was finding the gorgeous "official" long distance bike trails for us to ride in western Europe. Camping at 3,000 ft high, in the mountains in the tri-border area of Austria/Italy/Slovenia, we never expected to be able to do any biking. Even with electric bikes, there are still many hills that are too steep for us to attempt, particularly in the mountains. Going right past our campground was an old railway track that had been changed into an international bike trail. It is the loveliest bike trail that we have ever seen. Because it was an old railway track, the grade was nice and easy. The governments had paved the majority of the trail which was lovely. We rode on a nice easy path, surrounded by mountains. How much lovelier can it get? We discovered this trail in July and it basically changed the rest of our trip. We stayed at this one campsite for almost seven weeks. When we left, we went out of our way to find official bike trails, which often means paved, no extreme hills, and away from the cars. We were lucky that we were heading further into western Europe which is more bicycle friendly. In large parts of Romania, Croatia, Montenegro and Bosnia, these bike paths didn't exist, and you had to ride on narrow, busy roads which we don't particularly enjoy.
People in Austria are very bike aware. By that I mean that the cars are normally very careful about passing bikes and not squeezing them off the road. Pedestrians wait for bikes to pass them at cross walks. It is almost as if the bikes have the right of way, which of course they don't. It all contributes to making us feel safer, even if we still don't like riding on roads without bike lanes. We bought new ebikes while we were in Canada and had been hoping to ship home our original ebikes that we had been using. This didn't quite work out as planned. Due to paperwork errors by the Canadian shipper, we ended up paying a lot more than expected to take possession of our bikes once they arrived in Europe. We also found it very difficult to ship home our old bikes with their batteries. Once we found out the cost of new batteries in Canada, shipping them without their batteries wasn't an option either. We did manage to sell them in Europe, and we will buy two more ebikes in Canada. We really do like having ebikes. We haven't yet figured out the range of our new ebikes, but it is considerably more than the 80 km we rode in Italy which is great. Also, the new ebikes seem to have twice as much power than our old ebikes, but the controls are nowhere near as nice. Our original bikes had unusual controls which we didn't have enough experience to appreciate when we purchased them. They turned out to be much better than the industry standard controls, but we can't find these controls on any other models. It is too bad, but I guess everything in life is a compromise.
Mike was disappointed in the lack of variety in food choices outside of the major cities. Every restaurant seems to offer pretty much the same choices.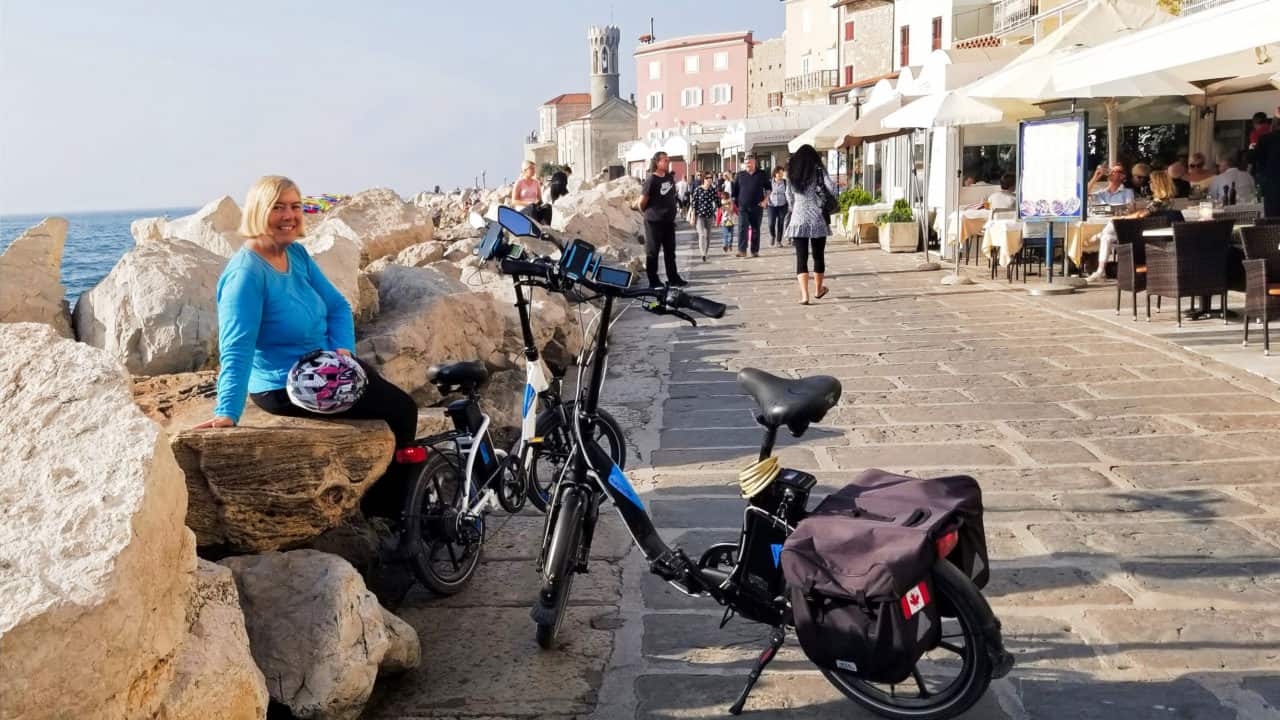 Europeans are much more sensitive to environmental issues than we are in North America. In many places, car and truck engines are classified/rated for emissions. Older vehicles are allowed but must pay a higher road toll on major highways. We were told that in some cities some classes of diesel engines are not allowed under any circumstances. A huge surprise and disappointment was the cost of fuel in Austria on the highways. Most of our RV driving is done on highways. Image our reaction when we found out that fuel prices are often 60 cents to one dollar HIGHER on the highway than in the towns.
Our biggest scare, by far, was when we accidentally ended up in the wrong lane on a highway under construction. The lane to the right looked like it exited the highway, which we didn't want to do so we chose the lane to the left. Shortly after entering it, the lane to the left narrowed into a 2.1 meter wide lane and our RV is 2.5 meters wide, and that is without counting the mirrors! In most places there was a cement wall/crash barrier on either side, just an inch or two from the walls of the RV. It was the most nerve-wracking experience that we have ever had in the RV and it went on for many, many kilometres. There was no place to stop, no wider sections, and no exit lanes. We did get some road rash (Mike's words) right near the end of this narrow corridor.
Nights/Distances/Charges (Cdn $):
We put just over 3,000 km on the RV this year and almost 15,000 km driving the car. The RV still cost more in fuel than the car did. We spent 248 nights in Europe and spent $6,300 on camping including a few weeks of free or dry camping. This averages out to $25/night. If you include transportation costs such as fuel, tolls, ferries with the camping and propane charges we averaged just under $60 Cdn/night or $44 USD/night for our time spent in Europe. We probably ate out less in Europe than we do at home, so we didn't worry about tracking food charges. In fact, eating out was less expensive in the areas that we have been visiting than it is in Canada.
We rode about 2,500 km on ebikes including, in 40 to 60 km increments, a path that is 1,700 km long from the Adriatic Sea in Italy, north to Salzburg and east to Vienna. Most of this mileage was accrued starting in July so we expect to do even more next year. It was great.
Below is a summary of the countries that we have visited on this trip so far, and how many nights we have spent in each one.
| | | | |
| --- | --- | --- | --- |
| | 2019 | 2018 | 2017 |
| Austria | 49 | | |
| Bosnia & Herzegovina | 26 | | |
| Croatia | 80 | 67 | |
| Montenegro | 35 | | |
| Norway (2019 no RV) | 5 | | 56 |
| Slovenia & Italian border area | 53 | 51 | |
| | | | |
| Belgium/Netherlands | | | 10 |
| Denmark | | | 40 |
| Estonia/Latvia/Lithuania | | | 12 |
| Finland and Russia | | | 15 |
| Germany | | | 18 |
| Hungary | | 60 | 4 |
| Iceland (no RV) | | | 2 |
| Poland/Czech/Slovakia/ | | | 17 |
| Romania | | 77 | |
| Sweden | | | 27 |
| | | | |
| Total nights in Europe | 248 | 255 | 201 |
| | | | |
| Misc Canada/Transportation/etc | 14 | 19 | 15 |
Mike and I are home with family in Canada now. We will update this website when we know our return date to Slovenia.