Mike and I are really hoping/planning/expecting to be back in Vienna next year. We only made a couple of short trips into the city . This is especially surprising when I tell you that we were actually camped within the city limits for a full week. Most of that time was spent trying to get our new bicycles out of the warehouse that they had been shipped to. When we shipped our RV, car, boat, two bicycles and everything we needed to live it cost us $200 to pick it all up in Europe. This obviously didn't include the shipping. To pick up our two new bicycles was $1200. Most of this was because the shipping company didn't correctly fill in the paperwork to say that the bikes were only a temporary import for tourists' personal use. We fought with the company over this for days. We kept emailing back and forth with Canada asking them to change the paperwork. All in all, at the end of the many days, on the advice of customs officials, we ended up paying the full price with a chance that we can get some of it back when we return to Canada. Needless to say, we were very unhappy. Added to all the problems with the paperwork, we had a major language barrier with the company that needed to release our bicycles. This added to the miscommunication and various issues.
We spent our time in Vienna walking around and listening to the GPS audio tour from our smartphones. An interesting note is that Vienna was the first city in the world that we ever walked around with a GPS device that showed us pictures and told us about the buildings and area next to us. That was 15 years ago, and it was a specific rental device. As technology gets smarter, travelling gets easier and easier.
We purposely avoided touring inside any of the palaces and other sights in Vienna because, when we return, we will buy the three-day city pass that includes admission to many museums, palaces and other tourist attractions. I remember when Mike and I rented a camper in this part of Europe 15 years ago, Vienna was my favourite city with Prague topping Mike's list. It is the architecture in Vienna that we love so much. Mike thinks that architects today have forgotten about putting "art" into architecture.
The exterior of St. Stephen's Cathedral in Vienna is made up of limestone walls, covered with intricately detailed statues. The cathedral is combination of Romanesque and Gothic architectural styles and we loved the look of it. The stonework is just incredible. The stained-glass windows are much too modern for our tastes, but nonetheless the interior of the cathedral is lovely, and the plaster work is great. The steeple on St. Stephen's is the one that caused the New Cathedral in Linz to be built two metres lower than planned. St. Stephen's bell tower had to be the highest in the land. The roof of the cathedral is very eye-catching with ¼ million ceramic mosaic tiles featuring the Imperial double-headed eagle on one side and Vienna's coat of arms on the other side.
Outside of Vienna was the huge Benedictine complex of Melk Abbey. It was built and furnished in the over the top, Baroque style complete with gold leaf everywhere. I once heard the phrase "self-indulgence of baroque architecture" which I thought described the style very well. When Mike and I walk inside churches and buildings furnished in the Baroque style we ooh and aah in wonder because it really is almost startling, but it also helps one understand the underlying cause of many wars and peasant uprisings. There was simply too large a gap between the rich and the masses. Although the Abbey was originally built in the 11th century, today's buildings date from the early 1700s. The longest of the many wings of the complex is over 200 metres or over 600 feet long, and that is only one wing. The Abbey stands on a rocky outcrop right above the Danube and can be seen for miles. We saw it in the distance from many different directions when we were riding our bikes in the area. We talked to a university student who was a tour guide at the abbey. She said that she had never been there before she applied for the job and was quite concerned that she would not find the abbey for her interview. Of course, it turned out to be no problem at all! The Benedictine monks' motto is "Pray, Work, Learn" and they are supposed to arrange their lives around this. To go along with this are some unbelievably fantastic libraries in the various Benedictine abbeys including Melk Abbey and the one we saw a few weeks ago, St. Florentine Abbey. These are still working libraries. Melk Abbey has a secondary school within the complex which has 900 students of both sexes.
To wrap up the architecture comments, I think that one of my favourite styles is called Neo-Classical and if you want more information on it you can find lots of examples on the internet.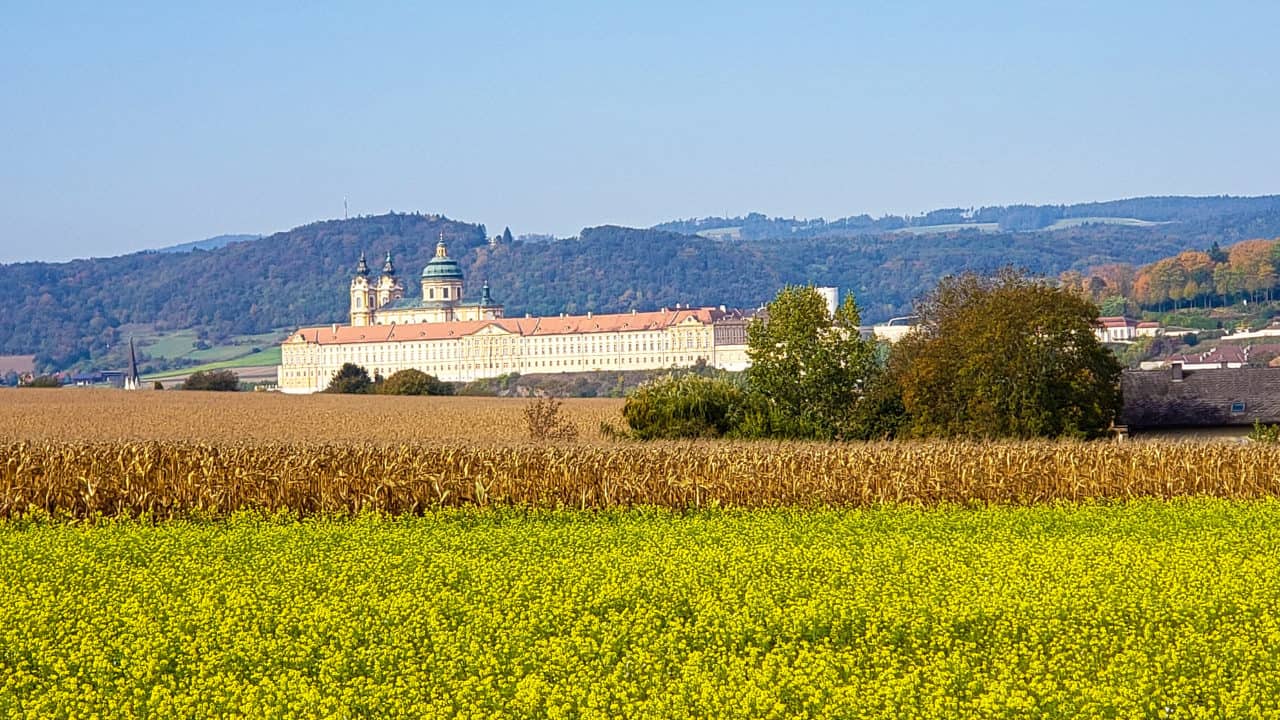 One of the few times that we visited historic Vienna, was to go to the main Concert Hall. They perform a series of concerts, largely for tourists who think that they should hear Mozart and Strauss while they are in Vienna. This was the last concert of the season and according to the person selling tickets, the biggest bonanza of the season. He definitely oversold (fibbed) about the concert content but since I was one of the tourists willing to buy the standard performance, we weren't too upset. It included a few opera singers and a few dancers. It turned out that it was in a small hall in the main concert hall building, which was a bit disappointing. On the other hand, we ended up with the best seats possible so that was very good. We didn't get to see inside the opera house or the main concert hall area, maybe next year. Since we were going to the concert, I had replaced my Canadian backpack with a black purse. Before the concert we saw a large anti-Turkey rally on the streets. The USA had withdrawn its troops from Northern Syria thus giving Turkey a green light to invade Syria to ethnically cleanse the north of Syria of its Kurdesh population. Mike said that we shouldn't walk anywhere near the rally because, without my Canadian backpack we would probably be mistaken for Americans and not be very welcome.
Avoiding the rally, we went into a little restaurant for dinner that turned out to be a vegan restaurant. When I ordered my cappuccino, they asked me what type of milk I wanted. Of course, this had to be a vegan restaurant instead of a vegetarian one and not one of the choices had ever seen a cow!
We biked into Vienna and back to the RV after the concert on our new bikes. It was 11pm at night and the first time that we had ridden in the dark. Luckily, we had brought our reflective vests that we used to wear when we walked a lot at night. In addition, our new bikes have front and back lights so it all went very well.
In cities in Austria we are seeing a lot of electric scooters, sometimes more of them than bicycles. Yesterday we passed one with a seat, like a bicycle seat, on it. The person "riding" it was in the pedestrian/bike lane. Given the unbelievable power of some of these scooters, I wonder when they become classified as mopeds and require licensing. Officially this has already happened with the more powerful e-bikes, but I have never heard about it being enforced. Rental scooters, to get from one place in town to another are extremely common. They are called dockless and the riders just pick up a scooter, use it and then drop it off anywhere. Theoretically they can't block sidewalks or pathways when they drop it off but that doesn't always work and you see scooters that look abandoned, lying on their side on the ground all over the place. The theory is good, but the implementation needs a bit of work.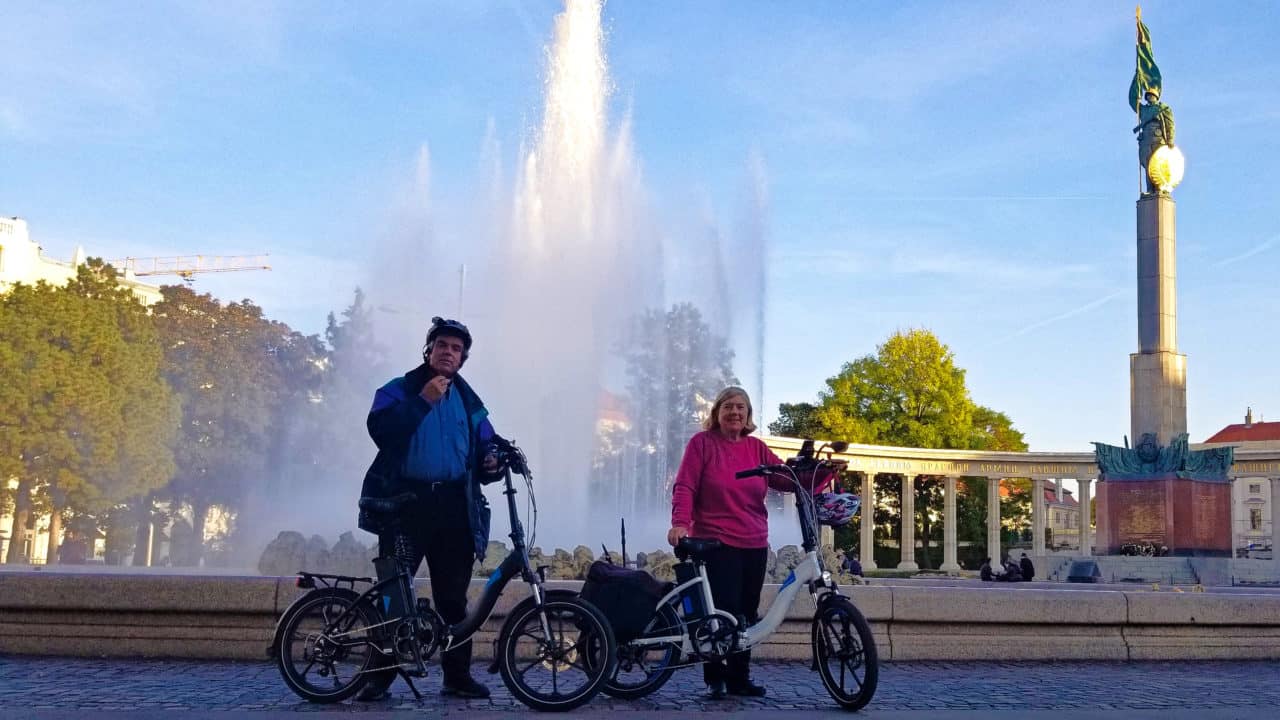 As I mentioned at the beginning, we have picked up our new and have had a few days riding to test them out. First, our original ebikes: the plan was to bring them back to Canada when we fly home without the batteries and to purchase new batteries at home. Batteries have a limited life and ours already don't last as long as they initially did. This plan ran into problems when we found out that although our bikes, including batteries, cost us $1,200, each new battery would cost over $900. Given that the bikes have been well used and not increased much in cost this wasn't going to happen. We tried to have them shipped home from Vienna with the batteries but that didn't work out either. Our next plan was then to sell them here in Europe. I have to say that most North American bikes aren't anywhere near as well made or as sturdy as the European ones, including the ones we wanted to sell. Twice in three days we had two couples that told us they would buy the bikes and would get us the cash the next day. The first time, when the purchaser told his sister he was buying used ebikes she gave him hers instead. The next couple found out that they could buy brand new European ebikes for only €200 more than they had agreed to pay us. Obviously, that was a better decision and they bought the new ones. Campgrounds are the best place to sell a couple of used folding ebikes because everyone is in a small camper and often travel in couples. The problem is that it is the end of the season and we have nowhere to store the two large boxes containing the bikes. They take up half our living room. We are still evaluating what we are going to do. The bikes run well, and they would be great at home where we wanted them. We will see what happens.
Here is a quick summary of our new ebikes. They are much sturdier and more powerful than our original ebikes which is good. We have been riding them with the settings geared towards distance versus immediate power. We rode over 60 km and at the end we had very sore bums, but the batteries still indicated full. Our last batteries died at about 40 km. Of course, my concern is that the battery indicators might not be working but Mike doesn't think that is the problem. I am guessing that the indicators will be like car gas needles where the top half of a tank of gas lasts a lot longer than the bottom half. We wanted the new ebikes to be able to travel longer distances, we wanted them to have more power and we wanted to be able to handle rougher roads. The new ebikes easily climb hills that Mike had to work at before and with front suspension, even cobblestone roads are OK which is just great. The one downside is that the original bikes gave one a lot more control at slower speeds and let you adjust your speed in much tinier increments which is very handy when I follow Mike. I miss these control features but overall there is no question, the new ebikes are definitely the better bikes and will handle the rides that Mike and I plan on using them on considerably easier and better.
I am writing this as Mike is driving and we are heading quickly south so that we can come home much earlier than normal. We won't be doing anymore sightseeing in Austria. We are driving straight through Austria into Slovenia and down to a campground on the Adriatic. We will have a few days to get organized and winterize the RV etc. We depart from Ljubljana on October 29 and will be home October 30 after having to spend a night adjacent to the Frankfurt airport enroute.