Most Spectacular Bike Path Ever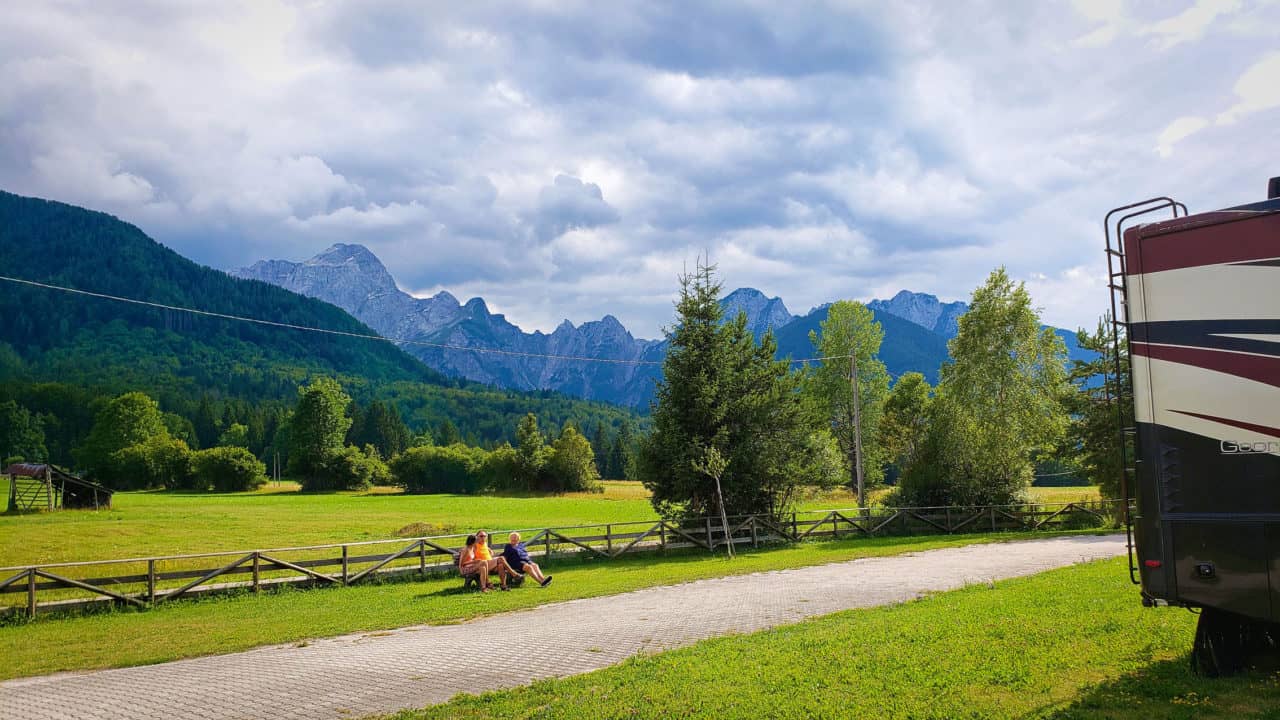 "Unexpected" best describes our first week in the northeast corner of Triglav National Park.  We came here to do quite a bit of hiking in the gorges and mountains, like we did last year in this park.  We didn't expect to do any bike riding as we are in the mountains.  In actual fact, we have biked almost every day and not done any hiking yet in the mountains, for a variety of reasons.  There is an absolutely phenomenal bike path that goes right past our campground.  We can watch bikers all day long.  There is actually a major north/south bike path from Salzburg, Austria down to the Adriatic between Trieste and Venice.  There is also "our" east/west path that goes from Tarvisio, Italy to Ljubljana, Slovenia.
The vast majority of the path is paved, no cars, not too steep, yet with gorgeous mountain views all around. Much of the path used to be an old railway line. Trains are not known for liking steep hills, so extinct railways lines are great for biking. The paths are well kept, fresh asphalt, mowed grass etc. They are just great. The only problem is that there is one east/west path so you have to return the same way. Our bike batteries limit the length of our rides to about 50 km (30 miles) per ride so that means we can only bike 20 – 25 km before we need to return back to our car or camper. Mike says that he will be comparing every bike path we ever see in future to this one. It is the best that we have ever been on, on either continent. I did consider just going as far as we could and then taking a taxi back. Assuming that we could find a taxi in the first place, I have a feeling the cost for a 40 km (25 mile) ride multiple times, might be a little prohibitive.
We are also doing some biking in other areas. A couple of days ago we drove down to Lake Bohinj, just over an hour from our campground. Our plan was to park in the town at one end of the lake and ride our bikes along the lake to the other end. We were then going to tie up our bikes and hike around the opposite side of the lake. The north side of the lake is for hiking only, no bikes. I read that it was an interesting hike, not too difficult but certainly not a walk in the park. Things started out great. We did bike to the end of Lake Bohinj, but the sky was getting darker and darker. Next came the thunder. It was unbelievably loud. I think that the mountains must have helped with the reverberation or something. We quickly decided to give up on our hike and try and speed back up the lake on the bikes to our car. A few minutes later the rain came. I got hit with something on my face. I told Mike (via our helmet intercom) that it couldn't have been a raindrop because it smarted too much. Then a torrent of hail and rain started. Here we were on our bikes, in a massive thunderstorm, with hail coming down on us, not fun. There was no real shelter anywhere. We stopped in a parking lot under a few trees. We stayed there, getting wetter for the next ten minutes, until the rain slowed enough for us to continue. Unbelievably my pants had lengthened a good three inches in the rain. Who would have thought that could happen? Now I was walking on the bottom of them in the mud and rain ☹. After we got back to our car and loaded our bikes in, we still had the long drive to get back to our camper. It was an uncomfortable drive.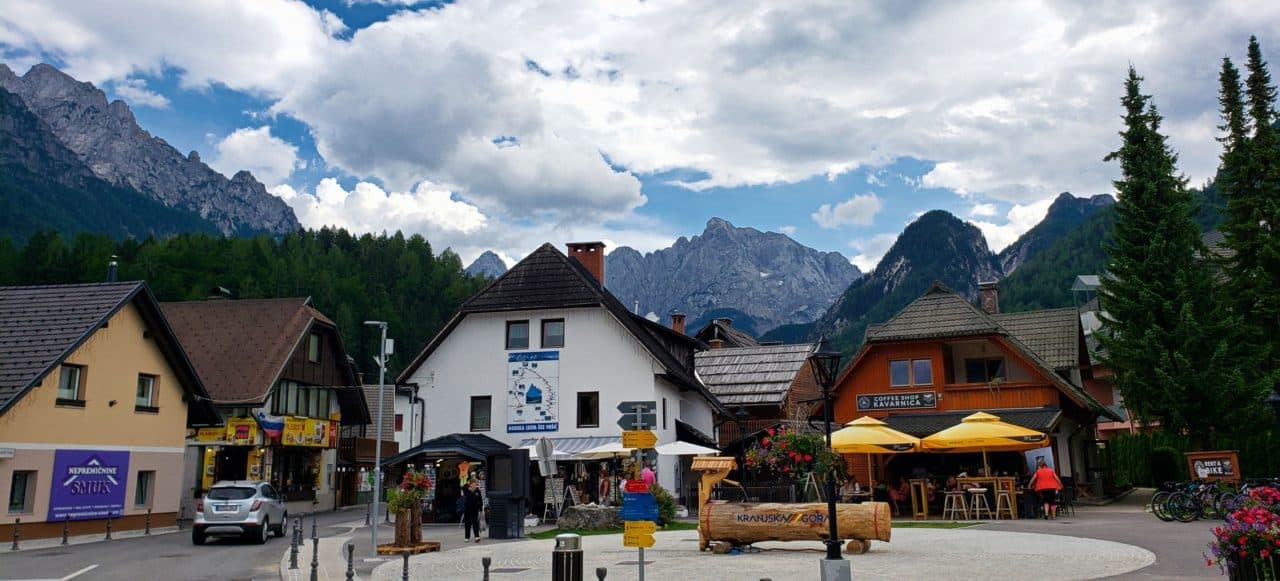 The following day we decided to do a little more riding on the east/west bike path. This time we drove our car to the nearby town of Kranjska Gora, where we had biked to previously. Kranjska Gora is a small ski resort town. Luckily, we have folding ebikes that fit in the back. We unloaded them and road to Jesenice which was 25 km away. Every 5 or 10 minutes I would hear Mike in my headset saying things like "Spectacular" or "Wow what a great bike path". It was really nice to know that Mike was enjoying the ride as much as I was. I really like the intercom we have between our two bikes. It makes our rides way more enjoyable. We had a nice lunch in Jesenice, ran a few errands in town and then headed back to the way we came. We knew that we would be stretching Mike's bike's battery to the limit. While the first 25 km had been basically downhill, as the path is beside the Sava river, the return would now be uphill. The path wasn't very steep, but it did put a bit of a strain on our electric motors and battery. Shortly after starting out it got darker, windier and cooler and then we heard the thunder. A few kilometres later, we started seeing the lightening. This is a 25 kilometre ride on a very rural path without amenities (like cafés and shelters). One of the joys of summer heat waves in the mountains are the thunderstorms. We got drenched. I was wearing the same style of pants that lengthened in yesterday's storm, just a different colour. When these pants got wet, I swear that they got 3 sizes larger as well. I have no idea what the material is, but does it ever interact weird with water. Like yesterday, we again stopped in the trees hoping that they would give us a little cover. That didn't work. I was tripping and walking on the bottom of the pants while trying to hold them up and just getting soaked. We decided to continue on, we couldn't get any wetter. Even our shoes and socks were soaked this time. When we were about 5 km from the car Mike's battery gave out. We had just passed a small private car shelter that had 3 cars under a tin roof. Mike switched to my bike and carried on to get the car and I returned to the "shelter", standing in the cold wind under the tin roof. It was better than standing in the rain and wind. I must admit that the thunderstorm seems to have cooled down the area even after it passed. Since our campground has a very poor electrical system, I am very glad that we won't require the air conditioner on this weekend night.
Today we made our longest ride ever, 64 km (40 miles) along the north/south path. Now I have to be a little honest here, we did choose to ride in the direction where the elevation sloped down for much of the time. We took a special train for cyclists back up to our starting point where the car was parked. Nonetheless, we did pedal for many hours, stopped once for a brief lunch and then continued on. The entire ride was beside a river flowing from the mountains out to the Adriatic. I am really hoping that we will do more of these rides while we are here. We are staying longer than we would otherwise to do more of these great ebike rides. After our last two rides, I packed a complete change of clothes for today. We got a few drops of rain and that was all while we were riding. The train was about five minutes late getting us back to our car. That was too bad, because as we arrived the skies opened up. The ride was great, but we had to fold up and pack our bikes in the pouring rain. Every day this week is predicted to have afternoon thunderstorms. I guess that I will just take my change of clothes with me and continue biking. We are not stopping just because of some weather predictions.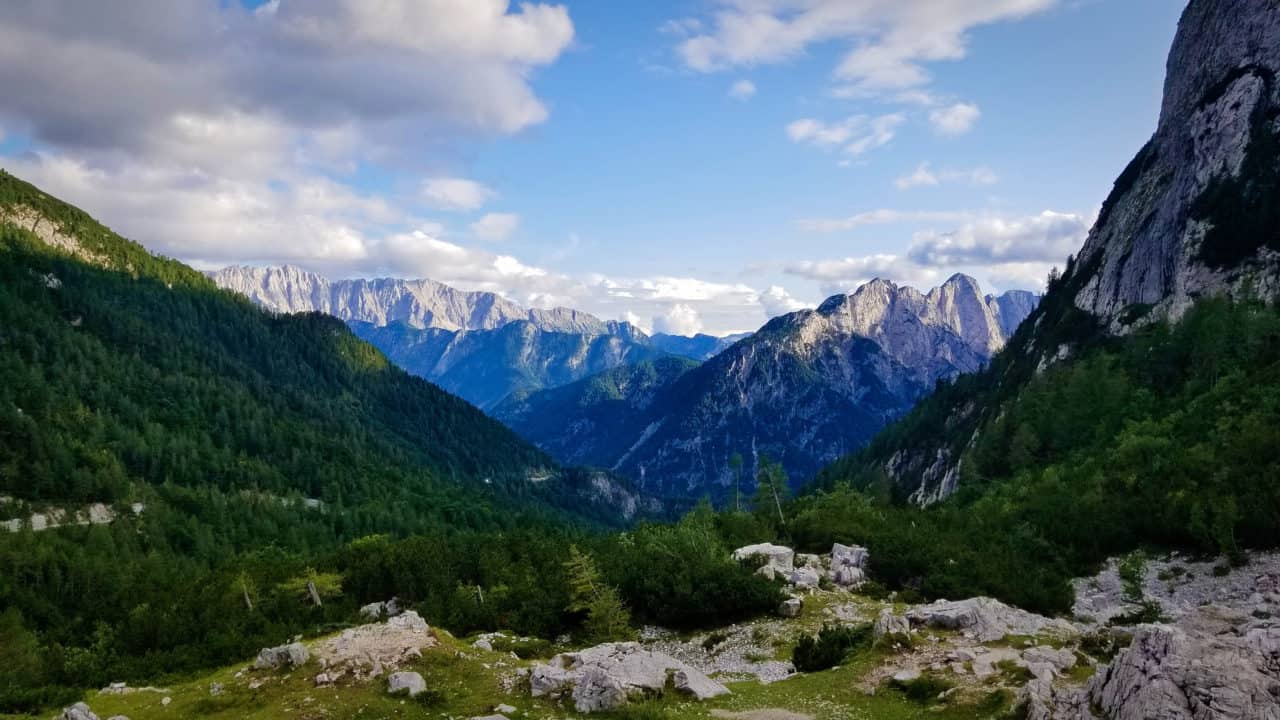 The good news about our campground is that we are staying two kilometres inside the Italian border and our Slovenian SIM cards still work. They are costing us less than $1 per day per phone and we can run the TV internet on that. The cards only last four days at a time so we went to the closest Telemach store (like a Bell store) to buy more. I walked in, asked for their data only cards which where hanging on the wall. The clerk looked astonished and asked if I really wanted to use Telemach (his company) to access the internet. He told me that their competitors had much better deals. He went on the internet, showed me the competitive package and where they were located. At home, this would be like a Bell rep saying, don't be silly, go and use Rogers. Instead of buying the 5 cards that I wanted, I purchased 2 cards and Mike and I drove down the street. The competitive cards were sold in a grocery type store without any tech smarts. Sometimes new SIM cards don't work right away, and we need assistance. We often can't read the error messages needed to get them working. In this case we would have had to buy the SIM cards, create an account, add money to our account and then hopefully have the option to choose the plan we wanted. We just decided that too much could go wrong with no assistance. By now the Telemach store was closed. We will have to return within four days to buy more cards.
This campsite is in a lovely location with the mountains behind us but it is the first camping spot that we have ever seen that doesn't appear to have washrooms or showers. This surprises us. To refill with water, we have to move our camper to the one spot where we can dump our black and grey water and refill our fresh water tank. This is a bit awkward, but luckily only needs to be done every 5 days or so (depending on showers). I think we will do our laundry in town. Even without the water concerns, our on-board laundry machine is a little small to do all our laundry that has accumulated. The campground only had a few campers when we arrived which was lovely. On the weekends it gets a lot more visitors, which doesn't thrill me. I would much prefer to look at mountains and the people on the bike path, rather than another camper nearby, but I can put up with that for a while. There is no internet but, as I said, our Slovenian SIM cards are working fine here. Almost all the campers are Italian which surprises us. We have never seen such a homogeneous set of campers in one camping area since we started. In other campgrounds we usually see quite a few Germans and a fair number of Dutch campers in addition to many other nationalities. Although we are in Italy, we are only two kilometres from Slovenia and not very far from Austria. These borders are really seamless, just an abandoned boarder post separates these countries. We have had a few Italian campers, who didn't speak any English, but managed to let us know that they wanted to view inside our camper as they had never seen anything like it. When they came in, all we could understand was bello and bellissimo which we kept hearing.
One area that I really wanted to spend some time in is the Soča valley in the southern part of Triglav National Park. It is over an hour's drive to get there so I am not sure how often we will visit but hopefully more than once.
We get a good discount if we stay for a longer period and pay ahead of time. I don't want to head into Austria on a weekend. Based on our recent experiences with the high season and our size and requirements, I would rather arrive somewhere mid-week. We often only fit comfortably in a few of the spots in the campgrounds, typically at the end of the line so that we can open up all our slideouts without seeming to take a lot of room. We have now been here a full week. We need to either commit to another 5 days or another 9 days if we want to avoid leaving on a weekend. Mike says that we never leave anywhere earlier than anticipated so we are going to stay for at least another nine days. I am hoping to bike along a lot more of this fantastic trail.
Just so you know, Mike and I have done more than just ride our bikes this week. We have been on some superb car drives, and seen some spectacular sights, but I have run out of room here. I really want to give this area its full due, so I will post another article in three or four days and tell you about a car ride so interesting or scary that we video taped part of it. I also want to write about the most spectacular view I have ever seen. Part 2 coming soon.