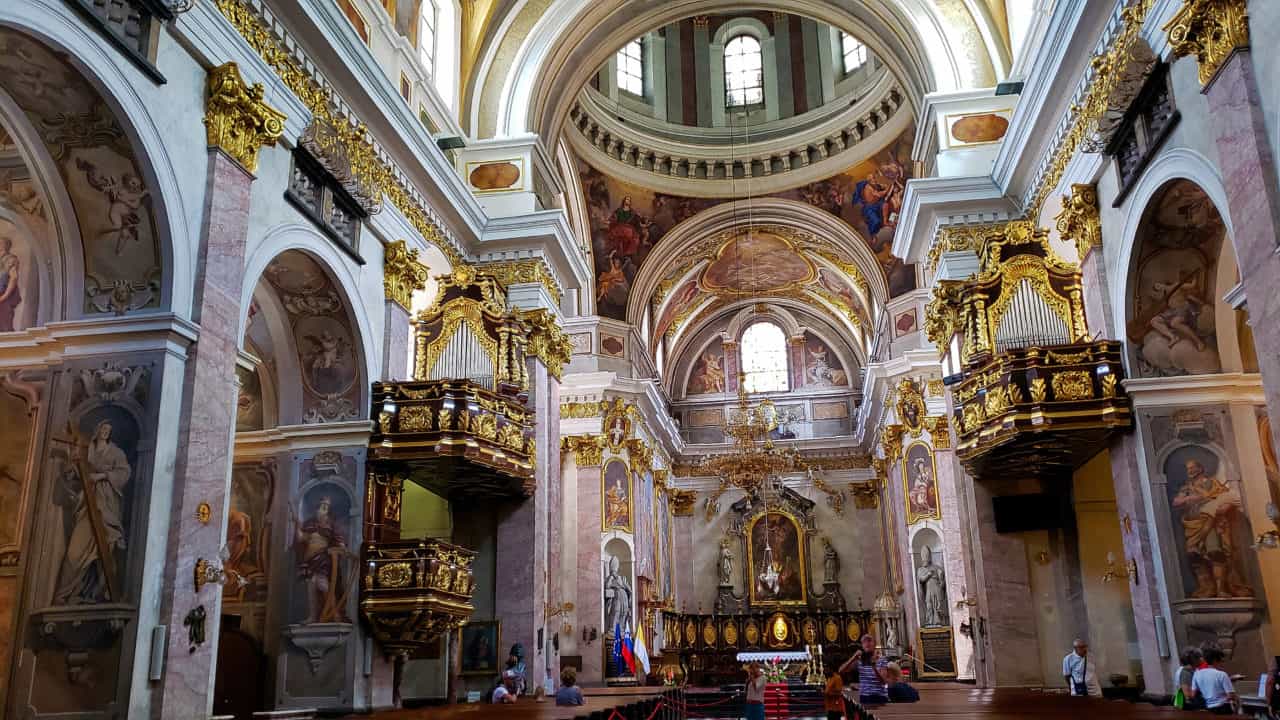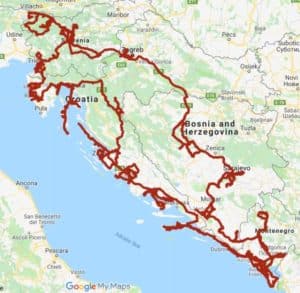 We have just spent a couple of weeks exploring the area around two capital cities that we visited last year; Zagreb, Croatia and Ljubljana, Slovenia.  In the last year we have completed a circular route south of here, starting and ending in these cities.  In addition to Croatia and Slovenia our circle included Montenegro and Bosnia and Herzegovina.  After this we will be heading into new territory to the north. Well that isn't completely true.  On our way to Austria we are going to visit the north eastern portion of Triglav National Park in Slovenia.  We spent a little time in the park last year and want to explore it some more.  The park has some wonderful hikes and scenery to entertain us.  Mike wants to stay in a campground near the park that is just across the border in Italy.  We have a set of stickers on our RV which people are always coming to peruse.  It includes all the countries, Canadian provinces and US states that we have camped in with this RV.  We spent quite a few days touring the Trieste region of Italy last year, but we never actually took the RV there.  The RV campground was in Slovenia and therefore we didn't get to add the Italy sticker.  This time Mike wants to advantage of the closeness of the park to the border and earn our Italy sticker.
Here is how long we have spent in each country doing this circle in 2018/2019.
| | |
| --- | --- |
| Slovenia (and Italian border) | 98 nights |
| Croatia | 147 nights |
| Montenegro | 35 nights |
| Bosnia and Herzegovina | 26 nights |
Ljubljana has some gorgeous churches. I had to work hard to decide which church interior to use. How can anyone look at the picture at the beginning of this article and not understand why I like visiting churches while travelling in Europe. This is the Franciscan Church which is also lovely.
An interesting bit of trivia is that Slovenia is a nation of beekeepers. 1 in 80 families have one or more beehives. A recent slogan says that to be Slovenian is to be a beekeeper.
As many of you know Mike and I have been using the Izi Travel app whenever possible. It is the app that takes you on an audio tour of a city, using GPS to start describing your surroundings to you. In Montenegro we actually went on a couple of panoramic tours designed for driving which were great. In Ljubljana there was a tour for joggers. It was 12 km and Mike and I decided to try and follow it on our bicycles. We ended up on some steeper paths in the hills than we might have otherwise. We also ended up biking to the castle overlooking the town. Normally we would have taken the easy way up to the castle, the funicular. The ride took us through Tivoli Park, which is Ljubljana's largest and most beautiful park, stretching right into the city centre. It was designed in 1813. The park covers an area of about five square kilometres. The park area blends into the slopes of the Rožnik hill making it appear even larger. The combined green area has all sorts of paths for biking and walking, hills and trees and is overall very nice. While we were touring Ljubljana Castle, we saw signs saying that they had opened up some Escape Rooms in the castle. Their pricing was slightly different from Canada. Instead of paying per person, you paid one price for the room and you could have from 2 – 5 people. We decided to give it a pass as we were missing our Escape Room champion back in Toronto. See you soon Charleigh.
We have found a second similar app that is specific to Slovenia and therefore includes smaller towns. It is called Nexto. The commentary doesn't appear to be as in-depth as Izi. What it does have that is interesting, are a few "interactive" tours. Mike and I tried one of these in the town of Škofja Loka. The app took you on a tour of the town. During the tour you had to answer questions about what you had heard, put puzzles together, identify pictures and more. It was good fun. We followed a family also doing this tour. They didn't speak English, but the young son was very anxious to try and help us and point out spots necessary in order to answer some of the quizzes.
One of the reasons that we stayed a little longer in Ljubljana than expected was that we could finally do some real biking. The roads nearby, at least the ones we chose, were relatively flat even though you could see the mountains not far away. Many of the mountains are white limestone which makes them look snow covered or like they have glaciers on their slopes. It makes for a lovely view. Thanks to the terrain and weather that has ranged from 72 – 80F we got some great riding in. In addition to all our exploring on foot and by car we managed to bike over 100 miles or 166 km while we were here. Don't be too impressed, remember that these are our e-bikes. On our last day we took our longest ride together. In one, almost non-stop ride, we e-biked 50 km or 31 miles. I swore that I wasn't getting back on the bikes for a few days until I could sit down comfortably again.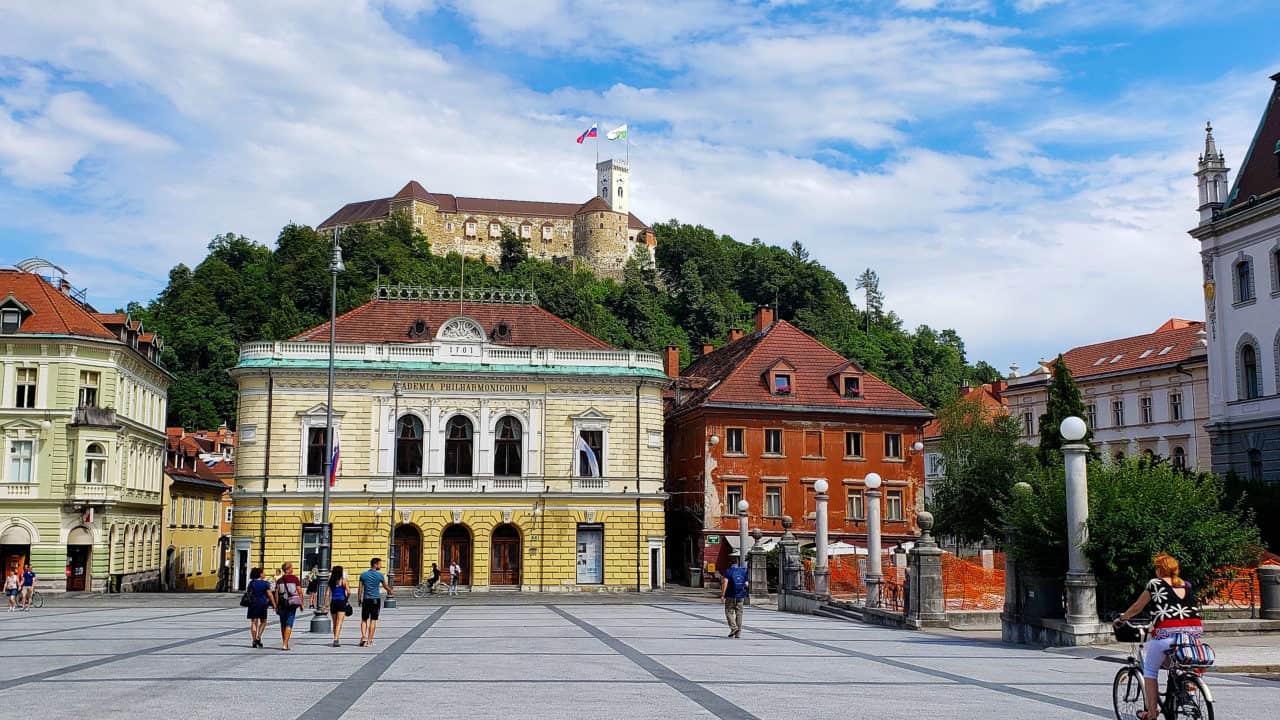 Slovenia makes you buy a sticker for your car, or a transponder for larger vehicles (> 3500 kg) if you want to drive on the major highways. This is their way of handling tolls. I don't know if you remember but last year Mike and I drove into a gas station with our RV and paid $270 for the stickers for the RV and the car for one month. About 30 minutes later we got stopped on the highway and were told that the sticker wasn't valid for the RV and we had to pay a $600 fine and exit the highway and then purchase the proper transponder. This year we made sure that we had the correct transponder for the RV. It takes less than two hours to cross Slovenia on the highway. For this we had to pay $150 for the RV including the towed car. The car is only covered when it is being towed. We didn't purchase a separate sticker for the car so when we are just driving around, we have to remember to avoid the highways in Slovenia. This isn't a big problem since the distances aren't really very far.
My computer battery recently decided to run out of power while we were in Bosnia. One problem when travelling is how to order items from the internet or more precisely, where to ship them. Luckily, we had been to this campsite in Ljubljana last year so I felt OK emailing them ahead of time and asking if they remembered us and would they mind accepting a package for us. We weren't sure when we would arrive, but we knew that we would be there sometime in July to pick it up. They definitely remembered us, which isn't surprising given that ours was the first Class A North American camper they had ever seen. What was interesting was the pricing from the same company on Amazon. In North America we have Amazon US and Amazon Canada. In Europe Amazon has specific websites that I checked: UK, France, Italy, Netherlands, German and Spain. The price for the same item, from the same company (I think) is not the same. England and Germany were the most expensive. For my battery, Amazon France was the least expensive. Although I ordered the battery from France it was shipped to us from Poland. It just goes to show that it never hurts to look around. When we arrived at the campsite, we reminded them that our package was due any day. Mike talked to the person in charge a couple of days in a row since our shipment was a little late. Eventually the battery got delivered to the campground and they refused it, saying that they didn't know Mike Jansen! It took Mike almost a full day of driving around and trying to communicate with people who didn't speak English to find out where my battery had been returned to and how to pick it up. All is now good. Mike dismantled my computer to install the new battery under the keyboard an m y computer is now working properly again which makes me very happy.
We spent a couple of days visiting towns within a 45-minute drive of our campsite. We didn't get to all the little towns and villages that I wanted to see. Thanks to our habit of only driving about 90 minutes when we move to our next campsite, these towns will still be about the same distance away from our base. This means that we won't miss them and can visit them just as easily from Kranjska Gora (next stop) as from Ljubljana.
I am writing this sitting in the RV as Mike drives us to our next campground. We are not sure which side of the border we will be camping on, Italy or Slovenia. As I mentioned previously, Mike is voting for the Italian side as it would be our first campground actually in Italy. We are planning on visiting Triglav National Park in Slovenia. Last year we stayed at Lake Bled on the western side of the park. We spent one, very long day, driving around the park. This year we will stay near the north east corner of the park. I would actually have liked to camp in the southern section of the park as well, but as we are heading into Austria next it wasn't really convenient. We won't take the RV through the park itself which is all mountains and little roads. We are driving by the northern section of the park as I write this, and I am looking out at the mountains to the side of us that are just gorgeous. Hopefully we will get some easy hiking done this week. I know that they have a variety of trails and scenic paths in these mountains. I am not sure how much bike riding we will be able to do in this area.
For the next week we expect to be visiting Triglav National Park and the following week into Austria. Let's see how our plans work out.