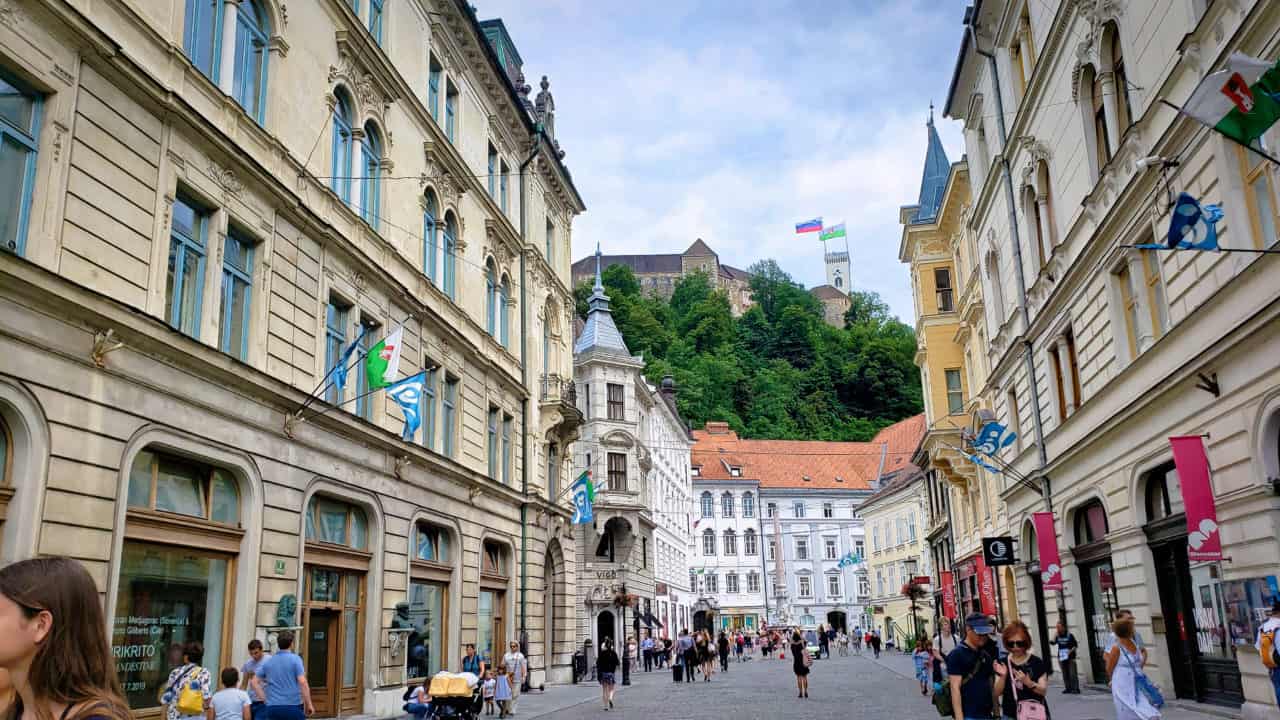 Mike and I love Ljubljana and the surrounding area.
Ljubljana is a very attractive city.  The buildings and architecture, the pedestrian areas, the large squares, it is all just great.  It seems like every time you walk down a street, or glance in a different direction you get a super view of Ljubljana Castle which stands on a nearby hill overlooking the city.  We are camped about 4 km (2 ½ miles) from the centre of town very near a small shopping area and a McDonalds ?.  We stayed here last year and quite liked it.  We can bike into town if we want to.  Often in a campground we are at the back or slightly separate from others because of our size.  I usually like the additional privacy.  This time we are in a separate overflow area that is used to park a few vehicles.  It has power and water but is separated by a closed (unlocked) fence from the rest of the campground.  We chose to park near the water supply but that means that the other campers in the main area can't see our RV at all.  I was surprised to find out that, although I like being slightly separate from the others, I do like to be able to mingle a little.  That said, the location is great.
During World War II the Italian forces erected a 30 km barbed wire fence around Ljubljana in order to prevent communication between the city's underground activists and the partisans in the surrounding countryside. Ljubljana remained encircled with barbed wire and was essentially turned into a large-scale ghetto for 1171 days, more than three years.
After the war, authorities set up a path where the wire once ran. The "Trail of Remembrance and Comradeship" or the "Trail Along the Wire" is a gravel-paved recreational and memorial walkway almost 33 km (21 mi) long and 4 m (13 ft) wide around the city. Mike and I rode our bicycles around it last year and we did it again this year. We do skip one corner of the ride where the barbed wire fences went up and down a very steep hill. The path goes through parks, open areas where rows of trees have been planted on either side and occasionally some small roads. Every so often you will see a white column with barbed wire etched into it in remembrance of the reason for the path.
Some interesting notes about Ljubljana. The 1st wheel in the world constructed around 3300 BC was discovered near Ljubljana. In 4,000 BC the predecessor to Ljubljana already had a population of 4 – 5,000 people. As we wandered through a great market, we saw one stall selling food made from 100% horse meat. Why do we find this such as problem in North America? Eating a cow or a pig or a chicken is OK but horses and other animals we consider pets such as dogs and cats are not.
With all the lovely buildings around Ljubljana the Parliament building was a bit of a surprise. It is very square and very austere except for a two-storey portal made up of 4 oak doors surrounded by statues of nude people. These statues supposedly represent the working people.
There is a bridge known as the House Bridge. History has it that when the route for the road was planned, possibly in error, it took the road right through an existing house. After a lot of negotiations, the final arrangements were to demolish the bottom floor for the road to go through and keep the upper floors above the road. Mike doesn't believe it.
I am writing this paragraph immediately after returning to our RV from an evening out. A couple of days ago, as we were touring Ljubljana, Mike and I came to an old church and monastery. During the communist era the buildings were turned into a theatre for the people. This was still a problem for the communists as the theatre looked much too rich and fancy. There was a ticket office on site. I asked if they had anything playing in the next few days where "English only" wouldn't be a major problem. I wanted to see the theatre itself and I wanted an evening of music where language didn't matter. They sold us tickets to a concert starring two women. Later, Mike discovered that the concert wouldn't be held in the theatre that we expected but across town. The good news was that the evening included a Philharmonic Orchestra and a Philharmonic Choir as well as the singers. There was also a Chamber Choir which didn't sound as great. We then discovered that our main singers were a soprano and mezzosoprano performing a composer's work that I had never heard of "Mahler's Second Symphony". That sounded more like my mother's music than ours. We got to the theatre which had ergonomic looking chairs that appeared to be designed for six-foot tall men and not five-foot tall women! The orchestra started playing and I really liked the music. There were 75 singers sitting quietly on the stage. After possibly 45 minutes of just the orchestra, one of the star singers came on stage and sang, for maybe one minute! 20 minutes later the second star sang for maybe 30 seconds. The choir then briefly joined the orchestra with their voices in the background. At one point near the end the two starring singers joined the orchestra and the choir. I don't think that the two stars sang for more than a total of 4 minutes in the whole evening. I liked the music, but I would like to have heard the choir that sat in the back the whole time. Still, it was nice to go, and it was nice to be home ten minutes after the show ended. You have to love small cities with campgrounds almost right in town. I wish we did more of that in Canada.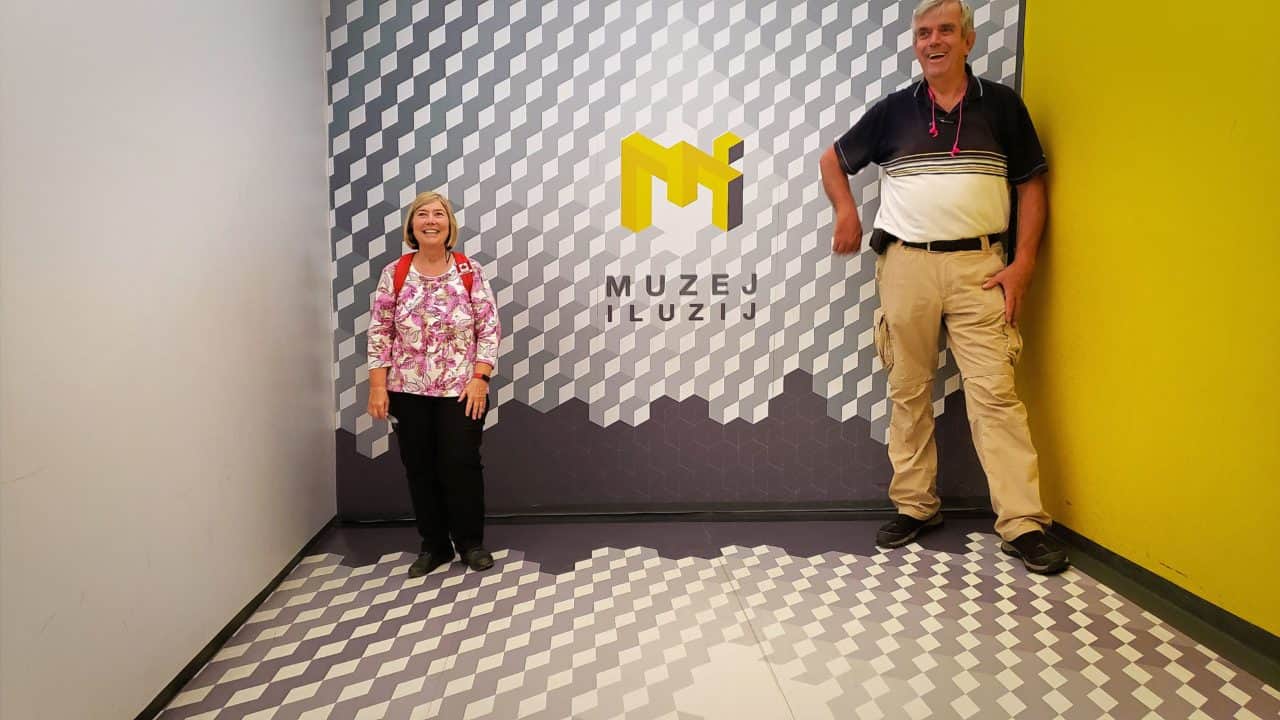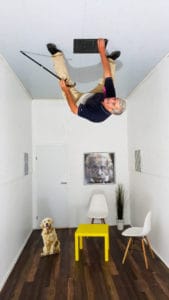 Mike and I visited a great museum in Ljubljana, the Museum of Illusions. We loved it. They had one dark room with a raised walkway that went lengthwise through something like a huge pipe. Lights were shown on the "pipe" as you were walking through. The lights were rotating which made it seem like the pipe was rotating. Instead of standing on the walkway and feeling like the walls were spinning around you, you felt like the walls were still and you were spinning. It was much more effective on destroying your sense of balance than any IMAX or 3D effect. People would almost fall over the railing on the walkway as they felt like they were falling. It was really funny to watch until it was your turn. It was an extremely effective illusion. They had all sorts of illusions and brain tricks in the Museum of Illusions. They had a few of the stereoscopic pictures that the newspaper in Toronto used to print weekly for a while. Those are the pictures, that if you stare at them long enough, another picture pops up in your view.
I might have mentioned last year a somewhat amazing TV show that I saw. It is exactly what this museum was based on, tricking your brain. If you want to see how easily your brain can be confused watch at least the first "trick" in this show on You Tube. I found it very unbelievable and somewhat scary. Brain Game S01E01
We walked by the outside of the museum a few days later and saw a few people standing around. They were looking at one of those puzzles where you have to put the pieces together to form something, in this case the letter T. The only difference between this puzzle and the ones people usually play with, is that the pieces were really large so that the finished letter T would be almost my height. It was embarrassing, but none of the adults standing around, including Mike and me, could quickly solve this common puzzle. Mike walked away, contacted Google and somehow Google presented him with a solution. He walked back flipped and moved the pieces into the correct shape and was the hero even after he gave credit to Google.
The next day three of us went for a walk on the grounds of a lovely estate: Mike, me and Mike's best friend Google. Any time Mike and I got stuck in our conversation, like Tito's real name, or the real name for my mother's Endless Summer flowers, Mike simply asked Google for its opinion, and got it!
Our Ljubljana article got a little too long so expect Part 2 in a couple of days.