Split Croatia and Diocletian's Palace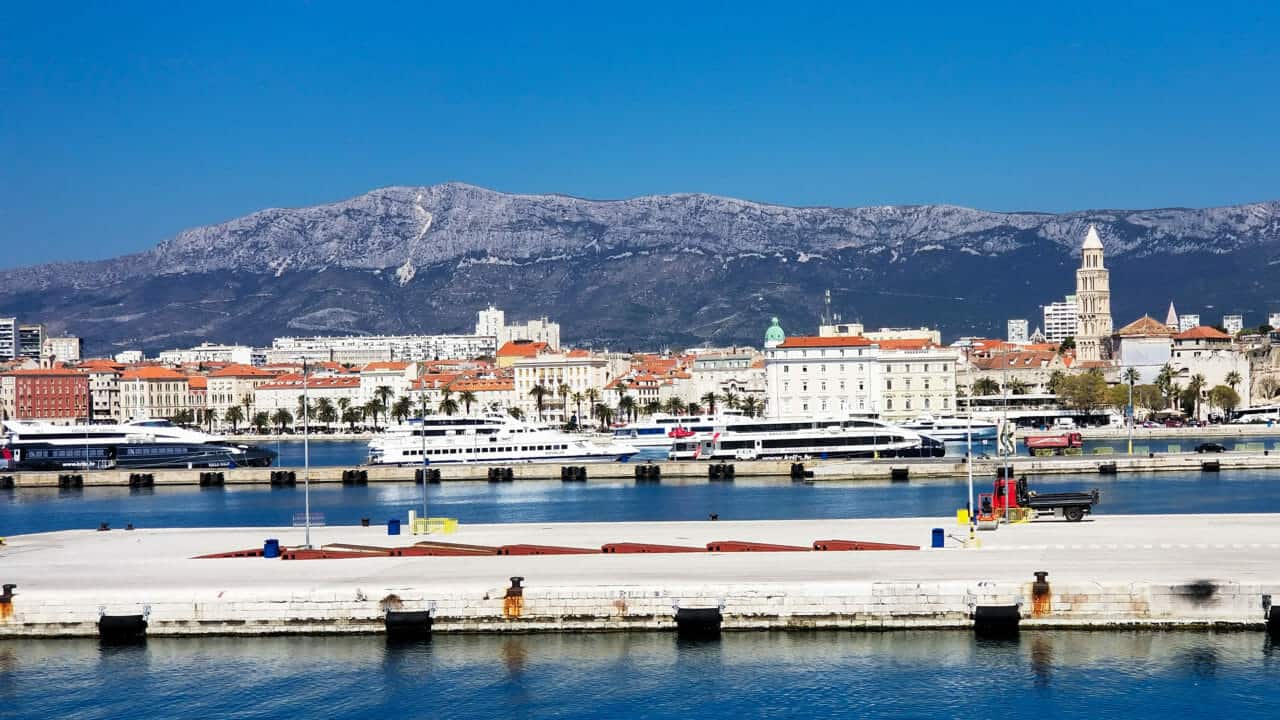 Mike and I have been staying near Split for the last week. It looks like we will be here even longer. The area has lots to see and do. The coast near Split is just covered with islands, as is most of the Dalmatian coastline. Mike and I recently visited the island of Brač and I am sure we will see more.
Mike really likes Split. He finds the narrow passageways, where people live and do business just fascinating. This combined with the mountains, the Sea and the history makes it a very interesting city. Split is Croatia's second largest city. We have ridden our bikes from the campground into Split twice now. It is about a 10 km ride each way with a couple of steep inclines that Mike isn't fond of. On Sunday we rode past people in the water. Some where in bathing suits but the water was only up to their knees as it was low tide. There is a lot of construction work going on to get ready for the next tourist season, but the people are already starting to appear. In one lovely square the other day there were three large tour groups each listening to their tour guide. Mike and I had our own audio tour guide on our cell phones. I am really not fond of large crowds anymore. You might remember that Mike and I recently visited Plitvice Lakes National Park. It was the one area that everyone told us we had to see in Croatia. We were there two weeks before they opened the upper lakes to tourists. The crowds visiting Plitvice are apparently horrendous in the summer. The plan was to visit the park a second time on our way back north. I am concerned that it will already be getting too busy to fully appreciate then. Plitvice is a 2 ½ to 3-hour car drive from where we are now. We are considering driving there one day and doing the upper lakes hike and then driving back. It will be a much longer day than I like but it might be better than the alternative.
One of the highlights of Split is Diocletian's Palace. It isn't a palace the way we think of one. It covers 7 ½ acres, which is about half of old town Split. It is an ancient palace built for the Roman Emperor Diocletian at the turn of the fourth century AD. Diocletian was the only emperor who left his empire and retired to his Palace Diocletian's with his family. Half the Palace was residential quarters and half was for servants and the military. Diocletian was also the ruler of Egypt and brought 12 sphinxes to this Palace from a pharaohs tomb. Three of them are still at the Palace and the rest are in various museums.
I mentioned that we visited the island of Brač. Its most famous export is its white stone. This stone was used to build Diocletian's Palace. It was also used to build multiple cathedrals and the White House in Washington as well as the Parliament Houses in Vienna and Budapest. Diocletian's Palace also contains red granite columns brought from Egypt. It is believed that construction started on the Palace around 295 AD. Supposedly the Cathedral was the oldest constructed cathedral in the world, built between 295 and 305. The Bell tower was built over many centuries (13-18th). They just kept adding floors and making it higher and higher. There was a quiet fight going on in the Palace in the early days of Christianity. While most inhabitants in the area continued to worship Roman gods Diocletian's wife was a secret Christian. Within the Palace 22 Christian churches were built, some of the original ones very small and hidden. The Palace also houses the third oldest Synagogue in Europe, after Prague and Dubrovnik.
Famous Roman Bacchanalias took place in the Palace. During these events, in the dining room, meals with more than 20 courses were known to be served in one evening. One of the most famous chefs was Apcius, whose book of recipes is used to this day.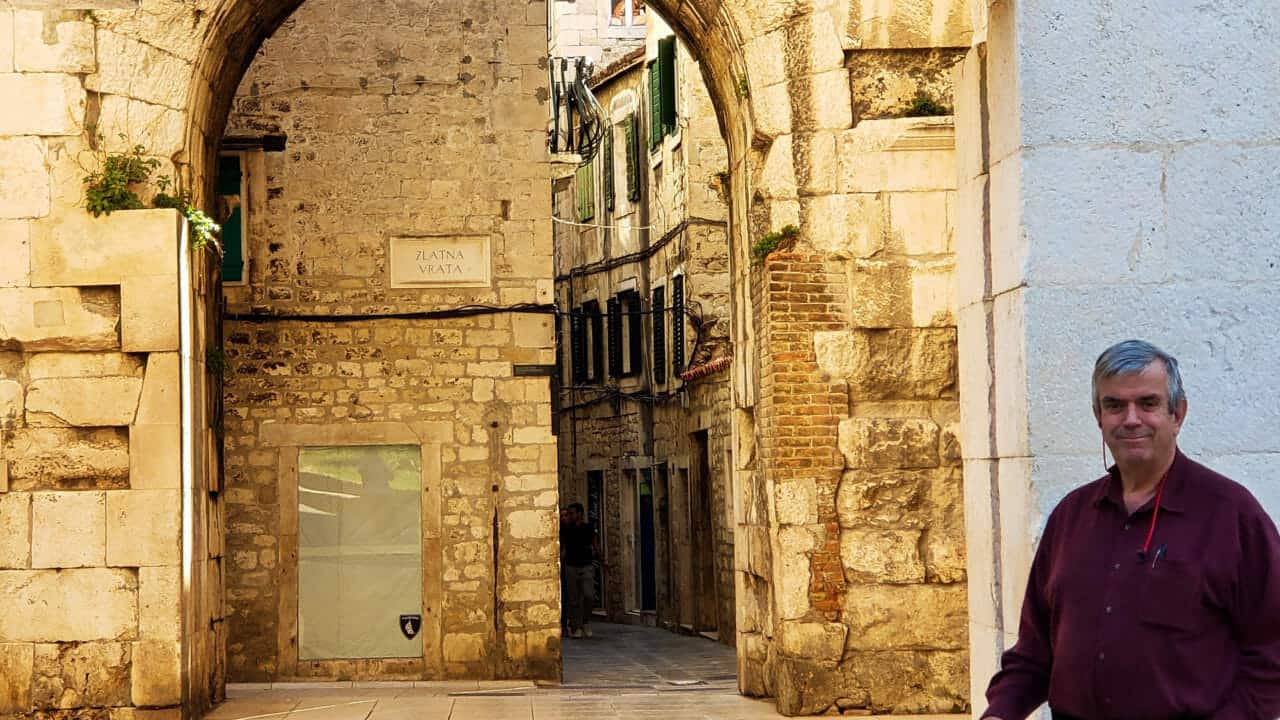 During the 300 years of Venetian reign starting in the early 1400s, noble families built their palaces inside Diocletian's Palace. Today parts of the the Palace are still lived in, with quite a few tourist businesses located here. The Split Summer Festival opens each year in the town square inside the Palace. Just outside the Palace is a very large statue of Gregory of Nin. Mike and I visited the town of Nin last year. Touching the bishops big toe is supposed to bring good luck. Mike took this hint in the tour guide to heart. The highly polished toe shows that Mike wasn't the only one. Apparently students come by regularly before their exams.
Our campground is right on the Adriatic and we can watch the sea from the RV. As I write this, it is the windiest day yet. As the weather gets nicer, one of advantages of staying in a campground are the people you meet. We spent an evening with a couple from Germany that we had met in our previous campground. We also spent an evening with Luke and his mother Angela from Scotland who are traveling around in a camper van. Luke has 8 weeks off work. He and his girlfriend travelled in the van together for two weeks. Angela flew in and met them in Italy. The girlfriend flew back to Scotland and Luke is taking his mother on a 6-week trip to see places that she has never seen before. He had two kayaks on his van and Angela tried kayaking for the first time, on a much calmer day. She loved it. What a beautiful area to try this in.
They were playing some very nice music in a local restaurant. We used Shazam to try and find out who it was. It was a Croatian singer Doris Dragovic singing Majko. We actually didn't think she was singing in Croatian. The language sounds much different (prettier) when put to music than it does when people speak it.
We were told that you could learn the Croatian language in ½ day. Actually, Croatian is supposed to be quite heard to learn. What they say is relatively easy, is being able to pronounce words that you can see. There are 30 unique letters in the Croatian language and each one has a unique sound that is always the same. There are no silent letters and sounds don't change when they are combined with other letters. Of course, you have no idea what you are saying when you phonetically read a paragraph, but you sound good ?. Mike was unhappy when he thought that you could have words without any vowels. We stayed on the island of Krk, no vowels (pronounced "Kirk"). It turns out that in Croatian the letter "R" is called a semi-vowel and can be used in place of a vowel, so it isn't as bad as Mike thought.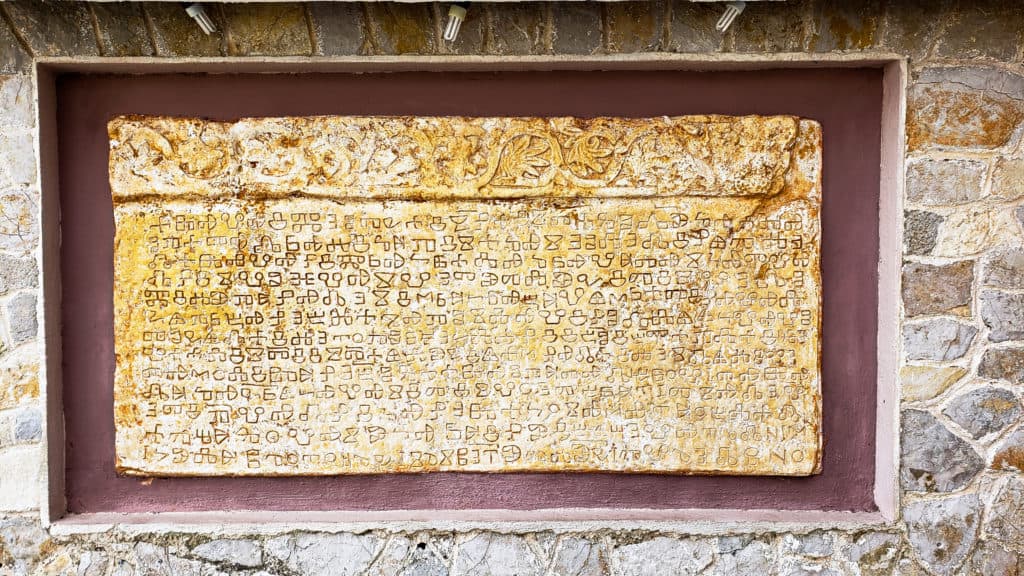 Croatian has only used the Latin alphabet for the last hundred years or so. Around the 9th century a couple of monks wanted to translate religious books into the Old Slavic language. They quickly realized that neither the Greek nor the Latin alphabet covered the sounds they required so they invented the Glagolitic alphabet. The Croats using the Glagolitic alphabet were the only nation in Europe who were given special permission by Pope Innocent IV (in 1248) to use their own language and this script in liturgy.
The Glagolitic alphabet was used well into the 16th and 17th centuries when it was eventually replaced by the Latin script. It is interesting to note that Glagolitsa was used in Croatia – and only in Croatia – up until the 19th century, which means it was the official script in Croatia for 1000 years!
I was told that Serbians, Bosnians and Croatians all speak the same language, just with different accents, and that they can all understand each other. I had a really interesting history lesson from a couple of women. One woman was 32 years old and had moved from Serbia to Croatia 10 years ago. She said that since the separation wars were only about 30 years earlier there were still some occasional problems with people not liking you based on your background but that this wasn't very common anymore. Since then I have also heard that there are problems between the different groups. There are times that the information I get from locals and repeat here, may not be completely accurate. Like anything, if I asked two people at home about history or politics, I could easily get two different pictures. This woman told me that the separation of the countries was largely along religious lines. Croatia is largely Catholic. Serbia is mainly Orthodox, and Bosnia is largely Muslim. She said that in Serbia and Croatia the different religions where largely integrated, whereas in Bosnia, you would have a town of Serbians or a town of Croatians, instead of all being mixed in together. During the separation wars, one town in Bosnia with a river down the centre, had the two sides shooting at each other. I really enjoy getting the chance to talk with the locals and learning about the areas we are visiting. Luckily both these ladies spoke enough English that we could have a bit of a conversation.