2017 Europe is Finished, 2018 Europe is Next
The summary of our trip below was written in November 2017.  It is now the beginning of March and we are finally getting it posted.  I thought that it was still worth uploading so that we have a summary of our first leg.  What a great time!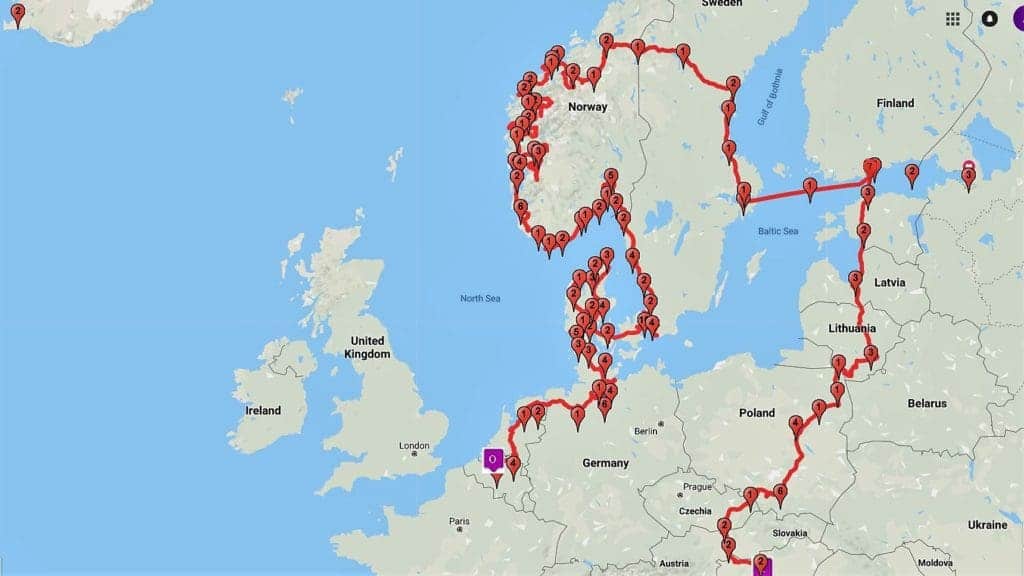 I am writing this summary on the plane flying back to Canada.  It will have to wait until we get home to get posted to the internet.
We really loved travelling slowly and spending a lot of time in one area at a time.  Seeing places that we have never seen before was obviously great.  All the towns and cities in Europe are so different from their North American brethren.  The old historic sections, the pedestrian only areas, the private squares behind the buildings, did I mention old & historic!  It is just great.  Learning the history of the countries and how the wars, especially those in the 20th century affected them is fascinating.  For the first few months we had a lot of visitors and made some very good new friends.  This died down as the weather got even wetter and then much colder.  You could tell how slowly we were traveling by the mileage on the two vehicles.  For the first half of the trip we put more miles on the car than we did on the RV.  This meant that we left the RV in one place for longer and when we travelled it was only a short distance.  For the last half of the trip we put twice as many miles on the RV as we did on the car.  Overall, we put 8500 km on the RV and 6700 on the car.  Given that, we put 8 times as much fuel in the RV as we did in the car.
All told, we were away from home 219 nights.
For my family – no we haven't got claustrophobia yet and to Charleigh – yes I can live with the clothes I can pack in the RV.  It might surprise all of you but Mike and I can share one small bathroom, one television and one living area and live quite happily.
As expected when we arrived in Europe things were very simple with everyone using the Euro.  What wasn't expected were the 4 Nordic countries with 4 different currencies.  Only Finland used the Euro.  There was the Norwegian Krona, the Swedish Krone and the Danish Krone.  All three different currencies, different values, same name.  After leaving the Nordic  and the Baltic countries we have been in 4 different countries with 4 different currencies (Poland/Czech/Slovakia/Hungary).  Again, only one of the four countries used the Euro.  Having spent most of our time in the past in western Europe this really surprised us.  We had thought that Britain was more of the exception than the rule in retaining their own currency.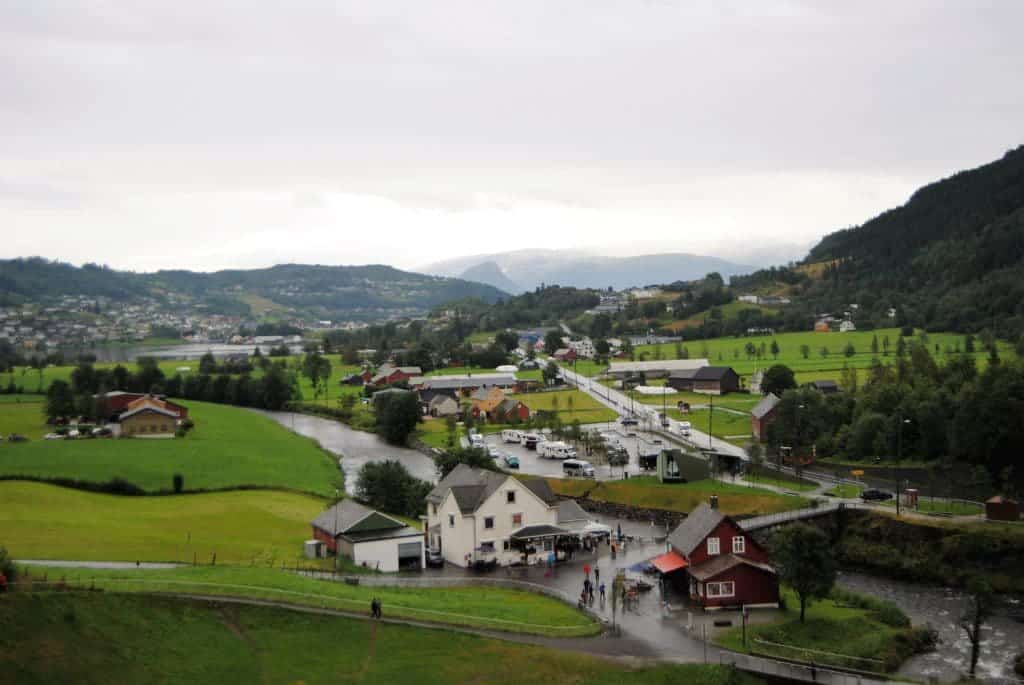 What didn't we like – the WEATHER.  Apparently, this has been the coldest, wettest summer in memory in Scandinavia.  This was all happening while southern Europe was going through a massive and deadly heat wave.  They say that our weather is getting more extreme.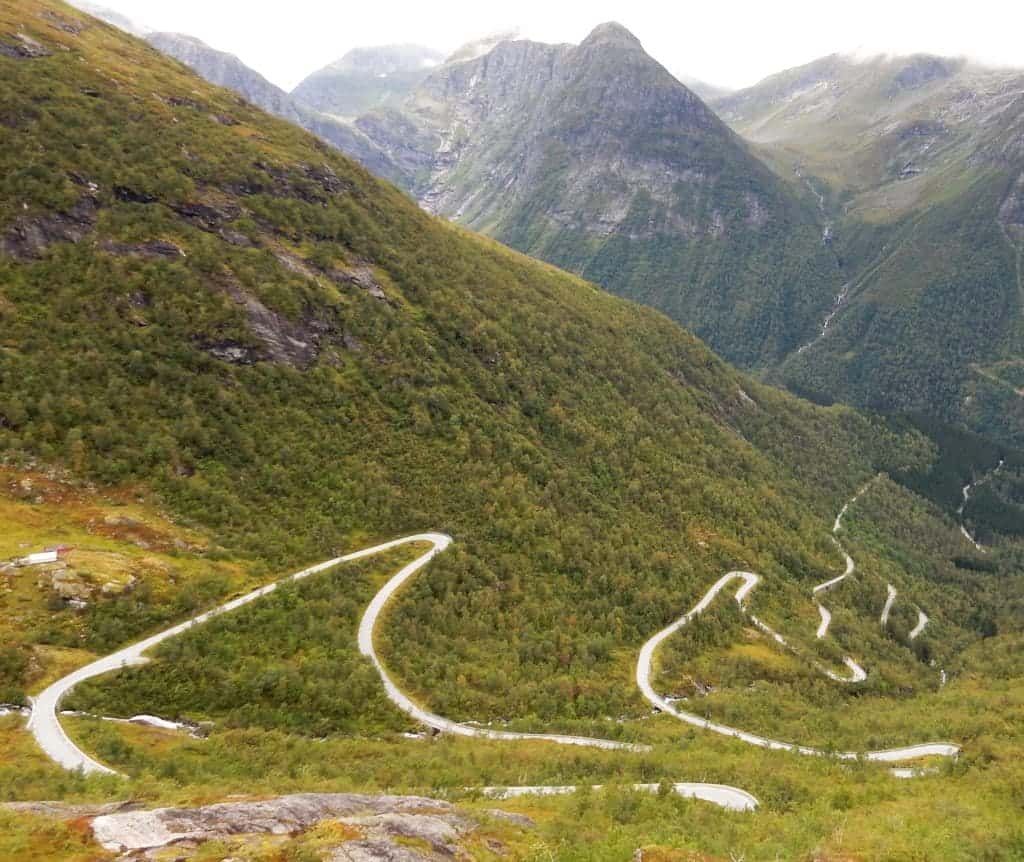 2nd thing that we didn't like were the roads in Norway.  We expected the roads in Europe to be smaller than our roads in North America.  Our plan has been to get around in most countries by sticking with the major roads while driving the RV.  On the "major" roads in Norway we often had possibly 3-4 INCHES between the paint job on our RV and the guard rails on the road.  The left side rear view mirror was often actually in the on-coming lane while the right side rear view mirror extended beyond the guard rail which was at the very edge of the pavement.  There was usually no shoulder on the road.  You just prayed you didn't meet another large vehicle with the same problem.  Mike couldn't eat or drink anything while he was driving and I couldn't look.  It was downright scary, and we were definitely too big for those roads.  One surprise is that slide-outs on campers, trailers, and motorhomes, though common in North America haven't gotten to Europe yet.  It would make sense to me for the campers in Europe to be narrower than in North America but then open up when they are stopped to give them more living space.
Although the roads in Norway are narrow they are very smooth.  Mike says that even the expansion joints on the bridges are much smoother than their counterparts in North America.  Swedish roads were also in very good shape.  When we got into more of Eastern Europe; Czech, Slovakia, Hungary, we encountered more potholes and rough roads.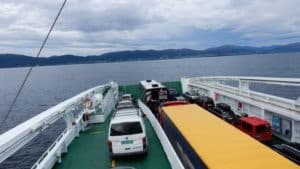 Norway is full of tunnels and ferries even on the main roads.  They are working towards replacing all the ferries on the main highways with tunnels but it is a slow process.  The ferry service is really efficient and we really enjoyed using the ferries.  I don't think we ever waited more than ½ hour to board one and often we drove straight on.   Some of the tunnels were almost unbelievable in both length and depth.  Mike figured that there were so many tunnels, the country had to be like Swiss Cheese.
The ferry from Stockholm to Helsinki was basically a cruise ship, complete with casino and night club.  That was also the case for the ferry from Helsinki to Saint Petersburg.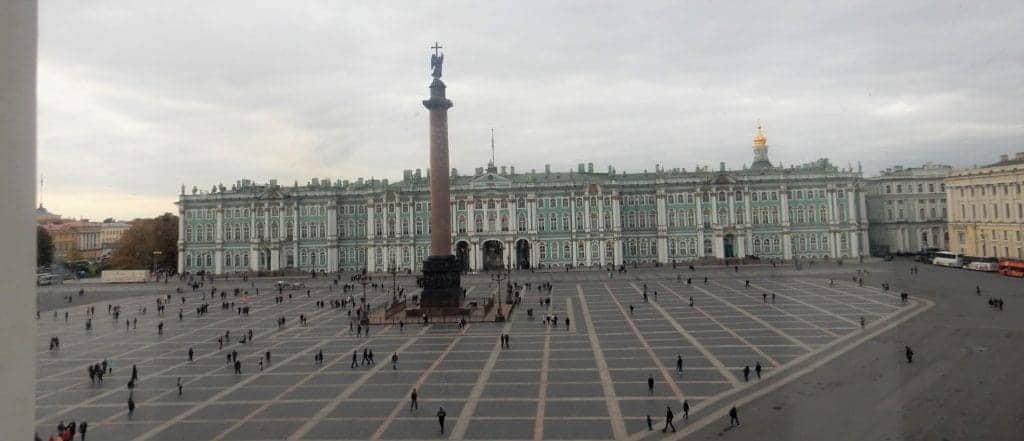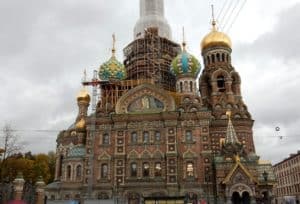 Saint Petersburg was really incredible.  The way the royalty and upper crust lived was almost unimaginable.  It really accentuated the difference between the haves and have nots in those days.
The churches throughout European cities are phenomenal.  We were really surprised at how well churches were maintained by the Soviets even though they served other purposes during the occupations, since practicing religion was banned.  We were also surprised that congregations formed again after so many years without religion and that the churches reverted to their original use after the Soviets left each of the countries.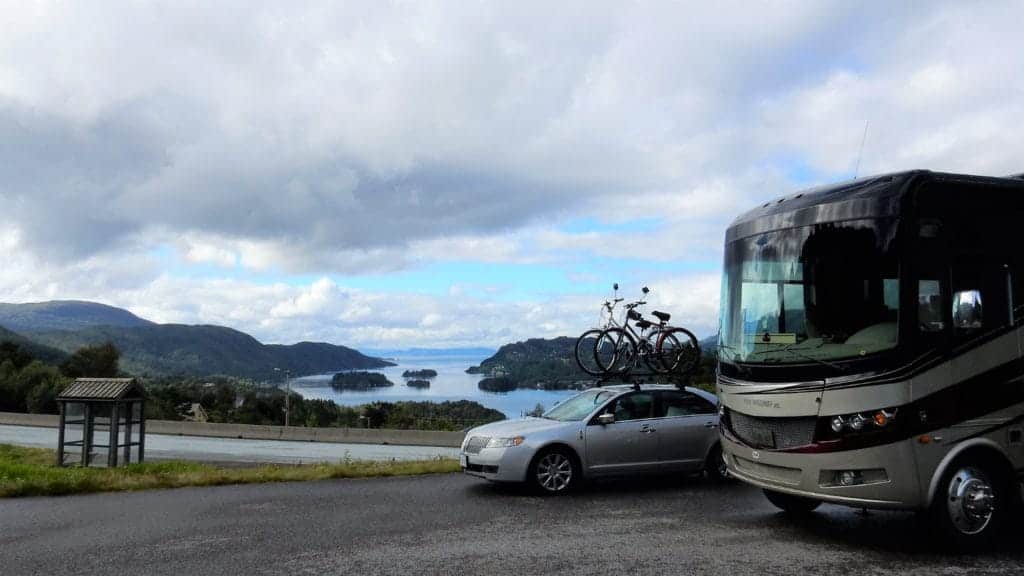 On a daily average our camping cost about 13 Euros per day.  Campgrounds averaged 20 Euros per night but 1/3 of the time we camped for free.
We often woke up to people outside taking pictures of the RV.  One huge surprise was how our RV has rock star status in Europe.  It was actually kind of nice and helped tremendously with meeting people.
The average price of the internet and data is much lower everywhere in Europe than it is in Canada.  I remember reading once that Canada is one of the most expensive places in the world for internet and prepaid internet is much higher than monthly contracts.  The US is much lower in cost than Canada and still much higher than Europe.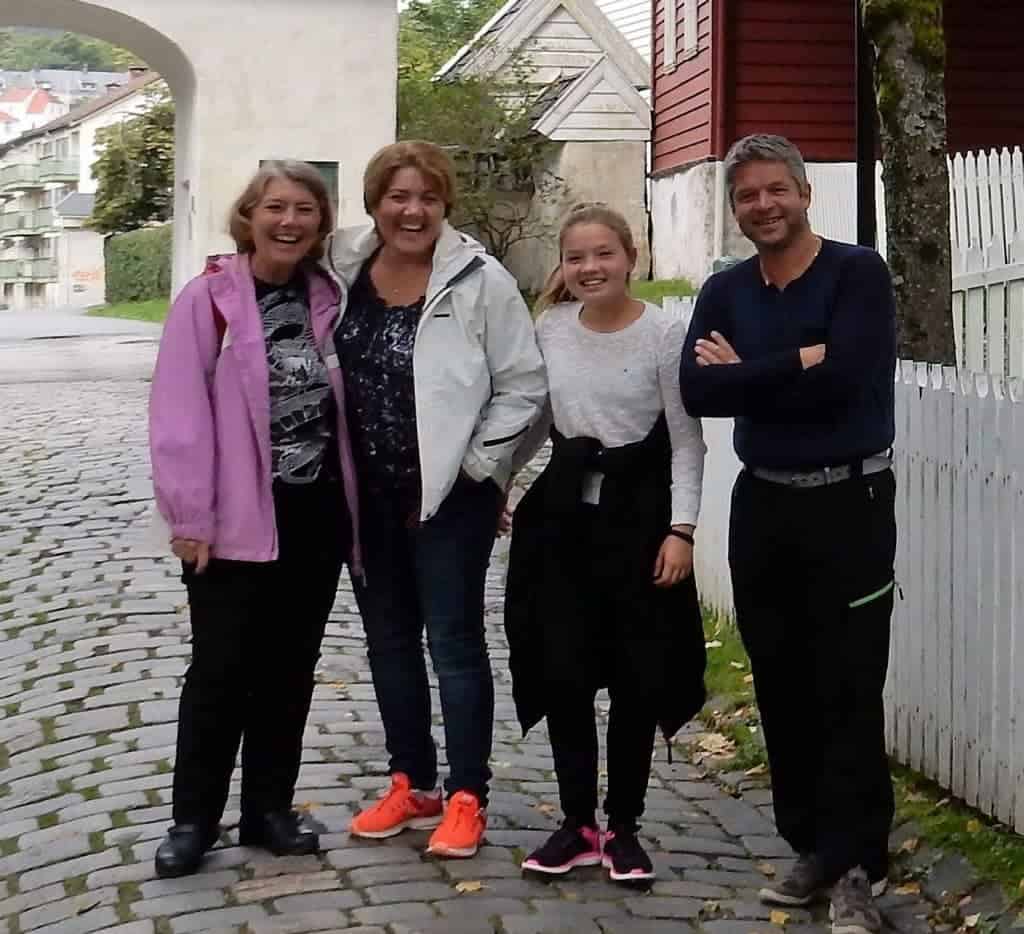 The highlight of the trip wasn't one country or one area, without a doubt it was people.  We had more people visiting us for discussions and drinks in the RV than we do in our home in Canada.  The opportunities this afforded to learn about other cultures, areas, politics, just everything was outstanding.  The people we met absolutely made the trip for us.
To everyone who invited strangers into their home and fed us we say thank-you.  To Clemens,  thanks so much for all your help in Hamburg and looking out for us afterwards.  To Helge, Elin, Martin, Helene and Trina a very special thank-you for everything.  We so look forward to seeing you somewhere on your trip to Croatia next year.  Count on it.
When we head back in February we will be heading south.  It won't be hot then but it will be warmer than Budapest, where our RV currently is.  Our plans, tentative as always, are to head down to Croatia probably fairly quickly.  This will be weather dependent.  We then want to spend a fair bit of time all around Croatia and possibly down into Montenegro.  I expect that by the end of spring we will be heading back north into places like Romania and Hungary.  All this is just ideas at the moment.   Although we would like to see Greece I think we will end up avoiding it.  Our camper is rather large and ostentatious by European standards.  I have heard that we probably don't want to take it through Albania, which would be the nicest way to get to Greece.  I have also read about issues in Greece, due in part to their economic downturn and in part to the immigrants arriving along the coast trying to get to the rest of Europe.  Our RV would look like a luxury hotel to many of the migrants.  It is more likely that sometime in the future. we will either rent a boat or a car and travel around part of Greece.  We want to avoid any areas that are really in economically poor shape.  I feel that our RV would be like waving a red flag in the faces of people who are out of work or who have huge inflation rates and can't keep up.
One problem was shopping in different countries.  As expected a lot of brands are different from Canada if the products exist at all.  Coffee beans were less available with less choice than we expected.  We finally found one that I liked (after trying many and throwing out some bags of beans) and then went into a different country and that brand wasn't sold there at all.  My breakfast is a meal replacement shake.  It took about 5 countries to find one that I really liked and then when we left that country I could never find it again.  Some countries don't appear to stock anything like this at all while others have different brands that taste different.  Of course, the fact that we couldn't read the packaging and often couldn't talk to the store employees didn't help a lot.  Again Google translate came into its own.  I had expected more commonality across country borders within the EU.
As far as using the Internet and our phones went, we needed to purchase a new sim card for every country.  Although this wasn't expensive it meant you had to find somewhere to buy these cards almost as soon as you crossed a border (that you couldn't see).  The EU has just brought in new roaming rules which make the roaming prices between countries more reasonable for phone calls.  For us, we only buy data not voice and data is still expensive when roaming if the plan even has that facility.  We use data to make our phone calls (VOIP), watch current news, video conference with home and keep this website up to date……………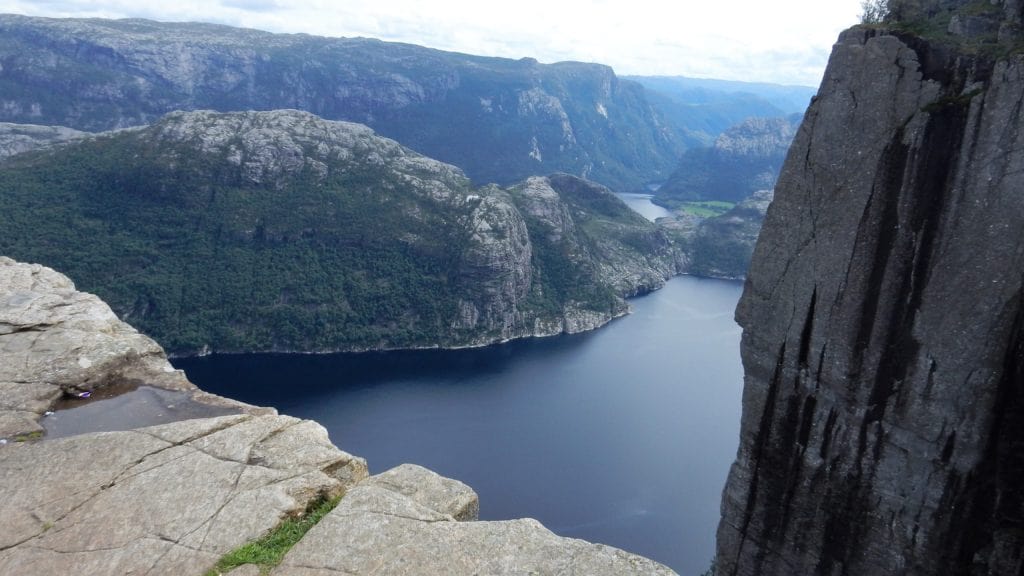 In Denmark the prevailing picture is that Canadians are very similar to the Danes.  This is actually a big compliment as they are all very happy with being Danish.  Norwegians think that Canada is physically like Norway with the trees, ocean, fjords and great nature.  I guess that this is technically true but our oceans are a little more spread out and not readily accessible to everyone.
Although we don't have any specific plans, the area within the lines are within the possibility of visiting in 2018.  We went slow on this trip and hope to go even slower on our next leg.
Mike and I will be back to everyone in early March.  See you then.