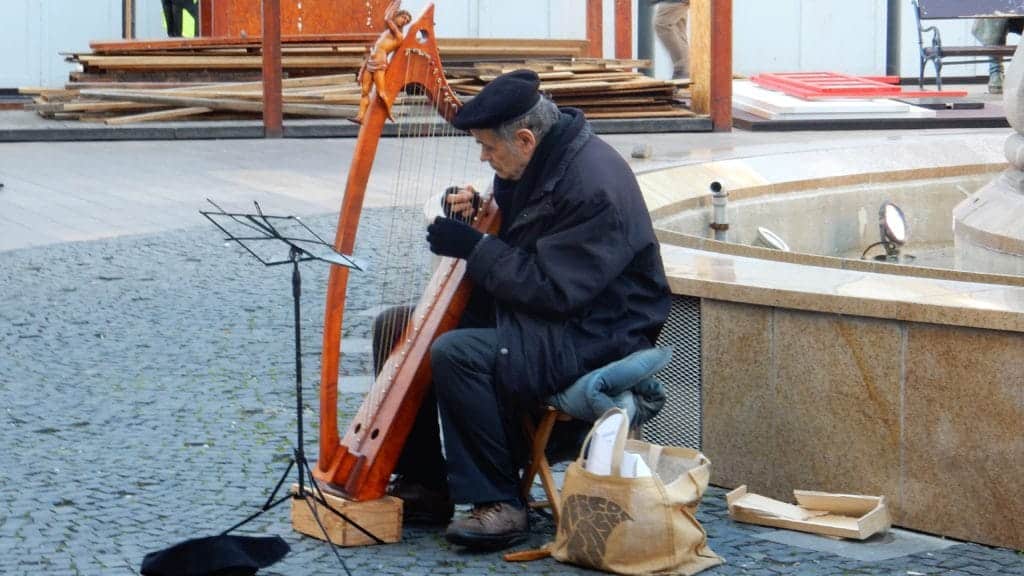 Mike and I have spent the past 10 days racing to Budapest while also doing some running around before leaving our RV and car in Europe for the winter.  Given that you could probably drive through Czechia, Slovakia and into Budapest in one day, racing is a relative term.  The running around involved two problems we have been trying to solve.  The first was simply purchasing some anti-freeze to put into the RV pipes when we leave it in Budapest for December and January.  It turns out that in Europe the only anti-freeze they seem to sell is for cars and is poisonous and not intended for pipes carrying drinking water.  We have been looking for this in the last six or seven countries we were in.  We found one bottle in Lithuania and that was it.  We need much more than that to winterize our RV.  In the end we had to use the car antifreeze and left ourselves lots of laundry to do when we return.  Hopefully multiple loads of laundry will help with the extra flushing of the system.  The other, more time-consuming problem that we had, was trying to get an emissions test done on the Lincoln.  We need to get the Lincoln license renewed while we are home for Christmas.  In Canada we need an emissions test every two years to renew the license and it is due this year.  Obviously we can't get the test done at Canadian Tire since the car is in Budapest.  We must have spent four or five full days in three countries driving around to Ford dealerships and other car places trying to get them to do an emissions test for us and give us the results to take back to Canada.  In one country we eventually found someone that would do it – in three weeks!  Nearly everywhere we went, we were told that they could only test cars that were licensed in their specific country.  On our second last day Mike did manage to get someone to do the test for us.  After all this time and effort and now we have to try and convince the Department of Transport to accept Hungary's results.  More time-consuming effort I am thinking.
When I last wrote, we were still in Krakow.  We spent our last day there touring a salt mine that was built about 800 years ago.  It has been recently decommissioned and is now a major tourist attraction.  You start the tour walking down 400 steps, the entire time hoping that there is an elevator at the other end.  There was.  This was just the first of three levels that you visit.  Throughout the tour you see different types of equipment used in the mine over the centuries.  At one point in time salt was extremely precious and worth more than gold.  You also see lots of carvings made out of rock salt.  Some of the carvings are light hearted, others are very detailed.  Some of them are a few hundred years old.  The mine has numerous chapels in it.  One of them has carvings all around the room made by three miners.  One carving of the Last Supper took a miner over a decade as it was carved during his "leisure" time.  There were chandeliers in different rooms where the crystal drops were really salt crystals.  In one room there were quite a few chandeliers with one particularly large one in the centre.  There were lights over the carvings all along the walls.  Very much like the Bellagio in Las Vegas, music was played and instead of water the lights dimmed and brightened around the room, in a lovely arrangement.  It was an interesting tour.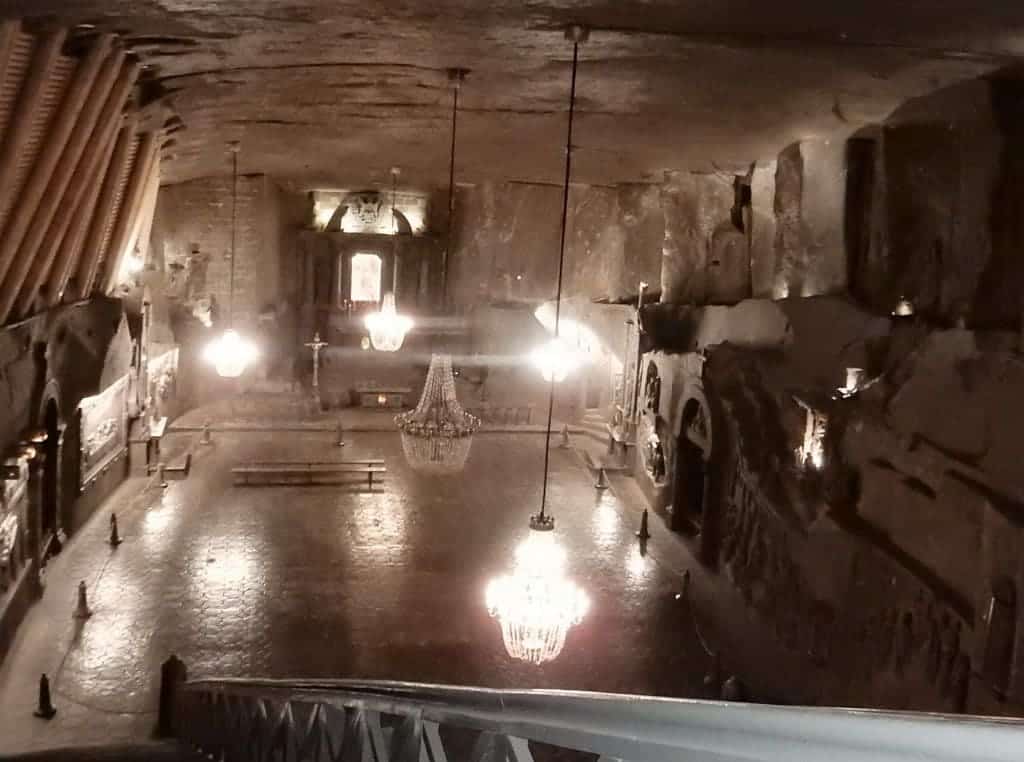 Next, we travelled through Czechia (aka Czech Republic).  The first thing we noticed was that the internet was not as good, as cheap or as prevalent as it had been throughout the Baltics and Poland.  One day while we were driving in Czechia we were stopped by the police.  They were not happy with our towing arrangement.  They were also not happy that Mike doesn't have a bus driver's license and that the international license we have is really only for cars and not for large vehicles.  The police started by saying that, with our license, we couldn't drive the RV any more at all.  We then got them down to saying that we couldn't drive with the car in tow.  That meant that I would have to follow Mike while driving the Lincoln.   A little later they conceded that we could keep the car in tow if we left the highway and stuck to the smaller roads which we really didn't want to do with the large RV.  Finally we had both policemen inside the RV to have a look at our "fancy" bus and they eventually smiled and allowed us on our way with Mike driving and the car in tow.  It was a bit scary for a while.  During all this one of the policemen had limited English and the other had none.
We thought we might stop in Brno which is Czechia's second largest city.  We drove by and all the parking lots that would take trucks and buses were completely filled and the trucks were double parked.  We then looked at places like IKEA and other malls and their parking lots were jammed.  We decided to just keep going towards the Lednice-Valtice area in Czechia that I wanted to see.  Lednice has a complex consisting of multiple chateaux, huge grounds and lots of lovely lodges etc.  It was the summer residence for part of the Lichtenstein family.  They had a more permanent residence just a few miles away in Valtice.  It was a wet Sunday.  We toured inside the main Chateau in Lednice and thought that we would come back and walk the grounds the next day.  When we woke up on Monday and it was raining again we decided to just keep driving.   During the tour we were told about one of the local villages that was lost to another noble in a card game.  When you see the luxurious accommodations, and hear stories like that you begin to understand a little more about the peasant uprisings.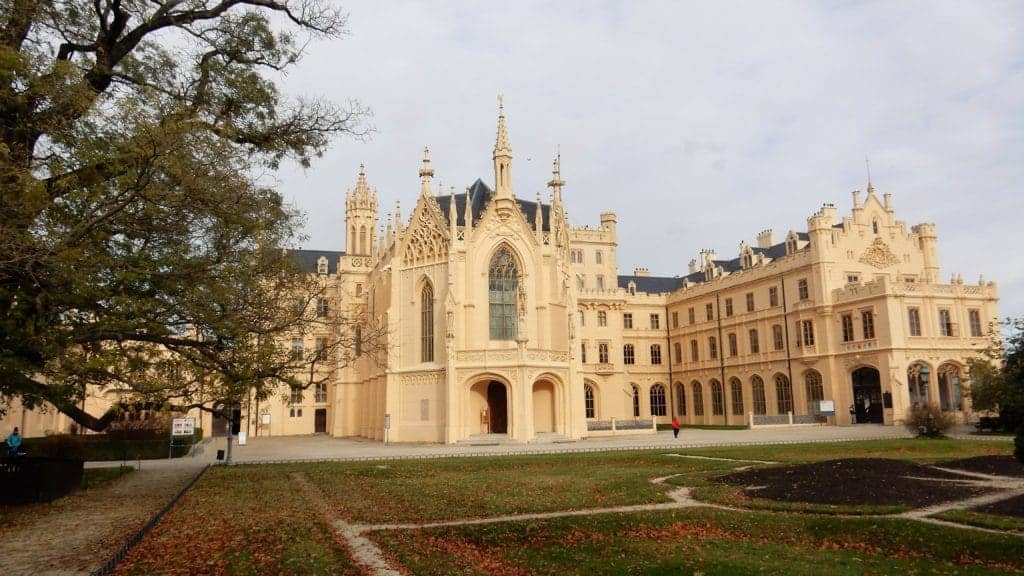 We spent 1 ½ days in Bratislava, the capital of Slovakia.  Silly us, we didn't think about our audio tour guide until it was too late and we were leaving the city.
We were driving around Bratislava in the Lincoln, still looking for the emissions test mentioned above, when we exited a highway expecting a merge lane and encountered a stop sign instead.  We accidentally ran the stop sign and almost hit a police car who had to swerve out of our way.  Needless to say, he wasn't happy.  We got pulled over and Mike was given his third breathalyzer test of our trip.  The first two weren't due to any fault of ours.  Both our international driver's licenses were in the RV not the Lincoln which was a problem.  It was an uncomfortable situation.  Anyway, the final result was us paying a 150 Euro fine on the spot and getting a receipt from the police.  Mike figures it would have cost us more in Canada.
We left Slovakia and entered Hungary.  We were driving around Budapest in the Lincoln when we got pulled over yet again by the police.  This time there was no fault, we think that the police just didn't like our Canadian license plates.  Shortly after we were pulled over a second police car arrived and now we were surrounded by two police cars and four police officers.  The police were looking very unhappy and asked for identification.  Mike showed them his Canadian passport.  After lots of internal discussion and phone calls they managed to get across that they wanted to see our visa to stay in Europe.  Mike then showed them his EU passport.  Luckily he carries both with him.  I think it is safer to have them in different places in case of robbery.  When the police saw the EU passport we got some big smiles and they let us go.  We never did find out what the actual issue was in the first place.
We spent four days in Budapest and never got to see the city.  We spent much of the time driving around looking for someone to do the emissions test and still trying to get the anti-freeze.  We also had to sort out everything in the RV that might have a problem freezing in the winter.  We ended up asking our hosts to store three large boxes in their house for us.  In addition to liquids we had to think about things like the printer with ink in it.  We put our large coffee machine in one of the boxes since, even if we emptied it there would probably be some water left in the pipes and the heating element section.
We have left our RV and car in Joska and Jutka's backyard.  They are relatives of friends of ours in Canada.  They have their own European sized camper parked in their garage.  Our RV and car take over most of the yard and I really feel like we are imposing but they were really nice about it.  Hopefully they don't normally use their backyard in the winter time.  Their yard is double fenced which should help with security.  Based on the fencing and the windows in Budapest we are guessing that there is a crime problem.  Joska and Jutka had us inside visiting in the evening and fed us three meals in the two days that we were there.  That was very interesting as they didn't have a single word of English and we don't speak any Hungarian.  We used Google Translate extensively.  We would sit at dinner and one of us would talk into the phone which would then translate and say the words in the other language.  It wasn't perfect but I couldn't believe how well it did when they spoke Hungarian so quickly.  They drove us to the airport and have offered to pick us up when we return in February.  Joska and Jutka, again thank-you very much.  Pearl and Peter thank-you as well.  We will see you both soon.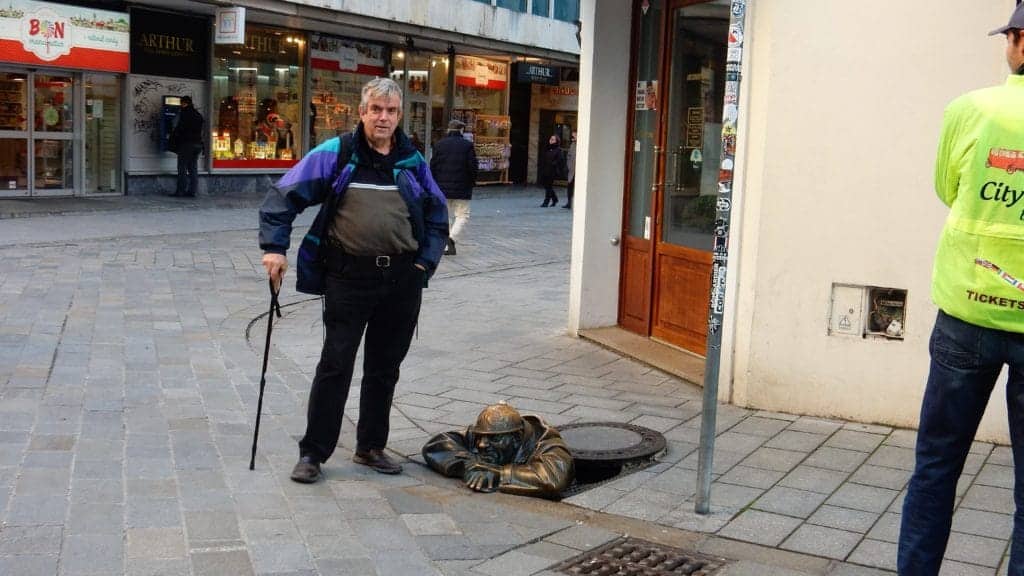 Although our map looks like we travelled through this part of Eastern Europe we didn't do it as slowly as we would have liked.  We expect to be back here in the summer or fall sometime in the next two years and we will get to spend some quality time in this part of the world.  We really liked Budapest when we visited in 2003.
Mike and I have started our trip back to Canada.  I made the mistake of booking our flight home early so we have to get to Hamburg to start the flight.  Although you can make some changes to the flight for a cost you can't change the country of origin even if you wanted to.  This means that we will first fly to Hamburg, spend the night and then on Monday fly from Hamburg to London to Toronto.  It is a bit of a complicated way of getting from Budapest to Toronto.  I have a few airline points left and looked into using them to get from Budapest to Hamburg.  These days, even your "free" airline tickets require you to pay the taxes.  If I had booked Mike and I using my points it would have cost us $220 and we would have had a stopover somewhere between Budapest and Hamburg.  Instead we paid $230 each with an airline called Eurowings, booked a 1 ½ hour direct flight and didn't use any points.  So much for "free" tickets.
I will write one final article summarizing our 2017 journey when we get home.  I then get to put away the keyboard until February 2018 when we return for our second of three legs in Europe.