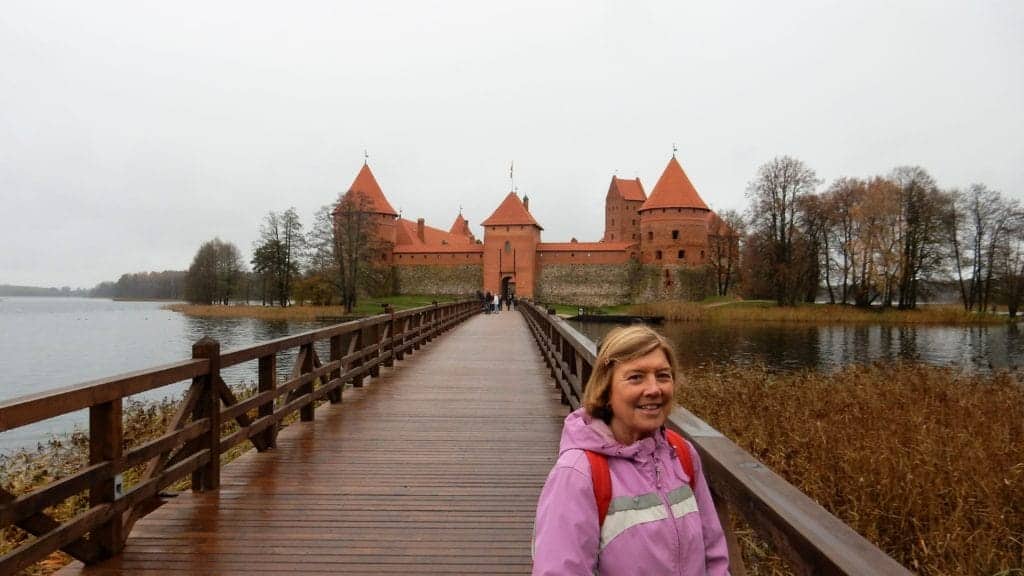 I am afraid that Mike and I travelled through Lithuania faster than we wanted to but the weather really wasn't conducive to wandering slowly.  We spent one day walking around listening to our audio tour in Vilnius and one day at the Trakai Island castle, both days were wet.  It was interesting to see places that we had previously seen four years ago.  We also went to a restaurant that some local friends had taken us to on our last trip.
I wrote, in more detail, about both these places last time and you can read that by clicking here.  Vilnius has lots of churches, sometimes two and three on one piece of land.  Mike thinks that I want to go into every church we see which is only a bit of an exaggeration.  I find that the churches and cathedrals in Europe have more art work, more sculptures and better architecture than almost anywhere else.  Because it was below freezing at night we stayed in a campground with electricity.  It turned out that it was very near a large, restored castle that we had been taken to previously.  Last time we were at the castle it was about 30 minutes before closing and as four of us walked through the rooms the employees walked behind us locking up.  It didn't make you feel like you could take your time.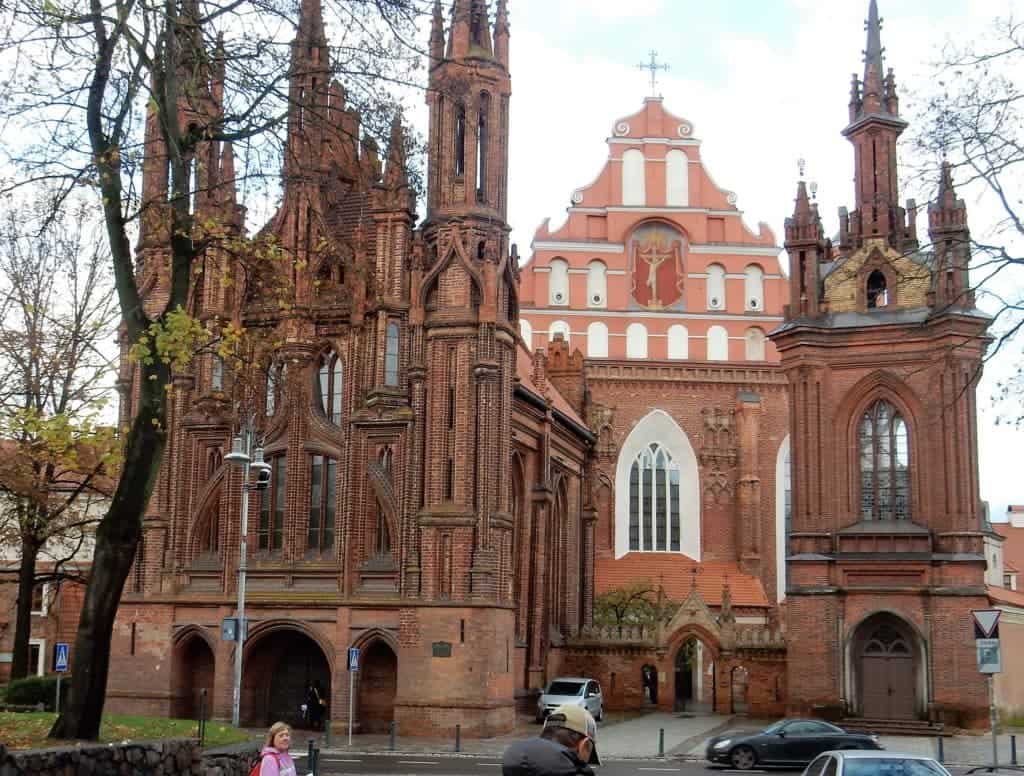 When the weather is like this I have a clothing problem.  I have a pink rain jacket with a hood that keeps the water out really well but isn't particularly warm.  I have a warm red jacket with no hood that doesn't handle the wet very well.  I have been leaning towards dry vs warm.  If you see a pink jacket in a photo it means that there is rain.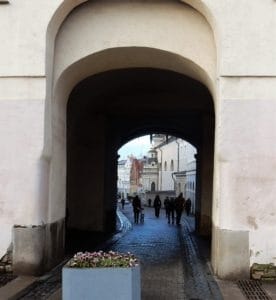 Although Mike and I had bought data cards for our telephones in Lithuania the reception wasn't the greatest as we were heading south and the internet was intermittent.  Part way enroute Mike came to the conclusion that we were probably heading towards Belarus which we were pretty sure isn't in the EU.  We kept driving as I tried to get on the internet and find out if it was in the Schengen Area which would mean we were fine to travel across or if we needed visas or what?  I eventually figured out that we did need a visa and so we turned around and headed back north.  There aren't a lot of roads in that part of the world.  The best alternative road had a sign on it indicating a maximum weight of 7.5T ahead.  We are considerably heavier than that.  I wanted to detach the car and go and check it out.  Mike preferred taking the sign at face value and heading north to avoid both Belarus and the 7.5T road and head into Poland which we did.  Mike rightfully wins any debate when it comes to where he can drive the RV.  If it is a bridge that has a weight restriction, then I won't consider it.  I think that sometimes the weight restriction is just to keep noisy trucks off the roads.
We left Lithuania in the rain and we entered Poland in the rain, sleet actually.  The weather at night time has been above freezing (just) so we didn't need a campground.  We have actually spent three nights at truck stops.  The locations aren't very attractive but they have restaurants, mini markets, huge parking lots, appear to be quite secure and no one minds when we run our generator for hours which is great.  The price is also right, two nights were free and the third was $3.50 Cdn for the night.  As I said, once we come back or stop for the evening and close our blinds it doesn't really matter what it looks like outside.  Poland certainly seems to have more of these large truck stops than we have seen elsewhere.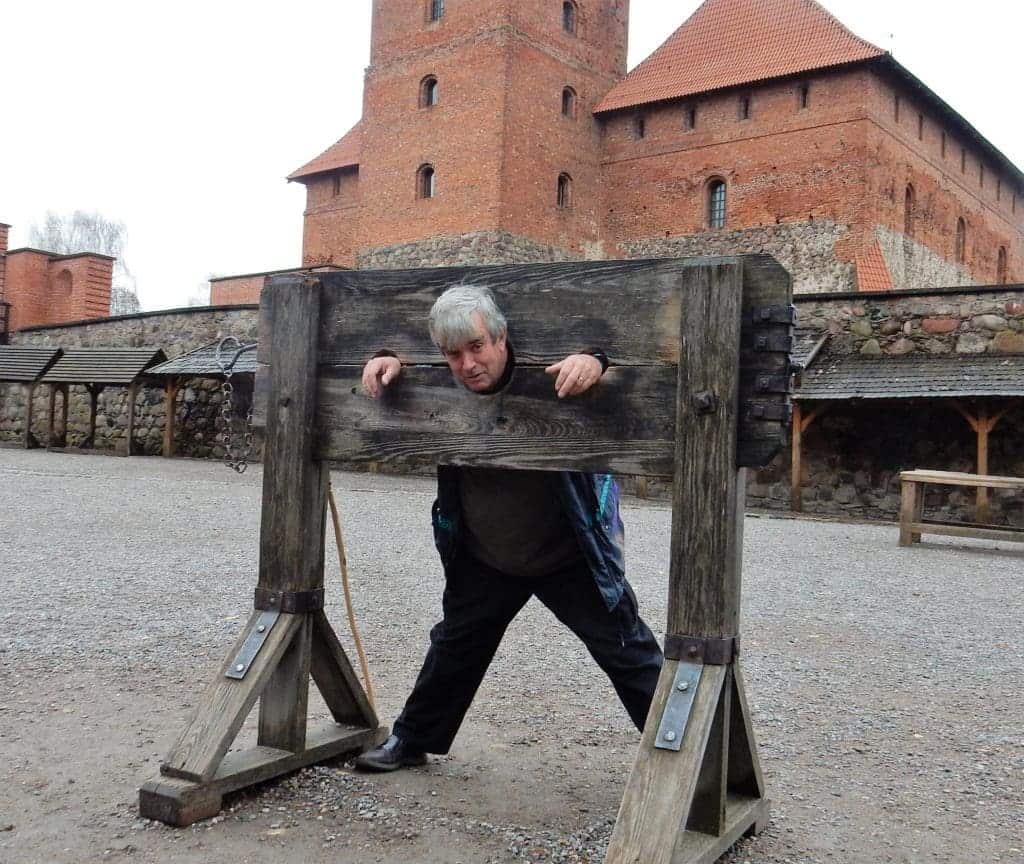 We just received an email from a friend in Canada.  She says that, if we want, her family will let us park our RV in their secure backyard next to their camper for the winter.  It sounds like the entrance is a little tight for us but probably doable.   I want to make sure that we aren't imposing but this sounds like a nice alternative for us.  It is 30 minutes from the Budapest airport and they have fairly inexpensive flights to Hamburg from there.  It means that we would get to spend some time in Warsaw, Krakow and maybe even Vienna again before we fly home.  What it really means is, that if the weather improves, we can go back to dawdling and slowly traveling instead of the amount of driving that Mike is doing at the moment.  We end up driving much further when the weather is poor unless we are in a really nice campground or on a lake or something.  For most of the trip so far, we have put a very similar number of miles on the RV and the car.  This includes going north in Norway and across rural Sweden.  The more miles on the car and the fewer on the RV the better I like it.  It means that we are taking our time, staying in one spot and really seeing the area.  At the moment the RV is getting nearly all the miles because the odometer on the car does not turn when it is being towed.
We talked to one waiter who moved to Poland from Turkey about a year ago.  He said that when he came he was tanned like he had been his entire life.  After one year in Poland, and the damp, he is now white, and his family back home thinks he looks sick.  I found that story a little off-putting in regards to our weather expectations for Poland.
One great thing about this part of the world is their internet accessibility.  I just purchased about 20GB of data in Poland for $10 Cdn.  We use the data to watch the internet news.  We stream the news on low quality, but since it is largely background that works for us.  On low quality we can have CNN and The National and other news stations playing while we are reading or working on our computers.  We couldn't afford to do this when we travelled across eastern Canada and the US last summer.
It is Monday evening now and we expect to be in Warsaw tomorrow afternoon.  I actually want to see Krakow the most, but Warsaw should be interesting.  We spent this afternoon in the town of Bialystok.  We would have spent much longer if it hadn't been drizzling and very windy, and cold.  There are strong wind warnings here at the moment.  The picture below is a lovely looking building that used to be someone's residence.  I find that pretty unbelievable.  Bialystok had multiple lovely looking churches and a nice river in the woods for walking in the centre of town.  It had a large pedestrian area and town square.  All in all, it looked lovely and all we spent there was about 90 minutes before heading back inside our warm and dry RV.  If we ever get back here again, in good weather, I would like to come back to this town.
Next update from Warsaw.