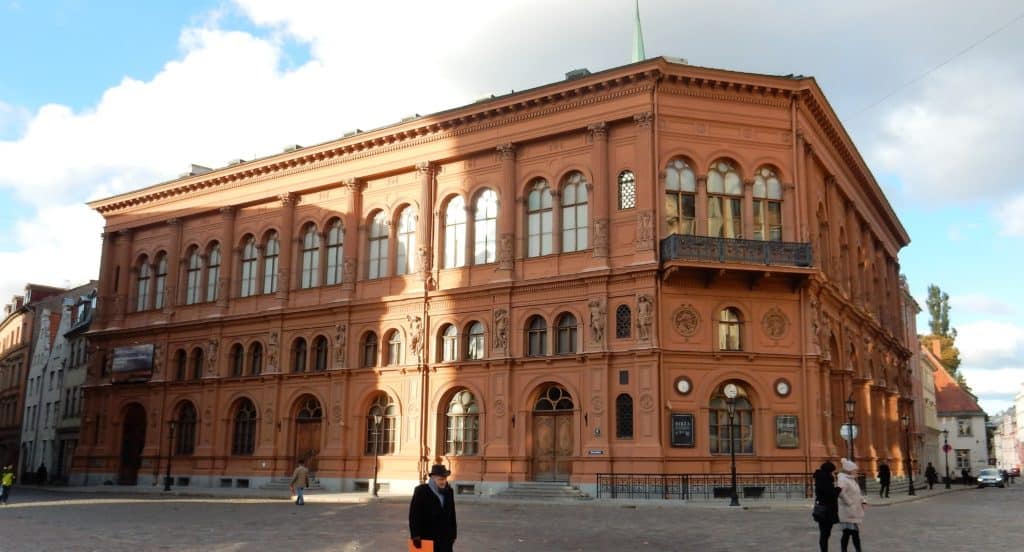 After Moscow and St. Petersburg Riga was said to be the third most important city in the Russian Empire.  It was also a Hansa League city which made it very important from a commerce point of view.  An interesting fact that I forgot to mention earlier was about the origins of St. Petersburg.  During the days of the Russian Empire, Peter the Great decided that Russia should have a seaport.   He selected the city of Narva in what is now Estonia.  We were in Narva on our last trip.  It is a town on a small river with mainland Russia on one side of the river and Estonia on the other.  Apparently, Sweden did not want Russia having such a strong foothold in this area and they went to war over it.  Sweden won and occupied Narva for a long time.  Since he couldn't use Narva, Peter the Great selected a new area to build Russia's seaport and capital city.  This town became St. Petersburg.  Thank-you Sweden!
Someone had asked me the name of the audio walking tour app that we are using.  The main one is izi.TRAVEL and it is working great.  For Riga there were two free, English tours of the city.  Mike and I selected the longer more detailed tour and spread it over two days.  The first day was quite cool walking around but day 2 was lovely.  Mike bought a pair of gloves and I bought some warmer mittens.  I looked very funny with a grey mitten on my left hand and a black glove on my right hand.  I could use my phone with the glove, so I opted for warmth where possible (left hand) and too bad about fashion.  Even if it's chilly, if the sun shining and it isn't too windy, then everything is good.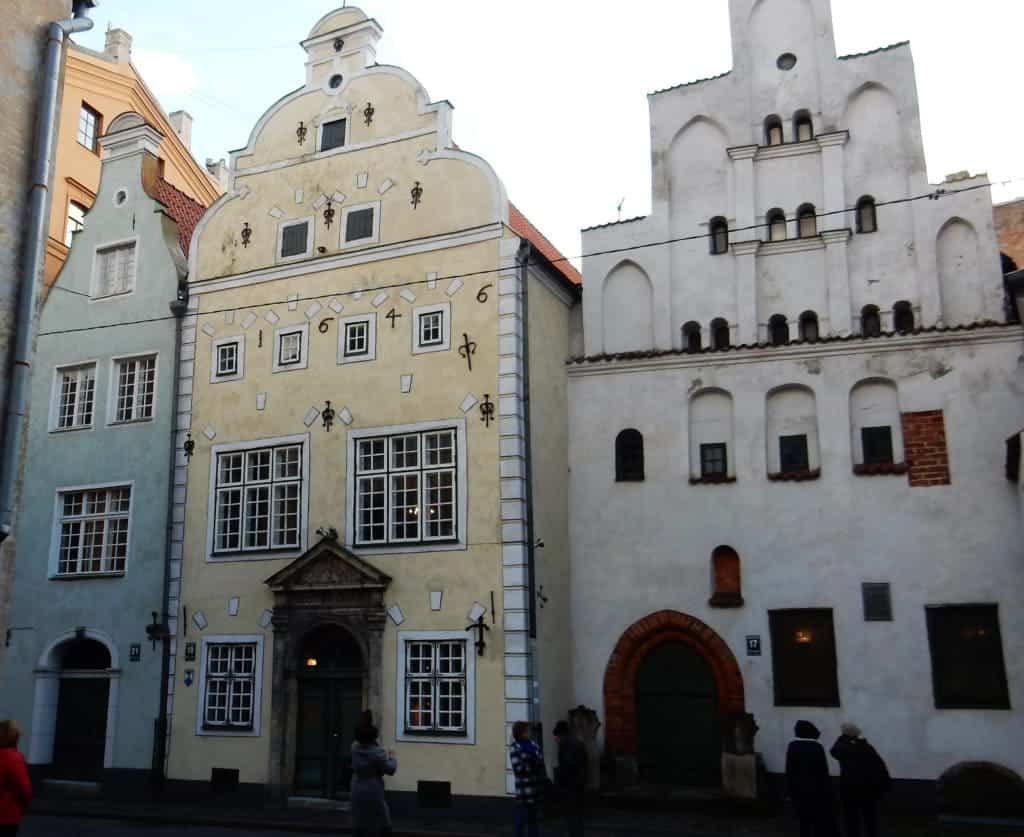 Above is a set of three houses all attached but looking quite different.  They are called the Three Brothers because they were owned by one family that kept growing over the generations.  The three form the oldest complex of dwelling houses in Riga.  Each represents a different period. The first one built, the white one on the right, is from the 15th century and is the oldest in Riga.  It is the only remaining original building from when, after the city burned yet again, the mayor dictated only using non-combustible materials.   Notice that what looks like windows is actually plaster with small glass windows placed inside.  In those days you were taxed based on the amount of glass you used.  Since glass was very expensive the assumption was the more glass you used the more you could afford to pay in taxes. The second/middle house was built in 1646.  At this point the glass tax had been removed but based on your class in society a maximum number of large windows was dictated.  This house was owned by a merchant.  The green house was built in the 18th century.  Here you can see really large windows.  The tax had been removed and styles changed.  The three family houses are connected on every level inside.  Today this houses the Museum of Architecture. Mike and I didn't go inside.
I am including some dates from Latvian history just to put some of our stories into perspective.
Prior to 1900s Latvian territory was occupied by Germany, Sweden, Russia among others. Latvia was part of the Russian empire at the turn of the 20th century
1918-1920 Latvia staged their War of Independence which they got in 1920
1920-1940 Latvia was independent
1940-1941 Russian ruled for one year again
1941-1944 Germany invaded and occupied (originally looked on as liberators)
1944-1991 most recent Russian occupation
1991 Latvian independence
Latvia was part of the Russian empire many times for many years.  Here are some interesting tidbits that I have heard about the Russian occupation.  Things aren't always what we see in the west.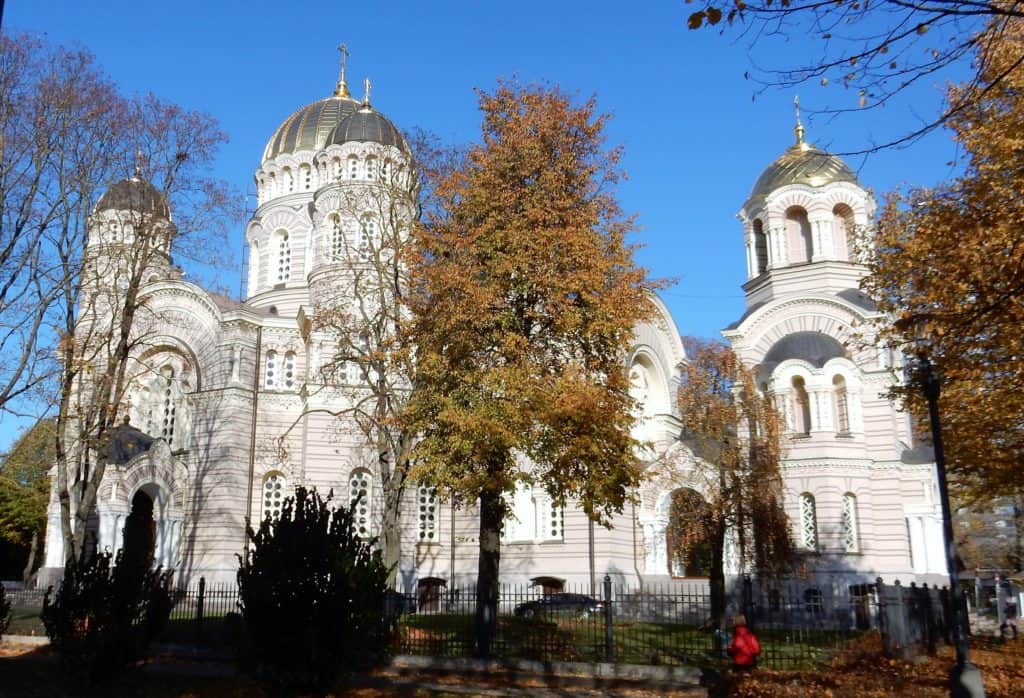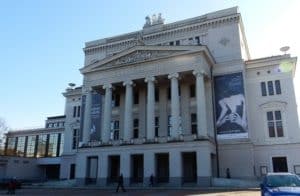 In 1876 the Russians built a lovely orthodox cathedral in Riga.  During the latest occupation, when religion was banned in the Soviet Union, the cathedral was used first as a planetarium and then later as a cafeteria.  The crucifixes and the church bells were destroyed but it appears that the art work all around the cathedral was left intact.  We have seen this in other Soviet occupied areas.  It always surprises us to see such lovely religious art work surviving the Soviet occupation.  On another church in Riga the tower was burned down by the Soviets just before the Germans arrived because it could be used to send military signals.  This same church tower was rebuilt by Russia in the 1970s.  Riga has a lovely large opera hall.  This was built by the Russians in 1856.  When we last visited the Baltics we asked a couple of people about the differences before and after independence from people who had lived through it.  One thing that we heard was that the amount and quality of the arts deteriorated terribly with independence.  When the various Baltic countries where part of the Russian Empire or the Soviet Union they would get to see the Russian ballet and Russian opera when it toured.  Art exhibits would make it to these countries.  After independence, the three countries ranged from one to three million inhabitants and couldn't justify the costs associated with the arts nor did they have the base of talent to draw from.  Building an opera house in Riga was just one example of what went on under Russian occupation.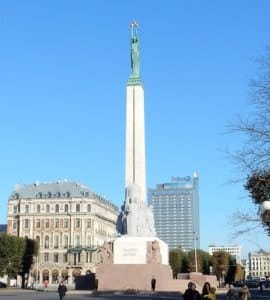 Possibly most surprising of all is the freedom monument that was built in 1935 and dedicated to soldiers who had lost their lives fighting for Latvian independence.  There was talk about Russia tearing down the tower as "freedom" towers weren't appreciated in their territories.  We heard two different stories about why it stayed standing in good condition.  The first was that a well-respected sculptor in Russia lobbied for it to stay due to its artistic beauty and value.  A second possibility is that since it was funded, not by the state or a government, but entirely by donations from residents/workers, the communist party, representing the simple people, couldn't very easily tear it down without looking bad.
In the 1930s, while Latvia was independent, they built a major central market in Riga.  They moved about 5 huge, multi-story Zeppelin hangars and took over an additional 7 existing warehouse buildings and built a huge in-door and outdoor market.  It is outside the old, historic part of Riga but within walking distance.  It is very surprising that it doesn't get more mention.  It appeared to be a local market for Latvians.  There were buildings of meat and produce, lots of clothes and shoes.  There is a Latvian saying that "you can find and buy the mother of the devil" at this market which means that you can buy anything here.  According to the audio tour this market was the best, the biggest, the cleanest, and the most modern in all of Europe when it was built.  It had heating, electricity, elevators, ventilation and toilets in 1930.  It is probably the cleanest, biggest, most diverse, market that we have ever seen in our travels.  We were especially impressed with the many displays of fresh meat, and fresh fish, and fresh produce.
One square in Riga was completely demolished by bombs in WWII.  They have rebuilt some of the buildings as exact replicas of the original buildings which is very nice to see.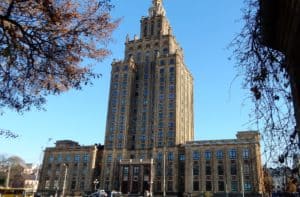 There was a lot of talk about tearing down many of the Russian built buildings when Latvia got their independence.  The city council decided that in 100 years these buildings would represent a portion of their country's history and be of interest to people.  The decision was made that as long as the buildings weren't too ugly (rewriting history?), were well constructed, and didn't block other buildings of interest they would not be torn down.
Our walking tour on our last day took us to a Holocaust museum and a Jewish ghetto site.  We wandered around a small part of the outside and didn't go inside.  Just seeing the barbed wire was enough to turn my stomach.  At that point in time I just couldn't face going inside.  We read some of the signs outside.  They talked about, in one town almost 30,000 Jews being killed over a 3 day period.  In another town 33,000 Jews were killed in 2 days.  Early I had read that before the war Lithuania had had 210,000 Jewish people.  200,000 of them were killed.  I believe that more than 90% of all Jews in the Baltics were killed during the WWII.  You would think that the world had learned its lesson but obviously it hasn't.  Good luck to Bob Rae in Canada and his new Myanmar initiative.  We met a couple a week ago from Newmarket, Ontario.  Their next trip will be taking their 12-year-old daughter to see and understand Auschwitz.  We will be traveling through that part of the country in the next few weeks but I am not sure that I am going to try and get there to visit.
While we were outside the tourist area we stopped for lunch.  Mike ordered the special of the day which was a really good deal.  For 3 ½ Euros he got soup, a chicken dish with a side of pasta, and a salad together with a sweet lemonade drink.  This was certainly lower than normal but restaurant prices in general appear to have come down too, and in some cases lower than, Canadian meal prices.  Earlier we had stopped for a cappuccino for me.  In the café they were playing the "yellow polka dot bikini" song.  The song was half over before I realized that the words were not being sung in English.  It is the end of autumn here and the leaves are all falling.  It makes for very nice walks, if a little cool, in the parks.  Mike thought that it was too cold to take a small boat trip around the canals and river in Riga which was too bad.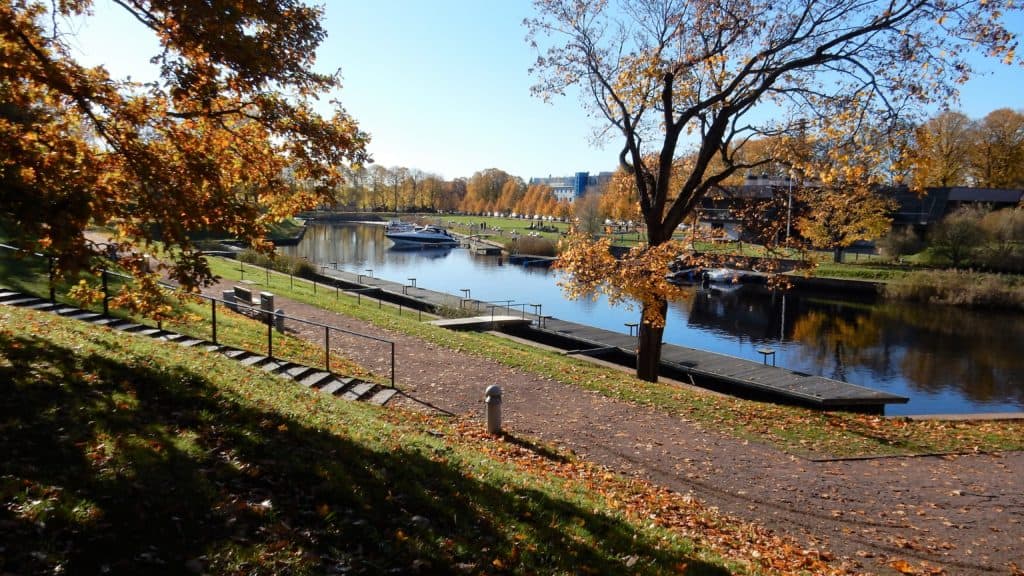 As I mentioned in my last letter since the temperature is dropping below freezing at nights we need to go to campgrounds with electricity to make sure that the water in our pipes doesn't freeze.  There were two campgrounds in Riga, luckily right near each other.  The first one told us they were closed.  We went to the second one and we figured out from the security guard that they were closed also.  He did agree to us parking in his parking lot and using an extension cord to the security shed for power.  Luckily someone with a little English had wandered by or we wouldn't have got that far since the guard cound not speak or understand English.  There is much less English in the Baltics than there is in the Nordic countries but there is enough for Mike and I to get by.  After we had been parked for about 20 minutes the security guard (with no English) knocked on the door and I made the mistake of being the one who answered it.  I couldn't understand what he was saying at all, so I got my cell phone and opened up Google Translate.  I would type my comment in English and he would read the Latvian translation.  He then started using the same program on his cell phone where he would type it in Latvian and he would show me the English.  This went on for about 10 minutes (it seemed much longer).  By then I was tired of typing and I started talking into my phone, well when I did that the phone repeated what I said out loud in Latvian and also typed it in both English and Latvian to verify the words.  After I spoke I could hit one button and then the security guard would speak into my phone.  I would hear the English translation and he would see what he said written down. It worked great.  I spoke, he listened, he spoke, I listened.  You have to love technology.  Google has recently announced a Bluetooth headset that does almost real time translation but it will only work with Google's phone, not with any other Android device which just isn't right.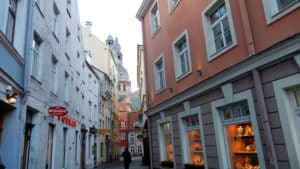 As I said we are heading south fairly quickly due to the weather.  Riga was the only city in Latvia that we spent any time in on this trip.  This morning we got up planning on heading to Lithuania.  The capital city, Vilnius, is a four to five hour drive away.  Mike wants to drive all the way there today because he thinks there are campgrounds in that area that are still open with power for us.  Many of them in rural Lithuania are closed for the season.  Since there is some snow mixed in with the rain this isn't surprising.  When we got ready to leave Riga this morning we had to fill up with water and empty our black and greywater tanks which is our normal procedure.  What was different was that we froze doing it.  This morning was the coldest, windiest day we have had.  It means that Mike will have to drive in this wind which is a lot more effort and we probably won't be stopping much to get out enroute.  The days is dull and overcast which makes everything a little less cheerful.  If we only had one or two great sunny days, I am glad they were while we were touring Riga.
The one advantage to a long drive is that I have time to sit and write this as we travel.  One of the first modifications Mike made to the RV was to build me a computer desk and add power next to the passenger seat at the front.  The only problem is that I can't look things up on the internet as my internet access died when we crossed the border from Latvia into Lithuania.  As I write this there is now one hour to go to the campground we believe is open.   I think I will save this and make a cup of coffee and relax in my living room in my La-Z-Boy chair while Mike drives.
A quick last note.  When Mike and I were in the Baltics 4 years ago we spent more time going through the Museum of Occupation and other museums.  We also spent time with business partners of mine in each of the capital cities.  If you want to see our pictures or read any of the details from that trip I have posted them on this website.  If you look on the menu under Prior Trips you will see our Baltic visit, or you can click here.