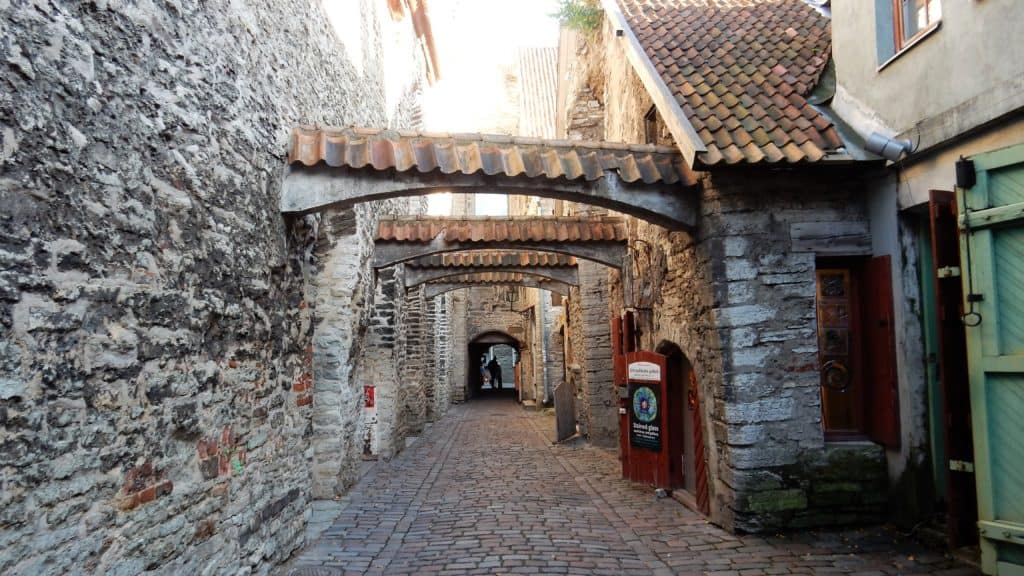 Well here are Mike and I in Estonia.  Not what we expected when I last wrote an entry but luckily, we aren't too concerned with forward planning.  A month ago, I had thought that we would have to take a ferry from Helsinki to Germany due to a lack of time before we fly home from Hamburg.  A combination of traveling quicker than expected and poor weather, which encouraged us to leave, meant that we had about 5 weeks before our flight home.  With that time I decided that taking the ferry to Poland instead of Germany and heading south from there would be a good idea.  The day before we were thinking about leaving Finland I found out that the ferry to Poland was actually stopped quite a while ago.  The only real alternative was to take the ferry to Tallinn, Estonia which Mike had actually wanted to do this year.  We toured the Baltics 4 years ago and thoroughly enjoyed ourselves.  I didn't mind coming back at all but I really wanted to do it in their summer months which October and November are not.
The last time we were here we traveled around much of the three countries and spent a lot of time learning about their history.  It is a fascinating part of the world.  Not only have these countries been occupied for much of the last thousand years they have been occupied multiple times in the last hundred years.  Estonia originally got their independence in 1918.  Even after that they were occupied by Russia, then by Germany and then by Russia again.  They regained their independence in 1991.   This was recent history.  I remember the singing "protests" leading to their independence.  In 2013 we met people who had been here while under Russian and German rule.  Getting their insight, which isn't always what we hear in the west, was fascinating.  This trip will be much quicker.  It won't be much more than a visit to the capital cities without all the museums and history that made our last trip so interesting.  As I write this we really only have about three weeks of free time to get to wherever we are going to leave the RV before we then fly to Hamburg to catch our booked flights home.  We have thought about heading towards Budapest.  We got in touch with a friend who has family with an RV near Budapest.  They are looking into options for us.  Vienna is another possibility.  Croatia is our main aim for next winter and we are basically just heading towards there.  We will keep everyone informed on where we are and what are plans are almost as soon as we know them.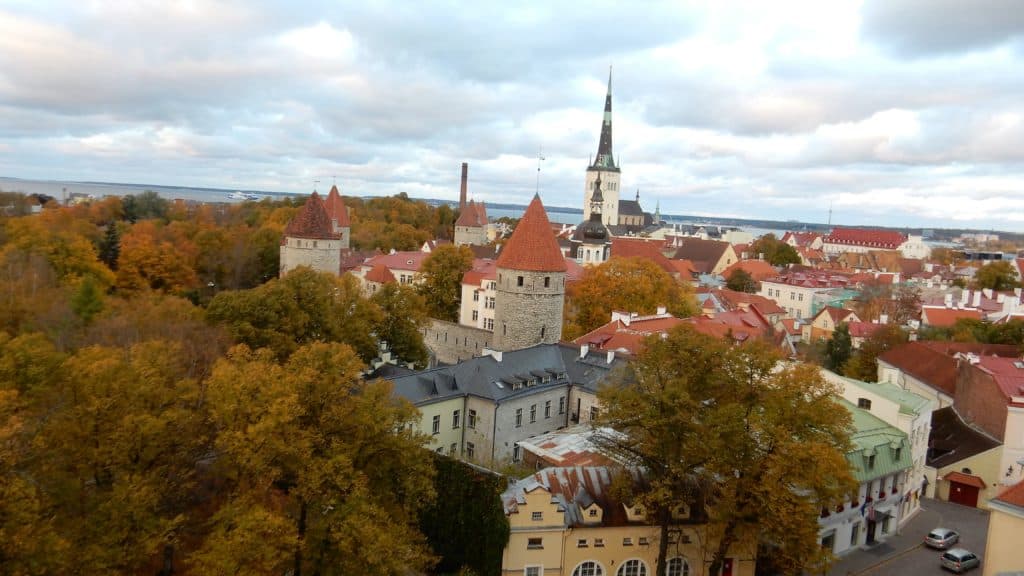 We spent the last few days in Tallinn the capital city of Estonia.  It was great.  We saw our shadows for the first time in weeks and I even had to locate my little used sunglasses, it was marvellous!  Estonia has a total population of 1.3 million people and about one third of them live in Tallinn.  As I said, we skipped most of the museums this time in favour of simply wandering around the city.  Tallinn is a well preserved medieval town.  The city wall was originally built in the 1200s and was enlarged in the 14th century.  About 70% of the wall is still standing including 20 towers in the wall.  This is very rare in the towns that we have visited.  According to the audio tour we took, the reason for the historical part of the city being in such good shape is that, over the centuries, they often chose not to defend themselves but to surrender as soon as they were invaded.  The city was part of the Hanseatic League.  The Hanseatic League started with a few North German towns in the late 1100s and grew to dominate Baltic maritime trade for three centuries.  The thought was that it didn't matter who was "in charge" as their commerce was pretty well assured.  It was always to the benefit of any conquering country to have the city remain productive and active within the Hanseatic League.
In addition to the medieval old town there is also modern Tallinn.  The city consists of 27% greenery which doesn't count private gardens.  Over half the greenery is forests.  Just outside the city centre in the suburbs are lovely forests with biking and walking trails.  Mike and I have seen a couple of cemeteries in Estonia where the cemetery is built into the forest.  The gravestones are quite low and fit into the forest atmosphere really nicely.  If you can learn to walk on "graves" in the floor inside cathedrals and churches I guess you can walk on them in the forest as well.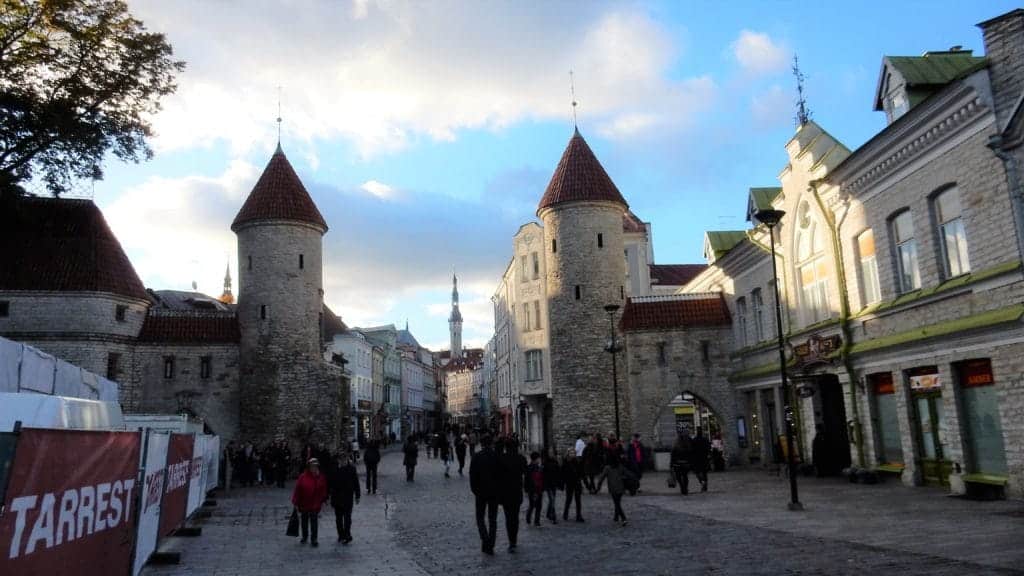 During our wanders in Tallinn, Mike found a small door open into a courtyard.  We weren't sure if it was private or not.  We wandered in and found out that it was a hidden artist's gallery.  There was no advertising or anything to indicate that you should enter.  I have no idea how he makes any money.  It was fascinating.  The private courtyard was surrounded by this medieval wall.  The building is from 1246 and the inside is all roughhewn stone.  You don't find anything like this in North America.  We talked to the artist who spoke a little English.  It was a very interesting visit.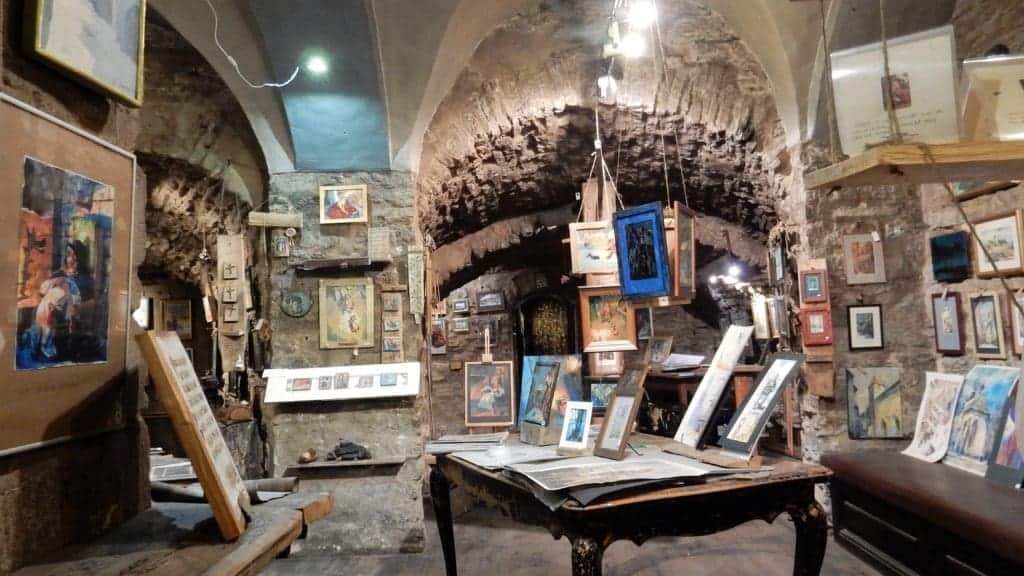 On our last night we decided to go and see Aida with the Estonian National Opera company.  The orchestra and chorus where very good but they had decided to try and modernize the show and had much of it take place in modern day.  The advantage was that it didn't have to be the huge production which Aida normally is.  This problem was that neither Mike nor I are particularly enamoured with opera but I do love seeing the staging and the costumes.  Seeing modern business attire wasn't what I had in mind.  I must admit though; the show was three hours long and the time went very quickly so although I was disappointed I must have enjoyed it as well.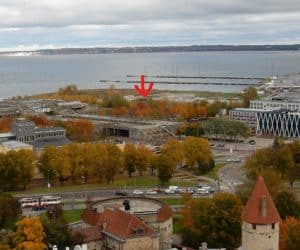 Our campsite for three nights in Tallinn isn't one that everyone would appreciate but we were very happy.  When we got off the ferry it was late at night and very dark.  We had read about someone camping overnight near the ferry area.  We drove around the harbour and found a large, rough parking lot that trucks use.  It seems that they come in late at night and park there waiting for a morning ferry.  If you look at the picture we are parked under the arrow.  It is a 5 minute walk to the medieval town wall, that you can see in the foreground, and a 10 minute walk to the modern shopping malls.  We are close to the water and can see the ferries and cruise ships that are constantly coming in to Tallinn.  The back of a parking lot might not look pretty but being near the water and almost right in town is excellent.
Mike and I drove to Pärnu today, which is the summer resort capital of Estonia.  We are parked/camping at the side of a road used by people walking along the Baltic Sea.  It is a 5 minute drive or a 20 minute walk to the pedestrian area of the town.  We are overlooking the Baltic Sea.  It is quite cold with frost at night but the cloudless blue sky makes up for that.  We walked through parts of the town this evening.  I am better prepared for the cold with my winter coat than Mike is. Everything except for a few restaurants was closed.  Tomorrow we will go into town for the afternoon.  How long we stay here depends on how much walking or biking we do outside of the town itself.  This is a lovely area for that.  We may take an extra day or we may just visit the town and move on.  As usual, we don't have any clue at the moment where we will be tomorrow night.  We don't even know which country we will be in, it could be Estonia or it could be Latvia.
One interesting fact is how digitally advanced Estonia is.  They were the first country in the world to have electronic voting at the federal level.  You can walk around many of their cities and have free wifi and the costs to purchase cell phone data plans is the lowest that Mike and I have ever seen.  3.5 € not only got us a new SIM card but also the first 5GB of data.  If we need more data we can easily add it on.  Skype, which changed communications around the world, was invented in Estonia.  If anyone is interested in reading more about the digital advances of this small country I found an article written just this month that you can read by clicking here.  They are considerably more advanced than we are.
While we are travelling in these different countries I consciously try to smile a lot and say thank-you a lot.  I love leaving people with a good impression of Canadians and I think it helps.