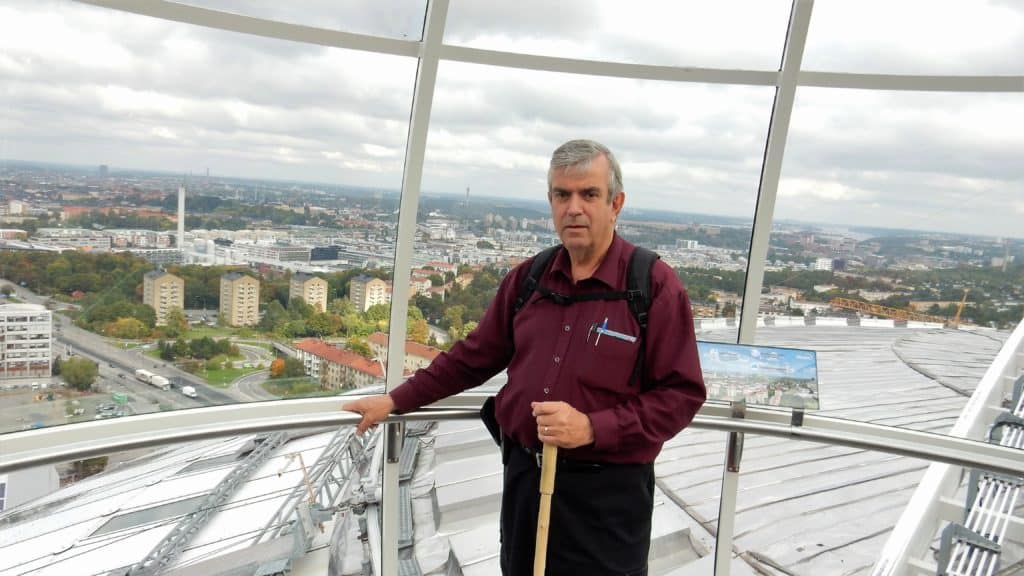 From rural Sweden to Stockholm and I haven't written a word.  All together Mike and I have now spent one month in Sweden.  We spent two weeks on the west coast, one week getting from Norway to Stockholm and another week in Stockholm.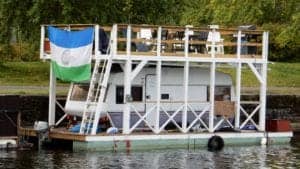 Previously we had been told that the middle of Sweden was all lakes and trees with not much to do.  At one point we had thought that we might get here during the summer and use our small boat in fresh water lakes and rivers but that obviously didn't happen.  With the days around 11⁰C or 51⁰F we didn't really think being in a tiny boat very close to the water line would be much fun.  We talked with a young bartender who asked us why we would ever want to visit the middle of Sweden (where we were at the time).  He said that he thought living there was great but not very exciting for visitors.  Actually, we enjoyed driving through rural Sweden and once you hit the coast at Sundsvall there are a lot of interesting towns heading south.  We drove to the coast a little faster than expected when we ran out of propane for heat and there was nowhere to get a refill in the middle of Sweden.  We were lucky enough to be in Sundsvall during their European foods weekend which was fun and very nice.  There was one whole tent of all sorts of British fudge.  I managed to stay away from it but that was tough.  France and French cooking were very well represented.  The picture here is what we could do with our camper if we want a break from the roads when we get home.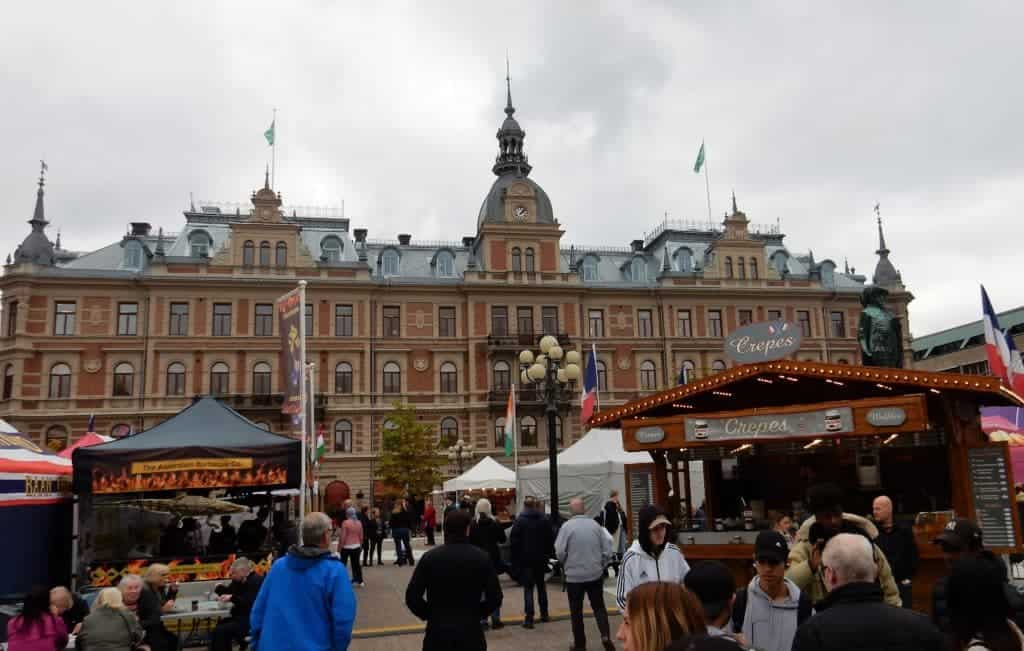 Water seems to be really important to all the towns across northern Europe with rivers and lakes in the centre of many of them.  If they didn't have natural rivers they had lots of fountains and ponds.  Heading south we stopped in the town of Hudiksvall.  Right in town was a very small lake where we walked the short 2-3 km path around it.  The next town we stayed in was Gavle which we thoroughly enjoyed and it had a river through town with nice walks.  We like the water but it is also nice for Mike and I to see the European architecture and the town squares and pedestrian areas.  We find it all very interesting.
I had wanted to see the university town of Uppsala with its castle and the largest cathedral in all of Scandinavia dating from the 1200s.  The university was founded in the 15th century.  I am telling you about this town but we didn't actually see it.  The exit off the highway was closed due to construction so we drove on for a bit and found out that that had been the last exit for quite a long time.  It was going to take us almost 40 minutes to get to where we could turn the camper around and get back to Uppsala or we could simply continue on and be in Stockholm in an hour.  We decided not to turn back.  Well it wasn't an hour to Stockholm as there was a major accident on the highway and the road was closed with all of us sitting on it for a couple of hours.  People were walking all over the road, many heading out to the trees not far off the highway for a few minutes at a time.  I had it better than anyone.  I turned on the generator, made myself a smoothie and later a coffee, sat in my living room with my feet up and read my book.  The only problem is that by the time traffic was moving again it was dark.  We exited at the next town and found a golf course that advertised allowing campers for one night.  They were not too expensive and had electric hook-ups and water so Mike and I spent the night there and never saw Stockholm or Uppsala that day.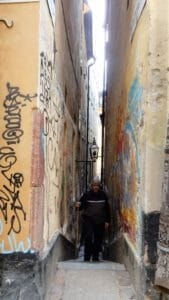 We did get to Stockholm the next day and have now been here for five and a half days.  It is Sunday afternoon and we will leave on the ferry to Helsinki tomorrow.  Stockholm is lovely.  It is a city of about 1 ½ million people.  Instead of being built on 7 hills like so many cities are it is built on 14 islands.  Mike and I are thoroughly enjoying our time here.  Because Sweden was neutral during the Second World War Stockholm didn't get bombed like so many European cities did.  This means that their Old Town is still standing.  The Old Town or Gamla is on one island.  The streets and buildings are very much like they were in earlier days.  The narrowest street in Stockholm is in Gamla and, at its narrowest, measures less than 90 cm.  Some of the older buildings have started to sink a little.  They did some work in the 19th century to try and slow down or stop this process but a couple of very visible buildings are quite tilted.  The more modern pedestrian areas and shopping malls are across the river.  Yet another island has many of the museums and art galleries and lots of greenery and cycling trails.  As we did in Oslo, we decided to purchase the three-day city pass that gives you entrance to most of the museums and many of the tours.  The only problem with buying this card is that it is the one time that you feel like you are on a standard short vacation and have to rush your sightseeing.  As it turns out we spent most of Friday driving around trying to arrange for the ferry to Finland with the RV and car and on Saturday Mike spent quite a few hours getting a new inner tube for his bicycle.  Worse than all that Mike has pulled a muscle in his back so overall, we haven't seen as much of Stockholm as six nights would imply.  We have walked around quite a bit.  We took both a bus and a boat tour around the city.
Next to the ferry terminal was a photography museum which we visited since we were right there.  This will be the second or third photography exhibit/museum that we have been on in this trip and I don't think I will get Mike to another one.  Nearly all the displays have what Mike calls "socially redeeming value".  They are heart wrenching photographs of children and families in war torn parts of the world.  I am afraid to say that with each exhibit our speed through increases.  I can appreciate the talent and effort required for these photos and understand the story they have to tell but they are certainly not uplifting or happy.  Mike says that he likes his own photographs much better.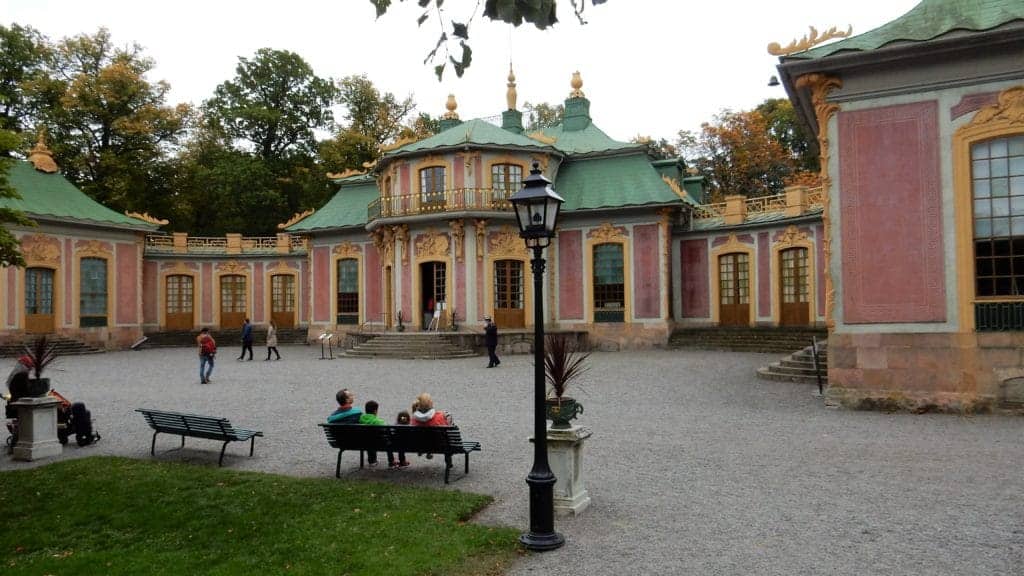 We had a guided tour of the Royal Palace which is the official residence of the king and queen but in reality, they have their offices there and live elsewhere.  After getting Mike's bike fixed we raced out to the palace where they really live, which is open to the public, and spent a few hours there.  Of course, it is on the water with very large grounds.  At one end, 1 kilometer from the main palace, was the Chinese palace or pavilion.  It was a birthday present for an earlier Queen, how nice.  Some of the rooms were very dark because those walls were covered in paper instead of silk and there is a large fear that the light will fade the colours.  They are hoping to have a solution by next year.  One out building was where the royalty would eat when they visited the pavilion.  Here they could eat "en confidance".  The servants would never see you.  The entire dining table was on a platform that could sink to the kitchens below.  Food and drink would be placed on the table from the basement and the table would be raised back to the room where the royals where.  You could knock during the meal to indicate that it was time for the table to be lowered for the next course.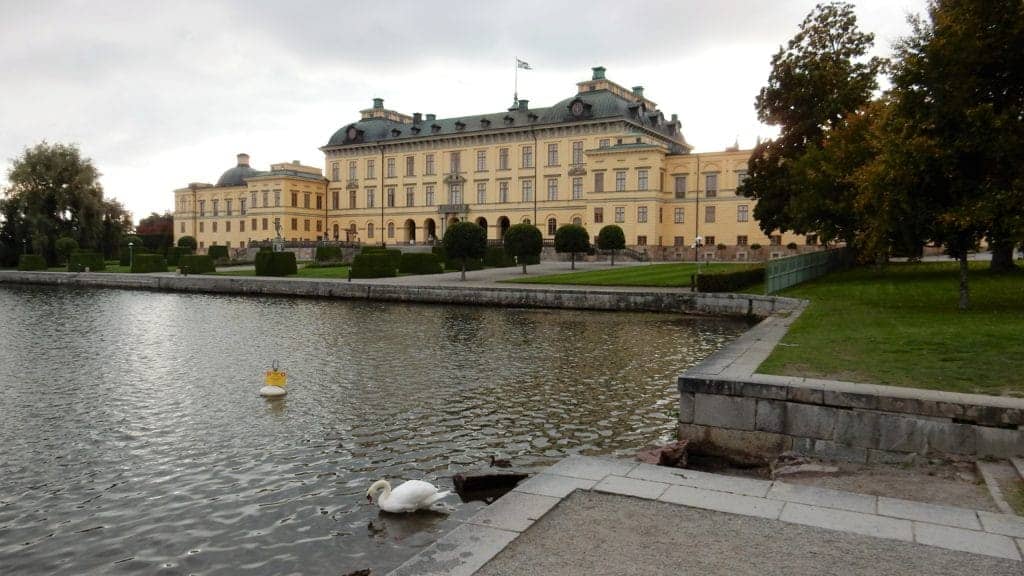 There was a guided walking tour of the Old Town that we had hoped to join but thanks to Jackie's reading of the guidebook we ended up on Friday at the starting point 30 minutes after everyone had left and it isn't run on the weekends.  Oh well, I think have discovered an alternative.  I have just found an app on the internet with all sorts of free audio guides for many of these cities and attractions.  I wish I had found it earlier in our trip.  You can point to a site on the map and have it tell you all about it or you can just walk around and the app will know when you are next to the cathedral or palace or tiny shopping street.  At the appropriate time your phone will simply start talking to you and telling you about what you can see as you walk past.  Mike and I gave it one test in the Old Town and it seemed to work really well.  We will try it again in Helsinki.  Mike and I have been taking the subway from our campground into town.  It is too bad but for once we aren't in the centre of town.  We even ended up on a city bus the other day when I was trying to rush back to the guided walking tour.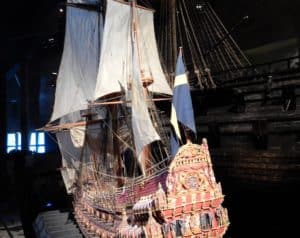 In 1628 Sweden built one of the first ever double decker warships.  It had two decks with cannons and gunports and was one of the most powerfully armed vessels in the world at that time.  It was richly decorated with lots and lots of carvings, sculptures, gold paint and more.  The problem was, just like double decker buses look top heavy, this boat really was top heavy.  On launch day, to huge fanfare, it managed to sail for about 20 minutes or 1 kilometre.  At that point it listed to the side in the wind, the gunports, which were open to show off to the crowds, took on water and the boat sank.  The bronze cannons were pillaged during the seventeenth century and then I am not sure what happened but the boat was rediscovered in the mid 1950s.  The find was of huge historical and archeological importance.  Never before had a four-story structure with most of its original contents largely undisturbed been available for excavation.  After about six years of effort it was raised in 1961 and that was when the team of archeologists started working in the muck.  They have now built a full museum around the ship with viewing platforms at every level.  They have done a very good job of displaying the ship.  There is also a small model of the Vasa complete with sails and paint.  Mike and I watched an interesting film while we where there on the raising of the Vasa.
I just talked to a couple from Sweden.  The husband was telling me how awful the autumn had been.  The wife quite seriously said "Never mind about the autumn, every day I looked for the summer and it never arrived."  Actually our weather in Stockholm has been quite nice with no rain during waking hours.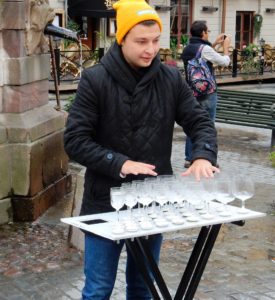 We had three university students from Germany visiting us last night.  They were very interesting to talk to.  One of them had spent quite a few months backpacking around Thailand.  Two of them had spent a fair bit of time in Australia, even working there for a bit.  We hear stories like this a lot more in Europe than we do at home.  Mike and I thought we were doing well with our six week belated honeymoon in Europe.  I never really thought about traveling further, longer or year long trips with my girlfriends.  The whole extended travel concept seems much more ingrained in Europeans than it is in Canadians and Americans.  To my sister and nieces who have travelled this is just a general observation.  After leaving us the students went downtown to see what Stockholm was like at night.  I saw them this morning and asked what they thought.  Compared to Germany they found the pubs and bars in Stockholm extremely expensive and really couldn't afford it.  Finland is supposed to be a little less expensive except for eating out.  Restaurants are supposed to be higher and groceries quite a bit lower than in Sweden.
Mike and I knew when we chose to start this trip in Scandinavia that we were starting in one of the most expensive areas of Europe.  After Helsinki, we plan to head to Germany where we will leave the camper and car to come home for Christmas.  When we come back to Europe in February, we will probably head south towards Croatia.  All of this should be considerably less expensive than Scandinavia which will be good.  Mike and I didn't start this trip expecting that "camping" was going to be a cheap vacation so we haven't been disappointed ?.
I expect that you will hear next from us from Helsinki, Finland.  The ferry company has told us that we aren't allowed to be in our camper while we are underway so we have to have a cabin for the one night.  I would much prefer my own bed and camper but they lock down the floors with the vehicles on them.  When we took the ferry between the islands in New Zealand many years ago, I closed all the blinds and hid in the camper but that was because it was 5AM in the morning and I figured I would try and go back to sleep for the 3 hour ride.  I don't think that would work for this trip.  It is a 16 hour crossing and I think the boat is more like a cruise ship than the ferries we are used to.
Goodbye for now from the lovely city of Stockholm.  Our month in Sweden is quickly coming to an end.