Huge Thank-You to Elin & Helge and family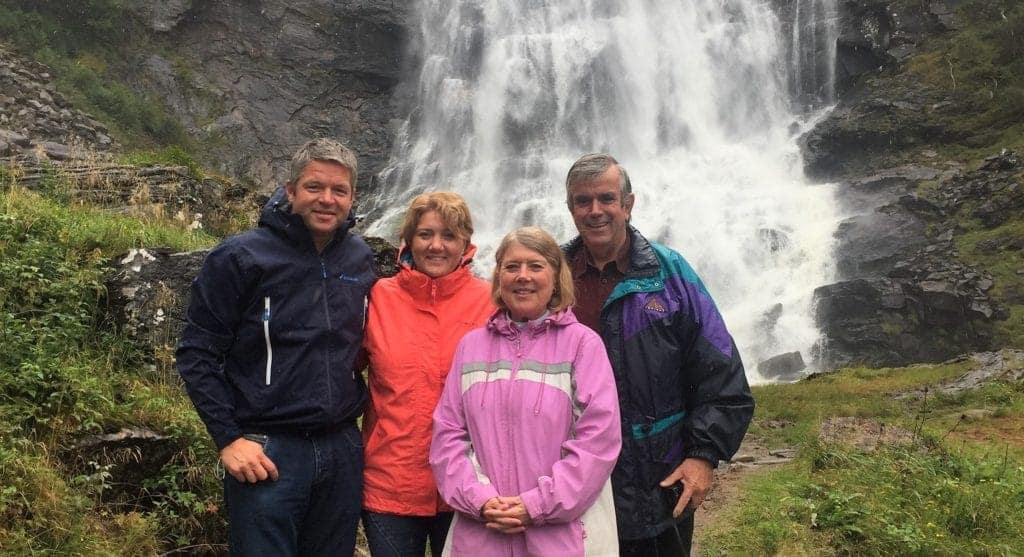 When Mike and I stayed in a campground in Oslo we met a few families that were there with their children for the Norway Cup.  The Norway Cup is a very large competition for junior football/soccer.  One couple in particular, Elin & Helge, were very friendly and invited us to visit when we got close to where they lived SE of Bergen.  Mike and I gave them very little notice about when we would be in the area and we were still invited over for what has turned out to be probably the best few days that we have had so far on this trip.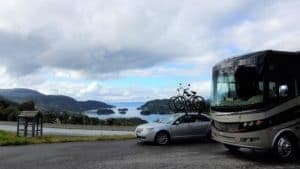 Helge had suggested that we drive to his house and plug our camper in there.  His wife Elin had mentioned that it was a narrow road.  Mike and I looked on Google street view and the road looked too narrow for our large camper.  Helge took us to a spot just off the main road, up high with a great view of the fjord.  It is a 5 minute drive to Helge & Elin's house and is quite easy to do in the car.  To get there you travel along one lane that is very narrow in parts and is open to two-way traffic. Many of the "main" roads in Norway are definitely smaller than the major roads in the rest of Europe and they are smaller than most of the North American roads.  Elin & Helge's home is lovely with a view that overlooks the fjord and the mountains.
We arrived Friday afternoon in lovely weather.  Elin & Helge fed us, toured us around the area and took us visiting.  We visited family in modern and older Norwegian homes.  Everyone tried really hard to keep Mike and I involved in the conversation either by trying to speak English or by translating everything being said.  Helge has been especially great at translating so that we would feel part of the conversation.  He says that he has spoken more English in two days than he has in the last 15 years in total.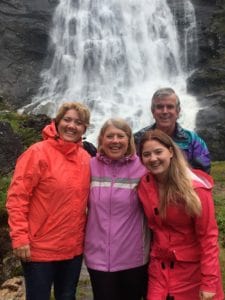 Helge & Elin have three children who are great, Martin 18, Helene 15 and Trine 13.  They were all very friendly and welcoming.  We watched Trine training their cat to sit and shake a paw and it was working!  I have to admit that I had never seen that before.  Helene joined us on many of our outings which was very nice.  On Saturday it rained but that didn't stop any of us.  We went touring waterfalls, one that has a path between the waterfall and the rock behind it. We visited more family and were fed more traditional Norwegian food.  As many of you know I am not a fan of spicy food.  Luckily Norwegians don't appear to be either.  We also had many visitors to our camper.  Sunday was a lovely day, a bit cool but no rain.  Eleven of us went for a short hike (round trip 3 ½ km) to a set of very old Norwegian summer cabins some of which had belonged to the families of the people in our group.  These weren't holiday cabins, more like places where the shepherds and their families would live.  Helge had gotten a key for one of the cabins for us to have a look at.  We all wandered around, started a fire and had a barbque and then played some ball games before returning to the cars in time to miss the rain.   According to the internet Bergen averages 260 days of rain.  That is almost 3 out of every 4 days.  We are told that this year has been considerably worse than an average year.  We were often told about people not having eaten on their balconies or patios even once.  A few couples were giving up and planning to take in their outdoor furniture this weekend.  We think that we have a short summer season in Canada.  It is much shorter here in Norway and this year they are not sure if they even had one.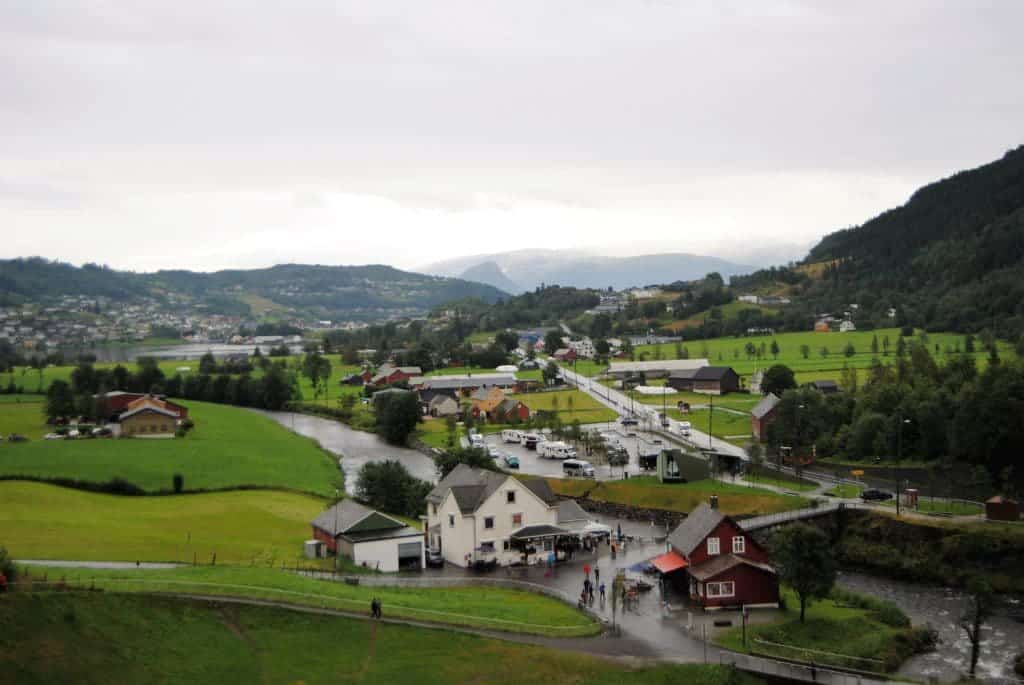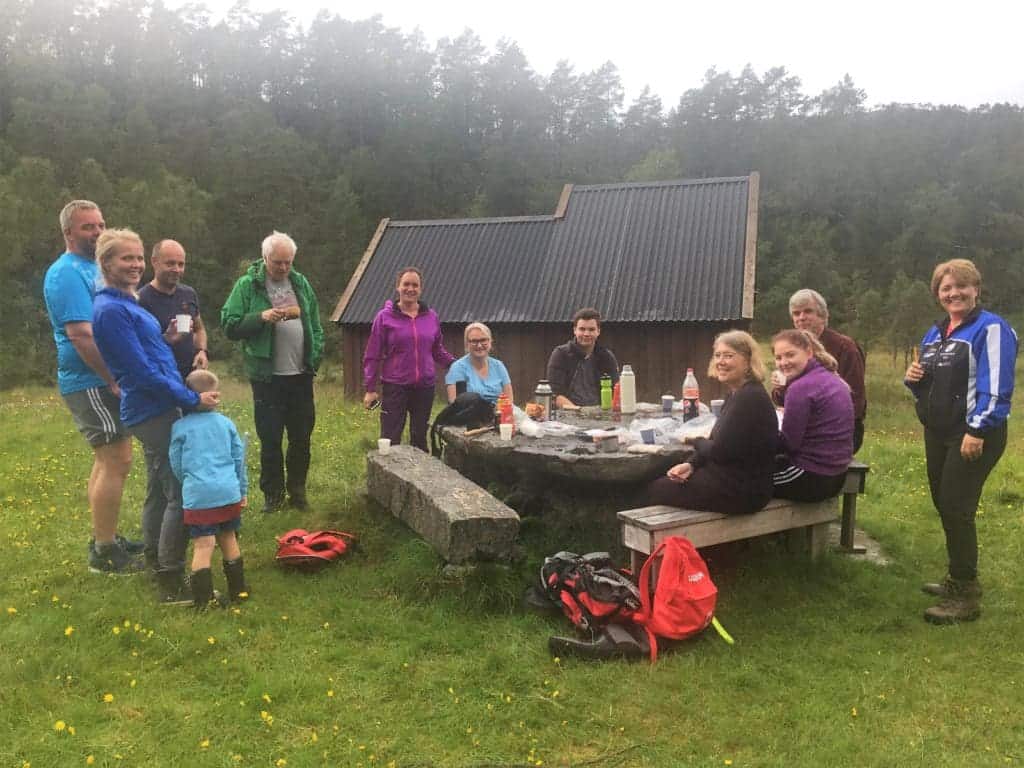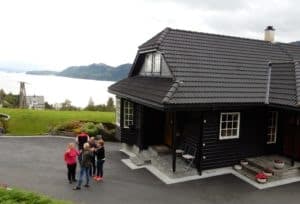 Later on Sunday we visited with Ørjan and Mona and some of their 6 sons.  We had met them previously in Oslo.  They live in another lovely home overlooking the fjord and the mountains.  Ørjan is one of many offshore workers involved in the oil industry that we have met.  The shift for all the offshore workers is two weeks on and four weeks off.  This occurs all year round.  The first people that we met with these shifts had been working these hours for 15 – 20 years.  You are away from home for two weeks and then completely on vacation for the next four weeks.  I think that Mike and I were in the wrong jobs.  If I could go back and do it again I would certainly look into this.
When Ørjan was younger he worked as a barrel maker.  He made a large barrel out of pine wood to demonstrate the process for us.  It was fun and educational watching him.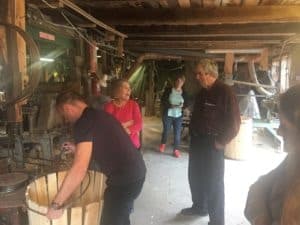 I am writing this late Monday afternoon.  Helge and Elin are coming over shortly to take us on a tour of a salmon farm that they have arranged.  You cannot believe what great hosts they have been.  It has to be very tiring for them to keep trying to speak in English the whole time.  We all have cell phones with Google Translate and use it to find words that we don't know but really everyone has been quite good.
Helene and Trine were telling us that in Norway they have to learn two different written versions of Norwegian in school.  I think this is like two quite different dialects.  In addition they start with learning English when they first go to school.  When they are about thirteen they have to add another language, typically German or Spanish to study.
Many Canadians will understand if I say that this weekend and these people have reminded Mike and I of our visits to Newfoundland and the local population there.  If you have seen the Broadway play "Come from Away" you will completely understand.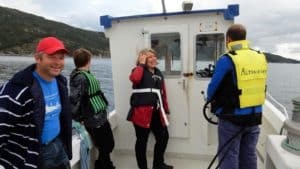 Update:  We just got back from our evening with Helge and Elin and their family.  Helge had arranged for us to be taken by boat out to a local salmon farm and to have a private tour.  It was very interesting.  It was a really nice evening with the whole family.  It is possible that we will see some of them again when we make it to Bergen shortly.  If that doesn't work they all have an open invitation to Canada in three years.
Helge og Elin: Takk for at du er fantastisk verter og viser oss en super tid.