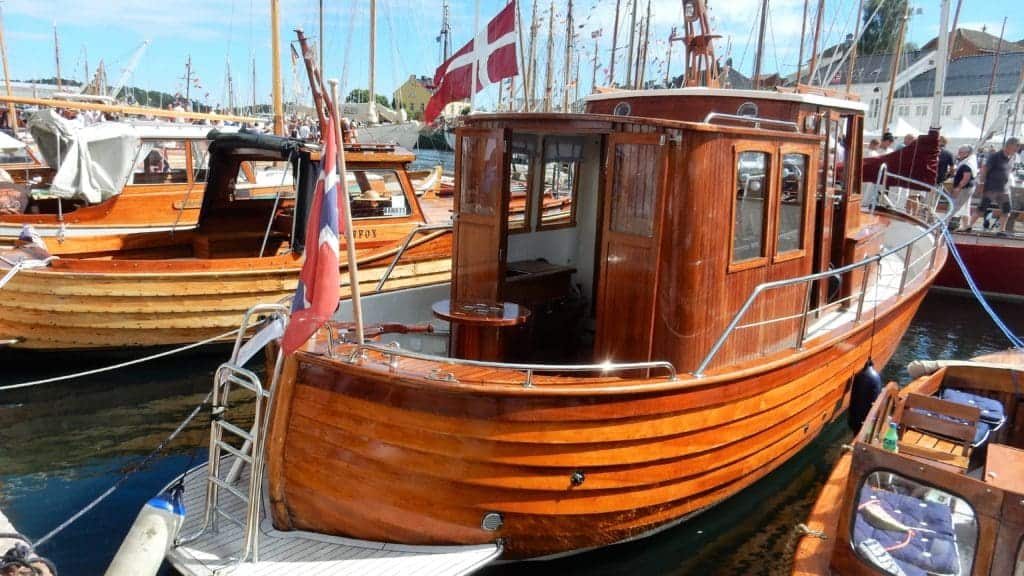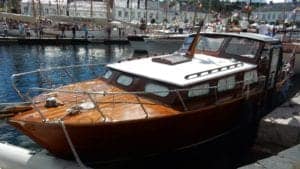 We had been told to visit the small picturesque town of Risor on our drive through the south. It was quite a bit off the highway and Mike and I are getting quite concerned about some of the smaller roads so we left the RV near the highway and took the car into town and along the coast. It was the right decision. They tell us that the roads are considerably worse and even narrower, if that is possible, along the western coast that we are aiming for. That area has been our goal for this summer since we planned this trip. Risor is known as "the town of wooden houses" and also has a long history of wooden boat building. After we parked and started walking around the town we saw an area on the waterfront roped off with lots of tents and people around. We asked a woman selling admission tickets what was happening. She couldn't believe that we just happened upon this major "Wooden Boat Festival" held annually in Risor. In addition to the concert stage, the tents and games for children was the centre piece of the festival and that was the most glorious display of wooden boats that you have ever seen. There were hundreds of them. Most where in the water but some were display on land and Mike couldn't understand how anyone could let something so shiny and lovely be put in the water and actually get wet ?. The boats are gorgeous to look at but the maintenance on them would have to be your life's mission and joy.
King Harald and Queen Sonja of Norway are both avid sports people with sailing being their favourite sport. Queen Sonja was a sailing champion in her youth. King Harald has represented Norway at three Olympics and many world championships. He has won many medals. Last year both the King and Queen celebrated their 80th birthdays. He was still racing and came to Toronto to compete in the world championships on Lake Ontario. Mike and I saw the royal yacht moored out in the harbour for this festival. Someone pointed out a dark green sail boat with dark sails and proudly told us that the boat was the king's boat and that he was sailing it at the festival. The king has been sailing since the age of two and his boat was actually built by his father King Olaf V. I had the impression that no-one else would dare paint their boat dark green as this one is instantly identifiable.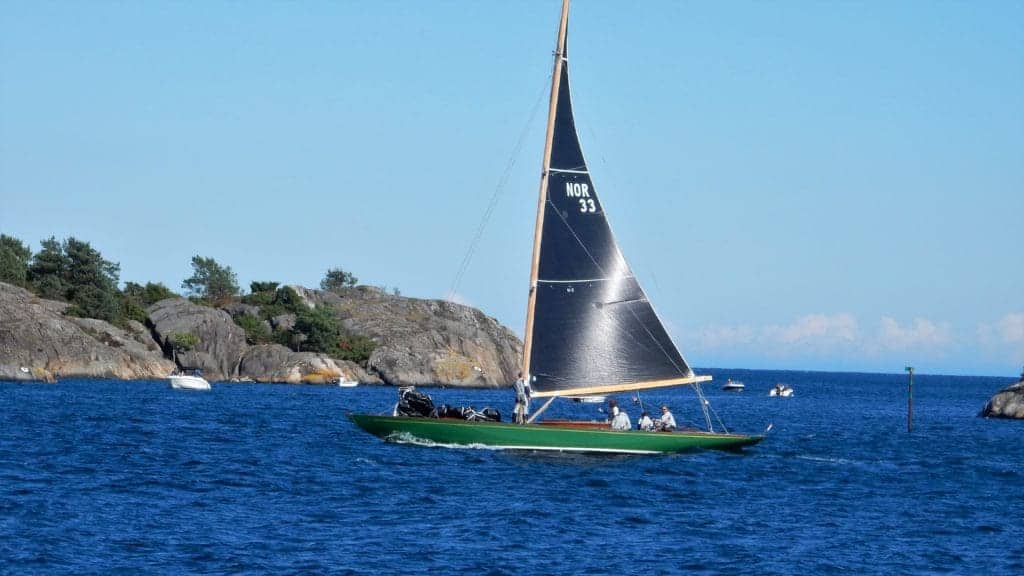 We watched the start of a race of smaller sail boats. It was very interesting watching all the boats try and turn themselves around and line up in position to start. How they all did that in those close quarters and wind I don't know.
One of the boats on display at the festival and open for touring was the wooden minesweeper that Mike and I had coincidentally seen earlier this summer at a previous waterfront festival in Denmark. In neither case did we know about the festivals before stumbling onto them when we visited the towns.
While wandering around the festival it was interesting to hear one of the street musicians playing Suzanne by the late Canadian Leonard Cohen. It is surprising to hear the majority of the street musicians around Scandinavia singing songs in English. One sign Mike saw in front of a pub advertised "Live Musikk". It shows how often English is combined with the local language and you get something we both understand.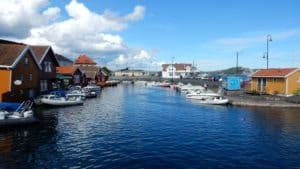 Language obviously plays an important role on this trip. Today two gentlemen came to the door with fish that they had caught for us. They didn't speak a word of English. We were really surprised with the gift. Later we found out that we had talked to their wives the night before who did speak some English. It is easy to be confused at times. We are often asked if our camper runs on diesel and Mike sometimes replies no it isn't diesel it is a gas engine. The trouble is that it turns out that gas means something different in Europe than it does in North America. Over here gas is what we call propane or LPG at home. I am not sure how to say gas engine so that it makes sense to Europeans. I heard Mike say petrol once, that probably worked but I am sure there is another word. Another funny one is hearing people refer to our 37 foot RV as a "car". Whenever someone asks us a question about our car I answer referring to the Lincoln and it turns out that they usually mean the RV. Car appears to be a standard translation of motorhome or camper into English. We often get asked if we drove the car to Norway because that seems a little amazing to people. It would be amazing to us also. I am guessing and hope that somehow this is just another language quirk.
It is interesting that when we were in Denmark the locals often told us that they thought Canadians were similar to them in terms of values and our left of centre society. In Norway we keep getting told about how fantastic the scenery in western Norway is and then in the next breadth we are told that we are probably used to it because we must see scenery like this in Canada. While Canada does have very dramatic scenery in the Rockies and along our coastline both are a long way from daily life in Toronto. It is really hard for people in Europe to fully grasp the concept of a country the size of Canada. They all know intellectually that Canada is a very large country but it doesn't really sink in that you can't easily visit the ocean or the mountains from everywhere.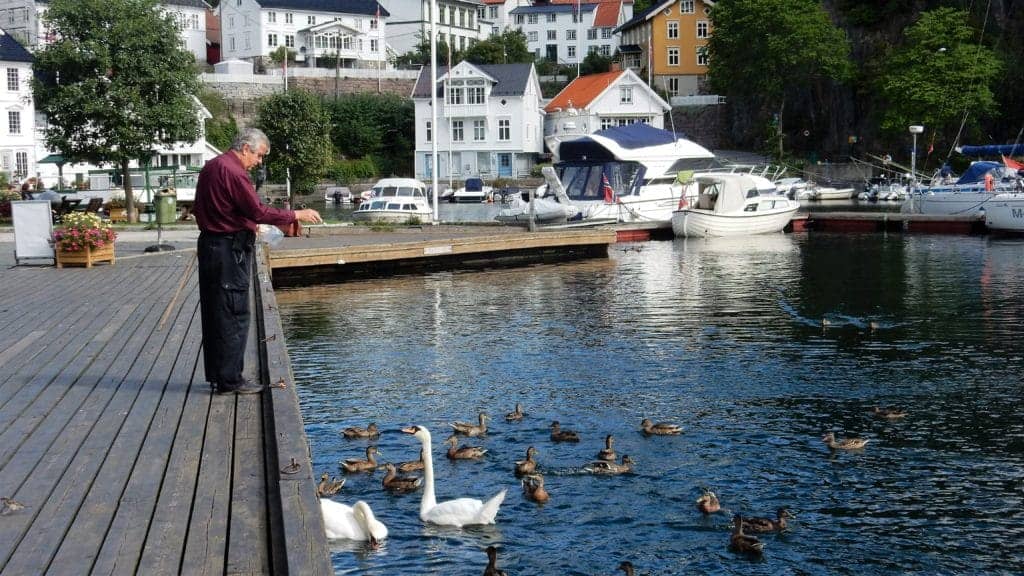 We had a full day of rain recently which was very convenient. Since last January Mike has been intending to rewire part of the RV. We finally had a chance to do this. Not unexpectedly lots of problems cropped up including Mike wanting some of his tools that are many thousands of miles away. The plan was to rewire the circuit that the television and some of the electronics are on so that it runs off the batteries when we don't have shore power. This way we won't always need to start the generator to watch TV or charge our phones when we are "wild" camping without electricity. After a day and a half of work this project was largely successful. It isn't quite as smooth a transition as we had originally hoped for when we switch between external power, batteries and the generator. Still we have a switch inside the RV that lets us turn this circuit on at any time which is great. One problem is that there are more outlets on this one circuit than we had realized so we do need to be careful that we don't accidentally drain our batteries. All these tasks that we wanted to do are slowly getting done. Of course, as one gets done more get added to the list. We recently purchased a new mattress topper for our queen size bed. Mattresses (and pillows) are different sizes in Europe than they are in North America. I was told that this topper would be the same width and a slightly shorter length than the Queen mattress it was to cover which was fine. It turns out that it is wider than the actual mattress. In a proper size bedroom a few extra inches on both sides would be fine. In our bedroom in the RV that is not so good. It means I can't get my arm between the mattress and the shelf next to my bed. It means that the tight space between the bed and the wall just got tighter. Our next project is to figure out how to cut 4" foam down to a smaller size. I am thinking that our scissors might not be the best tool to use. Maybe next time we communicate I will have my shelf back next to the bed.