Introduction to Norway and Oslo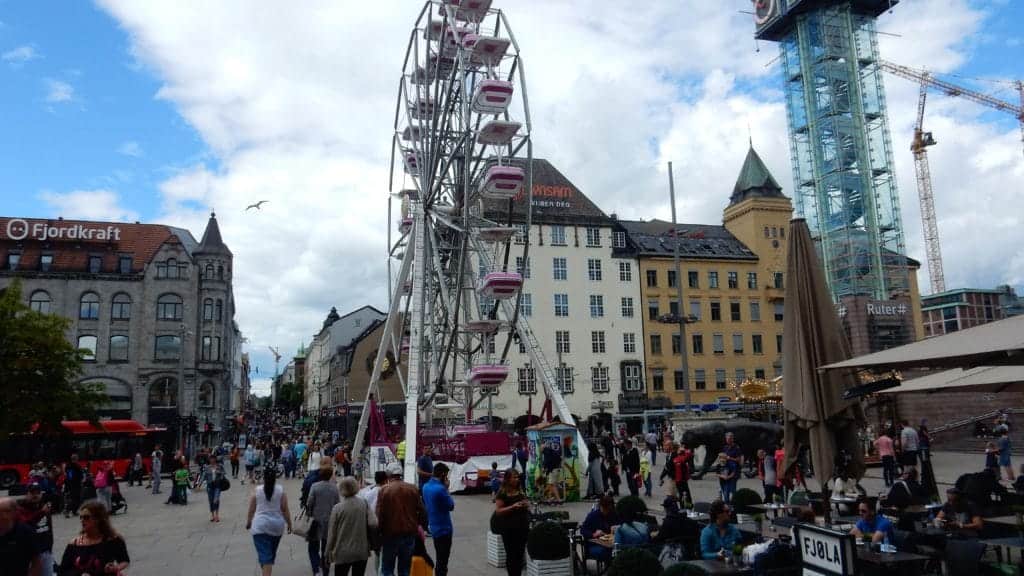 Let me start by saying that in our first week in Norway we have met a lot of super nice and friendly people. The first place we stayed was a small marina in Fredrikstad. When we left Fredrikstad Mike and I asked each other if the people had been so nice and friendly just because it was a very friendly small marina and camping area or if it was because we were in Norway. This is now our eighth day in Norway and the people we have met while camping have been great.
Tuesday afternoon we spent a few hours visiting a fortress in the border town of Halden. During the summer on Wednesday nights the fort hosts an outdoor concert that involves the audience singing along with the group on stage. We were told that this is a Swedish tradition. Even if we couldn't sing a long I would like to have been part of this and heard the music. We thought that if the weather was nice we would drive back from our campground the next night and see if we could get tickets. As it turned out we spent the next day in another fortress and lost interest or more appropriately didn't have the energy to return Wednesday night.
We stayed in a small marina in Fredrikstad for two days and it was really nice with super people. From the marina you could catch a FREE city ferry that made three or four stops around town. One of the stops was to the "Old Town" and fortress. Fredrikstad is said to be Northern Europe's best preserved fortified town and today thrives with history, shops, galleries and cafés. Taking the free boat trip to the old town and then back to the new town was lovely. The main part of town was an easy walk over the bridge from the marina. We walked there at least three times in the two days.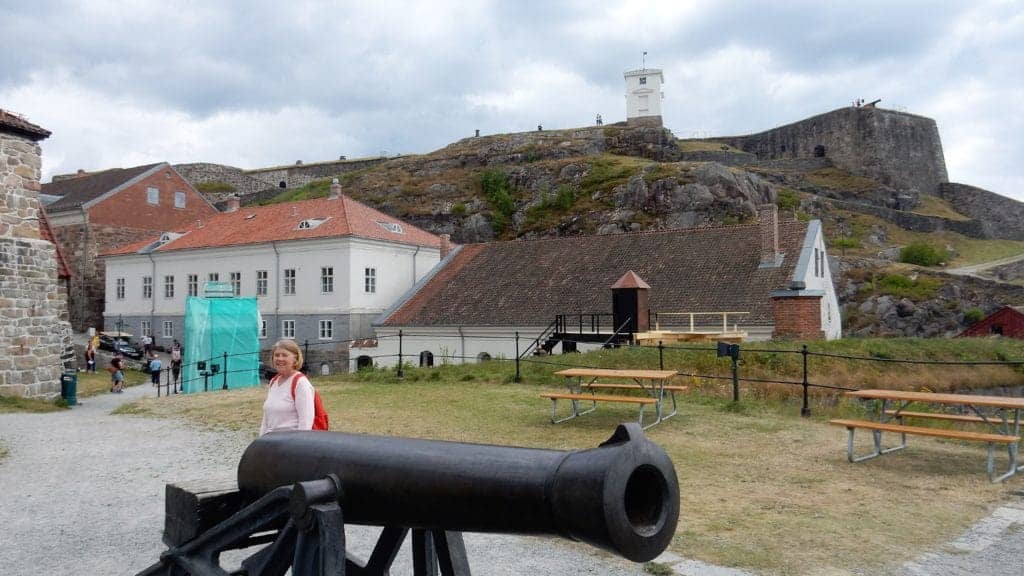 One of the buildings in the fortified town had been turned into a museum. Upstairs you could see a history of the town which also involved the history of Norway and its occupations at different times by Denmark and Sweden. There were a lot of battles fought here. Downstairs in this museum they had recently opened their "bar". Although they didn't serve liquor you went into a fairly dark room, sat around a bar and were given a menu. The bar seats 15 – 20 and people who just come and go. On the menu are about eight different items and you get to select one at a time. Each item involves a person or an event of historical significance in the towns development. The first one we saw was about a shopkeeper who made money and started trading spices. There was a short cartoon film done to upbeat music about him. The bartender then passed around a few jars to everyone to get them to sniff and see if they recognized the scent. They were very common scents but hard to place out of context. Mike and I smelled jars containing cognac (dried), coffee and a recognizable spice that I have now forgotten. I did much better than Mike. Having a better developed sense of smell isn't really a good thing when travelling in an RV. Every time we leave a campground we empty our black water or sewage. I tell Mike to pretend that I have the sense of smell of a pregnant woman when I have to get near the sewage drains because that is how it affects me these days. In North America emptying the black water is usually a one person job (Mikes). Over here it takes someone to open the valves and someone else to hold down the ucky end of the hose. (and yes ucky is a word in the dictionary).
The bar continued with items including a witch who was burned at the stake. That was done using multi-media film around the walls of the bar. Another one who was about a Swedish bartender and you got to have a little fruit drink and found out how the Swedish were talked about and thought about behind their backs by the Danish. All in all, there were quite a few interesting tidbits all done using different media such as film, puppets, song, etc. We had a good time.
That evening we had drinks with another couple from the marina in our RV. It turns out that for part of the afternoon they sat next to us at this "bar" but it was dark in there and we hadn't recognized them. It was great just being able to stroll into town for a morning cappuccino or to wander at night. For some reason the town centre was considerably busier on Tuesday evening that it was on Wednesday evening. No one could explain why to us.
We drove on to a marina on the Oslo Fjord just 5 km from Oslo city centre and 5 km from the large museum park area they have. For the first time we bought a 72 hour city pass which gives you access to more attractions and museums than you would ever normally want to see. Since you don't pay to get into the museums you often drop in to ones that you wouldn't normally visit. Sometimes you leave quickly and sometimes you are surprised and stay for a longer visit. We toured the resistance museum from the time of the German occupation during the war. That was actually quite interesting although it isn't something that we would normally have paid to see. We visited an outdoor air folk museum and several museums specifically dedicated to maritime and polar expeditions. Sorry Mum we didn't fit in the art museum on this trip.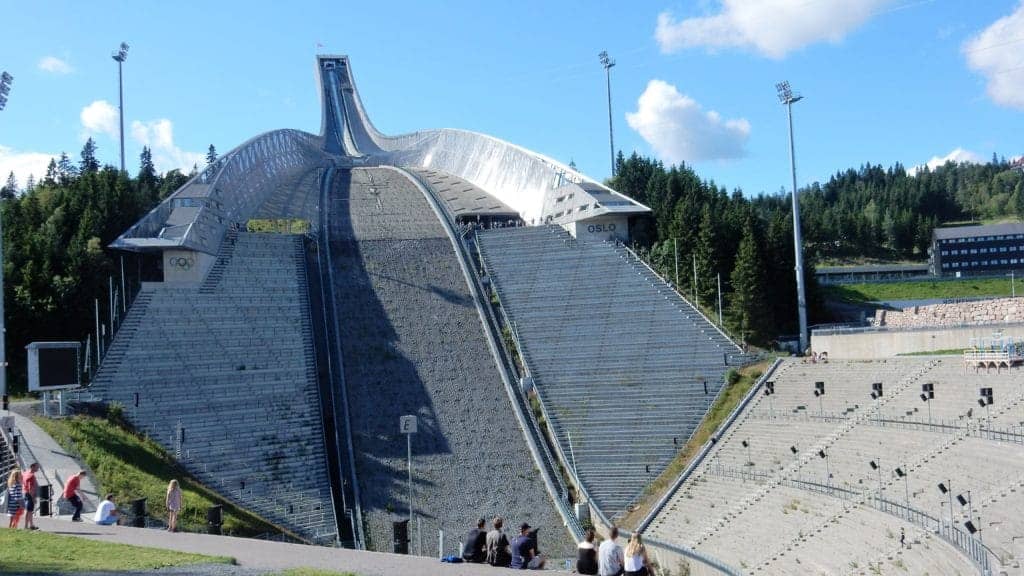 Three of the attractions included in the city pass where outdoor so as soon as we heard that we had no rain predicted at all for a full day we just had to squeeze them all in. It was a lovely day. We went on a sailing boat tour of the harbour, we spent two hours on a city walking tour with a guide and we went to a ski jump. This ski jump was just outside town and you could actually go to the very top of the jump where there is a viewing deck, and a platform where the medal ceremonies are held after a competition. It is a very long way up and you have a view across the entire city. You could see the city, the fjord and all sorts of green trees and blue water. It was lovely. It was a little hazy and none of our photos do the distant landscape justice. On the walking tour the guide was talking about the four hundred years when Norway was ruled by Denmark. She referred to that period as the night that was 400 years long.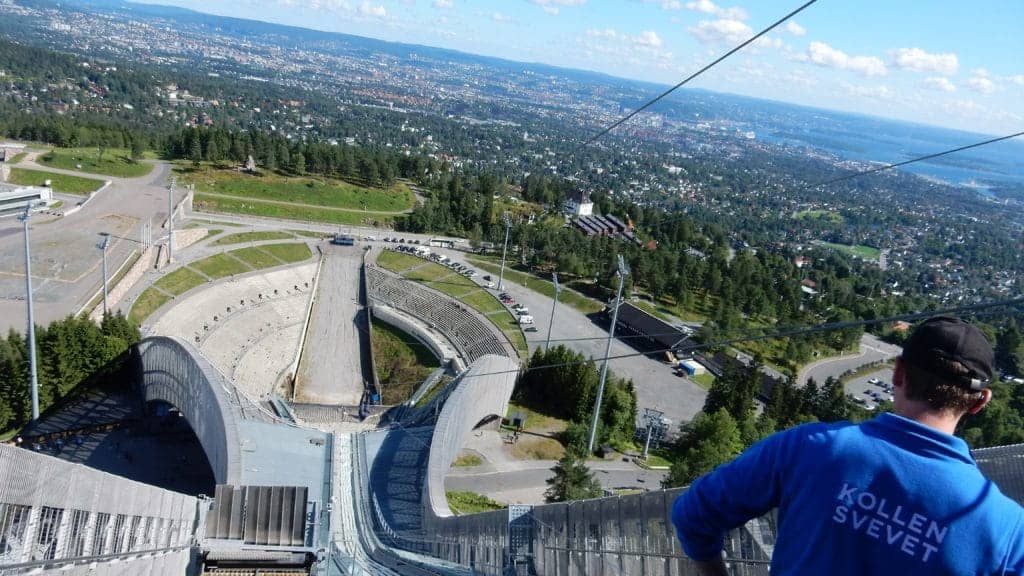 We biked almost everywhere, to the museums in one direction and the city centre in the other direction.
I love the Opera House in Oslo. Like the Opera House in many cities it was right on the water. Different from the others it takes full advantage of the water and is inviting to all the people who don't attend events inside. It has long wide slopes up the outside of the main building. People walk up and down these slopes that look out over the water. You can actually walk up the slope to the roof which is open for people to simply wander around and take in the city sites. We were there on a weekday and there were all sorts of people walking on the Opera House which I thought was great. We saw one photograph of the slopes and the roof and the square in front just filled with people. Sometimes they hold a concert with the stage in the water and people can view it from the outsides of the Opera House. You can easily sit on the slopes just like you do on grass around an amphitheatre. I believe that Justin Bieber played outside here once. Sometimes they also rebroadcast outside the concert or event taking place inside and people sit on the roof and the slopes to watch. We were told that people even come in their boats to see some of these events. I really liked the way the building was available to so many more people than a traditional Opera House is. The whole water front area around the Opera House is being rebuilt and revitalized. In the water in front of the Opera house is a "statue" or piece of art made out of glass and some steel. It is tethered to the bottom of the bay and moves around based on wind and tide and picks up different reflections. At first Mike and I just thought it was another very weird piece of art. Once I found out that it was supposed to represent a floating ice berg I actually thought it was really good. I don't think Mike changed his impression. I mentioned recently about a set of statues and signs in a mall in Sweden that we thought were very strange. We then found out that they were designed based on local Bronze Age carvings. Sometimes you can change your first impression of art based on additional knowledge, it isn't just a matter of seeing something once and deciding whether you like it or not.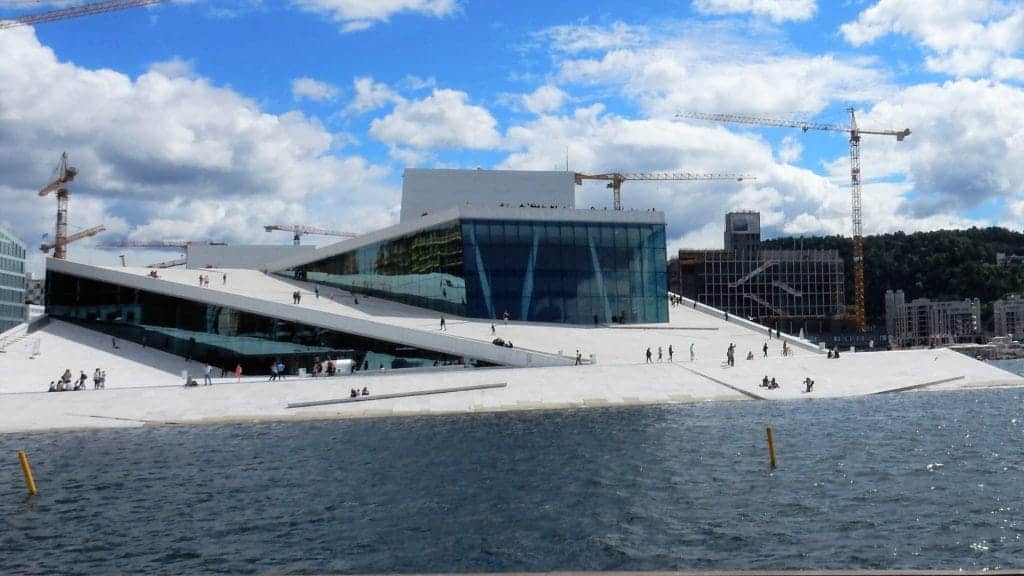 We have been told that this is one of the rainiest and coldest summers in Northern Europe in years. Mike and I haven't minded the temperature although it is playing havoc on my wardrobe. We have had very few days that have been rained out. There have been a lot of days with one or more short rain showers but that is usually easy to work around. On our last day in Oslo I visited a hair salon, came out and Mike and I got on our bikes to ride back to the marina. The rain then started and my, just paid for, hair styling spent 15 minutes in the rain and wind. The occasions when it causes this sort of problem are few and overall we have been doing fine with the weather. Of course anyone reading this that wants 28 degrees C or 82 degrees F wouldn't be happy in Northern Europe this year. We have been told that Bergen, which is one of the towns that we are heading towards, is the wettest city in Northern Europe. I haven't verified this probably because I don't want to.
We were in Oslo during the Norway Cup which is the world's largest football (soccer) tournament for children and youth. We met a couple of families camping who had children playing in the tournament. At one point we had eight adults and three children in our camper for about half an hour. We obviously do not have seats for 11 but everyone seemed to have a good time. One of the couples had both a son and daughter playing. Both had won their games so far when we were leaving. In one day one set of parents had the joy of watching four soccer games! One of their daughter's games was chosen to be televised which made everyone happy. Two couples live south of Bergen where we will be visiting. They have invited us to contact them and they will show us around the area. We will call when we get near. They were very nice. So far all the people here have been excellent.
As we were told, prices are higher here than elsewhere. Basically, prices have increased in each country that we have visited. The good news is that Norway is supposed to be the highest of all so there is only one way to go from here – we hope.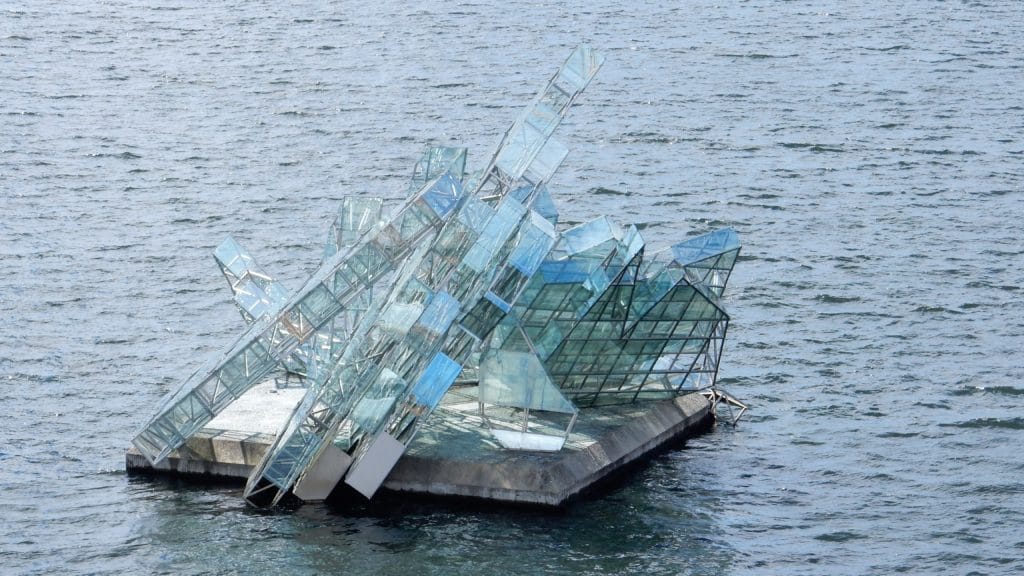 We left Oslo at lunch today and drove a short distance to the town of Horten which is on the western side of the Oslo Fjord. Again, the marina is basically in the centre of town which is very nice and handy. We just met a gentleman camping that we last saw and wrote about in Germany over two months ago. We told you about how he spent most of each year either traveling in his camper or in his boat. His advice about what to see and where to go in Norway has been invaluable. Summer is the time of year that he is normally on his boat but after a month of rain every day and being cold he has switched back to his camper much earlier than normal. It was nice to catch up and say hi and get some more advice from him now that we are in Norway.
He told us that there is a museum in the woods just across from the marine that contains a submarine. I have suggested to Mike that he might like to visit this while I am getting up slowly and having my morning coffee. We will see.
Our plan now is to travel along the coast first around the south of Norway which is supposed to have very good roads. Next, we will head north along the western coast and around the major fjords. The highways in the west go through lots of tunnels and make use of many ferries. We have been warned about the small switchback roads, especially those around the fjords. One recommendation is that we park the RV off the main road and then take the car to see the fjords. I would like to take the RV, if not around the fjords, then to camp at the edge of them for multiple days. We can then branch out in the car but I don't want to stay a long way away. We will just have to wait until we get closer and make up our own minds. People are often warning us about the roads.
I will say that I get more nervous than I used to when we go through tunnels or drive along narrow roads. I just have to trust Mike and possibly close my eyes. I am considering spending part of the drive near the fjords in bed under the covers! Not really but I do get concerned sometimes, maybe it is an age thing.