Good-bye Sweden (for a while) and Hello Norway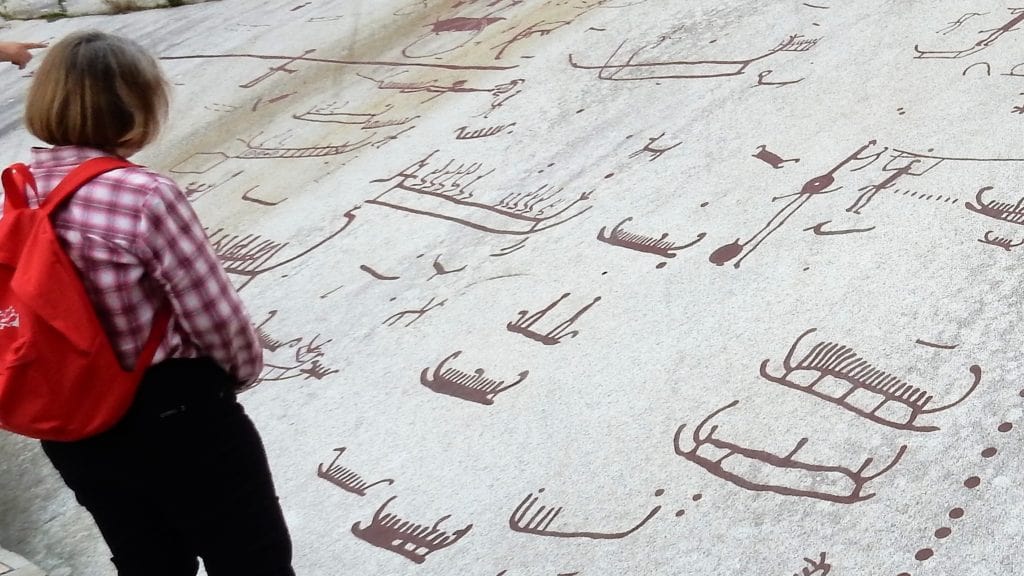 After aiming for Norway this entire trip we have finally crossed the border. Recently Mike has been getting a little restless waiting for this portion of the trip to start and a little concerned about where we will be when the weather turns against us. I wonder what Stockholm is like if we don't get there until November? Mind you, we wouldn't have changed anything that we have done so far. Traveling at the speed we are has really allowed us to meet people, see things and not feel rushed all the time. It is great.
As always, as soon as we cross into a new country we look for somewhere to buy a sim card and internet data. The actual purchase of the sim card isn't difficult but what follows can be. Once we purchase the sim card it has taken us from 90 minutes to 4 hours working with staff in each country to figure out how to actually get activated and registered. I had no idea how inexpensive data was in Denmark compared to the rest of Scandinavia. Sweden was much more expensive and Norway, where we will need it the most, is yet more expensive than Sweden. Our new sim card includes unlimited minutes calling to Poland. Aren't we lucky. They really need to simplify this whole process. In actual fact, just a few months ago new regulations came into effect making phone call roaming much easier and cheaper within Europe. Now they just have to work on their data plans. Anyway, we can talk about Norway in a future blog, for now let me bring you up-to-date on where we have been recently which is Gothenburg and the west coast of Sweden.
Gothenburg is the second largest city in Sweden after Stockholm. Including the surrounding subdivisions, the population is almost one million people. Like Canada, 85% of the Swedish population live in the southern part of their country. The area that we have just been traveling in is often referred to as Gothenburg and the islands. Although we weren't going to try and take the RV around these small islands we did take the ferry over to a set of four small islands all connected with causeways and bridges. We biked almost from one end of the string of islands to the other. We quit when it started to get a little too hilly for me but we still covered 22 km. At one point my watch told me that I had cycled for 1 hour and 20 minutes of moderate activity and 20 minutes of vigorous activity and 5 minutes of maximum activity, whatever that might mean. I enjoy cycling when the vigorous activity time is zero! I am guessing that our cycling is almost over for this season. I don't think that Norway will be flat enough for me, maybe in the occasional town but not long stretches any more.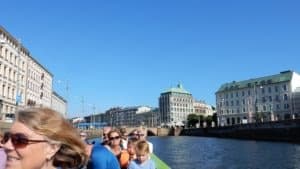 Gothenburg is another Scandinavian town with lots of greenery and canals. When we first arrived we did what we always try and do in a new city which is to take a local bus and/or boat tour. We got to do both in Gothenburg. The boat tour was 80 minutes. 60 minutes of it was lovely. We spent 20 minutes freezing as we turned into the wind. We got hit with cold spray and a cold wind. As soon as we changed directions it was a beautiful day on the water again although I didn't really warm up for hours. During the tour the guide pointed to some large construction cranes near the harbour. Gothenburg had been a large ship building city. The last ship building firm closed down sometime in the last ten years. Originally all the cranes that were used by the manufacturer were to be torn down. At the last minute the city council decided to leave a few standing as a tribute to the city's heritage. Mike felt that this justified his appreciation of industrial views such as Stelco and places like that at home even when my mother and sister both tell him he is nuts or at least his aesthetic taste is.
There is a lot to do in the Gothenburg area. One day Mike chose to go to a Volvo museum. The next day I selected the Hasselbad Photography Centre and Exhibition. I expected lots of lovely photographs. Was I ever disappointed. What we saw might be called some sort of modern art which neither of us really appreciate. I guess you can't win them all. Like Copenhagen, Gothenburg has an amusement park right in the centre of the city. It was quite unusual in that the grounds in the park were at several different heights. I think that it was built on the slope of a mountain. There were tunnels and escalators at strategic points so we didn't have to climb the rocks. This gave you extremely unusual perspectives of some of the rides. Some of the roller coasters would start at the ground level and normally the ups and downs would be high in the air. In this case, when you were on one of the higher ground levels you would see the roller coaster track going almost beside you. People would go flying past you and down towards a lower level on the slope of the mountain. It was very interesting. It was a lovely day and we enjoyed just wandering around and watching all the kids on the rides. I will admit that it has been many years since Mike and I have been to an amusement park back home. Our niece, who will remain unnamed but visited us many weekends, was a wimp and didn't enjoy the rides at all and kept saying next year, next year. Well then she grew up and we didn't get to the next year. When we used to go to amusement parks you would play to win small stuffed animals. Although they had a few games like that, both here and in Copenhagen you saw a lot of games where you were playing to win gigantic chocolate bars. Gigantic, as in 2 feet by 3 feet in size (almost 1 metre square)! We were quite surprised at all the different brands of chocolate that had their own games you could play and the only prizes were these huge chocolate bars.
In Sweden we almost always stayed in marinas. The parking or camping areas in these marinas are very different from one to another. The camping area at the marina in Gothenburg turned out to be a parking lot for the marina and "beach" with electricity in certain areas for campers. Actually there was almost no sand, just large boulders that people lay on and sunbathed on. There were lots of people in the water and I have to believe that it was very cold. Everyone looked to be having a great time. At one marina you might have a gorgeous view of the sun setting over the water from the RV. At the next marina your view might be into the window of another camper. Of course they all had boats that you could wander by and look at which was really nice.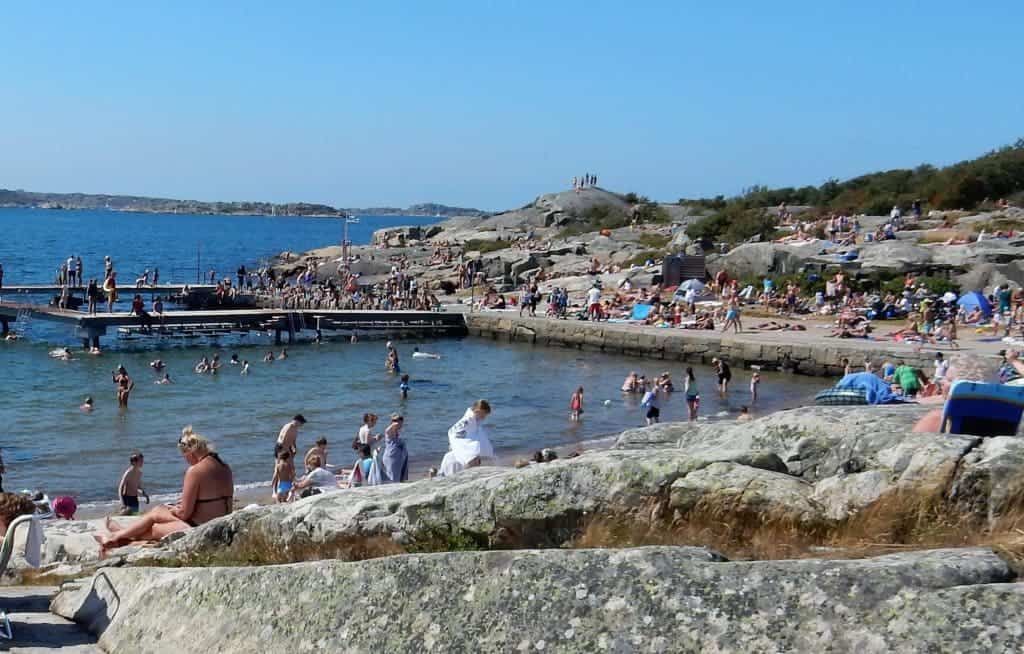 Sweden doesn't appear to have the thatched roofs that we have seen in other countries. It does appear to have more selection in the grocery stores which is very nice. The towns in all of these European countries have a lot more statues than we see at home. Some look very old but not all. Many are very nice and often display family life. Some are just weird. I mentioned earlier that the scenery in Denmark was remarkably like Southern Ontario when you are looking out the car window. Now that we are a little further north it is more like Muskoka with the huge granite rocks and the roads cut through the rock. I expect that the vegetation will look like northern Ontario as we drive further north in Norway and Sweden. Mike just figured out that our motorhome is further north than it has ever been before. He tells me that we are now slightly north of Fort McMurray. Mike and I spent 48 hours in Iceland without the motorhome. That is the furthest north we will get for a very long time.
I want to tell you about our first purchase when we picked up our RV in Belgium which was a GPS specific to motorhomes. We have a similar one in North America but we couldn't install all the European specific data on it. The GPS knows the RV height, width, length and weight. It uses this information to select a route that doesn't involve really narrow streets and bridges that are too low or won't take our weight. It also knows the speed limits in the areas we are driving. This is handier than you would think. In many countries in Europe it turns out that the speed limit for trucks, buses and large motorhomes is slower than the posted speed limit which is for cars. We didn't know this but our GPS did. We have to remember to change the mode from motorhome to car when we drive the car. When we do this the route the GPS takes changes, the time estimate for the drive changes and the displayed speed limit changes. The GPS also knows about lots and lots of places of interest to campers including the marinas that we have been staying in. We have heard a few different messages from the GPS in the last couple of days. First instead of saying turn right in 800 metres, or something like that, it said "turn right past the white building with the black railings". Sure enough we saw the white building with the black railings and turned right just past it. Yesterday we were in the car on a ferry. We set the GPS up for where we wanted to go and it said to us "in 2 ½ km leave the ferry". When we docked it said "leave the ferry now". We thought this was hilarious.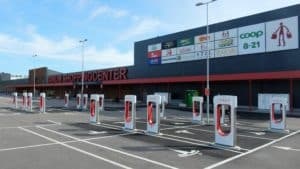 Our last stop in Sweden was in a town called Tanumshede. We actually stayed in the parking lot of the local mall. They had an area for campers that included electricity, all at no charge. There was free internet in the mall but it didn't reach to the parking lot which was too bad. In the front of the mall was an area with chargers for electric cars. Each charger, which looked like a fuel pump, had three nozzles and you had to select the one correct for your car. Standardization would be nice. In the back of the mall were the Tesla chargers which were different again. Tesla is paying to set up these Tesla specific charging stations all across Europe. We talked to one person who was charging his car. He averages about 2 hours between charges and then spends 40 minutes charging the car to about 80% full. He says it works out fine because he has three children and 2 hours was long enough for them to go without a decent break. Tesla vehicles aren't as expensive in Norway because the government is very pro environment (unlike other current governments). When you purchase a Tesla the Norwegian government refunds both the taxes and the duty which makes a huge difference in the final price. He also told us that when he bought his car, for an extra one-time fee of $1800 USD Tesla would cover him for free charging FOR EVER at these Tesla charging stations. These stations are intended to be for longer trips and not for commuting. You are expected to cover your daily requirements with your home power. What a fantastic deal. No more fuel bills ever! The man we talked with guessed that Tesla didn't offer this phenomenal deal any more. They must still be offering some sort of deal because the Tesla stations didn't have a credit card reader like the other charging stations did.
Near the mall was a Unesco World Heritage site. It had a lot of rocks with carvings or petroglyphs from the Bronze Age. In this area they were about 3,000 to 4,000 years old. The museum had gone over many of the carvings in red paint so that you could easily see them from the rock. No-one has any idea if the carvings were actually painted originally or not. In the mall were some unusual sculptures that we initially thought were just weird. Once you see the bronze carvings that the area is famous for you realize that the sculptures were all designed to look like carvings that had been made during the Bronze Age. It made them much more interesting.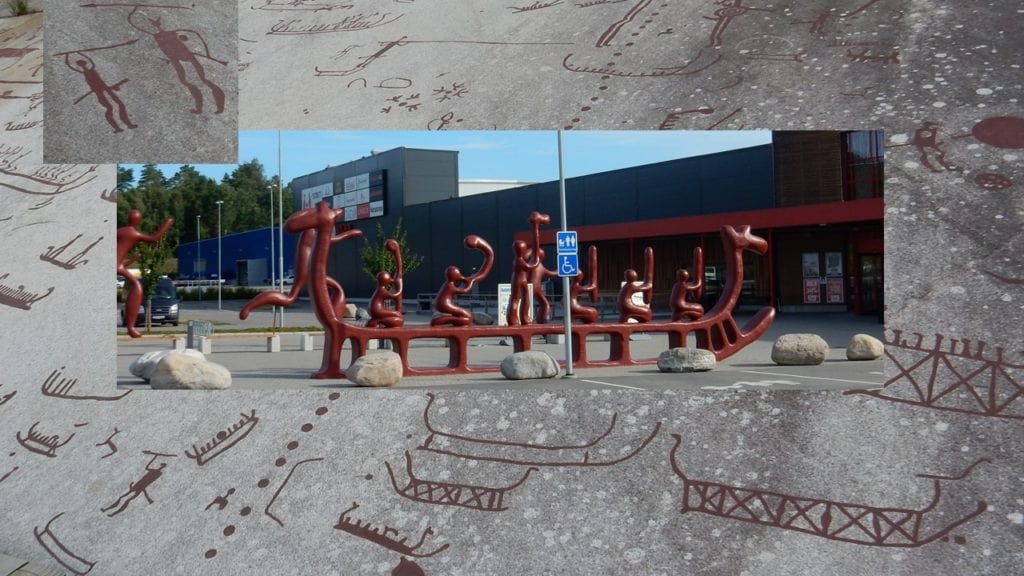 We have now left Sweden for Norway. Our plan, if you can call it that, is to go up to Oslo and then travel around the southern tip of Norway and then north up the western coast of the country. Once we get a little ways up north the scenery is supposed to be just fantastic. We had thought that when we got as far north as Trondheim we would head east back to Sweden and head south in Sweden until we got to Stockholm. Since we don't think we will have time this year to go to Finland and Helsinki we are not sure where we will head from Stockholm. Just a couple of hours ago we met another couple from Lillehammer, of Olympics fame. They told us that their favourite part of Norway is north of Trondheim. If we followed their suggestions that would add another couple of weeks onto this leg of our trip. I am not sure that we will be able to afford the time. I really hate saying that. We will see what happens when we get to Trondheim. The great thing about traveling like we are is that we have no arrangements to worry about, we don't need to book anything ahead of time and we can go as quickly or as slowly as we want.
I will wrap up with two interesting connections. Yesterday we met our very first Canadians travellers in Scandinavia. I don't think that we have met any Americans in Scandinavia so far. We did meet one other Canadian couple earlier in our trip. Tonight for the first time in Europe we saw a motorhome that was almost as long as ours and had two slide-outs. We talked to the people travelling in it and the motorhome was actually manufactured in Winnipeg. Mike and I are very surprised that there aren't any smaller motorhomes with slide-outs in Europe. The newer small campers often have them in North America. Given that Europe needs smaller width campers for the roads you would think that they would be prime candidates to be able to push a button and have their motorhome expand out once it was parked. I guess either they don't mind the tight spaces or they spend a lot more time outside than Mike and I do.
This posting has gotten considerably longer than I intended. I want to get up tomorrow awake enough to enjoy my first full day in Norway so good night to all of you and more from Norway in the future.