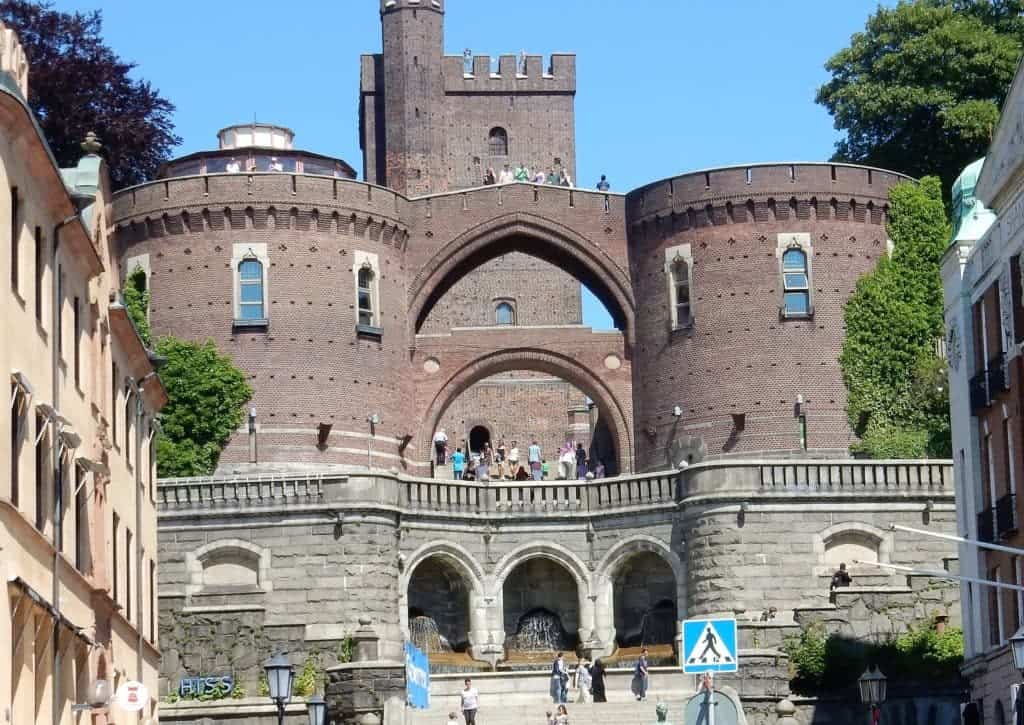 I am writing this in the pouring rain and severe winds in a marina near the small town of Ängelholm. Thanks to the weather we decided to have a day not doing much other than catching up on a few items in the RV and watching some movies. We spent the first four nights in a marina near Malmö. Copenhagen is connected to Sweden and Malmö by a large toll bridge. As we sat in our RV we could see the Copenhagen skyline across the water. It was a lovely view. We haven't really had time to form any solid impressions of Sweden but I will tell you our thoughts so far.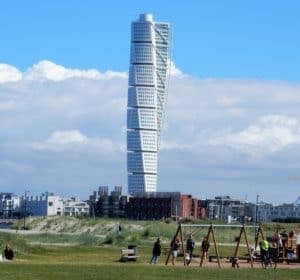 We have seen many, many large parks and canals right in the centre of the towns on this trip. It would be lovely if we had anything like the greenery and the canals in our towns. In Malmö there is one building that you can see from 20 miles away. The apartment building in the picture here is 54 stories high. It is in an area of 4 and 5 story buildings and just towers over everything. Mike and I were driving back to Malmö one evening and we could see this building all on its own on the horizon probably more than 20 miles away.
Mike and I figure that if we ever unpacked our chairs and sat in front of our RV we would be constantly in conversation with locals and campers. We would actually enjoy that a lot. The problem is that neither one of us is great at sitting outside, it is just more comfortable inside in our lounging chairs with comfortable temperatures and no wind. I am sure we will look for our chairs and unpack them some time on this trip ?. It isn't just the size of our RV that attracts attention, no-one here has sliders on their campers, we have yet to see anyone tow their car, and the vast majority of European campers are white. We stand out on every aspect.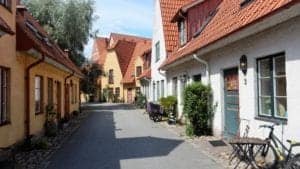 This is a photo of a subdivision built in the 1990s. It was built to look like a medieval town. I thought that it was an interesting concept.
People here speak English like they do in Denmark. It is interesting to see the mix of English and Swedish on all the retail signs. We went on a boat tour around the canals of Malmö. We were to pick up the boat across from "Central Station". That was the name on the train station, Swedish it isn't! One restaurant had all the food headings in English but everything else was in Swedish. For example, they had an item called Banana/Strawberry Smoothie (English name). Under the name every ingredient was listed in Swedish. This happens a lot. Another item that is strange to us is the number of retail outlets here that only accept credit cards. Quite a few do not accept cash or any smart phone banking, just credit cards.
While in Germany and Denmark we never saw people crossing the street on red lights. In Sweden it isn't as common as it is in the US and Canada but it is done. We also saw our first few beggars in Scandinavia.
We saw people swimming in the ocean at both the marinas we have stayed at. There were a lot of waves and it looked cold. When we left Malmö we were heading for Helsingor. When we got there we found out that the camping site at the marina was full so we toured around the town for the afternoon and then drove on to Ängelholm. Helsingor was a lovely town. We could easily have spent a little more time there.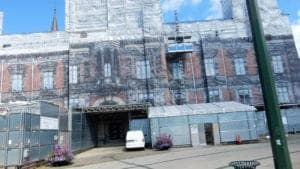 Rick M., if you are reading this we saw something that you might have seen before but we never have. The building in the photo was under construction. The scaffolding was covered in plastic on which was printed an exact image of the building behind the scaffolding. It looked great. I thought that it would be a good idea for new buildings as well. Instead of just showing a small picture of what you will see when construction is finished, seeing the building on the outside of the scaffolding going up as it is under construction would be really interesting. Just a thought.
We spent last night with a woman from Sweden who lives next door to the marina and a couple from Manchester, England who came and camped next to us when they saw our Canadian flag. For those that don't know, I was born very near Manchester and Mike and I visited there just last week on our way from Canada back to Europe. We spent a really nice evening with this couple. They have a somewhat different viewpoint on Brexit and the EU than we do but it was really interesting hearing their reasoning. I don't know how true it is but they said that when they first signed up for the EU that it was basically a large trading agreement and didn't involve laws and borders etc. Lots of people seem to wish that it had stopped at a trade agreement. I am concerned that Britain can't get the trade deal they want without giving up a lot. I don't think the EU can be seen giving them a great deal for fear of losing other countries. We will see what happens. My selfish concern is for my British EU passport to still be valid for this 2 ½ year trip.
We are heading towards Sweden's second largest city and possibly their most populated large area. I will keep you updated. It looks like the rain has slowed down although the wind hasn't. Maybe we will get out for a little walk tonight.