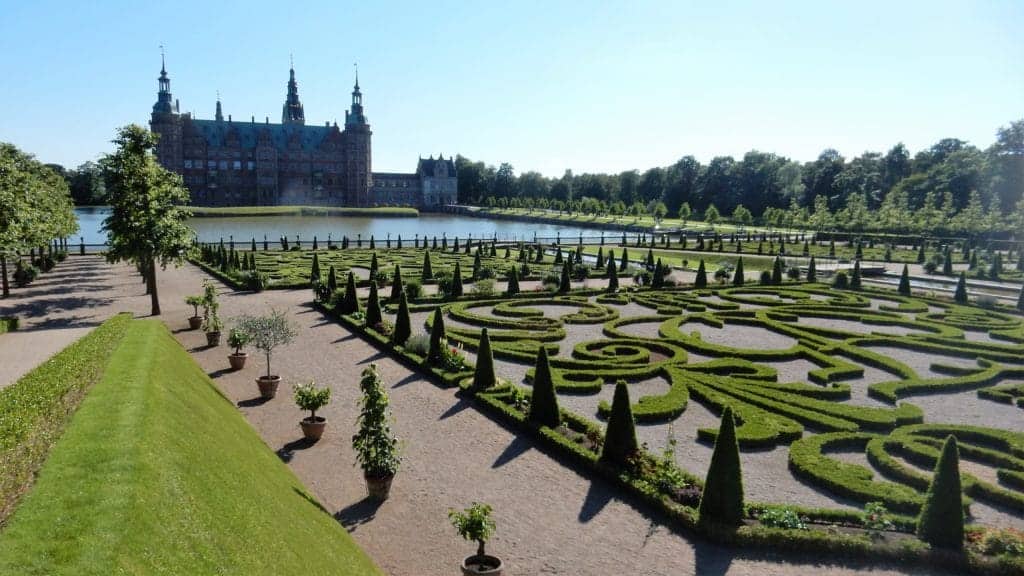 Mike and I are currently driving from Denmark into Sweden.  We will soon be on a large bridge that connects the two countries.  This article is intended to be a summary of our introduction to Denmark.  A good way to start is by saying that my original thoughts were to get to Norway very quickly and that we would probably not be in Denmark much above a week or two at the most.  7 ½ weeks ago we entered Denmark.  We went back to Canada for 1 ½ weeks so we have spent 6 weeks exploring this country and we still missed major sections and all the smaller islands.  From one week to six weeks, I guess we enjoyed the country ?.
We have felt very comfortable and almost at home here.  Part of the reason is the vegetation and greenery is very similar to what you see in southern Ontario.  Apparently Denmark isn't known for its weather although Mike and I don't have any complaints.  It wasn't Toronto hot but we found that mid to low 60s was great for wandering and biking.  There were quite a few days when it drizzled a little rain but that would only last for a while and then disappear and you would have sun again.  We didn't mind it at all.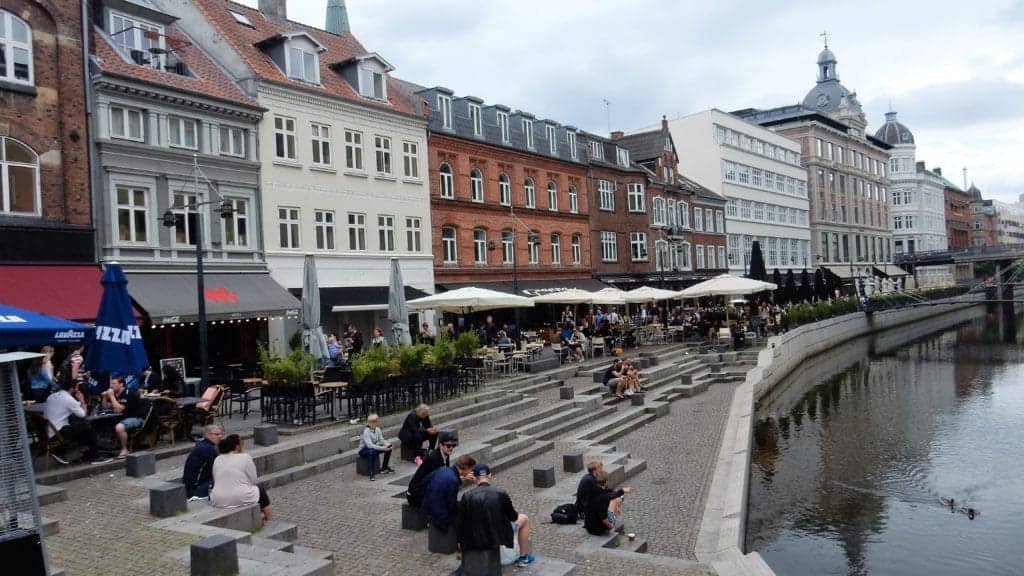 Language was very interesting.  Part of the comfort level came from the fact that nearly everyone from Denmark speaks both Danish and English albeit with an interesting accent.  Although we couldn't understand a single word that was said you could read some of the retail signs which I found interesting.  Earlier this week we were in a Home Depot type store.  They had a computer terminal for customers to use.  The sign above it said "webshoppen" and "Book din trailer her".  We could read that Danish sign and understand what the terminal was to be used for.  If a local person had read the sign to us I bet that we wouldn't have understood a single word.  Lots of the retail stores had a combination of Danish and English in their large sale signs but the product details usually had no English.  The phrase "coffee to go" seems to have international meaning.  We have seen it in multiple countries on this trip so far.  Some restaurants had a few English menus.  When they didn't, we used Google Translate on our phones.  Talking about restaurants, I read somewhere that there were more cafes and coffee shops in Scandinavia than almost anywhere else.  No wonder I am enjoying myself and feel right at home.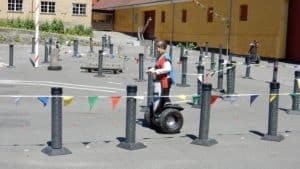 Many of the people from Denmark that we have spoken with think that Canadians and Danish are very similar.  Quite honestly, in a lot of ways I think that we are probably closer in values and behavior to the Danes than we are as a nation to Americans.  I really like the Danish attitude towards life.   Mike and I were talking to a waitress in a small sushi shop and I commented on the high price of the sushi.  The waitress told us that prices didn't seem particularly high to her since everyone was paid well enough.  She said that she was very happy although if one wanted a little more excitement maybe a visit to places like New York might be interesting.  The comment about everyone being paid well enough and being happy was almost exactly what we had heard from others twice her age.  Do you think that the government tells people that they are to believe that they are well paid and happy ??  The other comment that the locals are quick to tell you is that their country doesn't have the striking beauty of their neighbours (like the fjords in Norway) but that it is "very nice" and they like it.  Denmark doesn't have the majestic scenery of other parts of Scandinavia but there is a lot of green areas and public parks.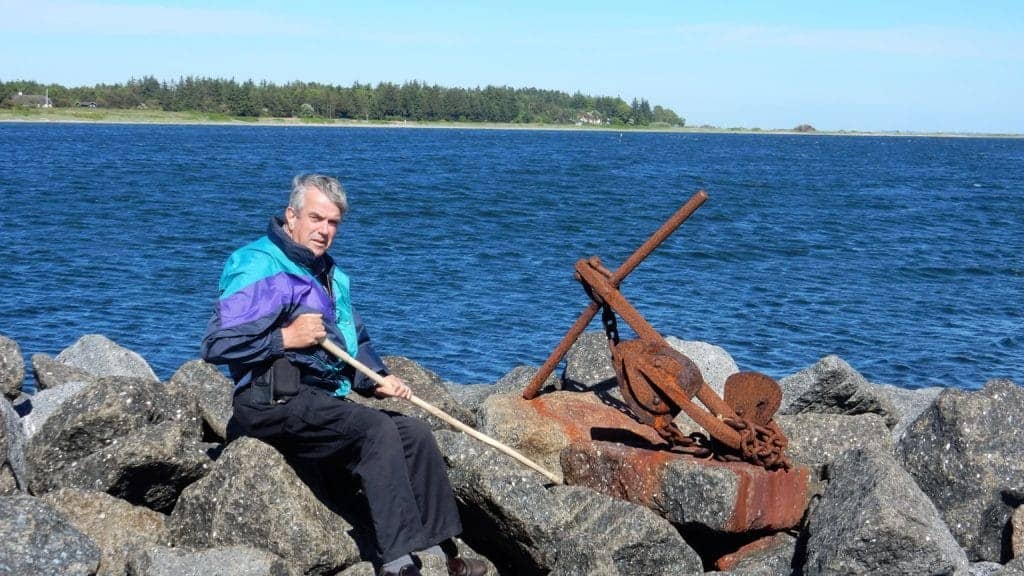 Along with the parks and the water you find lots of bike trails in this country.  As I have mentioned, in a city like Copenhagen you also have bike traffic lights, bicycle left hand turn lanes and more.  Regardless of the safety features riding bikes during rush hour in Copenhagen is still disconcerting.  Mike and I continue to be surprised that none of the bikes have mirrors.  One girl told us that you were just supposed to turn around and look.  Very few people wear helmets and only a few bikes even have a buzzer.  People have never seen an intercom system like Mike and I use but then they are very comfortable riding very close beside each other and keeping up a running conversation.  If Mike and I tried that one of us would accidentally ride over the other.
Mike said that I had to mention how well maintained the infrastructure was in Denmark.  The roads are much smoother than those in either the US or Canada. There are no potholes, seams in the pavement ar smooth, and the expansion joints at bridges are flush with the surface.
While touring all those old castles I found out that the Danish monarchy is over 1000 years old.  It is the oldest monarchy in Europe to still exist.  Scotland's monarchy would have been very slightly older.  When we get to Norway I expect to hear more about the Danish kings and queens that we have been learning about recently.  First thing to know is that they are almost all Christians and Frederiks.  I hadn't realized that Denmark and Norway were one country under a single monarch from 1380 until the Napoleonic Wars in the 1800s.  Norway had the subordinate role in the union.  Here is a piece of trivia.  In the 1800s Christian IX was King of Denmark.  He was nicknamed "the father-in-law of Europe" because he had six children, of which four ascended to European thrones:  Queen of Great Britain, King of Greece, Empress of Russia, King of Denmark also the Duchess of Cumberland.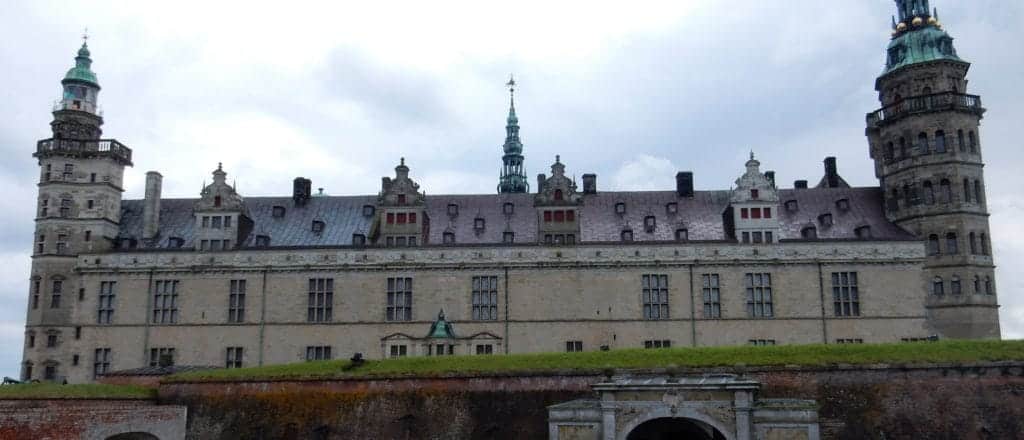 As you all know eating out is very expensive in Denmark but just to set the record straight, we have been told that prices when grocery shopping aren't too bad.  The grocery stores here don't have the choices that we have in Canada so when we find the cereal or cream that we want we just buy it without looking at the price.  This means that we don't really know how grocery prices compare.
We have very much enjoyed our time in Denmark.  It is amazing how well maintained some very, very old buildings and towns are.  There is lots of history and lots of things to interest us.  Like much of Europe the towns all have large pedestrian only shopping districts in historic areas which Mike and I really enjoy wandering around even when we can't shop or buy anything.  We are 110 volt and have very limited space so Mike is thrilled that shopping is an act largely left behind in Canada other than when we need hoses and things to keep the RV running well.
Just as I hadn't expected to spend too much time in Denmark, I also hadn't expected to spend much time on the west coast of Sweden enroute to Oslo.  This just shows my ignorance of Swedish geography.  I found out a few days ago that the bridge to Sweden takes us into Sweden's third largest city Malmo.  Last night I found out that between Malmo and Oslo is Sweden's second largest city.  Apparently we will be traveling through the most densely populated large area of Sweden and not the rural area I was expecting.  This means that we will spend a lot more time getting to Oslo than I had thought.  Again we don't want to rush things.  It is actually the speed of our travels that differentiates our time here from our previous two and three week vacations.