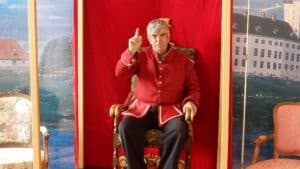 Mike and I have seen many very different sites over the last few days.  We spent a great day at the Egeskov Castle.  We have seen quite a few castles in our travels over the years.  The Egeskov Castle is my second favourite strictly from an exterior appeal point of view.  My favourite, without question, is Balmoral.  I think it looks like the castle from every fairy tale story and from every Disney movie every produced but Egeskov Castle looks great.  This is a 460 year old castle that was opened to the public around 1960.  The current count still lives in the castle but since there are 66 rooms there is space for private and public.  On display is a phenomenal miniature doll house that took 15 years to build.  The detail is incredible.  The gardens are a huge part of the attraction and have won many worldwide awards.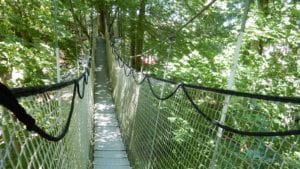 The Castle is also a museum.  They decided to add an exhibition of classic cars, motorcycles and bicycles.  The sexist assumption was that women would be more interested in the gardens so the men would have the vehicles. They have a gorgeous display of clothing including ballgowns from the House of Worth.  I am not usually interested in fashion but I did like this display.  The signs that said this gown was worn by the great grandmother of the current count helped. In addition to the interior and the gardens there were outdoor attractions.  I had some of my most fun on activities meant for kids.  I walked on a very unstable feeling swaying tree top trail/bridge very high in the air.  I also tried out a Segway for the first time and spent about 15 minutes on the Segway track.  It was good fun.  Summer season doesn't really start for a week or two.  I am very glad that we were here before the crowds.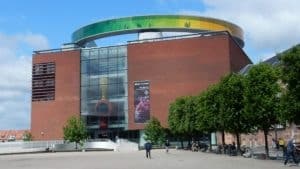 From old castles to modern art museums, we are seeing lots of interesting things.  We visited the ARoS museum in Aarhus.  The first thing you see from the outside is the rainbow panorama display which is a circular glass walkway around the top of the building in all colours of the rainbow.  You can walk around it and get a great view of the city and the bay.  A museum director said "Traditional museums are not designed to encourage social interactions. We explicitly wanted to change that." and I think they did.  There was also traditional art.  Going from memory, I saw some Gaugin, one Renoir and a couple of Andy Warhol.  What I remember most though were the interactive exhibits.  One that I had never see before was called The Art of Looking, also known as The Eye Catcher.  You sit about five feet away from a wall where they display a picture approx. 6 feet by 3 feet on the wall.  Somehow eye-tracking technology traces your eye movements as you look at the picture.  After about 30 seconds or so you are shown the path that your eyes took as you viewed the picture.  You are shown what portions of the picture you spent time looking at.  Your "areas of interest" in the picture are compared to the general public.  Computer software designers often try and track people's eye movements to see how they are adapting to new programs.  This was an interesting demonstration that showed how far this technology has come.
Another interesting interactive display was an area where you stuck your head through an opening in a wall and saw your head reflected on many, many mirrors all at different angles and levels.  I won't go into all the interactive exhibits they had but it certainly made the art gallery an interesting experience.  Of course they had some very strange displays as well.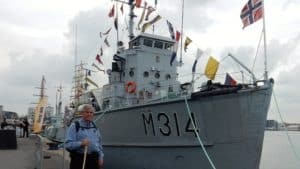 Mike and I walked along the water's edge as one town was getting ready for a waterfront festival.  We saw the largest tall ship (Russian) that we have ever seen.  It not only towered over the other tall ships but the hull was considerably longer and wider.  We also toured a minesweeper and Mike had a great time being taken down to areas of the boat not normally on display.  We hadn't realized that the basic way these boats worked. The ship itself was for the most part made out of non-magnetic materials (wood, aluminum, bronze) so as not to attract a magnetic bomb.  The ship then dragged a magnetic ball (to attract magnetic bombs) or an acoustic device (barrel containing something that made a loud noise) through the water behind a long rope.  These devices were intended to purposely cause the mines to explode.  I guess I thought that they retrieved the mines somehow, actually I never really thought about how they worked.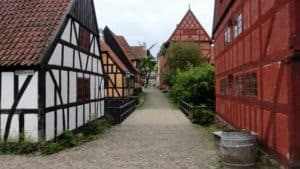 One afternoon we walked through an open-air museum called 'Den Gamle By' or in English 'The Old Town'.  This was like our Pioneer Village but since the buildings on display where in town everything was much more compact and close together than the traditional rural villages that you often see on display.
We are now heading to Copenhagen which should have even more interesting things to see and do.  Talk to you soon.