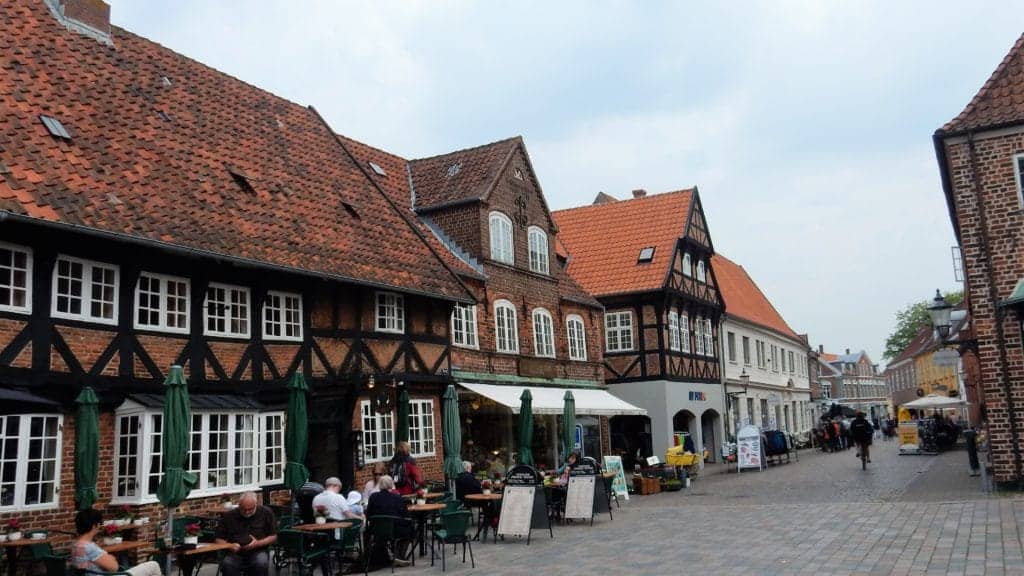 It's been a few days since I posted a note so this one might jump around a little.  My apologies if the flow isn't the greatest.  We are currently in Ribe, the oldest town in Denmark but let me go back to Germany for a few minutes.
We were in a small town in Germany when we met a couple from Cambridge, Ontario.  After a brief hello, this couple started quizzing us on Canadian geography.  Mike had a Canadian flag on his backpack and these this couple believed that more than half the people they had met with Canadian flags were actually Americans.  We did manage to convince them of our rights to display the red and white flag ?.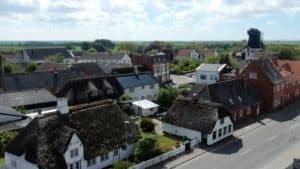 Almost every town we visit has pedestrian city centres, cobblestone roads, thatched roofs and town squares.  You really know that you aren't in North America.  E-bikes are much more common in Europe than at home.  That probably isn't a fair comment because bicycles of all types are more common over here.  Until this week Mike and I might have ridden 10km in total on this trip.  In other words – nothing.  Yesterday we rode 23 km.  Today was a RV driving day (from Tønder to Ribe) and we only got about 8 km of cycling in.  This wasn't too bad as we both made our 10,000 step target as well.  I am hoping to try and spend more time bike riding.  Bike paths separate from the road and really flat ground make for ideal biking areas.  I am afraid that the level ground may disappear soon.  Although bikes are extremely common the intercom that Mike and I have in our helmets is very unusual.  I love it.  Mike and I can easily speak to each other as we bike around.  Sometimes it is as simple as pointing out an interesting house or suggesting that we go in a different direction.  I find riding much more fun when I can hold a "conversation" with my partner.  As an aside, not only are e-bikes more common but so are e-cigarettes.  I know that we have them at home but you see a lot more in Europe.
On the day that we planned to leave Germany for Denmark Mike got up early and took the Lincoln in to a Ford dealer.  The car makes a noise whenever we turn left while driving it.  At first the dealer wouldn't have anything to do with our car because it is an American Hybrid but Mike eventually talked them past that and the consensus was that we needed parts for our brakes.  I don't understand how brakes can make a noise only when turning left but hopefully Mike and the mechanics know what they are talking about.  Mike came back to the RV as I was started to pack up and told me that it was good job that I liked Germany because we would have to stay here for another week while we waited for the car parts to arrive.  That didn't please me as I was ready to leave for Denmark.  After about half an hour I realized that Mike and I don't drive very far when we are travelling.  The first town in Denmark that I wanted to spend time in was about an hour away.  The second town was about 45 minutes beyond that.  If we stayed in both towns for three days or so each, which was highly possible, then we would still be within a couple of hours of the Ford dealer and could drive the car back to Germany without losing a whole week.  This was last Friday morning and Mike had booked a 10am appointment for the following Wednesday.  With the new strategy in place we left for Denmark and all we should lose is the one day that the car needs fixing.  The car is currently drivable which is good.  Chances are that Mike will drive back to the Ford dealer on his own early Wednesday morning and I will have an easy day walking into Ribe for my cappuccino and having a read in the town square.   If you remember we had one license plate disappear somewhere in the middle of the Atlantic ocean.  We have a photocopy in the front window of the Lincoln and a letter saying that the disappearance is being investigated.  Entering Denmark was the first time that we were stopped by the police because of the missing plate.  They did let us go but they weren't really happy.  Hopefully this won't happen too often before my sister in Canada very nicely works with the DOT and gets us replacement plates sent to somewhere enroute ahead of us.  Luckily they have UPS outlets over here as well.
The Lonely Planet says that instead of the ever-increasing gap between the "haves" and "have-nots" Denmark seems to be populated by the "have enough".  This is borne out by the people that we have spent evenings with recently.  The taxes here are high but it is a socialist economy with education, health care, parental leave and items like that all covered.  We have heard from locals that as long as they get value for their tax dollars they are fine with their tax rate.  Based on a recent audit money has gone missing from the federal government.  The Danes we talked with weren't particularly concerned with catching the people responsible for the fraud they just wanted to make sure that it wouldn't happen in future.  This type of fraud is very unusual here as Denmark is rated as having the least corruption of public officials and politicians in the world.  Interestingly Finland and then Sweden rank 2nd and 3rd  with Norway ranking 5th on this lack of corruption scale.  If anyone is interested Canada ranked 9th and the US 16th.  All were well above the corrupt government borderline.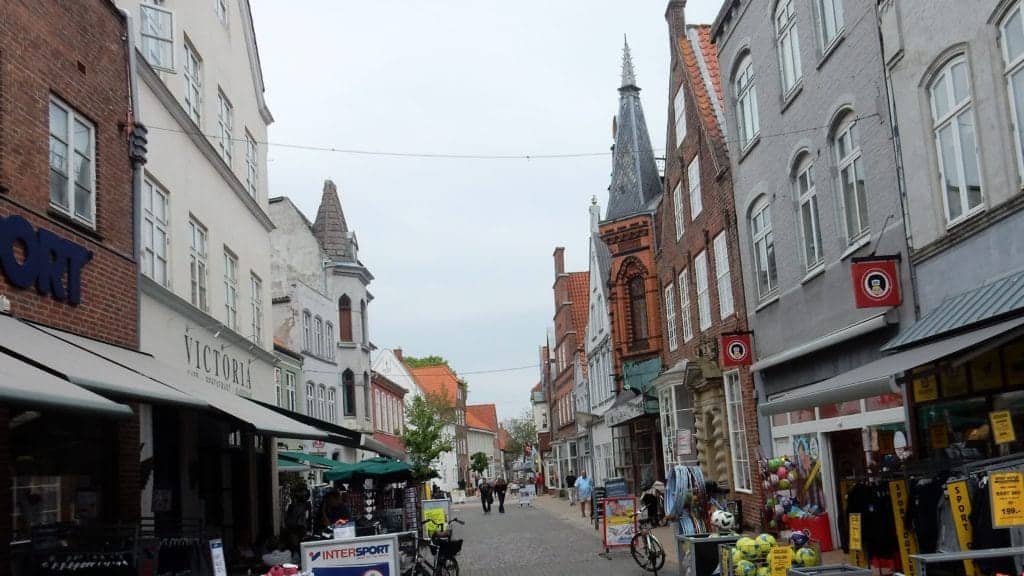 They seem to do a lot in Denmark on the honour system which is really nice to see.  The campsite we were in for the last three nights had a sign up that said just find a spot, they gave you the internet password on the sign and said to check-in the next morning.  You will see the sign "2 timer" in parking lots.  This means that you can park for no charge for two hours.  The car driver is expected to set a small clock dial in their windscreen to point to the time they arrive in the parking spot.  If they are still there after the two hours they would get a parking ticket.  It is up to the driver to set their correct arrival time.  There are no meters and no parking attendants.  I just saw another sign that said during the summer season anyone could borrow books from the local library which means that returns by tourists has to be on an honour system.
There is a unique word in Danish that really seems to be how they live and that is "hygge".  This Danish trait appears to have a definite impact on Danish happiness.  Hygge is similar to our ideas of cosiness, camaraderie, and contentment.  Hygge is a way of life in Denmark and one book says "It's about creating a cosy, convivial atmosphere, and making regular everyday things more meaningful, beautiful and special. It encourages taking pleasure in other people's company, and banishing anything annoying or emotionally overwhelming from taking space in your life."  Even with long, cold winters, high taxes and relatively high retail costs Denmark has been rated the happiest country in the world for many years.  I think "hygge" is a large part of it.  I checked on the internet and in the 2017 World Happiness Report Norway has just surpassed Denmark with Norway, Denmark and Iceland coming in as 1, 2 and 3 for the happiest countries in the world.  Sweden and Finland are also right up there.
There is a lot of English spoken in Denmark.  One couple told us that Danes had to learn multiple languages as there were only 5 ½ million people in all of Denmark so if they wanted to talk to more people they needed to learn other languages, and they do, many!
Now everything isn't perfect over here.  There is another study that ranks countries by their cost of living.  Based on 2015 numbers the top five countries are: Switzerland, Norway, Venezuela, Iceland and 5th is Denmark.  We stocked up on supplies before we left Germany and entered Denmark.  We have been told to stock up again in Denmark before we enter Norway.  Norway is the most expensive country in this part of the world.
We had planned on what is known as "wild" camping, basically avoiding campgrounds while we are in Norway, Sweden and Finland. This is what we did for our entire Newfoundland trip last year.  We are having such as great time meeting people in campgrounds that we might have to change our mind.  As I mentioned previously, there are more people take photos and videos of our RV than you can believe.  Mike talked to one woman in a campground and his voice and our RV photos became a short video on the campground's facebook page.  ( Video Link) Largely thanks to our RV and its uniqueness in Europe we have visitors many evenings.  One 75 year old German gentleman told us that he tries to ride his bike at least 20 km every day.  He was very interesting.  Each spring and fall he takes his camper and tours around Spain for about three months at a time.  In the summer he lives on his 40 foot power boat.  For about three months in the winter he returns home to visit with family.  It sounds a little lonely on your own but it is certainly an interesting life style.   A few nights ago we had two couples visiting from Denmark.  One couple left their camper on their bicycles every morning before I had breakfast and didn't get back to the campground until about 5pm.  WOW.  Most people we have spent time with have been our age or older.  Last night we had a couple visiting from Germany who were younger than we are.  They had to be back at work in Germany in a few days.  How nice to live somewhere where you can take a short holiday and see such different cultures and so much history.  Mike and I are quite different from most campers we see.  Not only we do like our "luxury" we are also not really outdoor people.  We have yet to unpack our outdoor chairs and sit outside.  Mike figures that if we have perfectly comfortable reclining chairs inside why would we ever sit outside and I must admit that I agree with him.  All around the campsite you see people sitting outside reading, having drinks, cooking etc. – just not us.
We have just spent three nights in Tønder, Denmark.  Our campsite was about 10 minutes outside the centre of town so it was a very easy walk or ride into town.  We wandered around the pedestrian area and sat and drank our coffees in the town square.  We drove the car and rode our bikes around the area and stopped and went walking next to the North Sea.  We left Tønder and arrived today in the oldest town in Denmark – Riba.  I am looking forward to strolling around and sightseeing.  The campsite is about 1 ½ km from the centre of town and one km from a large Viking Centre.  On our way here we stopped and had lunch and wandered through church grounds in another small town.  Everything in Denmark is so crisp and clean.  Even the cemeteries are lovely to see.  Instead of huge monuments most of the headstones are smaller and the different plots are separated by small hedges and shrubs that are well trimmed and well looked after.  We have only been in two churches so far in Denmark but their interior is decorated quite differently from most churches we have seen before.  Like northern Germany, Denmark is largely Lutheran.
Summer season is still a ways off and everything in Denmark seems really sleepy.  I understand that Copenhagen will be quite different but for now slow and sleepy is just fine.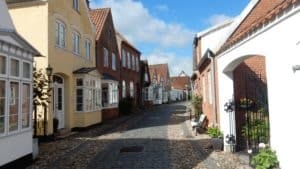 Note:  This was written on Monday evening but due to internet difficulties it hasn't been posted yet.  It is now Wednesday morning and Mike is off getting the car fixed and I am hoping to have the internet up long enough to get this posted. We could have changed campgrounds but the other campground in the area was almost double the price and I wasn't paying 20 extra Euros a night just to upload this a little sooner.