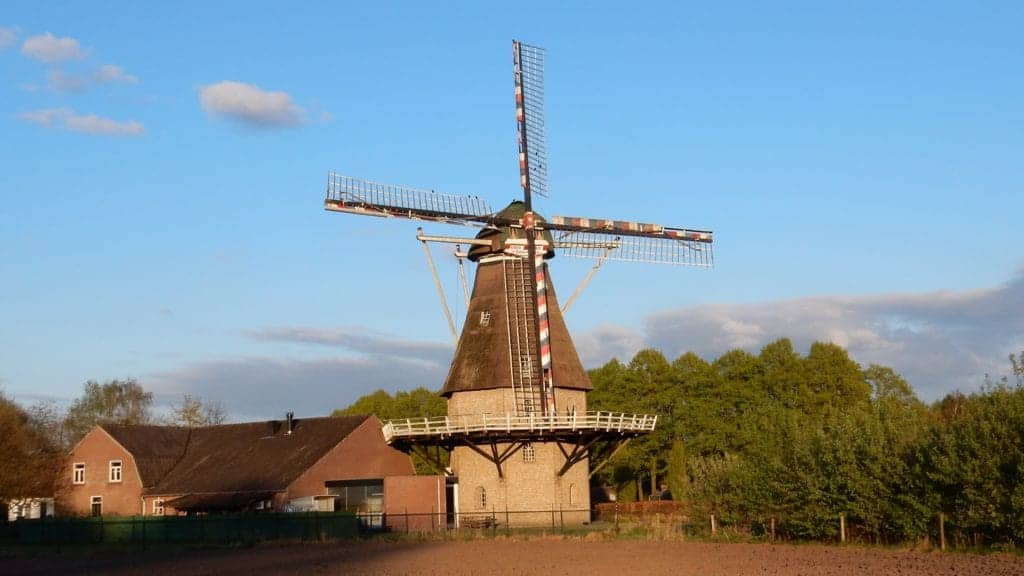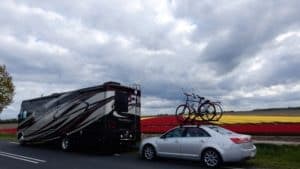 It has been almost a week since we left Mike's family in Holland.  I feel like we have really started our journey.  For the first week we had family to fall back on and to help with any bureaucracy that might arise, now we are really on our own.  Wow are the rural roads ever narrow here!  Yes we knew that ahead of time but I still feel uncomfortable when we encounter them.  There are certainly pros and cons to living and driving around Europe in a large motorhome and separate car.  None of this is unexpected, it is just a little different when you experience it in real life for the first time.  One down side is that we will be doing a lot more of our driving in mainland Europe on motorways from point A to point B.  One of the nice features of driving around Europe is finding the interesting little villages and being able to explore them more fully.  I don't think this will be much of a problem most of this summer as there don't look to be a lot of road choices when you are heading towards the Arctic Circle.  Our plan to disconnect the motorhome outside towns and then drive in doesn't work as well as we hoped since there isn't anywhere on these narrow roads to stop, disconnect and park the RV.  On the other hand, Germany has had a lot of places to do this on the highways and that has worked out OK.  We have run into a new problem now that we have the bicycles on top of the car.  We don't fit in indoor parking lots (too high) and there are very few available street parking spots.  I guess parking is just a problem in Europe no matter what.  Having our "house" to live in outweighs any of these potential disadvantages.  We are extremely comfortable in our camper which is what they call motorhomes or RVs in Europe.  Life is always somewhat of a compromise.
Our first night away from Mike's family we planned to stop in the town of Bremen in the Netherlands for a few nights and explore the area.  We stopped in a campground and they wanted a huge amount for off season camping in April.  They had a separate fee for each individual on the campsite and they actually were charging more for Mike and I to be on the campsite than the motorhome itself.  I guess this allows them to advertise low rates for motorhome camping – who knows?  They had no internet, not even in the nice little restaurant on the campsite.  What we had seen of Bremen from the outskirts wasn't particularly attractive either, so Mike and I decided to move on after only one night.  The next afternoon we stopped in Groningen for lunch.  The town was lovely and we quickly decided to find a campground in the area and stay there for a couple of nights and to come back into town with the car and explore more.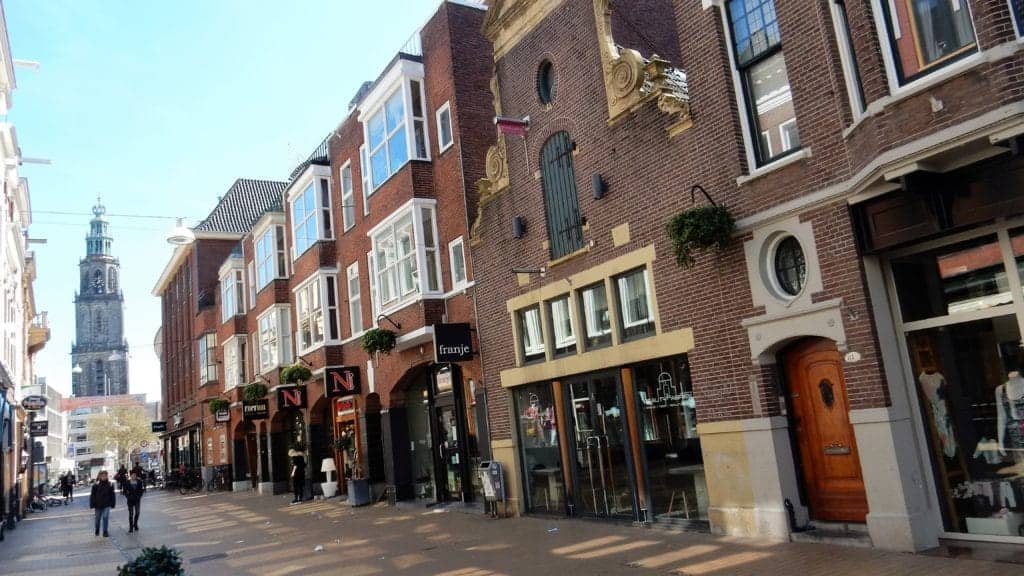 We left Grongingen and headed into Germany.  We had thought of visiting Hanover but I noticed that Hamburg was more on route to Denmark.  We asked a few people in a café which city we should aim for and they were unanimous in choosing Hamburg so here we are.  We picked a campground and drove there.  Off the highway we were back on the really little roads that make me uncomfortable.  Mike seems to be fine although he says that it is more work and more tiring driving on those roads.  When we got to the campground we couldn't possibly get into its tiny driveway and the entrance arch above the driveway would probably have ripped off our air conditioning units.  We were in a village with nowhere to turn around so we kept driving.  The road got narrower and narrower.  We came to a Y intersection.  On the right was a bridge with a sign that said 3.5t.  Since we are 10 tonnes in weight we weren't going over a bridge posted at 3.5 tonnes so we turned towards the left.  We instantly saw a sign that said 7.5t.  So we couldn't go that way either!  Our only choice was back the way we came.  It would have been nice to see a sign a little earlier on the road.  We blocked the entire small road while we disconnected the car.  Luckily there was a church at the intersection with a small parking lot Mike could back into to turn around.  We then blocked the road again while we hooked back up.  Mike said the one advantage to returning on the same narrow road is that we know we will fit.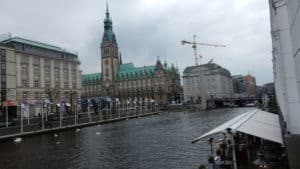 We are now in a campground with INTERNET on the other side of Hamburg.  It is right on the Elbe river which is a major waterway in Central Europe.  Sitting here writing this article I have seen multiple large boats and barges cruise past.  It is really nice although it would be nicer if the drizzling rain would stop.  We took a bus tour in Hamburg yesterday.  We try and do this when we first get to any new city.  Hamburg is a very large city with two rivers going through town helping to form two lakes.  The city is 1/3 water, 1/3 park and 1/3 buildings and very attractive.  At one point the Danish/German border went through what is now the north section of Hamburg.  Mike says that the little bit of research he did shows that the local people actually had some say in peacefully moving the border.
We had planned to stay here for two or three days but I think we will extend that.  We met a couple from Greece who managed to tell us that there is a big festival in town this weekend.  I checked the internet and the Port of Hamburg celebrates its birthday or anniversary every year and they hold a three day party with hundreds of boats, tall ships, food and more.  Assuming that the weather cooperates we will certainly stay for that, it sounds great.  This afternoon we are going to see a miniature wonderland.  It is supposed to be the world's largest model railway and sounds pretty spectacular.  Here is a video about it https://www.youtube.com/watch?time_continue=35&v=ACkmg3Y64_s .  I will let you know what it is like and how the festival turns out in a few days.
Miscellaneous Items:
We have obviously seen lots of interesting items in the short time we have been here.  There was a school in one of the cities that had its playground on the roof which I thought was a great idea.  There is a chain of stores here called Media Markt which is similar to Best Buy at home.  Of course we have had to visit a few of these stores.  It is interesting to see how much further ahead they are in some areas.  Media Markt had a huge area for VR games and machines for people to try.  I know that we have some at home but not on this level.  They also had a large enclosure in the middle of store where you could stand in and turn around and buy a 3D printed model of yourself including all your clothes in the appropriate colours.  If they had been more inexpensive I would have bought one of Mike and I and sent it home to the family but at one or two hundred dollars for one about a foot tall I didn't bother.  I still thought it was great and wish that I could have watched it happening.  I would be interesting to see how long it takes to "create" one of these models.
Setting up our electronics in the RV is still a work in process.  We have a wifi antenna (pronounced weefee in Europe) that allows us to attach to a wifi network and then rebroadcast for all our devices in the RV.  This allows our phones and tablets to always talk to the same internal network without having to always attach to new ones and input new passwords every time.  That works well.  We haven't bought a SIM card for our phones yet as we have had internet most nights and haven't traveled around any one country for that long.  SIM cards are basically country dependent.  This really just means that we don't have internet while we are driving and walking around.  Most campgrounds have basic internet.  It isn't great for phone calls but it works for email.  We may buy a SIM card in Denmark as we think we will be in that country for a little while.
Mike interrupted me while I was writing this to come outside quickly and look behind the RV.  There on the top of the dike right behind us was a very traditional shepherd and his dog herding sheep.  It was very interesting to see right near the RV.  Dikes are very common in this part of the world.  Even though floods are really common they can happen and they plan for it quite well.  The campground we are in is split into two parts.  One choice is to stay in a traditional campground with spots marked out for every vehicle and some privacy.  Our choice was to stay on the river side of the dike which is much more open although there are still quite a few trees.  You can park anywhere, facing any direction you want.  There are some strategically placed electrical outlets for you to string your power cable to if you want electricity.  This is our second campground where you actually put coins in an electric meter.  You aren't buying time you are buying kilowatt hours.  Of course we have no clue how many kilowatt hours we use so we ran out in the middle of the night but we don't use any power at night so the loss of power wasn't even noticed until Mike tried to turn on the coffee this morning.  I will let you know what it costs when we leave.  Here is an interesting article on what happened when one section of the river we are on flooded four years ago.  http://www.spiegel.de/international/germany/three-barges-sunk-in-germany-to-plug-elbe-river-dike-breach-a-906119.html
Near us is a camper flying the flags of Norway and Sweden.  I would like to knock on their door before we leave and ask about camping in their country.
A quick last comment about language.  We had no trouble with English in Belgium or the Netherlands.  Not everyone spoke English or was fluent in it but there was plenty of people around willing to try.  There is definitely less English in Germany.  I assume that it is because Germany is much bigger and more self-sufficient than the smaller countries.  There is still enough English here for Mike and I to get by without any real problems.
Mike has been doing a lot of work of different items in the RV, some related to shipping and some to just making it more comfortable as a home.  Hopefully that work will be reduced as time goes on.  He spent a few hours yesterday and today changing the oil first in the RV and currently in the generator.  Like any house there is some work that needs doing.  Thanks to my sister for keeping an eye on our apartment while we are in Europe.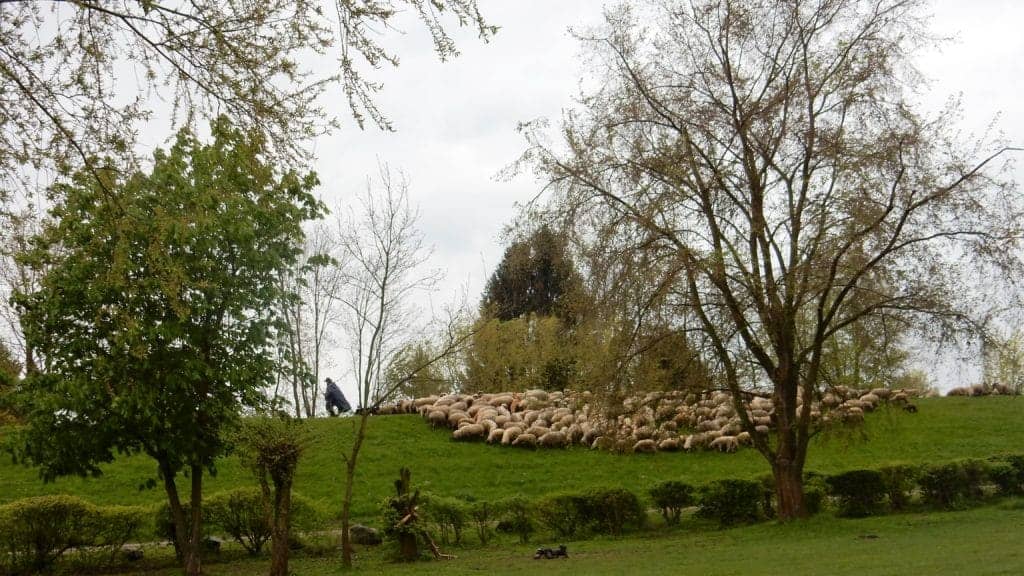 We will be off to see the Miniature Wonderland shortly.  I will get back to everyone when we leave Hamburg and Germany and head into Denmark.