YEAH Trip has really started: April 2017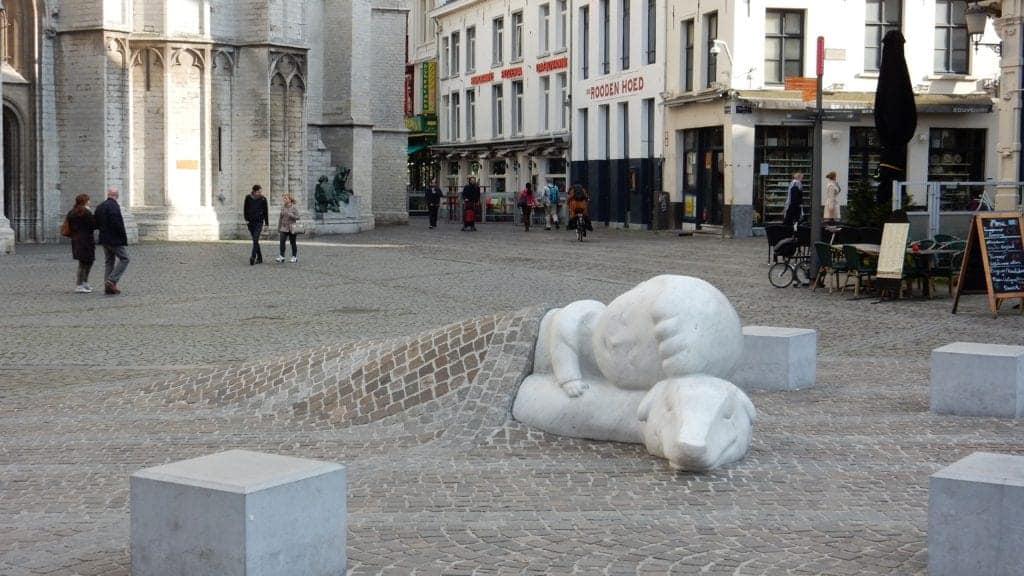 Antwerpen, Belgium:
It worked. The shipping company got our motorhome and our car from Halifax to Antwerpen. Our agents in Antwerpen had done a very good job for us. Almost everything made it in good shape. The only real issue is that someone decided that they wanted a souvenir license plate from Canada and removed the rear license plate from the Lincoln. Of course that is the one with the sticker on it. Mike switched the front plate to the back and we got a photocopy of the license plate to put on the dash. We reported it to the shipping company and got a letter from them saying that they were investigating. This was to protect us if we get pulled over as two plates are required here. It was suggested that we report the theft to the police but I am too scared that they would say you can't drive with only one plate. We will try and get replacement plates from Canada with my sister's assistance. The good news and bad news is that we won't be staying in any one country for too long. This might make the police more considerate but it makes it much harder to get a package from Canada.
I have never been a big fan of staying in campgrounds. Mike and I like to park the RV near the edge of a lake, or the ocean or somewhere pretty. If our reception here has been any indication of the way things will go in the future I could change my mind. We, or more accurately our 13 foot wide, 37 foot long motorhome, is treated like a visiting rock star. Like all rock stars they are loved by some and hated by others I am sure. Some Europeans on the internet talk about our type of camper being American, over the top and ostentatious. None the less, people seem to be in awe when they see it and we get lots of oohs and ahhs. We have had more visitors just today than you can believe. Mike has been given three different types of beer and we just received a bottle of champagne from a visitor. Quite the reception!
Nearly everyone so far in Iceland and Belgium have spoken some English which is very handy. All the music we have heard in stores and restaurants has been in English. One man visiting us tonight told us that he learned English from American television and movies. I really wouldn't have thought that was possible without some basics to start with but he said that he had no lessons, just the TV.
There are a huge number of bicycles in Belgium. In Antwerpen they have the rental bike system like the one that we have in Toronto. It works really well here. You see all sorts of people on rented bikes. Most people ride their bikes in a very upright manor – much like Miss Marple. It is a much easier on the back. I don't know why it didn't catch on in North America. I wouldn't mind spending more time in Antwerpen sometime in the next few years. It is a lovely small city. It is like a mini or compact Paris. Rubens is from here and you can find his paintings in many of the churches in town. The local cathedral is almost more of an art gallery than a church.
There are some interesting differences between Belgium and the Netherlands. Everyone says that it is illegal to tow our car behind the motorhome without a trailer in most of Europe including Belgium. We have heard that it is both legal and illegal in the Netherlands. We will choose to believe that it is legal. Stores are open on Sundays in the Netherlands and closed in Belgium. One retailer told us that meant the unions where better in Belgium. This part of the world is very green and probably 3 or 4 weeks ahead of Toronto or New York in the weather department. The tulips and daffodils are almost finished.

Netherlands a few days later: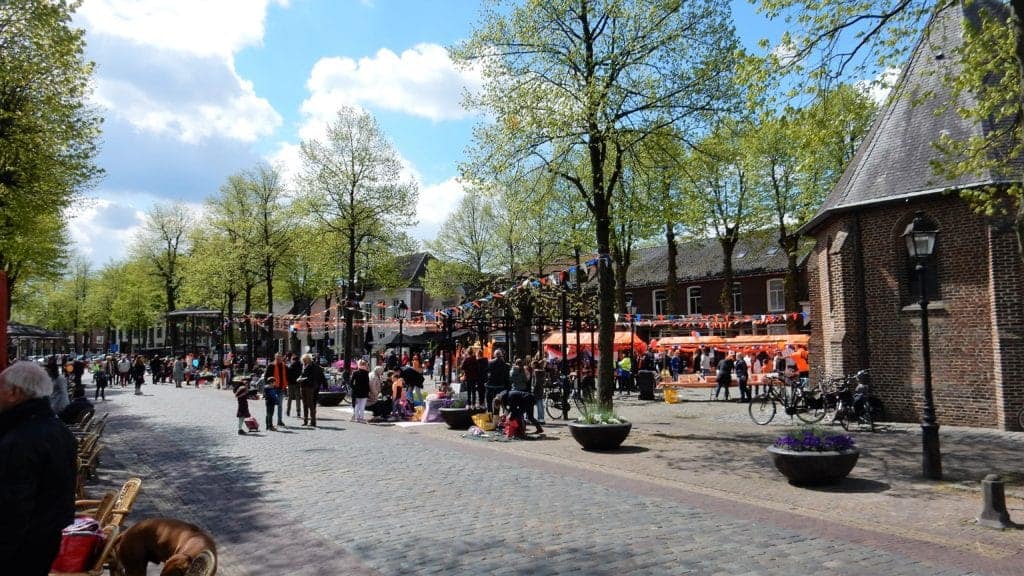 We drove from Antwerpen to the village of Wintelre to visit Mike's relatives for a few days. It was our first experience with very narrow local roads. I must admit to being a little concerned about these. I really don't want to just drive on highways. Mike has been getting a kick out of practicing his Dutch. He is doing quite well. Rural Netherlands with its little villages, cafés and bakeries is very attractive. Mike's family is very large and I think almost the entire village is closely related. We had a visit this morning from Mike's 97-year-old aunt. She is a little frail but in outstanding shape. She looks great, walks with a walker and is as bright and sharp as can be. I really hope Mike has the same genes. Her ten children are all still alive and doing well with eight of them and their families living locally. Her daughter Lia, Mike's cousin, has been just great. She organized somewhere for us to stay, has taken us all over, bought us a marvellous dinner at the café of yet another family member and much more. It is nice to have family. Today was King's Day in the Netherlands. The towns and villages all started partying at 10pm last night and continued with markets and local entertainment all day today. The weather here has been very changeable, including some rain, which has caused some issues for the festivities but people were still out wearing bright orange in honour of the King. Mike has put our bicycles back together and we tested them but that is all. It is really too bad because we probably won't ever find a better place for bike riding, flat terrain and lots of separate bike lanes.
Mike is fascinated with Holland's equivalent to our speed bumps. So far we have seen three different versions which all involve narrowing a two way road to slow traffic in "subdivisions" or areas with children. Sometimes they have little gardens that jut out into the road blocking one lane. The straight through traffic has the right of way, the blocked traffic waits their turn. Other versions have a narrowing on both sides of the road down to one lane or mini roundabouts with no exits other than continuing straight on. It seems to work but I can see some people treating it like a game to wiz back and forth between the obstacles.
We leave tomorrow after four days and head towards Denmark. We will be driving through the north of Germany enroute to Denmark. More updates to come.