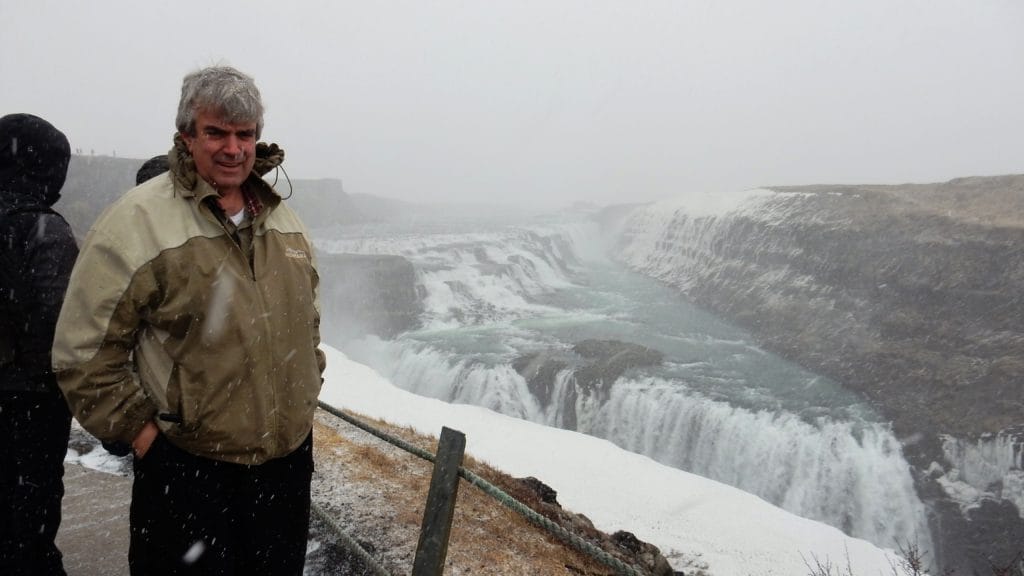 A very strange beginning to our trip. Our plane was due to leave Toronto for Reykjavik at 7pm Sunday night. When I tried to print the boarding passes Saturday evening the system said that the plane was now leaving at 11pm. On Sunday morning I checked the web and under flight status the flight showed a 7pm departure yet our boarding pass said 11pm. I called the airline in Iceland and they said the only information that they had at that time was for an on-time departure. I firmly believed that the boarding pass was correct and that some other system hadn't been updated with the delay. When I couldn't confirm this, we decided to not take a chance and to go to the airport as if it was a 7pm departure. We expected to hang around the airport for another 4 hours. Well were we surprised when, at the airport, they confirmed that the boarding pass was wrong and the departure was still 7pm. In actual fact it worked out well for us but not so for many others. The flight was fully booked yet I counted 9 empty seats just within a few rows of our seats. One of those seats was between Mike and I which was great. We knew that the centre seat had been booked but it remained empty for the entire flight.
If anyone wants to fly to Iceland from Toronto without luggage and without movies or free water on the plane they can do it for $119 Cdn. Great price until you start adding in water, luggage, carry-on etc.
We landed in Iceland at 4:30 AM which is just an awful time. It was just after midnight in Toronto. My body was getting ready to go to bed not to start a whole new day. We picked up a rental car and spent some time at the airport but we still got to Reykjavik, almost an hour away, before 7AM on Easter Monday. Nothing was open yet, not even coffee shops. Our hotel room wouldn't be available until 3pm. We took a bus tour of the town and wandered around a little bit but it wasn't a good introduction to Iceland. Besides being a walking zombie we were in the middle of a major storm. Winds were almost gale force and I believe that they exceeded gale force around various buildings. The rain came and went and came back. We were told not to drive outside the city as the winds in the open areas could sweep our small car off the road. The city has a beautiful setting but it was hard to see much. Apparently winds this strong occur a few times a year. It wasn't like you could spend much time in restaurants. A small cup of coffee at Dunkin Donuts was almost $5.00 and that was cheap compared to the cafes. Soup in a bread bowl was $23, a hamburger/fries/pop combo was $25. On the second day the internet sent us to a farmhouse/restaurant for reasonable priced meals instead of tourist priced ones. Here a nice burger was $26 and a veggie burger was over $30. If you are getting the impression that Iceland is very expensive you would be correct. One tourist spot sold cheap tourist t-shirts, you know the "I love NY" type t-shirts, for $50.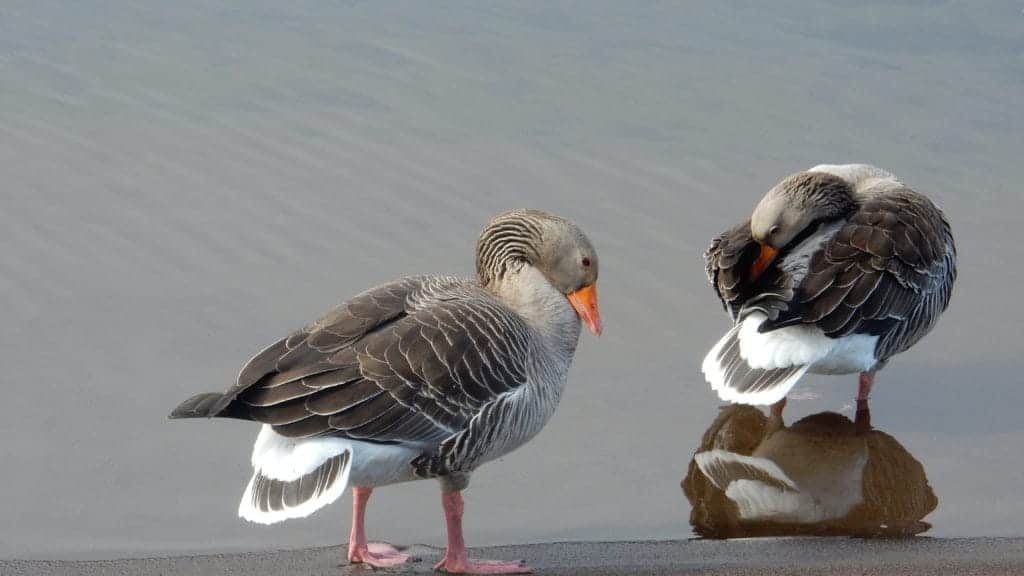 On our second day we took our rental car around a loop called the Golden Circle. Apparently this is what all tourists are supposed to do. The loop takes all day and includes multiple waterfalls, some of which are really gorgeous, nice walks, mountains, geysers and more. The weather was on and off all day including some nasty winds and rain for a while. The water in Iceland is very pure and as clear as can be. 85% of the homes here are heated with geothermal heating.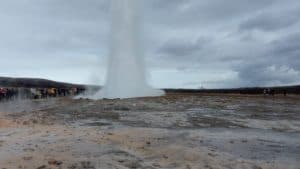 The scenery, just in the little we saw is lovely. Everyone spoke English well and were very friendly. I always thought that the Welsh had long city and street names. I think the Icelandic language has them beat. We arrived at 4:30AM on Monday and had to be back at the airport before 4AM on Wednesday. This meant another night without much sleep. I found it very interesting to see the little bit that we did of Iceland but I found that the flight schedule and not sleeping much for three nights really takes it out of me now. A poor schedule and bad weather meant that we didn't manage to get the full benefit of our 48 hour visit.