Cape Breton and the Maritimes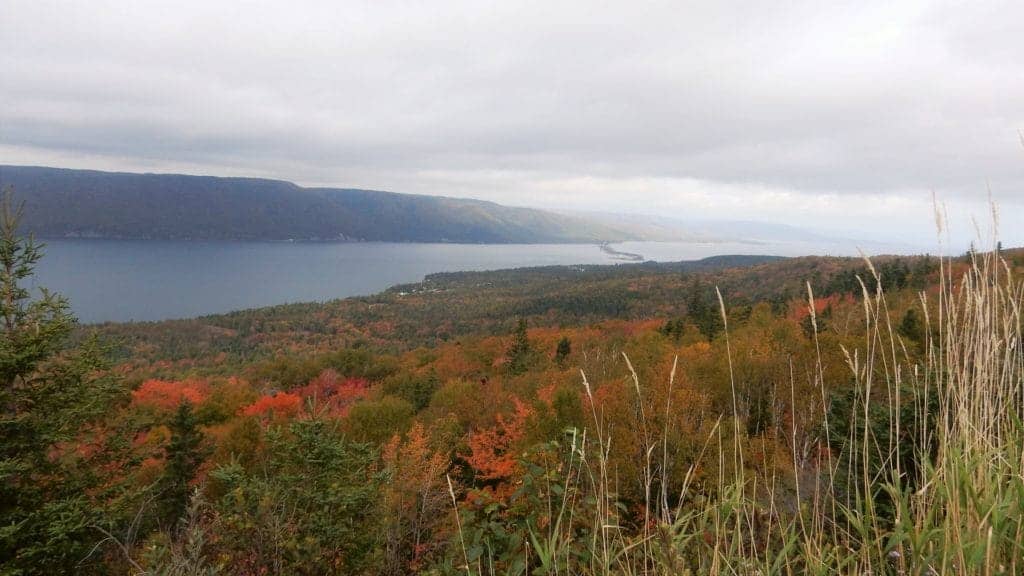 Mike and I spent almost two weeks on the island of Cape Breton.  What a glorious time of year (ignoring hurricanes!).  The colours were marvellous.  The wind made us think we were still in Newfoundland.  I don't know how much Gaelic is actually spoken, I don't think very much.  The surprising thing is the amount of Gaelic on street signs, town names, store names etc.  We don't know if the Gaelic has always been on the signs or if it is an indication of people trying to bring back their heritage.
The Cabot Trail is lovely to drive and walk around.   Even though both Newfoundland and Cape Breton are on the ocean with rocky shorelines, somehow Newfoundland seems fiercer and Cape Breton a little gentler.  That isn't to say that the waves can't roar in Cape Breton as well because they do.  Cape Breton has many more towns and villages updated for tourists than we saw in Newfoundland.  For those that want the cafes and artisan shops Cape Breton is a better choice.  Newfoundland needs time spent appreciating the rugged landscapes and most particularly appreciating the people.  Both islands have music in their blood which is just great for visitors.  Instead of towing the car throughout Cape Breton we left it in a small town and spent the two weeks with just the RV.  It was simpler and easier for travel in rural areas.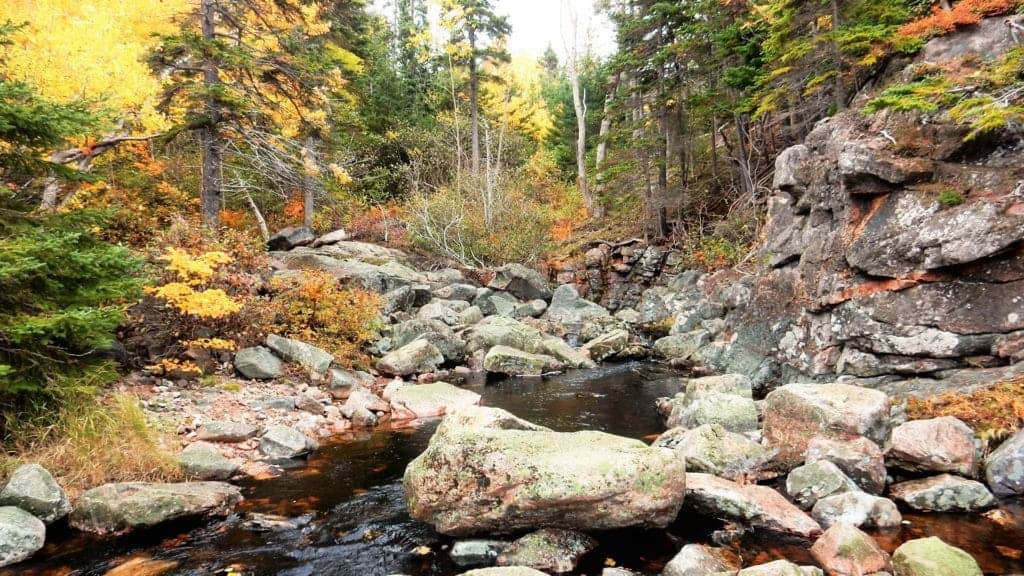 When Mike and I were in the middle of the "Chase the Ace" madness in Newfoundland I thought that it was a bit much having two lotteries both still going after 50 weeks.  That meant that none of the first 50 cards drawn in either case was the Ace of Spades.  Each week that goes by without drawing this card greatly increases the revenues generated by the lottery.  I have since found out that many towns in Atlantic Canada frequently run this same lottery.  Statistically it is probable that at some point you are going to have some lotteries where the Ace of Spades is drawn near or at the end.  I offer my mental apologies to the towns we visited running this lottery.
Mike very much wanted to drive over the large Confederation Bridge connecting Prince Edward Island with New Brunswick.  We bypassed most of Nova Scotia after we left Cape Breton and took the ferry over to Prince Edward Island.  We spent one night on the island and one afternoon in Charlottetown.  It rained almost the entire time other than when we were actually walking around the town.
As you may remember the RV part from the Mito Corporation that controls our rear and side cameras went on the blink south of Labrador City.  We paid for overnight delivery and had a replacement box sent to Goose Bay.  10 days later it arrived and turned out to be defective.  A replacement was again ordered and this time was sent ahead to Corner Brook.  For one month we were only able to see our car behind the RV (aka "our toad") because Mike had added a jumper wire and rigged the original defective box.  This let us see the rear camera image but not the side cameras.  While we were in PEI, the latest (third) Mito unit quit working.  These are boxes designed for motorhomes and large vehicles that require multiple cameras so this has been really disappointing/frustrating.  For two days Mike drove without any cameras which he didn't like at all.  We have finally unearthed the original defective Mito unit that we had luckily kept and Mike has installed it and added the jumper wire so that we can see the Lincoln and our bicycles via the rear camera.  What a mess.  When we have the car in tow we are almost 60 feet in length.  I get uncomfortable just watching Mike winding around busy parking lots in malls and places like Walmart.  Doing this without cameras is even worse.  I think that busy, tight parking lots bother me much more than they bother Mike.  One thing that Mike has found tough are the never ending cross winds.  He finds that driving in strong, gusty winds requires a lot more attention and can be quite tiring.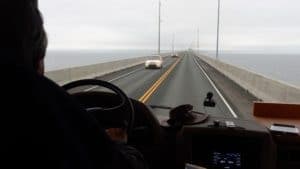 When we left PEI we took the 13 kilometre Confederation Bridge that Mike had wanted to drive on over to New Brunswick.  We are definitely on our way home now.  We are driving about 100 miles a day which might not be much to some people but is considerably more than we have averaged so far.  We spent yesterday afternoon in Moncton and had lunch and walked around Saint John today.  Saint John has a lot going for it with lovely older buildings, the waterfront and the history but lots of the city is looking a little run down.   Portions of the waterfront have been updated and look good.  It has the potential to look great if some money was spent but, of course, the money needs to be found and justified.  I was really looking forward to visiting the City Market in Saint John and buying small containers of lobster pieces.  I remember stopping the taxi on the way to the airport many years ago and running in to the market and buying some containers to take home.  I also remember eating one full container in the back of the cab before we even got to the airport.  The City Market didn't have anywhere near as many seafood booths as it had in the past.  Mike and I did find the booth that had sold the lobster but there were no small containers in sight.  I asked and was given the bad news.  Apparently the lobster kept going up and up in price until a few years ago when it was costing $17.00 / container for pieces.  These containers were between a small and large sour cream container in size.  When the price rose above $17.00 they quit selling them.  The seller figured that it would cost well over $25 per container today if they were to sell them now and people won't pay that much.  I had been surprised when we walked into the market and saw lobster rolls being sold at a fast food booth at $22 for a small roll and $30 for a larger roll.  I was really disappointed.  I had expected much lower priced seafood here.
We left Saint John late this afternoon and are now in Saint Stephen.  We will be crossing the border and entering the United States sometime tomorrow.  I expect that we will be home before the US election.  I wouldn't want to take the chance, once the election results are known, on any stowaways hiding in our motorhome as we cross back into Canada.  I was surprised to see how far south and close to Boston our route through the US will take us.  It is almost exactly the same length of time going through Canada as it is going through the US.