Mike and I have spent three days so far on the western arm of the Avalon Peninsula.  On Monday we drove around the small town of Baie de Verde which has a population of less than 400 people.  As expected there were no restaurants or cafés there.  It is a quiet little town/village.  I gather that has all changed today.  Driving south we passed more cars going north than we have seen since we came to Newfoundland.  There was a steady stream of them.  We talked with folks who live here and all the cars we are apparently going to Baie de Verde to "Chase the Ace".  You may have seen this on the TV news.  Three towns in Atlantic Canada each started running this charity lottery.  Here is what we have been told about the game. You start with a deck of 52 cards and sell lottery tickets.  On the day of the draw one person's ticket is drawn.  They automatically get a consolation prize which is expected to be $85,000 – $90,000 this week.  They then get to draw one card.  If it is the Ace of Spades they win the jackpot.  If it isn't the remaining cards in the deck are used in the draw the following week.  Two towns are down to three cards left in their decks.  In each case one of the three is the Ace of Spades.  This has generated huge excitement in the area.  If the Ace of Spades is drawn tonight (1 in 3 chance) the jackpot is expected to be around $600,000.  You or your designate have to be there in person to draw the card.  I wonder what the odds are of two different lotteries both going down to the last three cards to draw the Ace of Spades?  This small town of 3 or 4 hundred people is expecting somewhere around 4,000 people to land it on for the draw today.  The lottery is really just organized as a small town event.  Recently the draw was moved from a Wednesday night to the Thursday night because of a death.  There have been so many people and so many cars that Thursday garbage pick-up has had to be rescheduled.   Some chip trucks have come to Baie de Verde so that there is some food for the people who start arriving the night before to buy tickets.  Many people drive up first thing in the morning to purchase a ticket and then have to wait until 7:30pm that night for the draw.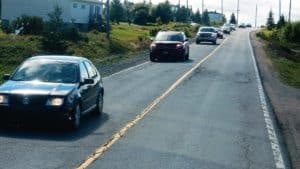 In addition to the huge stream of cars we passed all going north we also passed three ambulances with their sirens going.  I hope that was unrelated but since we haven't seen a single ambulance until now I somehow doubt it.  The town never expected the game to last this long or the attention to be this huge.  Busloads of people pay $50 for the bus trip to Baie de Verde from St. John's so that they can participate.  I actually wanted to turn around and go back just to be in the middle of all the craziness but Mike wasn't having any of that.
We will be spending 3 nights in the booming metropolis of Carbonear.  It has just under four thousand inhabitants.  This is enough to sustain a Walmart, Canadian Tire, Tim Horton's, McDonalds and more.  It is also enough for a theatre.  It is currently Wednesday afternoon and we have just purchased tickets for a music show on Friday night which means that we are here until at least Saturday.  It is so nice to have this type of flexibility.  We will have a chance to take the car and see some of the small towns that we had to drive past when we were in the RV towing the car.  It is much easier to sightsee when we are in the RV or the car on their own.  When we are actually towing the car you cannot easily turn around which means that you often choose not to go down the small roads that just end at the water.
We stayed at a lovely campground just south of Winterton.  It was huge.  I walked around part of the campground one day and I logged 6 ½ km.  Mike saw even more of the park than I did while I still sleeping in the mornings.
We should arrive in the big city of St. John's within the next week or two.  For those keeping track the weather is still very windy and quite cool.  It rains almost every day but on many days it clears up for a lovely afternoon.  On a few days it drizzles all day.  I don't mind slow, rainy mornings and sunny, cool afternoons at all.  I just wish we could tell in the morning what the afternoon was going to bring.  Cell phone coverage is still really poor outside of the towns.  We have ordered a Wi-Fi antenna that has already been delivered to a friends house in St. John's.  This will allow us to get Wi-Fi signals from a longer distance.  In other words, if a campground advertises Wi-Fi but the signal doesn't reach past the first few parking spots we will have a chance to receive it.  We are currently in the Walmart parking lot.  With the Wi-Fi external antenna we would have a better chance to pick up their guest Wi-Fi signal.  This antenna should help with our internet accessibility and our email access.