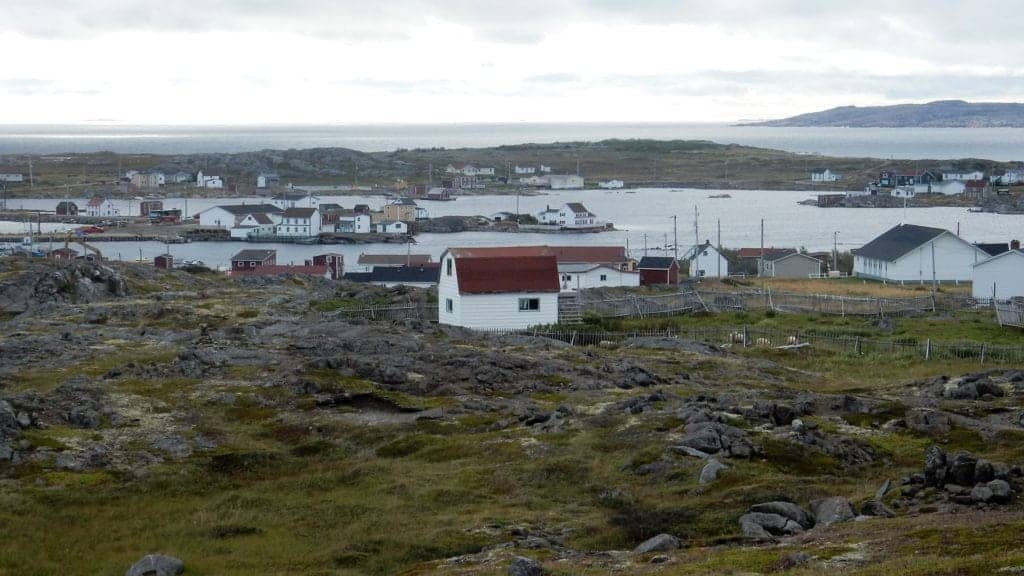 We have just spent five nights on Fogo Island. It is a barren rock with lots of ocean and a really super feel to the place. There is a Flat Earth Society museum on the island that proclaims that Fogo Island is one of the four corners of the earth. Checking the internet it appears that this museum's claim has nothing to do with the actual Flat Earth Society. The FES says that they do not believe that the world has corners. None the less Fogo Island gets one more tourist attraction by making this claim. We had to take a 45 minute ferry ride to get to Fogo Island which I find somewhat disconcerting when we are driving a large RV and towing a car. Many of the islands closer in to the main island of Newfoundland now have causeways built for easy access. Twillingate, for example, was joined to the island of Newfoundland in 1973 when their causeway was built.
While we were on Fogo Island we went to two "kitchen parties".  We have attended a lot of music and theatre events while we have been in Newfoundland. Gros Morne and Twillingate events were aimed largely at tourists which made for interesting shows. Three of the evenings that we have attended were really get-togethers for the local residents with any visitors in town gladly welcomed. These "kitchen parties" were actually held in local community halls. The first village we stayed in on Fogo Island had a preplanned agenda for the evening and had various groups of locals take the stage for about 30 minutes each. Friday night we attended another kitchen party in Tilting, still on Fogo Island, and it was much less organized. A few people came with their instruments knowing that they would get up for a few songs. Many singers were "volunteered" by other audience members. Everyone knew everyone else. Most of the songs were sung a cappella as they were not preplanned. It is amazing how great the local talent is. Some of the songs had been written locally, others where well-known. Typically people got up and sang one or two songs. One girl was visiting from St. John's. She said that she normally played with her drums which she didn't have with her. She, like many others, sang with no instruments. She stood five feet back from microphone because she knew that she could project and she did while singing an aboriginal song. WOW! It was a super evening. We were invited back for a DJ style dance the next evening but we decided that we really did have to leave Fogo Island and continue on with our trip.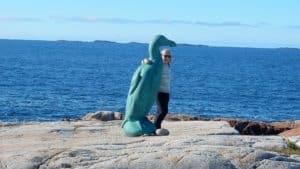 Mike and I have been loving our time in Newfoundland but it isn't for everyone. Like the advertisements say "It isn't Disney". If you want to get off the main highway and visit the fishing villages and meet and talk with the local residents it is great to have some sort of camper. Local bed and breakfast homes will provide camping food baskets as well. Twenty years ago when we traveled around the island I found it a problem because much of the time the only place that I could get my coffee was from a gas station on the highway. This hasn't changed dramatically. Many of the small fishing villages do not have any sort of restaurant or cafe. If you depended on them for your meals you would be in trouble. You also really need to enjoy walking. These small villages don't have Main Streets lined with little touristy shops and art galleries. Again these shops exist individually but they certainly aren't in every town. Of course the larger towns have music and theatre during the summer which is really nice. One disappointment for Mike and I is how much appears to be closing down now that Labour Day is here and the summer season has ended. I can prove it has ended. When we left home I packed a very few winter items for Mike and I. Last time we went on a trip like this we returned home on November 1 and there was some snow south of the border. Well, the last day of August in Newfoundland and I was wearing my long johns.  We still prefer the cool (cold in the ocean wind) to 100 degree humidex for walking and hiking. Actually, if we chose to stay inland, on the highway and away from the coast life would probably be a little warmer and certainly less windy.
On Fogo Island is the Fogo Island Inn. It is very different than anything else we have encountered in Newfoundland and Labrador so far. The cheapest rooms in the Inn were $1800 per night this season and you needed to stay for three nights!  At the visitor centre we were told that it was often difficult to get into the restaurant or bar at the Inn because they are so very busy. The visitor centre staff told us that if we wanted to see the Inn we should go to see the public art gallery that was housed inside. Since it was public they had to let us in to view the art. Cars arriving at the Inn park ½ km away from the Inn itself. I believe that when you park the attendant calls a shuttle to escort you to the Inn. We stopped at the parking lot entrance and were informed that the art gallery was no longer public but private (how did that happen so quickly) and therefore not open for us to view. We went hiking over the rocks in the area and actually ended up on the ocean side of the inn. A door was open and we went into the bar. We went in and I ordered a cappuccino. After I finished drinking it Mike went to pay. What a mess. They had no idea how to do anything but charge the coffee to a room number. When we explained that we weren't staying there they had to get multiple people to come and figure out how to have the cash register actually record real money coming in. I thought it would have been easiest to have just given us the coffee but that didn't happen. The only reason that we got served the coffee was because we walked in like we belonged and they thought we were staying there. I did hear that the food was excellent. The hotel is also known for its view. The view is absolutely stunning but it is exactly the same view that Mike and I have had so many nights when we park our RV on the edge of the ocean. We actually get a lot more variety. Fogo Island Inn is for the rich and famous and also, according to some guests we met, for the middle class who have it on their "bucket list". Mike was very unimpressed with the architecture which he doesn't think fits in with the fishing village at all. I thought it kind of grew on you.


When we were in Triton we visited a Whale Pavilion. About 15 or 20 years ago a 12 metre long sperm whale washed up on the other side of Newfoundland. The residents there wanted to get rid of the rotting carcass. Triton saw this as an opportunity, not a problem. They took the complete decomposing whale carcass and transported it across the island where many volunteers spent a huge amount of time cleaning the whale and cutting the blubber off the skeleton. I am told that this work stunk worse than you can possibly imagine. Once they got rid of most of the blubber they crated up the bones and put them in salt water and let the fish clean the rest of the flesh and fat off the bones. This whole process took a few years. After the bones were cleaned they were packaged up and sent to Drumheller, Alberta of dinosaur fame. Apparently the experts there can piece together skeletons of a variety of large mammals, not just dinosaurs.  After recreating the skeleton they sent the bones back to Triton numbered to show them how to put the skeleton back together. An entire building was built around this skeleton. It was the start of the "Great Whale Coast" which involves a network of whale pavilions being built each featuring a different species of whale.
I have figured out that, from a marketing point of view, if you can't have someone famous born in your town the next best thing is to have them die nearby. As far as I can tell Sir Frederick Banting of insulin fame, had probably never heard of Musgrave Harbour. In 1941 he had the misfortune of flying to Europe. The plane refueled in Gander, Newfoundland and then had a problem, couldn't get back to Gander and crashed near Musgrave Harbour. Banting died in the crash. The demolished Hudson Bomber airplane was lifted from the water and it, along with a complete replica Hudson Bomber are the foundation for the Banting Interpretation Centre. There is also a Banting Municipal Park, Banting Lake, Banting Walking Trail, Banting Rd and more.
You see lots of interesting things when you are walking at the edge of the ocean or in the woods. They have a bird here called the arctic tern. It has one of the longest migrations of any animal. It migrates from the Arctic and Newfoundland every year down to Antarctica and then back again. Besides flora and fauna you sometimes see other unusual things on these walks. Below are pictures of the unexpected entrance to one of the trails and the rest are pictures taken on a different walk. In the middle of a forest we were very surprised to come upon a single tree decorated for Christmas. A little later we saw a second Christmas tree. In the course of the next hour we saw one decorated for Halloween and another decorated for Easter. This certainly added some humour and fun to our walk.