Fogo, Twillingate, Moreton's Harbour, All around the circle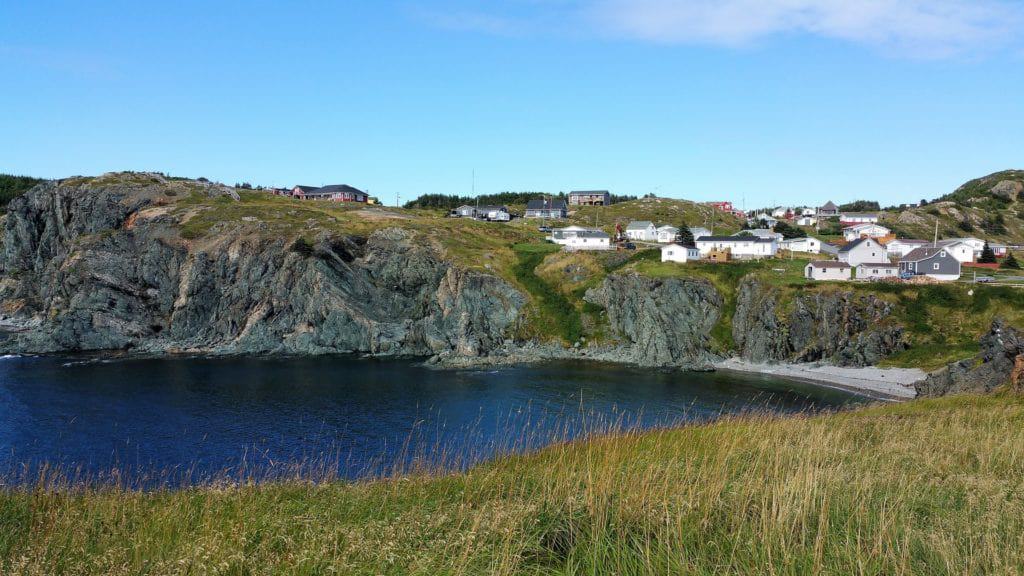 This note was originally going to be titled "Newfoundland: Music Everywhere" but I just realized that Mike and I have spent the last few days in Twillingate and are heading to Fogo Island tomorrow. This made me check the map for Moreton's Harbour which turns out to be quite close to where we are parked for the night. Of course all this only makes sense if you remember the song:
I'se The B'y that builds the boat and
I'se The B'y that sails her and
I'se The B'y that catches the fish and
Brings 'em home to Liza
Hip-yer-partner Sally Thibault
Hip-yer-partner Sally Brown
Fogo, Twillingate, Moreton's Harbour,
All around the circle
Before we leave for the ferry to Fogo Island tomorrow we will take the car and tour Moreton's Harbour. We can't skip it now.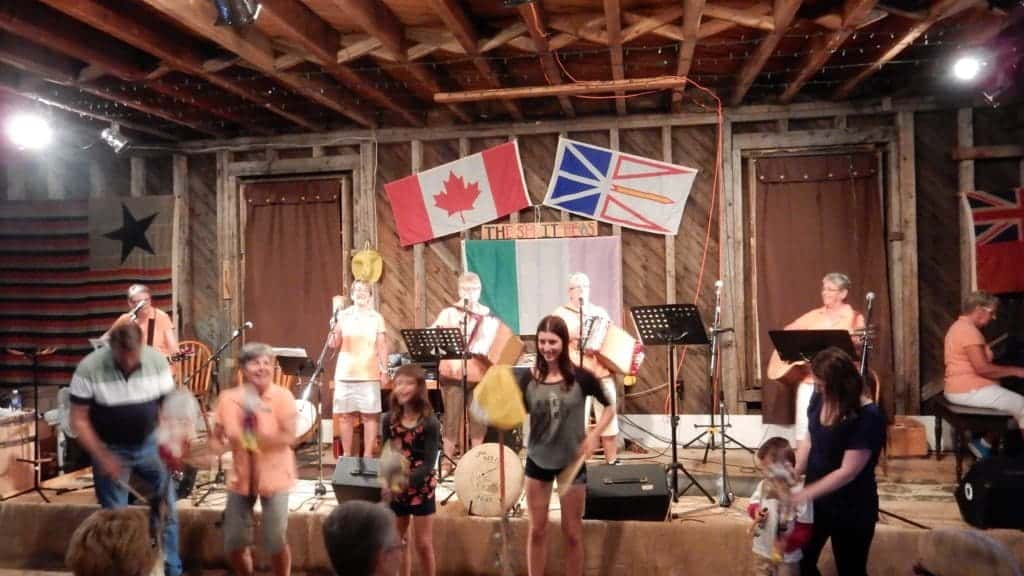 It has been great watching and listening to all the different musical acts in the various towns. We listened to a group in L'Anse aux Meadows while we ate dinner, we went to many different plays and music nights in Cow Head. In Grand Falls we saw a production of Abba music. In Twillingate we attended three very different Newfoundland music shows including pub entertainment and a dinner theatre. Twice a week seven women, now retired, put on a music show for July and August. We happened to catch their last show of the season. The show was great. The news that it was the last show of the season wasn't so good. This means that more and more of the music and theatre we have been watching will disappear as it becomes September and summer ends. The one term that we hear a lot from various musicians is "kitchen party" which is basically a get together at someone's home with everyone playing different instruments and singing together. I have heard from friends about this being quite common in Cape Breton, obviously it is very familiar in Newfoundland as well.
We spent a little more time in Grand Falls-Windsor than expected because we had a big problem with the tow hitch on the back of the RV. The tow hitch attaches the Lincoln to the RV and also carries the bicycles. It was basically tearing away from the RV and required fixing urgently before we lost the Lincoln (and maybe the back of the RV) while driving. Grand Falls-Windsor, with its population of less than 15,000, is one of the largest cities in Central Newfoundland and had the capability to fix the tow hitch. We arrived on a Friday evening and everything was closed for the weekend. We arranged to bring the RV to Exploits Welding and Machine Shop for 8am Monday morning to get the tow hitch welded back onto the RV. They told us that we could park on their property Sunday night and that way I wouldn't have to get up any earlier than was absolutely necessary. The people there were super. The owner owns the slightly smaller version of our RV and came aboard and really liked our extra space. The welding was excellent, the people very friendly and the price was better than we expected.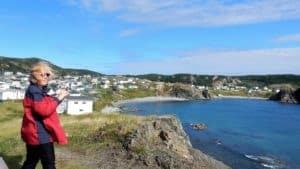 We stayed in a campground for the last three nights in Twillingate. It is the first campground we have been in for over a month. Hooked up to water and electricity we did non-stop laundry. We parked right next to the office so that we had good internet and could watch the nightly news. The campground wasn't as pretty as many of the spots on the water where we camp by ourselves but it did have other conveniences. The weather here is quite strange. Many mornings we wake up to the sound of rain. This last until about lunch and then often the sun comes out for a lovely afternoon. Three days in a row the temperature actually got above 70 in the afternoon but it has dropped back again.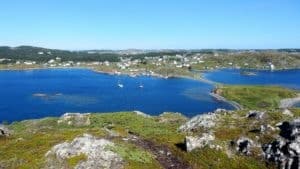 We were dry camping in Triton a few days ago (i.e. no campground) and met the Mayor and Deputy Mayor. We were walking down the road when they stopped to talk with us. The mayor knew instantly that we weren't from the area and had to be related to the RV that was pulled off to the side of the road about one km away from where we were talking. The mayor basically gave us carte blanche to park our RV anywhere in the town overnight. We told him that we had already met another traveling couple from St. John's Newfoundland and arranged to park near them just outside town otherwise we would have taken him up on his offer. People here are so very nice and it is really easy to pull over almost anywhere and park for the night.
We met a local paramedic who was telling us that his cottage, or cabin as they are called here, was 15 minutes from his home. I asked why he had the cabin and the house. Basically the cabin has no hydro and is where they go to get away (15 minutes away ). He used to live in Pickering. His wife and her parents ran two Quiznos in Pickering and Oshawa. He and his wife came home to Newfoundland. It is amazing how many people that we meet have worked 7 years in Brampton or 10 in Etobicoke or in Hamilton, Cambridge, Mississauga etc. I guess if you go back 20 or 30 years Ontario was where the jobs were like Alberta has been recently. Every family has someone in Alberta I think. It is interesting how many people worked for 5 – 10 years in Ontario and then came back to their home in Newfoundland. I will say that without Ontario I don't think Newfoundland tourism would exist as an industry. The tour boat workers told us that 60% of their passengers are from Ontario. At many of the music shows they ask where the audience is from and Ontario is by far the biggest source of tourists. You see lots of Ontario license plates on the road.
Mike and I have basically given up on this being a trip around eastern Canada and instead it will be a trip to Newfoundland and Labrador. The Maritimes will have to wait until we get back from Europe. We may have a bit of time there but Mike is already getting concerned that we won't have enough time to continue wandering around Newfoundland, specifically he wants to make sure that we have quite a bit of time to spend in the Avalon Peninsula near St. John's. I don't think this is a problem and certainly don't want to speed up yet. Today we made it 30 km down the road from Twillingate where we spent the last 4 nights. We aren't moving extremely quickly. If all these places didn't have such lovely walks and great scenery and great people we would probably move quicker.