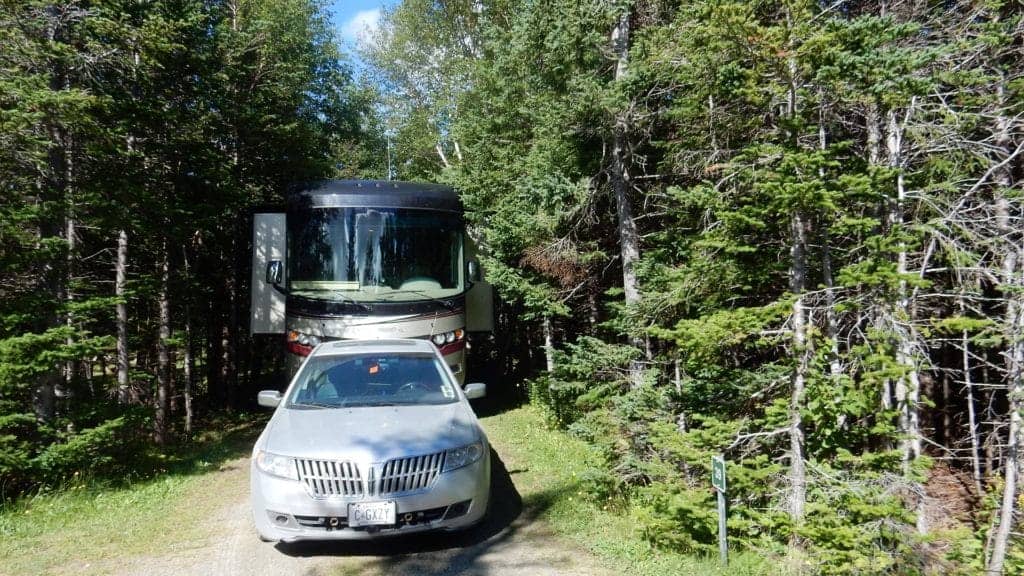 SUCCESS!  Exactly one month ago today (note: this was written a week ago) Mike diagnosed a problem in Labrador City with our RV camera switcher box.  One month later and the problem has been fixed.  Mike was correct in his original problem analysis.  In Labrador City he ordered the part he thought he required and had it shipped overnight to Goose Bay.  After waiting for one week in Goose Bay the parcel we had paid for overnight delivery arrived and the new part was defective.  At least the problem wasn't solved so we sort of hoped the new part was defective.  The manufacturer shipped us a second part and a few weeks later it arrived in Corner Brook.  On Monday we spent the day driving the car from Rocky Harbour to Corner Brook to pick up this part and then back to Rocky Harbour and Gros Morne.  Mike installed it this morning and Voila – it worked!  What a lot of time, effort and money for a $60 part that stopped working properly.  We did forget one major item while we were running around in Corner Brook picking up this part.  We forgot to look for a new bicycle for Mike.  We remembered that when we were almost back to Rocky Harbour.  Darn.
Rocky Harbour to Corner Brook is about a 90 minute drive in good weather.  We talked to some folks that told us they drive to Corner Brook once a month to do their main grocery shopping and for fresh produce.  Val and Ruby in Goose Bay told us that they go to St. John's once or twice a year for a major shopping trip to places like Costco.
The population of the small fishing villages that we have been visiting have been shrinking.  We were told that if your father isn't a fisherman then you have to work on someone else's boat for at least 5 years before you can get your own license to commercially fish.  We spoke with one retired fisherman at length.  He told us about his son who works on a large foreign fishing factory boat that is actually the fishing boat and processing plant in one.  This fisherman actually thought/admitted that the final product was better when the fish came from one of these large factory ships than from the small local fishermen.  He was convinced that when fish are processed and frozen as soon as they come out of the water they are much better than fish that are caught, kept on ice, brought to shore and processed days later.  Most people work on board these factory ships for one run which is about one or two months.  His son would work for multiple runs and be away from home for much of a five month period.  He would earn about $200,000 and, thanks to new unemployment rules, apparently be able to claim unemployment insurance for the next 7 months.  We were told that this wouldn't have been possible under the old rules.  It doesn't sound like it should be possible under any rules.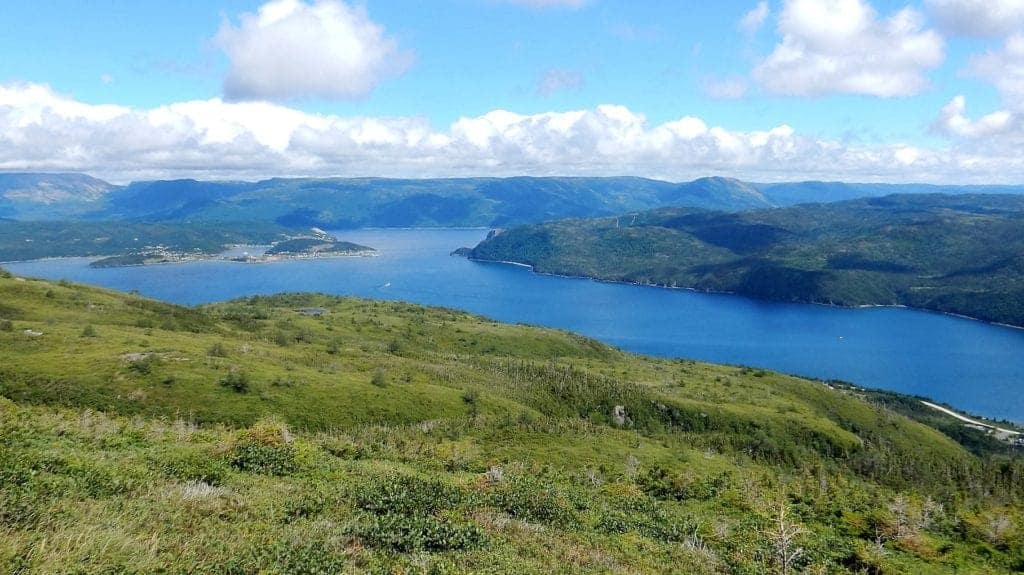 We talked with another fisherman who said that his season was over now.  He fished for crab in May, lobster in May and June and cod in July.  The rest of the time he occasionally fished for mackerel for bait for next year.  We met him as he was going jet skiing with his son and daughter.  He told us that he had worked in Brampton for seven years but he came back because he "doesn't want to live anywhere else".  It is amazing how many Newfoundlanders that we have met have worked in Ontario and other parts of Canada at some time in their lives.  They all seem to love their home of Newfoundland and return when they can.
Mike and I are working hard to remember the word "tuckamore" as it refers to a lot of the vegetation that we see.  Tuckamore are the stunted evergreen trees that grow on the coast of Newfoundland.  They exist in spite of really strong ocean winds and really short growing seasons.  There are forests of tuckamore trees that we often encounter in our walks.  We saw an "official" description of Newfoundland's climate recently.  It said "climatically there are short cool summers and long cold winters".  That pretty well describes Newfoundland.
Canada Parks has a contest on the go where, in their national parks you have to find and photograph yourself sitting in chairs that are "hidden" in plain view in the parks.  For example, in Gros Morne there are 17 sets of the red muskoka chairs with a special designation on them indicating Parks Canada and their location.  The idea is that you take a picture of yourself in all 17 sets of chairs in Gros Morne and submit the photos to Parks Canada and you get entered in some contest.  I have no idea what the prize was.  These chairs were on various hikes and at different tourist spots.  I wish that we had known about this from the beginning.  We saw quite a few of them and it would have been fun to have joined in the competition.
Mike just drank some Iceberg Beer.  The label says that the beer is made with pure 20,000 year old iceberg water.
There are a lot of small cemeteries in these fishing villages.  They all look so colorful with lots of bright flowers.  It was a while before I realized that the flowers could not possibly be real in the climate here and they must all be artificial.  It didn't matter; they make the cemeteries look very nice and cared for.
I just read that according to a Maclean Magazine survey the sexiest people in Canada are from this province.  I don't know about sexiest but they would win friendliest hands down.  According to Stats Canada they are also the most giving people in Canada.  Yet another source has them as the funniest people in Canada.  Based on the number of Canadian comedians and TV hosts coming from here that could be true.