Cow Head: "Tete de Vache"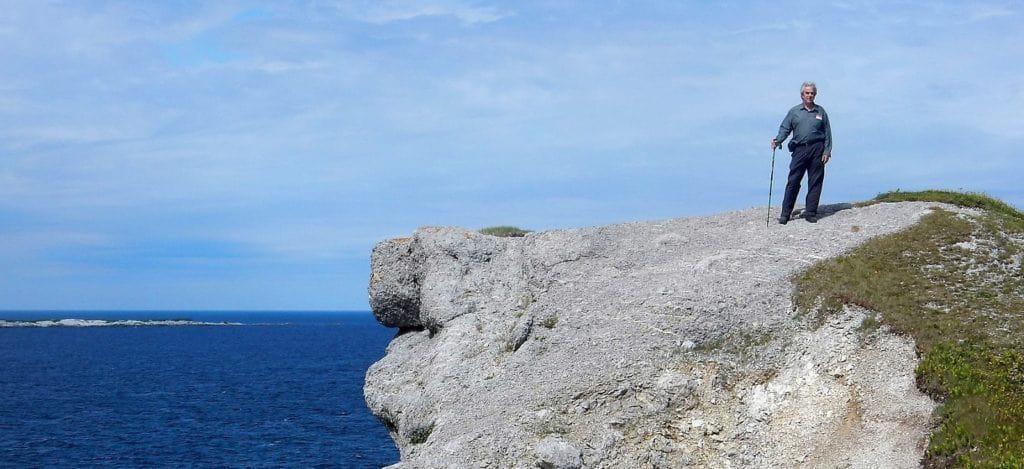 Nowhere in Newfoundland and Labrador have we seen houses and decorations in the somewhat dull earth tones that we see in Southern Ontario. The houses are either crisp, clean and white or solid colours. They aren't typically the pastel colours of the Caribbean but rather solid reds and blues and greens. Cow Head used colours everywhere. Below are a few pictures of various picnic sites, outhouses, sheds and homes.

This coast area was called the French Shore in the 1700s and 1800s. In the British and French days the French had the rights to catch fish along the Northern coast but they weren't allowed to actually build communities on shore. The community was first named Cap Pointe by Jacques Cartier. Later it was called "Tete de Vache" ("head of cow") by French fishermen because of a large rock that looked like a cow's head when viewed from the sea.
We spent some extra time in Cow Head as it is the centre of the Gros Morne Theatre Festival. We saw three plays and two musical evenings. Two of the plays were about Newfoundland history which we found very interesting. The first one was about a Newfoundland nurse in France during WW I. It was written based on letters a nurse had sent back to Newfoundland from France. It was extraordinarily well done. The other one was about the days before the referendum on whether or not Newfoundland would join Canada. There was a fictional family divided on the issue. It was really interesting. I am going to do a separate post when I complete my research about this period in Newfoundland history. Mike and I find it quite fascinating. There are very few countries in the world that voluntarily gave up their independence. The Dominion of Newfoundland was one.
We were driving down a side road to get to a hike to a salmon ladder. Near the start of this gravel road was a maximum height sign. In an RV maximum height is critical knowledge. Mike backed up (tricky with car in tow) so that I could read the sign. We didn't understand why they put it up when we read 7.5m. That is well over 20 feet and doesn't require any signage. A little while later, at another overhead wire, we saw a sign that said 6.8m. All of a sudden we realized that the sign wasn't the maximum height on the road it was the height of the overhead wire it was beside. The next sign said 5.5m. Now we were getting worried. 5.5m is more than enough room, we need just over 4m but the heights were getting smaller and smaller. What happens if we come to a sign that says 3.5m, or worse yet, if the sign has fallen down. The next sign said 6.2m. As it turns out we never had a problem but it was the most unusual, somewhat scary, signage that we had seen.