Newfoundland: Walking Again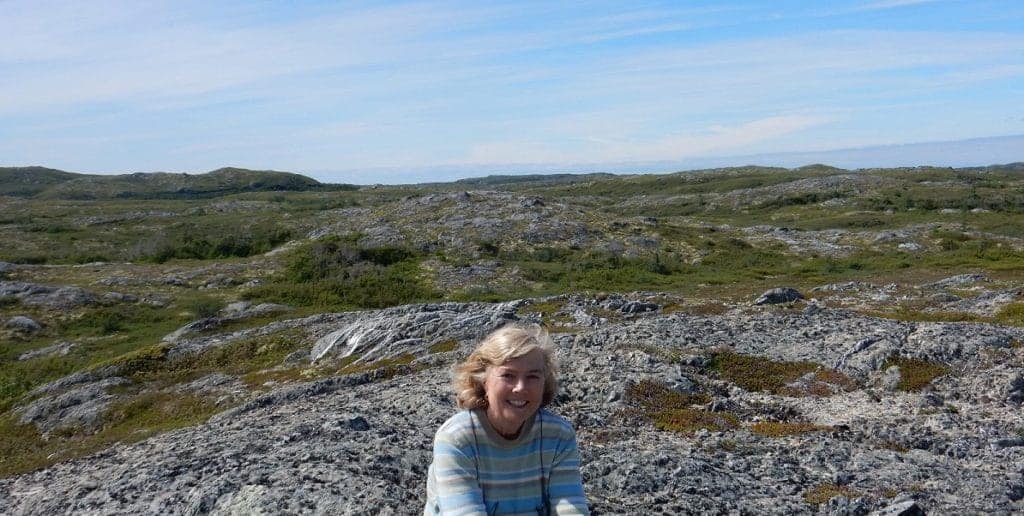 We have spent the last day and a half around St. Anthony in the Northern Peninsula of Newfoundland and we are having a great time. The weather might not be everyone's cup of tea but Mike and I love it. Both yesterday and today it has been bright and sunny, cool and brisk at about 15C or 58F. There were NO bugs and we walked across hills, along the tops of cliffs and all around various coast lines. The views are spectacular and this type of walking is great fun. The various walks have been largely deserted which makes you feel like you are the only people in this part of the world. We did run into one couple near the end of a walk today and wouldn't you know it, the only people we saw and the gentleman was someone Mike worked with at Ontario Hydro. What a small world. Bob and Flora were driving around Newfoundland choosing their destinations a day ahead of time and then booking a room for the next night. This sounds like Mike and I before the RV. Now we carry our house with us and that works so well.
Today we drove around in the car. There are definitely pros and cons to driving around in the car versus the RV towing the car. The biggest difference in this part of the world, is that driving the car you aren't afraid to go down any of the roads. I don't know how many times today Mike said "I think we just ran out of road". Sometimes the road ended in someone's driveway, other times it ended where a nice walk started and other times it just got smaller and smaller and petered out. In the car that was fine because we could turn around without any problem. In the RV towing a car you have to be very careful. In most cases you can't turn around if the road isn't a loop. When we look at the map and see a single road that goes to a village or towards the water it is a big decision as to whether or not we try and drive down it and it is sometimes an uncomfortable feeling. On the other hand, having my coffee maker, snacks, washroom, change of clothes and much more with us at all times when travelling in the RV is just fabulous. Being able to sit in a chair and relax after a long walk before driving on is great.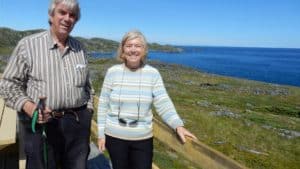 As you can tell Mike and I have finally started walking again on this vacation. I had assumed that we would do a lot of walking from day 1 but it hasn't happened. Mike and I track our daily steps and it turns out that we actually walked less in our first month of this trip than we have ever done since we started tracking. I am hoping this is now turning around. I am afraid that with only one bicycle we won't start our bike riding which has also not been happening. It will be a while before we get anywhere to replace the bike.
If you have looked at the photo gallery you might have seen a strange photo entitled Ferry RV Clearance. The highest point on the RV roof is the antenna. We went in very slowly hoping that we could trust the ferry people who said we would fit. It is the tightest we have ever been and the antenna did hit the roof multiple times. It was disconcerting to say the least. Mike climbed to the top of the RV when we were inside to see how much clearance we had. It wasn't much given ramps to get off the boat and all.
I forgot to mention one other episode that happened right at the very beginning of this trip and that you might get a chuckle out of. We were still on the street we live on, driving away from home, when we heard a big bang inside the RV. We looked around and couldn't figure out what it was and continued on. That first night I found out what had caused the noise. I had gone somewhat overboard on the amount of clothes that I brought, on purpose, and my entire clothes rack in the closet had pulled out of the ceiling and fallen down. I wanted to test how much I could nicely store, what I used and what I might need for a longer stay in Europe. I hadn't intended on testing the strength of the closet! The first night in the RV and Mike was working on putting back up the closet. Today he was fixing bolts on the generator. It seems that he often has things to do to keep the RV running as smoothly as it always appears to. I couldn't even consider a trip like this without Mike and his fix anything capabilities.
For those keeping track, Wednesday morning we will be heading towards L'Anse aux Meadows and the original Viking settlements in North America. It isn't very far from here but it could easily take a couple of days to get there if we decide to stop and walk in many of the fishing villages that we encouter. Let me wrap this up by giving you the names of some of the places we have seen in the last two days. Deadman's Cove, Nameless Cove, Savage Cove, Flower's Cove, Bear Cove, Bird Cove, Pigeon Cove, Goose Cove and more. 🙂