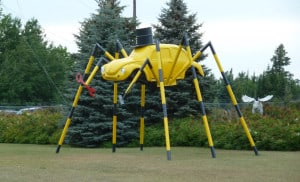 Our first week is over, eleven to go.  We gave up on our plan to keep following Hwy 11 to the end.  We got close but we wanted to see Dryden and Kenora.  We are spending tonight just outside of Kenora.  What a lovely town and area.  Much of the area is built on islands so water and boats are everywhere.  The campsites in northern Ontario have been great.  The picture at the top is where we are spending tonight.  We have a really nice eating area, a hammock and what you can't see is the river right behind the seating area and hammock. The picture of the yellow spider was taken just outside of Kenora.  See if you can figure out why Mike thought it was worth taking.  Click on it to see it full screen.
Mike and I live in a fairly large house and our bathroom is close to the size of this motorhome.  We love large rooms and lots of space but we are unexpectedly  fine with the motorhome.  Only one of us uses the bathroom at a time.  Right now Mike is watching a movie on TV, I am sitting at the table with my computer and second monitor set up.  I can also see the television.  Mike and I don't cook much so we don't need a large kitchen. That said our kitchen has a small oven, three element gas stove and a double sink.  Our barbeque is used most of all.  The main room of course is our living room and it is plenty big for the two of us.  Somehow, although I love my great room and large bedroom and bathroom at home this is just fine for three months.  I can actually see taking this motorhome to Europe and travelling for a year or two.  I would like a bedroom with a little more space but we have a full size queen bed which is probably the most important thing with a 6 foot tall husband.  Motorhomes are known to advertise queen size beds which, in reality, are six inches shorter than a normal queen.

We really do love  travelling down the road in our motorhome.  Mike actually finds the driving relaxing, which I don't really understand but I am glad it is true.  If I decide that I want a cup of coffee I push the button in front of my seat that turns on the generator.  Mike just keeps driving.  I walk to the back, make my coffee, possibly sit in my lounging chair, with seatbelts of course, and then eventually make it back to my seat at the front.  If I want I can set up a computer desk, including my large monitor, at my passenger seat to pass the time when Mike is driving.  It is a great way to travel.  If we decide to stop and go for a walk we always have cold water to take with us and hot coffee when we get back.  We have a place to rest when we want.  We have rented motorhomes all over the world.  They are great when your vacation involves moving around a lot or seeing places like New Zealand or the Baltic States which have more outstanding scenery than they do very large cities.  In places like Vienna or Paris staying right downtown has big advantages.  Different choices for different places.  I can't think of a nicer way to spend three months traversing the US and Canada.