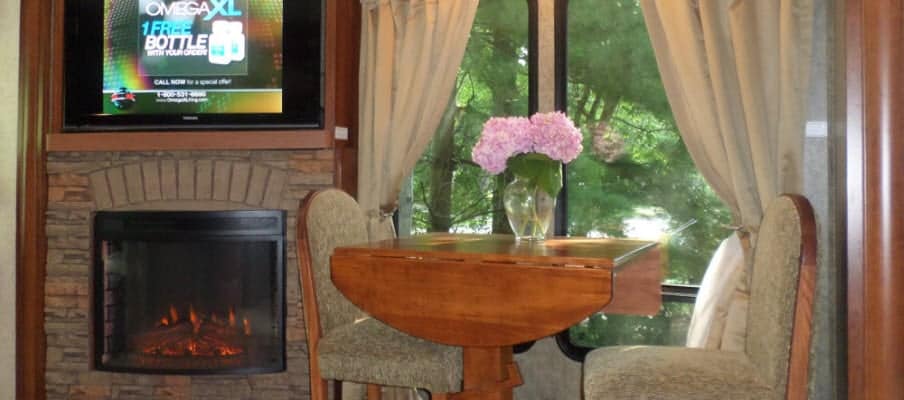 Day 01  Saturday August 2
We did it!  We have started our trip.  A few minor problems hooking up the car.  I assume that once we have done this a couple of times it should go very quickly.  My design point is less than five minutes to hook up the car and two to three minutes to unhook it.  We will see if we can get there.  Mike wanted to get a very long way from Toronto before we started really slowing down.  His theory is that we can see the areas within a few hundred or even a thousand miles of Toronto on a future trip much shorter than three months.  That was basically the reason we decided not to go to Eastern Canada.  I would love to spend some time in Quebec, the Maritimes and Newfoundland.  Once we spent three weeks bed and breakfasting around the island of Newfoundland and we could easily spend more time there.  That will be a future trip.
My mother and sister were a little teary eyed when we left.  I think they will both miss their technical support as much as the company.  We drove down the road and I didn't feel anything special, not excited to be beginning three months away, nothing.  It was like we were taking the RV out for the afternoon or maybe overnight.  It hasn't really hit me yet that I won't see my home or the rest of my family until November and it will be December before we see Charleigh again.
An hour from home and we are in a major rain storm.  According to the radio Southern Ontario is under a severe weather warning.  We have seen cars and a poor motorcyclist with no visor pulled off to the side of the road.  We have decided to head northwest.  Our basic plan, largely due to weather, is to head west across Canada and come home east across the US.  Southern US has much nicer weather in October than Canada often does.  We are heading up towards Manitoulin Island which we haven't seen  in years.  It is lovely and requires a ferry from Tobermory to get there.
I have been writing this while we were driving on our first day.  Change of plans.   The ferry is in excess of $300, you need a reservation and it is a major long weekend in Canada.  Too many factors that could cause problems.  The ferry is at the top of a very long penisula and quite far out of the way if it doesn't work.  Instead we will go around the lake and stop in Sudbury and try and see a friend of Mikes whom we haven't seen in years.  Of course, if we had actually planned anything before we left home we could have found a much shorter route to get north of the Great Lakes than what we have ended up taking, always assuming that we don't change plans again.  🙂
Thanks to our route change, back roads, and slower speeds than normal it looks like we will be spending the night in a tourist town that is probably less than two hours from home.  So much for Mike wanting to race far away.  Because it is a long weekend and we are within easy driving distance of Toronto most of the campgrounds are filled up.  I walked into one  campground that didn't look great.  Then they told me that it would be $60 for the night for a spot very awkward to get into.  I wasn't keen but we do need to empty our sewage soon.  The owner suggested that we might want to spend the night at the Walmart almost right across the street.  We could come to the campground in the morning if we wanted and dump our sewage etc. for $20.  So for the first night of our trip we went to Walmart in Wasaga Beach.  Actually it worked out quite well.  We pulled into the very back area which was empty.  We opened our sliders and pulled our blinds down.  Then we went out to eat.  The same parking lot was also the parking for Swiss Chalet, Boston Pizza, Harveys and more.  We walked over to a restaurant and had dinner.  By the time we came out two more large motorhomes had pulled in behind us.  Later that night about three more pulled into the opposite side of the parking lot.  Walmart's does well from this.  Between the evening and the following morning we shopped in Walmart three times.  One of the items that we bought was thick white cardboard so that we could put a sign in the back window of the car reading something like "Be Patient.  Pushing a big load".
Well we didn't get far but we are on our way and we spent the evening sorting out most of the boxes and plastic bags filled with things that we ended up throwing in at the last minute.  I am missing a few items that I am sure I packed.  Hopefully I just haven't found one more hidden bag.
Maybe we will get out of southern Ontario on Sunday, but maybe not.  You can't be behind schedule when you don't have one which is very nice.