Narva & Tartu, Estonia Day 9-10

General Notes:
I thought that I would start this time with some overall impressions so far.  The first thing that we notice is the age and the history in this part of the world.  To go along with that you see an awful lot of buildings that are old and run down.  Some, largely from the Soviet era, are abandoned.  You also see lots of buildings that have been restored and they look lovely.  The colours for the restored buildings are often pastels such as yellow, pink, pale green all with white trim.  These are colours that you think about more in Bermuda or the Caribbean than you do in the north.  The first thing that everyone seems to restore is their town square.  Many churches appear to be partially restored, more on the outside than the inside.  Everywhere seems really clean.  There is very little graffiti on the walls.
Estonia's population is less than 1.3 million.  It is declining year over year based on emigration which isn't good for the country at all.  The north and western parts of the country have almost no agriculture although we saw a little more today coming down the center.  Between no people and no farms there are lots of lovely forests.  We travelled through mainly pine for the first few days.  It looked like our backyard in Stouffville except that there was almost no underbrush in much of the forest.  I think that millions of tiny elves come out each night to clear all the underbrush away.  The forests look more like parks in many places.  In fact all the towns seem to invest in parks and walkways, they are quite lovely.  We have seen quite a few skateboard or bicycle parks with lots of ramps that they kids seem really good on.  On that note, normal biking is very common.  We often see fathers and a small child biking together in the old cities.  As an added note to this paragraph, we travelled through Latvia today, at least they have a reasonable amount of agriculture.  For round numbers Lithuania has approx. 3 million people, Latvia 2 million and Estonia 1 million and all are declining.  That has to be a huge problem.
The countries are all quite flat with no mountains and not many hills.  From what we can tell the flora and fauna are very similar to what we have at home.  This may be because of the climate similarities.  In the museums you see the same deer and bears and squirrels etc. that we have. The roads so far are in quite good shape.  The weather has been excellent.  Other than the day that we picked up the RV temperatures during the day have ranged between about 18 and 22 with blue, cloudless skies.
Day 9 – Narva, Estonia   Saturday Sept 7
Well the day didn't start quite as expected.  We drove into the old town of Narva and parked at what appeared to be the Russian border crossing right next to Narva's castle and fort.  We got out of the RV and found out that we were badly leaking oil, not good.  We decided to try and find a garage but we had forgotten it was Saturday.  Narva is very Russian and there is a lot less English here.  I had the Estonian dictionary loaded on my cell phone.  I keyed in the phrase "Can you please help fix an oil leak".  The entire screen filled with the Estonia phrase with letters about 2" high.  I showed that screen to the various mechanics.  The first problem was that the mechanics only spoke Russian not Estonian.  I had only downloaded the Estonian dictionary and I needed to be online to get the Russian.  Back in the RV I had that extra phone that we bought when Charleigh went to France.  We buy a SIM card for it in each country and use it as a hotspot to allow all our devices to attach to the internet wherever we are.  I got on the internet, accessed the Russian translation and faces lit up.  One mechanic then tried to key his response into my phone for translation to English, only to realize that I didn't have a Russian keyboard and he couldn't enter any words.  We did figure out that the answer to our question was NO everywhere.  It was Saturday and the service depots were all basically closed.  We also figured out that some of the Russians spoke a little bit of English but wouldn't try and use it until after we had made the effort to communicate in Russian.  At one point we returned to town with a plan to just keep adding oil until Monday.  In Narva's tourist information booth the girl there told us about some more garages that might still be open so we left for a second time.  This time, at the third stop we found someone.  After trying to communicate with about 6 different people at this installation they located someone who had some English.  We later discovered that he was the eldest son and this was a family business.  The mechanics here were great.  They jacked up the vehicle, looked underneath but the darn leak had stopped.  Luckily they could tell that it had been leaking by the oil on the engine.  In the end they couldn't do anything because it wasn't leaking at that point in time.  They did some tests and eliminated some areas that had been causes for concern.  They spent a long time checking the actual model of the engine so that they could put in only the manufacture approved oil – Mike was ready to take anything.  We waited while they drove to another garage of theirs to get the oil.  It was actually very interesting.  While we were waiting the eldest son introduced us to some of his very happy university friends that had dropped by.  He had a Russian father, Latvian mother and was born in Estonia.  I think the Estonians would have considered him Russian.  At the end I got my phone to not only translate "Thank you very much" into Russian but to also speak it in Russian.  He thought that was great.  Since then the oil leak has been intermittent.  What did happen for the next 24 hours was that the engine would lose power and almost stall while driving down the main road.  Every time it did that my heart was in my mouth.  That didn't happen today and we are keeping a close check on the oil levels so hopefully things will be fine.  Although this sounds like a waste of 4 hours it really wasn't.  Talking to these people (when we could), seeing how Russian everything was, was all very interesting.
We did eventually get back to Narva for the third time that day.  At lunch, here I was a Canadian, eating a Turkish lunch in a Russian restaurant in a Russian town in the country of Estonia, multi-cultural enough for you?  Mike ordered what he thought was a chicken salad.  He got a plate of French fries covered in mushrooms and chicken and a very thick cream sauce, not a piece of green to be seen.  He said it was actually  quite tasty even if unexpected.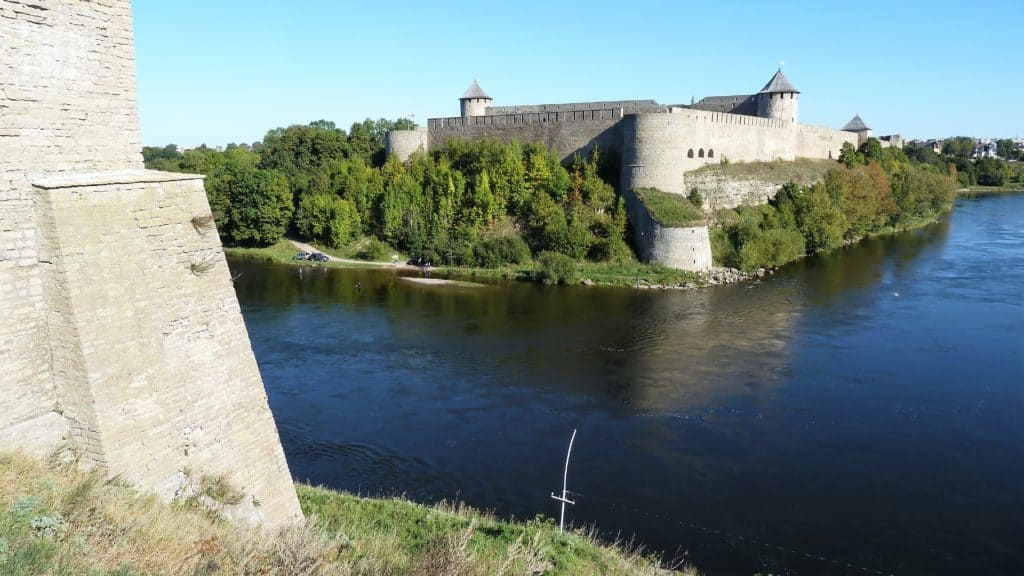 Besides the castle one of the items to see in Narva was the Swedish lion.  It was dedicated to the Swedish king who defeated the Russians for Narva back in 1700.  I saw a picture of the lion and it looked like a good sized statue.  Well we couldn't find it.  It turns out that almost next to us in this park was a column and on the top of the column was a really small lion, nothing like what we had been looking for.  From this column you had a good look at both the small Estonian fort directly across the little river from the large Russian fort.  Wedding pictures were being taken at this "scenic" look out.  Mike says that the camera was pointed at the Estonian fort.  Later on outside of town we saw wedding photos being taken next to a monument of a wartime tank.  Mike says it was the same wedding party.  Weddings look very similar to those at home although I didn't notice any group of bridesmaids and groomsmen.  The bride was in a lovely white dress and veil.  Everyone, including some little girls where really nicely dressed, the stretch limo was white, the cars all had balloons and flowers on them, overall very similar to Canada.  Actually it was fun to watch the poor bride and try and get herself and her wedding gown into the back of the limo – she had the same problems that you see everywhere.
At one point we saw this statue that Mike thought might be Lenin because of the way it was posed.  I took a picture with my smartphone.  I have an app on my phone that will sometimes let me say "here is a picture, what is it?".  Well I didn't even need to do that.  A few minutes after taking the picture I happened to look at my phone and it said that I had just taken a picture (it showed which one) of Lenin and that it was a landmark in Narva, Estonia.  You have to just love technology when it works.
Mike thought it looked dangerous seeing people in big chest high waders fishing on both the Russian and Estonian sides of the fast flowing river.  I was more interested in what would happen if they ended up falling and getting swept to the other side?  Besides driving across the border crossing you could walk across the bridge between the two countries.  You do need a visa to get into Russian so Mike and I couldn't go over.  I must admit that I was fascinated looking across this small river, not much more than a moat, at Russia.  Can we now say that we have "seen Russia"?  J
Day 10  –  Tartu & Cēsis, Estonia  Sunday Sept 8
We left Narva late Saturday afternoon heading towards the university town of Tartu.  It was after 7pm when we got to Tartu but I wanted to have a quick look at the old town at night time.  The town was buzzing.  There was only one main square but it had outdoor cafes and restaurants everywhere.  We ate a lovely chicken pasta dinner in one of the restaurants (inside of course).  It was nice wandering around in the evening but we hadn't arranged a campground yet.  We don't actually need to have a campground every night so we weren't really worried.  Having electricity and internet access provided is nice and every few days we need to clean out our tanks and refill the water.  This time we went back about 7 km the way we had come to another lovely spa hotel.  When I woke up Sunday morning I looked out my window to see two swans floating around the miniature lake.  Well it turns out that they weren't real swans but they sure looked like it.  It turns out they were anchored and floated and turned around very slowly.  It was actually quite pretty.  I wanted to take a picture of the area but although the day was predicted 22 and cloudless the early morning was actually quite foggy.
When we got back into town we couldn't believe that it was the same place from the night before.  It was almost 11:30 in the morning and the streets were deserted.  I think the entire town was made up of "Charleighs" and where still in bed.  When we left sometime after 2pm we saw more university aged students starting to get out and about.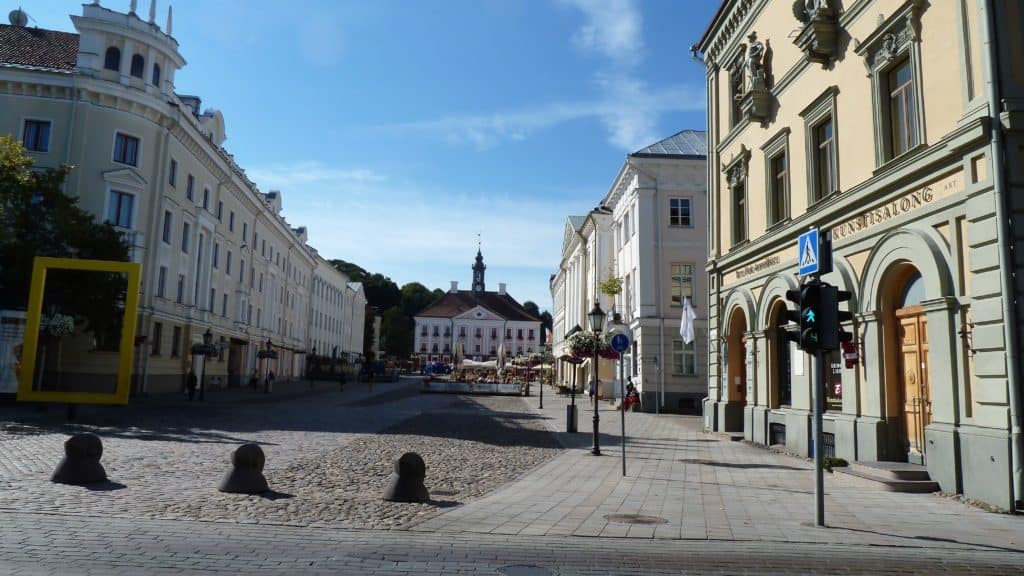 The first thing that we noticed in the main town square was a large number of blue railway box cars.  They all had a student's name on them.  The insides were all different – some were pictures, some were clothes, one was a bunch of logs.  Some had black curtain entrances, others had music coming from them.  We had no idea what it was all about.  It was related to the theatre festival Draama 2013 and its them of "The Magic of Space".  And now you know as much, or as little, as we do.
We watched a dancing exhibition in the park for a while.  We saw two girls and two boys about 12 years old perform a few Latin dances and one 50s jive.  They were outstanding.  It was interesting that the girls were dressed up in the outfits of much older woman like they do for these shows, with all the sexy moves that go with those clothes and music but they had very, very little make-up on.  In Canada the girls would have been covered in eye make-up and more to match the outfits.  I couldn't get over how good they were.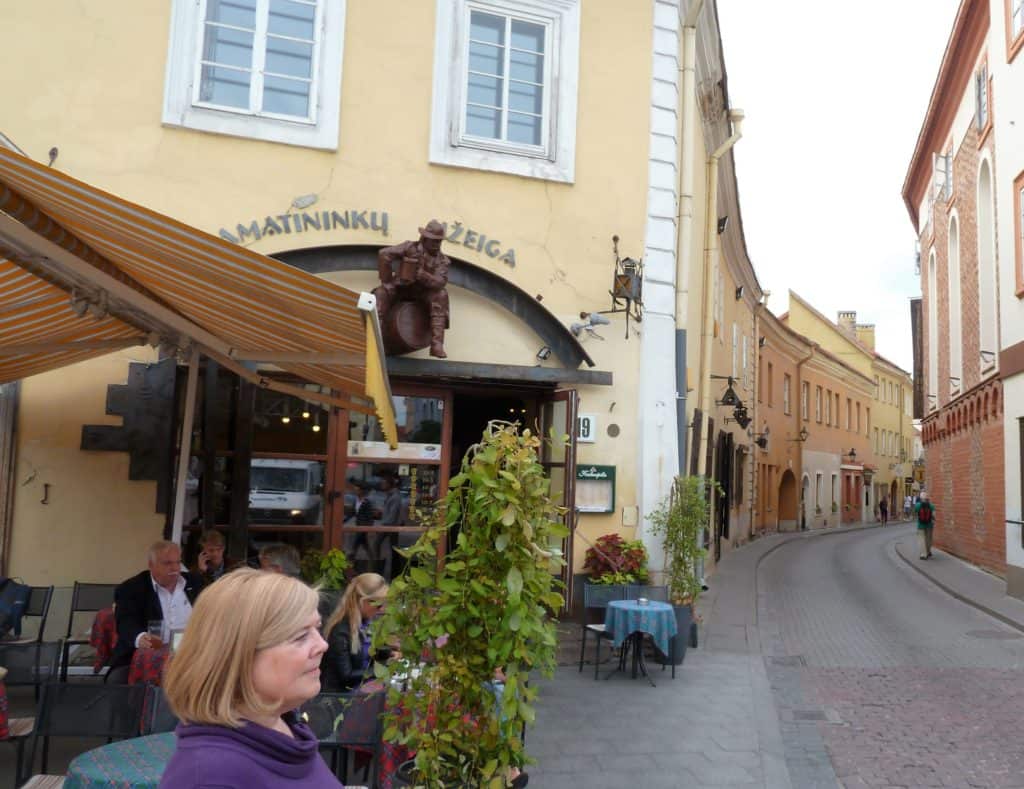 We gave all the history museums in Tartu a pass but we did want to go to two rather unique museums.  One was a toy museum and the other a KGB cell museum in an old KGB building.  The KGB one was closed on Sunday but the toy one was open.  Jan, they had pictures all over the place that could have been you and I with our dresses and big bows in our hair when we were kids.  The toys just pointed out how much the same kids are the world over.  There were homemade stilts and doll houses and stuffed dolls.  Mike got a kick out of some of the mobile wooden toys.  They had a few areas where the kids could play hands on with the games.  They were loving it.  In one corner a father and son were playing checkers.  This museum and its toys would have looked completely at home in Toronto.  Attached to the museum was a second marionette and puppet museum that was quite interesting.  Watching the children enjoy it was almost the best part.
We saw the old university.  We had a look just inside the front door.  The outside was much more impressive than the inside, at least than the part we saw.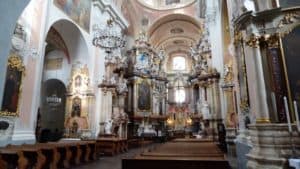 We continued driving to a town called Cēsis that was supposed to have had a lot of money spent on restoration.  It was nice but no better than any of the other towns.  We have stopped for the night at a campground by a river.  We wandered down the river, supposedly there are quite a few beavers but we didn't see any.  This time there were a few other people around.  There were four university aged kids playing beach volleyball for ages.  I think they were from Germany.  There was wood already cut up if you wanted to make your own fire and sit next to it.  I think that all our campgrounds so far have been next to water – rivers, lakes, or the Baltic Sea.
Again, more than enough for now.  At least I have caught up.  Tomorrow we are first off to an extreme sports town and then on to Vilnius, the capital of Lithuania.