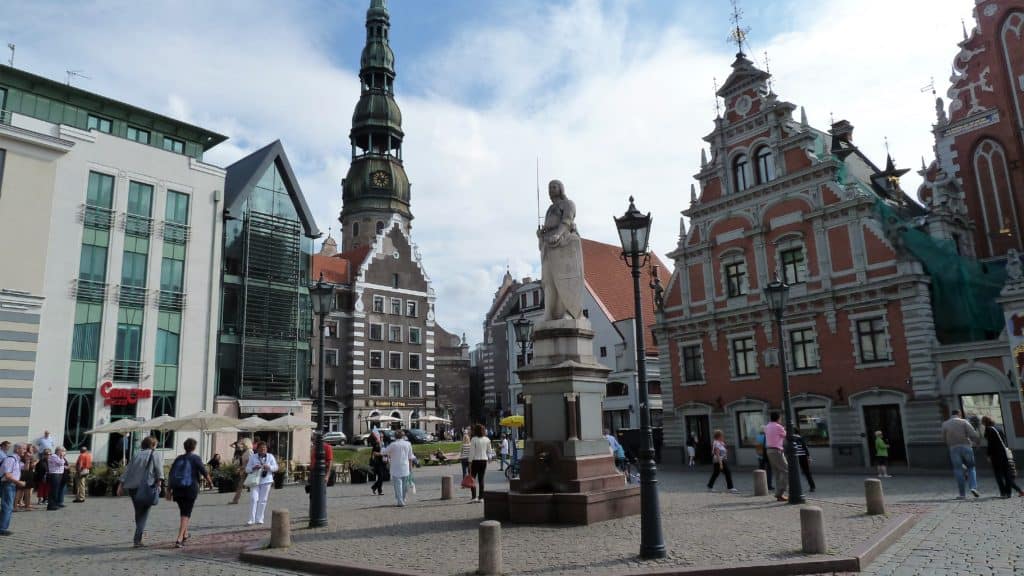 Hi everyone,  Here is the beginning of our Baltic Journal emails.
Day 0/1
Between work and the new RV this was probably the worst Mike and I have ever been at getting ready for a trip.  We were due to leave Thursday afternoon.  Thursday morning I had my suitcase in the living room.  I would do some office work, then leave my desk for 5 minutes to throw another couple of items into the suitcase and then go back to work.  Since we were renting an RV I wanted to pack items such as our Expresso maker that works on gas instead of electricity and my little Bodin coffee maker/plunger.  I forgot my battery charged foam maker for my cappucino's.  Things were a little hectic, at 3pm when we were supposed to leave Mike still wasn't home.  It was a race to the airport and of course traffic was bad.  I wasn't worried about us making the plane but I was getting concerned about our checked luggage.  Everything we had was in our 1 piece of luggage.  Priority status really helped.  The lady at the check-in counter didn't want to look at passports or anything until she got the luggage tagged and moving because the timing was so tight.  As luck would have it, from the plane window Mike saw our suitcase being loaded so that was a relief.  I also found out at the check-in counter that I would be moved up to Row 2 – first class, and Mike would be at the back.  It had cost a little more to buy a ticket that was upgradeable and took a lot of my upgrade coupons.  I had given Mike the option when we bought the tickets but since he sleeps the entire flight he said it wasn't worthwhile.  Since I don't close my eyes the entire flight it was very worthwhile!  We got to security and there was a huge line-up but again the priority line was very short.  It was the start of a very busy weekend for the airport as everyone comes back for school.  The next day, Friday, was going to be the worst for them but it had already started.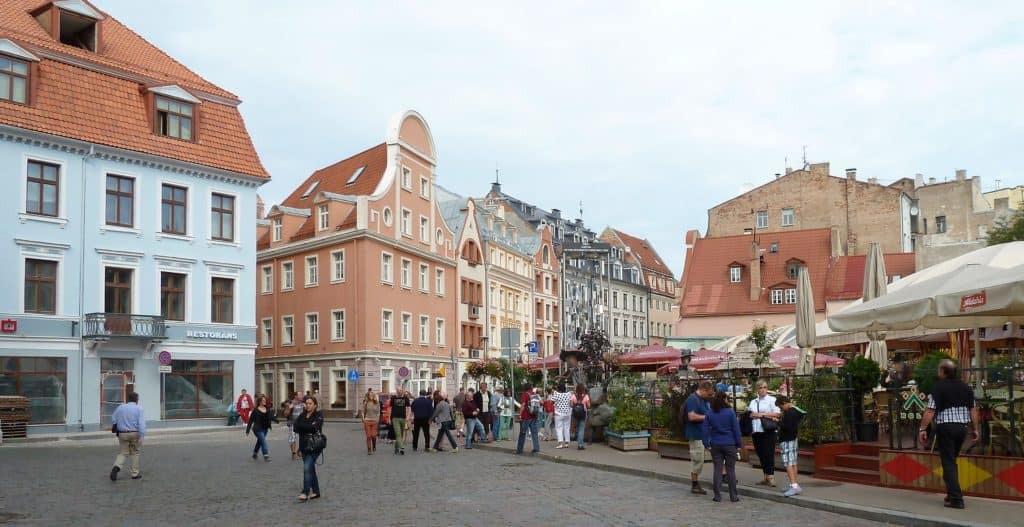 Everything went smoothly for the rest of the flights until we almost arrived at our hotel.  My booking confirmation included the hotel address and a small map.  I gave that to the taxi driver.  We had prepaid for the taxi at the airport.  The taxi driver looked a little uncertain at the address but he seemed quite nice.  He took us into town and said that the hotel was just down the street (he pointed about 4 doors down) but he said he couldn't get any closer because it was a pedestrian area.  We got out and walked down to where he had pointed and found out that we weren't even on the right street.  After looking at maps, going into hotels to ask for directions and have a pedestrian stop and ask if he could help us we arrived at our hotel more than 20 minutes later.  The taxi driver hadn't dropped us next to the hotel at all.  Dragging 3 suitcases (2 were our carry-ons), on wheels, over cobblestone streets, not in the most direct route was not easy.  I think that without dragging luggage over cobblestones and knowing where you were going it might not have been too long a walk but for us it seemed almost forever.  Needless to say it didn't make for a great arrival.
Once we got to the hotel we checked into our "junior suite".  I had upgraded the room as well as my airfare.  There has to be some advantage to being the one doing all the planning and work.  The room is very interesting.  It is on the 5th/top floor .   It is just under the roof so the room has sloping ceilings.  They look very nice but Mike has to duck past one to walk around his side of the bed.  I can just imagine cracking my head getting up at 4am!  The room has three nice windows on two sides.  The problem is that the windows start at about my eye level.  I have a nice view straight out and up.  Actually the buildings around us have nice roof lines but I can't see down to the street, Mike can.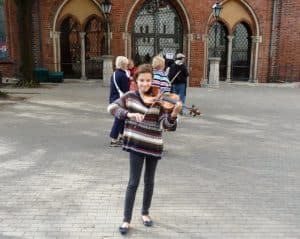 We went straight to bed for a few hours and then got up to wander and have some dinner.  What a great area we are in.  I picked a hotel right in the centre of old, historic Riga.  The first street musician we saw was a young girl playing the violin.  A few blocks further we saw another violin player.  We came to a square and heard someone singing Evita with a bit of an accent.  One of the restaurants in the square had a small stage and speakers that broadcast around the square.  A few doors down was a restaurant with a small trio dressed in traditional outfits playing Latvian music.  They were somewhat over powered by Evita.  I can't believe how much English there is here.  Our dinner menu was in 4 languages.  Some of the translations were a little funny.  I don't expect as much English once we get outside of Riga but we will see.  I don't mean to leave the impression that everyone speaks English, but a lot have enough for us to get by.
After dinner we walked.  Now old Riga isn't very big and we walked through many squares filled with music and restaurants.  I think they also have street vendors during the day.  A few of the squares had more than one group broadcasting their music.  Unbelievably the music was all in English.  As I said we started with Evita, then we heard Elvis at another location, then we heard Johnny Cash and we ended up at a Big Band stage with English words.  Around each square is a row of buildings and it looks like there is yet another square right behind those buildings.  It is really fascinating.  Most of these "stages" are in outdoor restaurants.  I wonder if the restaurants fund these musicians who really end up entertaining all the nearby cafes and the rest of the square.  Walking from one square to another you walk past a few street entertainers most of whom are playing instruments.  We saw more violins, accordions, a few guitars etc.  At the Big Band music people were getting up and dancing in the square.  Mike and I were tapping our feet.  I had a heavy purse with me that contained my iPad, smart phone, passport, wallet and more.  I didn't intend on putting it down somewhere and I couldn't dance in Mike's arms while trying to hold it.  It was still nice to stand outside and listen.
When we arrived the temperature was about 24 which was great for walking.  The taxi driver said it had been 27 the day before.  Each day for the next few days it gets colder.  Monday, when we pick up the RV, is supposed to have a high of 16.  We are off to bed now and hopefully we will wake up at a regular time tomorrow morning.  The first thing we want to do is to take the small local bus tour.
Saturday Day 2:
Well Saturday isn't over yet.  It is 7:30pm and we have come back to the hotel room to rest for an hour or so and then we are going back out walking around the squares.  The area looks really different at night than it does during the day.  One thing that is the same is the love of music.  It is everywhere and of a huge variety.  Men in their 70s playing brass instruments on one block, some rap music on the next, violins everywhere.  It is really common for people walking by to stop and dance.  We saw a bunch of guys jogging to get ready for a sports event stop and do a few dance steps.  We have seen couples stop walking for 30 seconds and dance together on the sidewalk and then continue on.  It is very nice.  The old city is really interesting.  Lots of it isn't all that old anymore but it looks it.  Riga took massive hits during WWI and WWII.  In addition, when they were under Soviet domination they lost a lot of the historic landmarks, statues and church contents.  Riga has done major reconstruction in the last 20 or 30 years.  At one point Riga was Russia's third city after Moscow and St. Petersburg.  Earlier in history Riga was the largest holding in the Swedish empire, even larger than Stockholm.
We toured a Museum of History today.  The entrance fees were interesting.  It was 3 Ls per persons or there was a family rate of 5 Ls.  A family was 2 adults and 2 children.  They charged Mike and I 6 Ls (2 * 3 Ls).  We talked to them about it being cheaper if we went and hired two children off the street.  They said yes it would be and then still charged us as 2 adults and not 1 family.
It is amazing how different communist Russian architecture is from Latvian.  One of the few Russian buildings that were left standing is now the Museum of Occupation.  It is a square black building that contrasts with all the interesting buildings around it.
While we were wandering today we came across a road closed off beside the river for a sports festival.  It was actually very interesting.  We saw polo played on bicycle.  I really don't know why that hasn't taken off.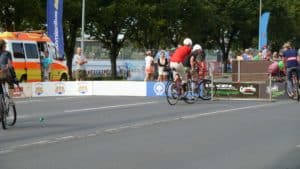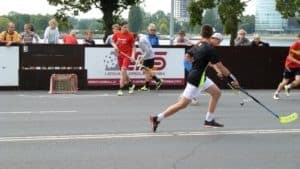 There were a series of enclosed or marked off areas, like small skating rinks on pavement.  In each of these "rinks" they were playing a different game.  In 4 rinks in a row they were playing a type of field hockey with a very large and flexible blade.  They used a small ball.  The most interesting item was the net.  The net was about 2 ½ ft wide and maybe 18 inches high.  One has to be very accurate to score in this game.  The different rinks were for kids from a very young age to young men.  In another "rink" there was a basketball game going on.  Two teams, 1 end, 1 basketball net!  Very strange.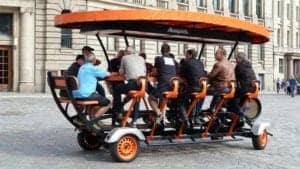 We wandered through a shopping mall with H&M stores, Timberwood and more.   Mike and I have never seen so many restaurants anywhere before.  Here is a picture of an unusual mobile "beer hall".  Notice that each patron has pedals.  Have keg will travel on this multi person "bicycle".  Look at the gorgeous buildings in the background.
Our plan for tomorrow was to take a tour boat ride down the river for an hour and to go to a recommended waterfront restaurant for dinner.  I also wanted to see the area known as "Central Riga" which is supposed to be very different from Old Riga.  Well our plans have changed.  Before I left home I contacted two of our business partners who operate in Estonia and Lithuania.  I gave a webinar earlier this week that they attended.  I asked if we could meet for coffee just to say hi and introduce ourselves.  Well the gentleman from Lithuania did a lot of research and sent me a note back about what we should see and suggested that we contact his sister who works in Riga.  We did and she is coming to get us tomorrow.  She wants to take us out to a folk festival and a non tourist area for lunch, possibly a trip to the Baltic seaside and more.  We are not sure what her plans are but she is willing to "tour" us for the day.  How super to have someone local to show you around.  Her English in her emails is excellent.
It is now 11:30pm and we just got back from our walk.  It was spitting a little but not enough to keep people off the streets.  Music of every type is everywhere.  We heard one group blasting out in what we think was Russian.  All age groups seem to be wandering around.  We saw at least four groups of bachelorettes out celebrating.
This note has got too long.  I will tell you about prices and a Canadian comparison at some other time.
Good night to all.